By THE OKLAHOMA EAGLE
---
Funeral services for Julius Pegues – a beloved community leader who will forever remain an iconic figure throughout Tulsa – were announced Thursday night by his family.  
Services will be held at 11 a.m. (CST), Monday April 4, 2022, at Fellowship Lutheran Church, 6727 South Sheridan Road, Tulsa.
Mr. Pegues died Tuesday, March 29, of pancreatic cancer, after losing his battle with the disease he was first diagnosed with in 2019. He was a month away from celebrating his 87th birthday on May 5.
A product of the Historic Greenwood District
Like many African American Tulsans of his generation, Mr. Pegues was born at Moton Memorial Hospital in 1935 in the Historic Greenwood District. He was one of nine children born to Allen Pegues Sr. and Patella Latimer (née) Pegues.
Mr. Pegues credited much of his success to the African American people he was surrounded by while growing up in Tulsa's Historic Greenwood District and to the African American teachers at Paul Laurence Dunbar Elementary School, George Washington Carver Junior High School and Booker T. Washington High School, all located in Greenwood and within walking of his family's home on East Queen Place.
For the Hornets, Mr. Pegues helped Booker T. Washington win three straight Class A State championships. He also played football for three seasons.
Mr. Pegues came from a family of athletes. His older brother, Allen Jr., was an All-State basketball player and quarterback on the Hornets' football team.
His younger brother, Samual, was the Oklahoma high jump champion.
Another younger brother, Luther, also was a Hornets' hoops legend who coached boys and girls basketball at McLain High School during a 30-year career. He has been inducted into the University of Central Oklahoma Athletics' and Oklahoma Basketball Coaches Association halls of fame.
After graduating as class valedictorian at Booker T., Mr. Pegues wanted to major in aeronautical engineering.
Since Langston University, Oklahoma's only historic Black college, did not offer this degree, and the major universities in Oklahoma were segregated and did not recruit African American students; Mr. Pegues spent a year in Detroit taking advanced mathematics in technical school.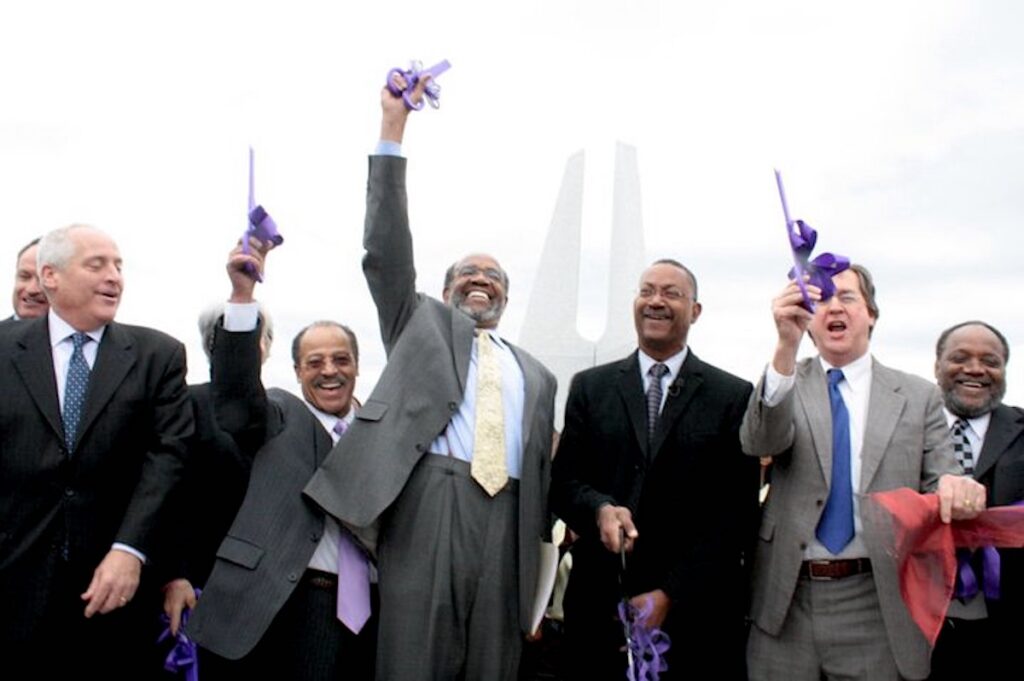 Life changing meeting
A chance meeting with a fan, E. Alex Phillips – an independent engineer for Doak Drilling Co. in Tulsa, who had watched him play in high school – created a life changing opportunity for Mr. Pegues.
Phillips was a standout football player at the University of Pittsburgh, and he had served in the Navy during World War II with Pitt's athletic director, Capt. Tom Hamilton.
One of Phillips' missions was to help Black students get into colleges, and he recommended Hamilton and basketball coach Bobby Timmons give Pegues a look.
Mr. Pegues accepted the opportunity and joined as a walk-on without an athletic scholarship. But his fortunes changed after his stellar play in just three games into his freshman season, and Timmons awarded him a full scholarship.
Mr. Pegues went on to become Pitt's first African-American basketball player and team captain, a three-year starter and scored 1,050 points, one of only 34 players in the Pittsburgh history to reach 1,000 points in career scoring.
Timmons said Pegues' role and leadership were invaluable assets for his squad. He described him as "the man who makes my team click. Julius is like the blocking quarterback in the singlewing. He does most of the work, but few people realize it."
He played on the freshmen team in 1954, before he became joining the varsity team and helping lead Pitt to their best seasons in a three-year span, including playing in two NCAA Tournaments. In 1958, Mr. Pegues was selected as the 31st pick by the NBA's St. Louis Hawks, but he declined the offer to finish his commitment to serve in the Air Force ROTC at Pitt.
The Air Force assigned him to study meteorology at St. Louis University for a year and then serve as a meteorologist with the Air Force for two years.
"I thought I could have done just as well in engineering," Mr. Pegues said in 2008 on why he did not purse a career in the NBA. "Back then, they didn't make the kind of money that they're making now."
Giving back
Shortly after his last basketball game for Pittsburgh, Mr. Pegues met Wennette West, who was a senior completing her nursing degree at nearby Mt. Mercy College (today Carlow University) in Pittsburgh. They relocated to Tulsa, married on June 21, 1958 – almost four months after their first date – and have made their home here ever since.
"My buddies who were engineers didn't come back to Tulsa, but I came back because people had given me so much here. I wanted to give back to the community," he told Tulsa People in February.
In the private sector in Tulsa, Mr. Pegues designed aircrafts for McDonnell Douglas Corp. for 31 years; as an engineer heading for American Airlines' wide-body-structures group for 10 years; and as an engineering consultant for the Federal Aviation Administration before retiring a few years ago. He also attended graduate school studying aerospace engineering at the University of Tulsa.
Among Mr. Pegues many civil rights achievements included serving on the boards of the Tulsa Chapter of the NAACP; the Metropolitan Tulsa Urban League; Morton Comprehensive Health Services; Family & Children's Services; W.L. Hutcherson Branch YMCA; Tulsa Housing Authority, the Tulsa Public Schools Board of Education's Human Relations Committee; Tulsa Economic Development Commission; chairman of the Tulsa Airport Authority and Tulsa Improvement Trust; headed the Tulsa Development Authority; and member of the Coalition for Quality Education that helped desegregate Tulsa public schools.
Mr. Pegues was honored by the Oklahoma Education Association Tuskahoma Brown Miller Citizens Award, named as one of the 1971 Outstanding Young Men of America, and given the North Tulsa Optimist of the Year, Sigma Gamma Rho Community Service, and the YWCA Community Service awards.
He is a member of several halls of fame, including the Tulsa Historical Society and Museum, the Tulsa Public Schools Athletics and the inaugural Booker T. Washington's "Hornets Ring of Honor" halls of fame.
Like her husband, Dr. Pegues' has been equally pioneering for Black women in Oklahoma.
She began her career as a practicing nurse and a pediatrics nursing instructor at the Hillcrest Medical Center School of Nursing and later was director of nursing at Moton Health Center. After receiving her master's and doctorate degrees, she became assistant dean in the College of Arts and Sciences at the University of Tulsa, where she also taught sociology, as noted in her alumni magazine.
She later became the first director of the University Center at Tulsa, a higher education consortium of Oklahoma's major colleges and the predecessor of today's Oklahoma State University, Tulsa.
Remembering the massacre victims
For the past two decades (though some would say a lifetime), Mr. Pegues has poured his energy, heart and spirit into creating the John Hope Franklin Center for Reconciliation and the $5 million John Hope Franklin Reconciliation Park, to memorialize the victims and to celebrate the survivors of the 1921 Tulsa Race Massacre and to honor the center's namesake.
Reconciliation Park was named after John Hope Franklin, who as a child was a day away from arriving in Black Wall Street – just hours before a white mob attacked Greenwood – to reunite the family with his father Buck Franklin, the famed lawyer who fought for survivors to receive reparations for damages.
The younger Franklin would later become a renowned historian, college professor, civil rights activist and best-selling author. He died in 2009.
"The story (about the center and park) is the resiliency of the people that rebuilt Greenwood. That is the real story," Mr. Pegues said. "This is all about turning tragedy into triumph."
He noted how the park – built in the heart of the Historic Greenwood District and the famed "Black Wall Street of America – was bigger than a location. The park features bronze works by the prominent Denver sculptor Ed Dwight and includes the Hope Plaza and The Tower of Reconciliation.
"The park dedication is a call not only to Tulsa, but also to our nation to be a part of a living history as we put aside what divides us and work together with civility to move our cities, states and the country forward," Mr. Pegues said at the time of the park's dedication in on Oct. 27, 2010.
"This call to work together truly embodies Dr. Franklin's lifelong message, and we are committed to delivering on it."
Mr. Pegues, as a reflection of his tireless effort to empower all Tulsans and preserve the rich history of Black Tulsans, embodied the full spirit of the phrase "he walks the walk."
Mr. Pegues was preceded by his parents; sister Flora Olivia Pegues; and brothers Allen Pegues Jr. (Maxine deceased) and James Roberts Jackson. He is survived by his wife of nearly 64 years, Dr. Wennette Pegues; daughters Mary Pegues and Angela Guillory (Darrin); son Mike Pegues (Sonya); grandchildren Micah and Toussaint; sisters Georgia Marie Scott (Murray Scott deceased), Patricia Ann Dorsey (Harry); Alice Elizabeth Miller (Jim deceased); brothers Samual D. Pegues (JoAnn), and Luther Pegues (Patricia).
Donations
In lieu of flowers, the family ask for donations to be made to the John Hope Franklin Center for Reconciliation.