True grit, stellar coaching and adoring fans
ABOUT THIS SERIES
The Oklahoma Eagle's "Of Greenwood" series is part of our 2nd Century Campaign, which commemorates the hundredth anniversary of this African American newspaper. This series is made possible through our partnership with Liberty Mutual Insurance.
---
By Gary Lee, For The Oklahoma Eagle
Photography, Basil Childers
They constitute a formidable club. 
Tyler Lockett, celebrated by the NFL's Seattle Seahawk fans as a football phenomenon, is the top member of the moment. Ask any sports enthusiast in the Emerald City, and they'll likely recount the Seahawk wide receiver's finest plays. One example is the spectacular play in the 2020 match-up against the Arizona Cardinals when Lockett got one arm free and grabbed a perfect pass from quarterback Russell Wilson and capture a 34-yard gain. 
After seven seasons, his stats tell the bigger story. At 29, the Booker T. Washington alum's ranked ninth in the NFL with 1,175 yards and sixth with an average of 16.5 yards per catch. The Seattle Times has anointed him as "simply one of the elite." 
John Starks is another coveted member. New York Knicks fans remember him as a player of no fear, a point guard who used his entire presence to butt off opposing players. At 6'5" and 190, the Central High School alum's brazen tenacity and unwavering desire to win helped guide the team to countless victories. Although retired, Starks' reputation remains the stuff of legend. The music group, A Tribe, Called Quest gave him a shout-out in its song Eight Million Stories. And ESPN has named him one of the all-time greatest Knicks. 
And what would this club be without Iciss Tillis? The 6-foot-5 basketball forward was a WNBA stalwart with stints with three squads: the Detroit Shock, the New York Liberty and the Los Angeles Sparks. But locally, she is known as a celebrated – and dominate player – first as a WBCA High School All-American at Cascia Hall Preparatory School and then as an All-American for Duke University. She was pivotal also on the U.S. team playing in the Pan American Games in 2003, helping the squad earn a silver medal. 
And, of course, there's Felix Jones, another Booker T. product to play professional football. The Dallas Cowboys drafted him in 2008, and the 6′ 200 pounds running back made an instant splash. Even a decade after moving on from the team, Jones's top plays are part of Cowboy lore. Who could forget the 2008 game against the Philadelphia Eagles when he returned a kickoff 98 yards for a touchdown?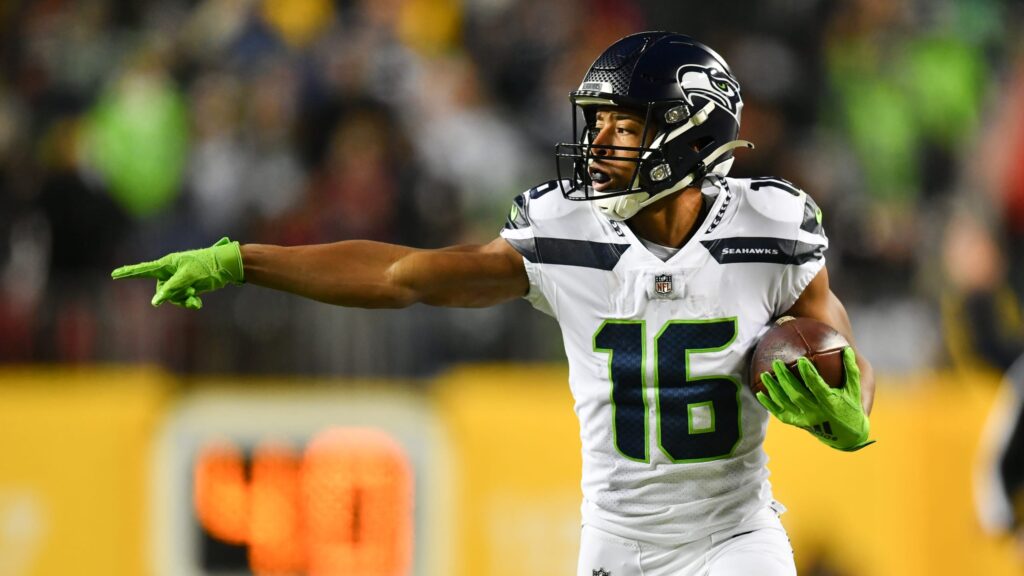 ---
A shared North Tulsa Heritage 
Athletic superstars in different sports eras and far-flung urban areas. Gritty and driven, they are part of a distinctive group of athletes who hustled their way to sports fame. At first, blush, aside from raw sports hustle, seemed to have little in common. 
And yet, as the Historic Greenwood District folks know, there is a strong thread and a legacy that bonds them together: they are all offspring of North Tulsa's African American community. Although they are in different age groups, they were raised in roughly the same Northside neighborhoods. Jones and Lockett were Booker T. alums in 2004 and 2011, respectively. Starks graduated from Central High in 1983. And Tillis graduated from Cascia Hall. Her father, Tulsan James "Quick" Tillis, a celebrated heavyweight boxer, who was "one punch away" from beating Mike Tyson and the first to go the distance against him. 
This shared heritage is not coincidental. The four are part of an army of athletes raised on Tulsa's Northside and ascended to careers in sports. Some joined professional teams; others have become college, high school or secondary school coaches, team managers, or agents. 
Still, others have used their backgrounds as student-athletes as early training for careers in business or other fields.  This sector has spanned across generations – from the T-Town Clowns, one of the beloved Black baseball teams in segregated Tulsa, to the recent Booker T. and McLain high school grads tapped as prospective Next Big Stars. Altogether they make up what can best be called the "National North Tulsa Sports Club." 
"What sets North Tulsa sports culture apart is an understanding that excelling in sports should go hand in hand with a certain commitment to academic achievement," explained Guy Troupe, a business consultant and entrepreneur on Historic Greenwood. 
"And along with all that is a sense that sports training is part of life training." Formerly director of player programs for the NFL, Troupe is devoted to helping former athletes shape and reach their life goals. A member of Booker T's class of 1984, Troupe played defensive back on the football squad and ran track. He played football at Wichita State and Howard universities and worked for the NCAA before his NFL career as an executive. 
He attributes his professional achievements to his student-athlete days in Tulsa. 
The Historic Greenwood District and its people helped to groom athletes as players and coaches. 
No one looked larger than S.E. Williams, who coached football, basketball and track from 1920 to 1952. He won 19 Coached Booker T to 19 state football titles in the Oklahoma Interscholastic Athletic Association, before desegregation enabled the Hornets to join the OSSAA. He had a 290-23-11 record with 14 unbeaten seasons from 1920-51. 
He was also the first president of the National Negro Coaches Association. On the hardwood, he led Booker T to 13 OIAA state basketball titles and won five national championships. In track, he led the Hornets to six national track titles. The school's stadium was named for him in 1972. 
On Northside, sportsmen who gained national attention early was Julius Pegues. A basketball star in Booker T's class of 1953, Pegues became the first Black basketball player at the University of Pittsburg. Though he was drafted by the NBA's St. Louis Hawks in 1958, his Air Force duties stopped his chances. But his academic accomplishments led to a successful career in aviation and, later, a second calling in Tulsa community activism. 
As soon as national leagues pushed past Jim Crow laws and recruited Black players, they began snapping up Booker T's star athletes. During the 1960s and 1970s, North Tulsa seemed like a sports farm for top colleges and eventually for the NBA, the NFL and other professional sports leagues.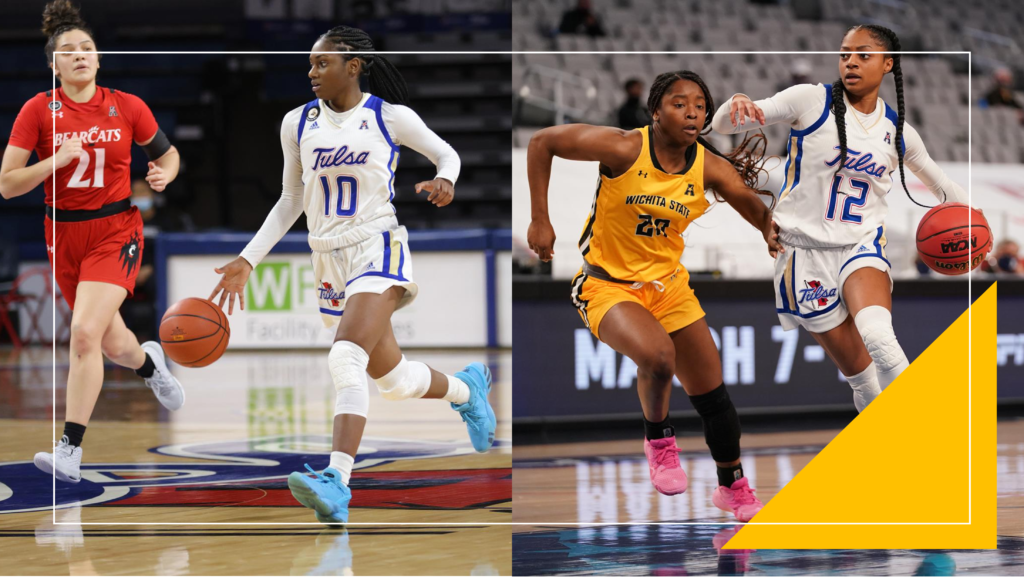 ---
Tulsa as a farm for the NFL and NBA
Over the years, Booker T. has put 17 players in the NFL — more than any other school in the state. Since the 1990s, players from McLain and other schools have also gained prominence. 
Hal Turner was one of the first from the community to make the big leagues. A star of Booker T's football squad in the early 1950s, he was drafted by the Detroit Lion's in 1952. 
Josh Jacobs, a 2015 McLain graduate, was one of the latest Northsiders to become professional. In 2019, the Oakland Raiders drafted him as a running back. His rags-to-riches story has been inspiration and notable for his resilience. A stranger promoted his football highlights that caught the attention of Alabama, where he flourished to become a first-round draft NFL pick. 
In between, from the 1960s to the 1980s, North Tulsa almost seemed to be a sports farm for top colleges and eventually for the NBA, the NFL, and other national sports leagues. Decade by decade, a stream of local players went professional. In the 1960s, J.W. Lockett became a fullback for San Francisco 49ers and other teams; in the 1970s, Booker T standout Rueben Gant joined the Buffalo Bills. 
The Booker T girls' athletics also enjoyed success. The girls track team won a state title in 1974, followed by the volleyball team that won a state title in 1976, becoming the first Tulsa Public School to win it. 
To date, Booker T. has won a total of 91 state titles sanctioned by the Oklahoma Secondary School Activities Association. 
Wayman Tisdale also had a remarkable career in sports, starting with mastery of the court as a forward in his high school days at Booker T in the early 1980s. Tisdale went on to higher fame at the University of Oklahoma. He was a three-time Big Eight Conference Player and the first player in collegiate history to be named a first-team All American by the Associated Press in his freshman, sophomore and junior seasons. He won a gold medal as a player on the 1984 U.S. Olympic team. From there, came an NBA career highlighted by his years as a power forward for three teams in 12 seasons. 
Tisdale was also an accomplished jazz musician, including climbing to No. 1 on Billboard's contemporary jazz chart in 2001. He died on cancer in 2009. He was 44. 
Another Booker T stalwart, Robert Hardy, rose to become a star defensive tackle for the Seattle Seahawks. 
And in the 1990s, Will Rogers basketball star Lee Mayberry became an NBA star point guard during his seven seasons, most notably with the Milwaukee Bucks. 
An Olympic wrestler and hooping sisters 
Football and basketball were not the only sports where North Tulsans made noise. McLain grad Tillis – Iciss's dad – worked his way to boxing in Northside gyms to heavyweight fame in the 1980s. In a 1986 faceoff, the burly Tillis became one of the few boxers to give Tyson a close run. 
Kenny Dale Monday, who started wrestling as a six-year-old at North Tulsa's Hutcherson Branch YMCA, would become an Olympian, winning a gold medal in 1988 and a silver in 1992. A member of multiple halls of fame, Monday became the first African American inducted into the Hungary-based United World Wrestling's International Wrestling Hall of Fame in 2018. 
As soon as collegiate and national teams started building women's squads, women athletes from North Tulsa also rose to prominence. One standout was Tatia Brown, the Tulsa World's metro basketball player of the year in 1984. She became a member of the 1988 women's national championship basketball team at Louisiana Tech University. 
More recently, Lee Mayberry's daughter are making their mark on Tulsa basketball. Taleya has led the way. After a standout career for the Tulsa Hurricane and playing professionally overseas, she was an assistant basketball coach at her alma mater before going into the private sector. Two of the star players on the TU team are her sisters, Wyvette and Maya, both guards. All three have credited their father, the player-turned-coach and recruiter as their inspiration. 
Few women in track and field massed a more impressive record than Tulsa-transplant Madeline Manning-Mims. Her national title in the 440-yard run at the girls' AAU championships in 1965 would be a prelude for star performances in four Olympic Games spanning a 16-year international career. She pioneered the 800-meter run for the U.S. in the 1968 Olympics by being the first (and at present) the only American woman to bring back a Gold Medal in this event, 
Among her many honors and awards, Manning-Mims was named North American Athlete of the Year in 1967 and 1969 and named the All-Time, All-Star, Indoor Track and Field Team in 1982. She was inducted into the National and Olympic Halls of Fame in 1984. 
A decade later, Tulsa Central's Shana Robinson followed in Manning-Mims's impressive footsteps on the collegiate level. In 1999, Robinson set meet records in the 100- and 200-meter dashes in the Class 4A girls track and field championships. 
At the University of Tulsa, she became the program's first female track & field All-American in 2003, Robinson participated at both the 2003 and 2004 NCAA Division I Outdoor Track & Field National Championships. Robinson entered the 2004 NCAA Championship with the third-fastest time in the 100-meters.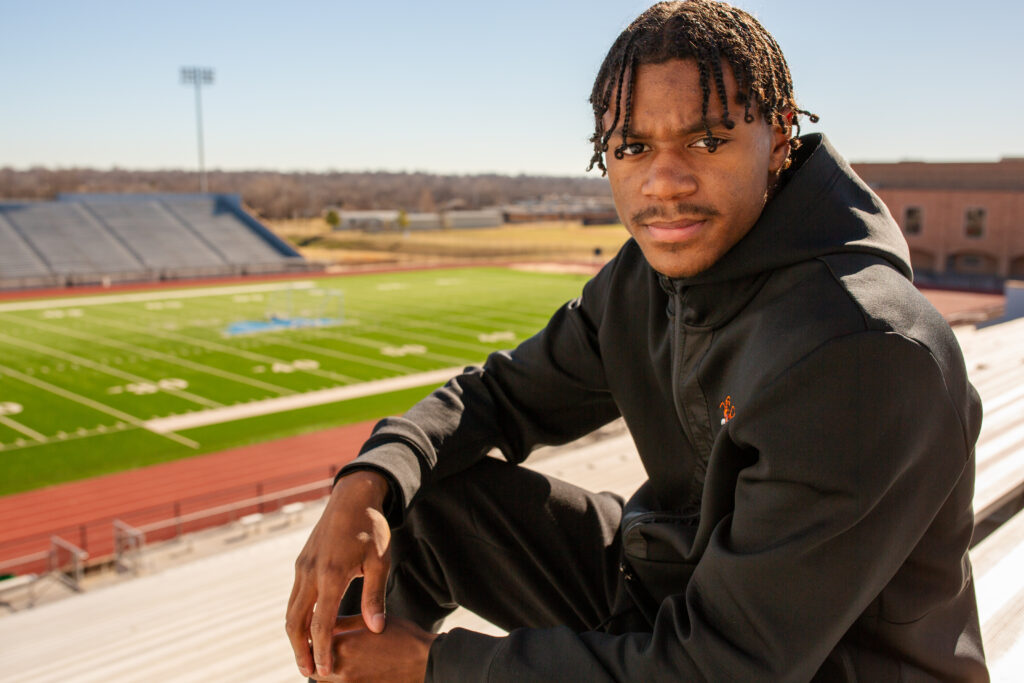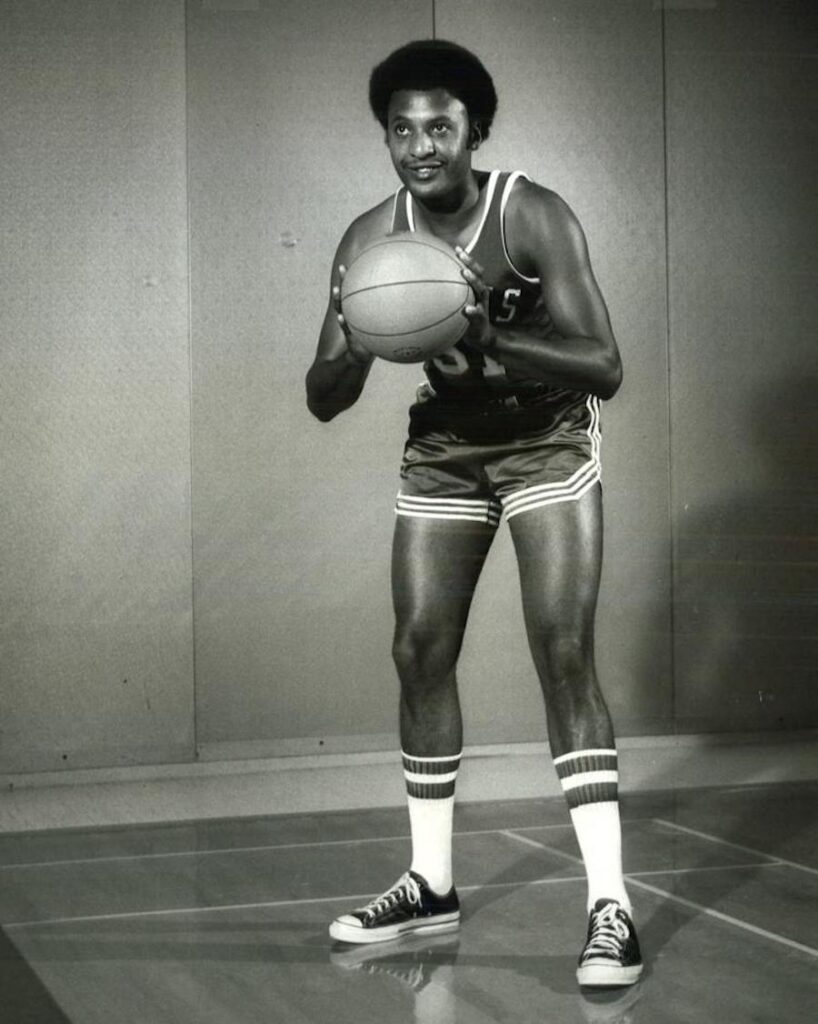 ---
A rising player 
Last August, when current Booker T. senior Gentry Williams led the Hornets onto the field at Moore Schools Stadium in the season's opening match-up against Southmore High, fans wondered if the lithe, quick-footed senior would be the next North Tulsa sports prodigy. He proved his mettle that night by leading the team to a 51-7 victory. And throughout the season, the Hornet's running back did not disappoint. While he did not meet the dazzling performance of his game against Muskogee a couple of years back – when he scored four touchdowns and brought the house down – his record of more than 2,600 yards and 29 touchdowns over four seasons is impressive. 
And with a 3.7 GPA, Williams has proved he has the stuff of a scholar/athlete. 
Williams is keeping North Tulsa's fighting football dreams alive. He has played quarterback, wide receiver and defensive back during four years at Booker T. Against that background, it's no surprise that the 17-year-old received scholarship offers from more than a dozen colleges. 
Booker T head coach Jonathan Brown sings his player's praises. "Gentry has the potential to follow other Tulsan's to national status," Brown told the Eagle. 
Perhaps as noteworthy as William's athletic promise is his loyalty to the Northside. "North Tulsa is what you make of it," he told the Eagle. "I see a positive support community here. One I am proud to be a part of." 
On and off the field, he exhibits the unique North Tulsa mix of hard knuckle hustle and down-home humility, with a touch of razzle-dazzle. 
After attending private schools in South Tulsa through junior high school, Williams returned to Booker T to finish his secondary school education. One big draw was the family legacy at Booker T.  Williams explained that he strives to follow in the footsteps of Northsiders and who have achieved football prominence. He cites fellow Booker T alum and Seattle Seahawks star Lockett as a role model. 
Last month, William's batted back other college suitors and announced with fanfare that he would attend the University of Oklahoma and play cornerback for the Sooners. 
Of course, Black American urban areas across the country, where few things are prized more than sports prowess, have traditionally served as springboards for many semi-pro and pro athletes. Black communities in New York, Boston and Los Angeles produced their share of sports stars. But no neighborhood as small as Tulsa's Northside has given way to such a broad roster of accomplished professional athletes by the account of nationally known sports pundits and historians. 
How did North Tulsa become such a successful incubator for African American athletes? With a population of roughly 40,000 and woes such as rudimentary sports facilities, poor health conditions, high crime, and other challenges, it seems a feat worthy of Hercules. 
According to coaches and sports professionals, the Eagle interviewed, several factors intersected to make it happen. They include deep history, die-hard community, devoted coaching, among other things. 
Impassioned support from the neighborhood 
It was a Friday in November 1969, and Booker T. football fans arrived at Skelly Stadium by the busload. The Hornets were facing off against rivals Nathan Hale in the semifinal playoffs. Beloved head coach Ed Lacey had built a team of all-stars. They were undefeated, and their fans, including most of North Tulsa, wanted to lift them to victory. 
A record crowd of more than 38,500 filled the stadium by game time. The Hornets gave their fans a show to remember. Hornet running back John Winesberry rushed for 75 yards in the opening play for a touchdown.  Nathan Hale never recovered. 
Winesberry spurred multiple offers from powerhouse programs, including Oklahoma, and attended Stanford University. While there, he converted to Islam, changed his name to Shaheed Nuriddin, was a standout though a knee injury stopped him from playing in the NFL. He later earned a law degree from Washington University in St. Louis and worked in state government in Washington state. He died in 2005 following an eight-year bout with lung cancer. He was 52. 
But the atmosphere of that 1969 football game was the kind of home crowd love that played a significant role in North Tulsa football magic. Throughout the 1960s and 1970s, entertainment in North Tulsa was about little else than Booker T sports. On a Friday night, it seemed, all of the community turned out for football games. 
The marching band, the cheerleaders, the 5 cent tamales vendors sold outside the stadium all worked together to create a scene. Fans would quickly fill up the stadium on home games and caravan for miles to out-of-town games. And then, all week long, the game would become a hot topic of barbershop conversation. 
"The community was always there for us," Reuben Gant said. "They gave us our fighting spirit." 
Northside sports history 
Greenwood's long sports tradition is another significant factor in North Tulsa's strong sports legacy. Since the beginning of the Greenwood District in the early 1900s, sports have been a vital community pastime. With few other recreational options, Blacks living in Tulsa in the first years of the 20th century devoted much of their free time to sports. Greenwood businesses such as Gibb's and Mann's became team sponsors. Intramural baseball and basketball leagues spouted widely. Bowling also became a rage. 
But in those early years, it was baseball that attracted the most serious of Tulsa's Black athletes. Several all-Black semi-pro baseball teams, launched in Tulsa between 1910 and 1915, continued to thrive until the 1960s.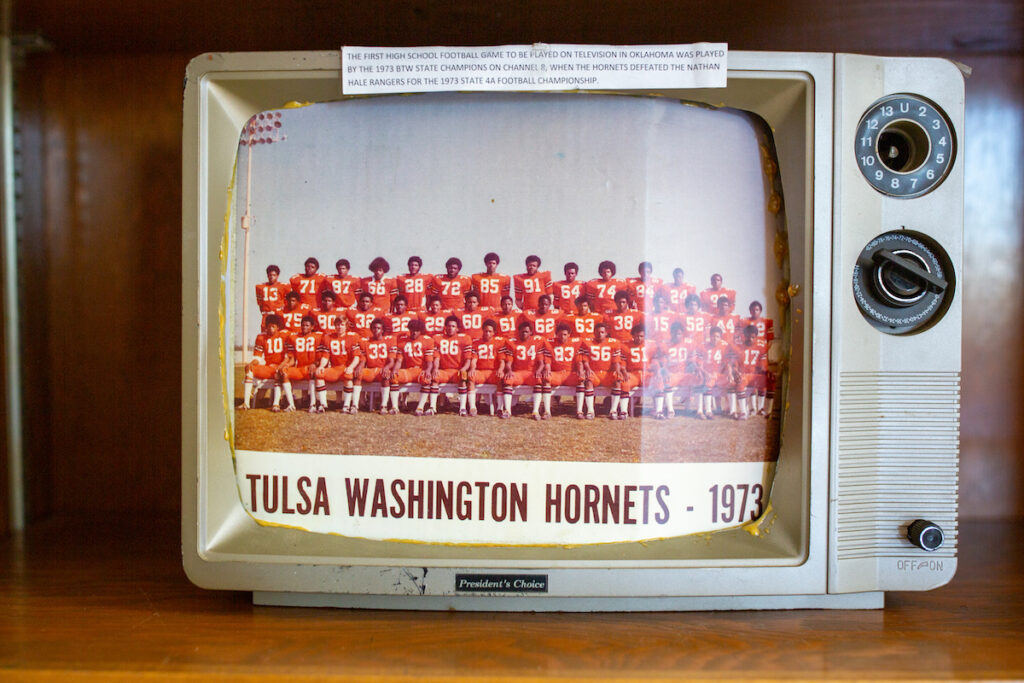 ---
Lacy and other coaches 
Coaching, too, was crucial to the growth of North Tulsa's sports culture. When former high school athletes from the community look back, they attribute a big part of their success to solid coaching. Booker T football players heap accolades on longtime Booker T coaches Art Williams and Mike Mims. Basketball players point to Lee Mayberry as a huge inspiration. "Our coaches taught us that sports were a means to an end," Pegues said. 
Most save their highest praise for Ed Lacy, a 1939 Booker T graduate. 
In 1957, Booker T Principal Henry Whitlow recruited Lacy to return to the Tulsa from Virginia to coach. He stayed for 17 years. He also started the school's wrestling and tennis programs. 
Lacy's record speaks for itself. The Hornets won five state titles – in 1967, 1968, 1969, 1971 and 1973. 
While his primary focus was building sports skills, education always came before athletics for Lacy. He harbored a strong belief that extra-curricular activities kept students interested in high school. But he insisted that all of his players maintain a solid academic record. 
Lamar Burks was one of Lacy's disciples. "He was our Martin Luther King," Burks said. 
Regarded as one of the most successful coaches in Oklahoma high school basketball history was Nate Harris, a 1965 Booker T graduate. After a career at Oral Roberts University and a stint at Edison High School, Harris led the Hornets to 10 state titles and two state runner-up finishes during his 25-year run. 
Among the NBA players he coached were Etan Thomas, Ryan Humphrey and Richard Dumas. 
Over the years, many young Black Tulsans have turned to sports as a matter of survival. According to Burks, a self-styled curator/ historian of the North Tulsa sports scene – sports was – and still is – considered the only path to survival for many. 
"Many North Tulsan males considered sports their best vehicle to stand out, be somebody, get noticed," he said. 
Burks should know. He joined the Booker T squad, an undersized all-conference offensive center in the early 1970s. Under Coach Lacy, the team amassed a winning season. 
As crucial for Burks were the skills, he took away. "The guidance I got coaches taught me never to accept defeat, never to give up, to believe in myself," he said. "It taught me to work ethics, how to be a better family leader and member of the community." 
The experience launched Burks on stints in college football and later a career in coaching at various North Tulsa schools. He is currently a curator and historian of Booker T sports. 
Troupe, the BTW grad and sports consultant, concurs with Burks. "Sports was how we gained respect and encouragement. Everybody from the school janitor to the English teacher to our neighbors cheered us on. We knew that if we could succeed in sports, we could accomplish other goals, too."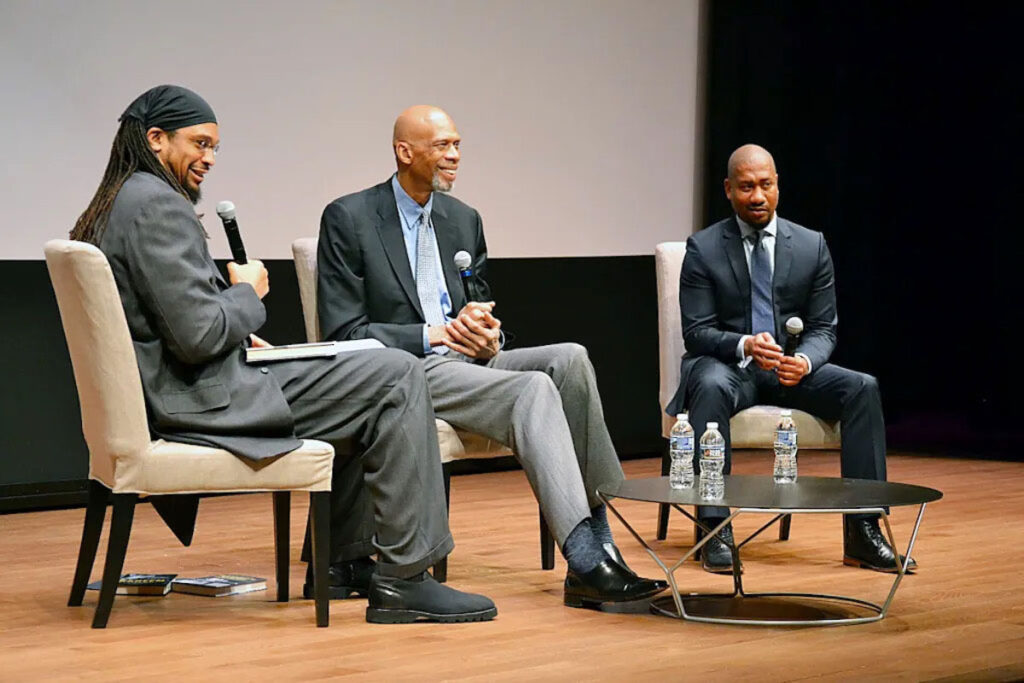 ---
Humble beginnings 
For many young Black Tulsans, hope often seemed in short supply.  
There is no better example than the young John Starks. In an interview last year with the Oklahoma Eagle, Starks recalled the dire conditions of his Tulsa childhood. He sometimes shoplifted food; his mom was plagued with bad relationships; he lived in crowded North Tulsa houses. 
He drank and smoked weed with his friends and sometimes stole cars and sold them. 
For Starks, sports became a welcome distraction. In his book "My Life," he describes escaping his dire home life to shoot hoops in Cheyenne Park (later renamed after him) with his brother and friends. 
"Playing park ball developed that hunger in me that I needed to get to the NBA," Starks said in "My Life." "If a player doesn't have the experience playing game after game like I did in parks, he's not going to make it in the NBA." 
Two other standouts were Melvin Gilliam and R.W. McQuarters. Gilliam was an high school All-American as a quarterback/safety and led Booker T to state titles in football and basketball. In 1985-86, he became the first freshman in Big Eight Conference history to be a starter on the football and basketball teams at Oklahoma State. 
For McQuarters, he was an All-American football player at Booker T in 1994 and was voted the state top basketball player after leading the Hornets to a state basketball title. After Oklahoma State, he played 11 years for four NFL teams, winning a Super Bowl with the New York Giants in 2007. 
Josh Jacob's adolescence in Tulsa was as challenging as Starks, if not more so. 
In 2006, Jacob's parents, Marty and Lachelle Jacobs separated. While the children initially stayed with their mother, he moved with his father after clashing with Lachelle. His dad had recently moved out of his apartment. They slept in the family's Chevrolet Suburban without a place to live. Josh would sleep in the back seat while his father stayed up front, occasionally holding onto a pistol if any issues arose. Jacobs kept up his classes and football practice at McClain without ever alerting school authorities that he was homeless. 
While producing top ranked athletes was essential to North Tulsa coaches and sports leaders, their bigger mission was to give guidance, a rudder, and focus to generations of young North Tulsans without regard to their star potential. "They used sports to build character," Burke explained.  
Troupe pointed out that once students honed sports skills, they then used the skills as tickets to higher education. Hundreds of graduates of Booker T, McClain, Central, East Central and other Tulsa high schools who may not have pursued higher education get scholarships to colleges. And from there, they have been able to build careers and positive life experiences. 
Dwindling support 
Are they the heyday of North Tulsa as a sports incubator past? Some in the community fear that is the case. They cite low turnout at games, moves by top Northside athletes to schools in Bixby, Broken Arrow, Jenks, Owasso, Union and other suburbs, and a sharp decline of Blacks at Booker T and other Tulsa public schools. 
"The community just doesn't shower the kind of love on sports they used to," said Jeremiah Watts. A former McClain football player and coach, Watts keeps the spirit of North Tulsa sports pumped up in 2Dawgs Sports, a weekly sports radio show on Tulsa's KBOB radio. 
One trait that runs strong among North Tulsa's sports machine members is a commitment to give back to the community. Many North Tulsa sports scene alums are working hard to keep Northside young athletes motivated. As they have gained stature, many have reached back to pull new generations of young Northsiders up by their bootstraps. 
The Light It up Foundation, created by his grandfather John, is Tyler Lockett's key vehicle for giving back to the Tulsa community.  The foundation works with local churches to provide meals for families in need during the holiday season. The foundation also offers students $10,000 grants for their college education. 
Starks also pays his wealth and status forward through his charity.  The John Starks Foundation offers a 3-point Scholarship Program for students in Tulsa, New York, New Jersey and Connecticut. The criteria are academic achievement (a minimum 3.0 GPA), community service commitment and financial need. 
Former Dallas player Felix Jones also endeavors to help inner-city youth in Tulsa through his annual MVP Charities Weekend. The proceeds raised during prior MVP Charities Weekends have benefited more than 300 inner-city youth. Activities during the weekend include a round of celebrity golf, the Felix Jones Football Academy, the ACT & College Preparatory Program, and a Blue Tie Gala. Jones also purchased the Brady Mansion in Denver, which he uses for fundraising events.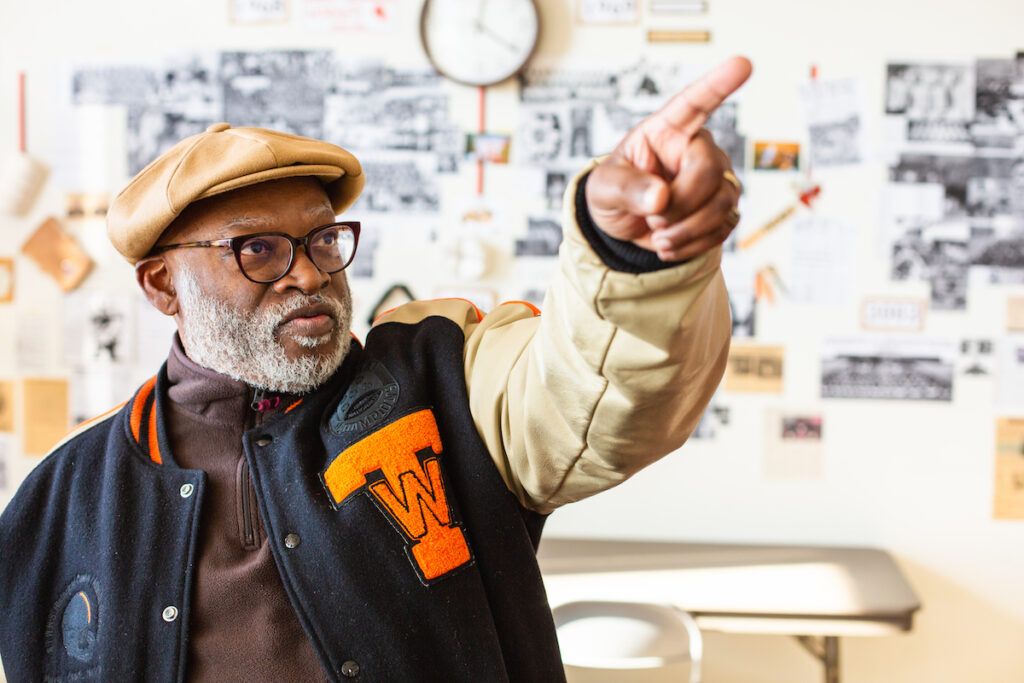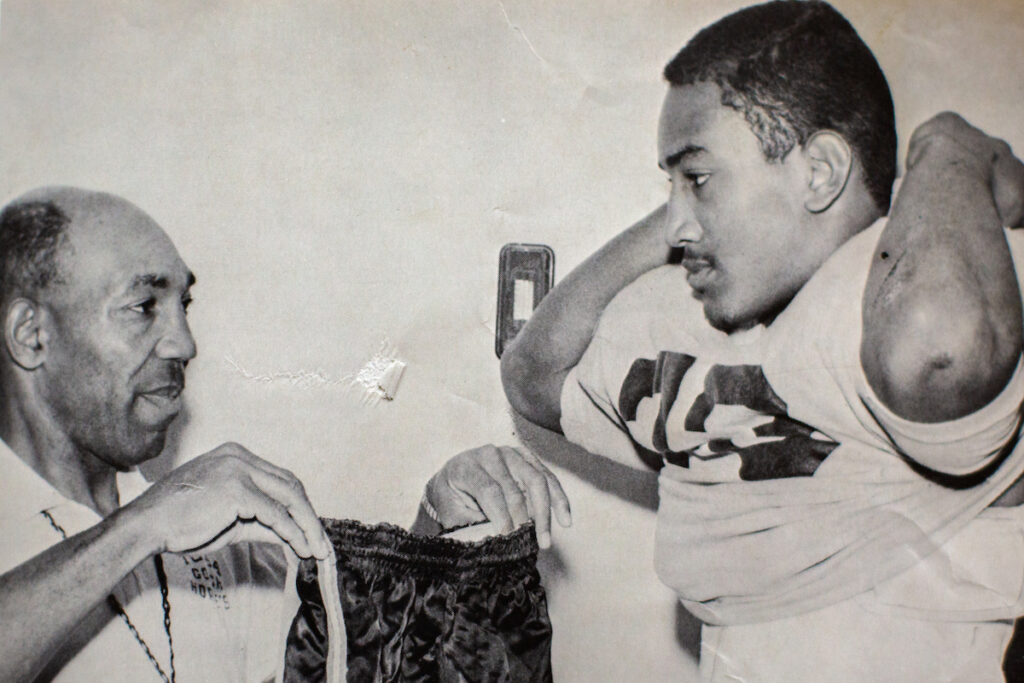 ---
Giving back, moving forward 
Many North Tulsa Athletes Club members have given back in their leadership roles in other fields. 
Tisdale morphed from stardom as an NBA standout to prominence on the stage as a smooth jazz guitarist and performer. Since his death in 2009, his memory has been kept alive by the Wayman Tisdale Foundation, at the Wayman Tisdale Fine Arts Academy – a Tulsa elementary school – and the OU Health Physicians' Wayman Tisdale Clinic. 
Etan Thomas is another prime example. After first earning his stripes as a basketball forward at Booker T, Thomas went on to an outstanding 11-year NBA career after graduating from Syracuse University. After he retired from the NBA, Thomas has become a prominent political and social activist, writer, and syndicated radio host. His latest book published this month is, "Police Brutality and White Supremacy: The Fight Against American Traditions." 
Beyond providing financial support from his West Coast base, Lockett likes to monitor the successes of the new generations of North Tulsa athletes. 
"The thing about the history of Booker T. Washington and just being there, you always keep track, and you always look at a lot of the kids that are coming out, seeing where they're going, the opportunities that they have," he told the Seattle Times in an interview. 
Even as a high school student, Williams also accepts his duty to give back by embracing his status as a role model to younger North Tulsans. 
"I want to tell every kid in our community to find something positive they can embrace and work with that," he told the Eagle. "For me, it was sports. But for others, it might be something else. The main thing is to identify something you can focus on and contribute to. That will help you believe in yourself." 
ABOUT THIS SERIES   
"Of Greenwood," is a monthly series of The Oklahoma Eagle that examines key legacies that helped to shape our community as the "Black Wall Street of America." Our series receives support from Liberty Mutual Insurance. The Oklahoma Eagle is solely responsible for this content.   
>> May: Tulsa's Green Legacy and the role agriculture played in our development  
>> July: The power of Greenwood's circular dollar   
>> August: The rich legacy of Tulsa's Black entrepreneurship   
>> September: Goin' to worship: Sunday is a lifeline of Greenwood's legacy and future   
>> October: Health care: Carrying on 'legacy of (Black) physicians'   
>> November: Greenwood: A community devoted to education   
>> December: Music: From Tulsa to Broadway and back  
>> January: Sports: The North Tulsa Sports Machine 
To read the series and watch videos, visit TheOklahomaEagle.net.