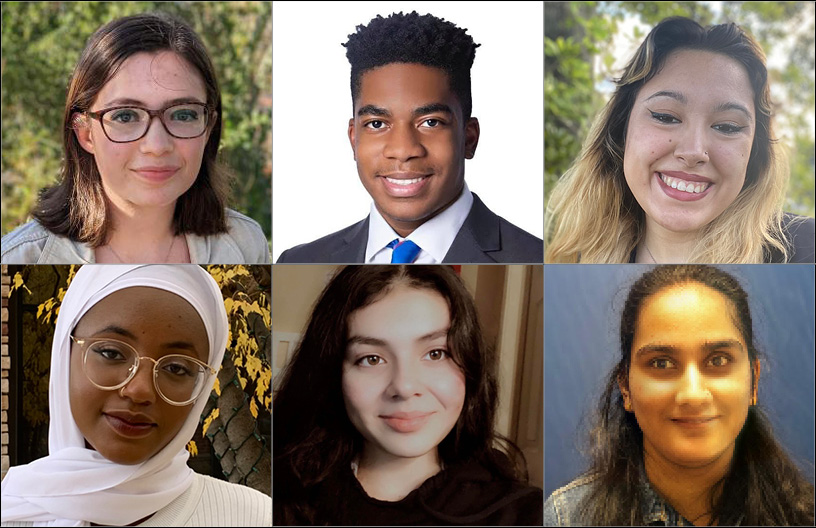 Six high school journalists who attended summer journalism workshops funded by the Dow Jones News Fund in 2021 have been awarded $1,500 college scholarships for the 2022-2023 school year.
With support from the Robert Wood Johnson Foundation, the Dow Jones News Fund supported 10 high school summer workshops that concentrated on inequities in healthcare, education and other public services.
The workshop directors were asked to nominate a participant who was a rising senior or college freshman and performed well during the workshop. The nominees were asked to write essays about how the goals of diversity and equal justice drive their quests for careers in journalism.
A panel of News Fund alumni reviewed the essays and nominations to help determine the scholarship recipients. The winners:
Faaya Adem, a senior at the Fair School Downtown in Minneapolis, attended the ThreeSixty News Reporter Academy at the University of St. Thomas. Faaya's Oromo roots in Ethiopia and the lack of media coverage of the Oromo people has motivated her to pursue journalism. She wrote, "Diversity and equity in journalism are key to improving the livelihood of underreported and misrepresented communities. Accurately reporting the stories around me is what pushes me to a career in journalism. The idea of having more thoughtful representation is a dream, but it will not happen without someone like me becoming involved in journalism."
Garrett Bland, a freshman at Tennessee State University, attended a workshop at the Meharry Health Summit in partnership with Tennessee State University. Garrett was inspired by his autistic older brother to pursue journalism. "Witnessing my brother's struggles and tenacity have inspired me to ensure that I share his story and those of so many others who don't have a voice to describe what having equitable healthcare means."
Bland is a native of Tulsa and a proud 2021 graduate of Booker T. Washington High School where was an active student athlete who also served as a school leader.  Bland serves as the Program Manager of TSU Radio and is active in the Freshmen Innovation Council, the Pre-Alumni Council, and Every Nation Campus Nashville Ministries.
About why I want to become a journalist?  Garrett shared in his essay submission: "My desire to become a journalist developed very early in my life.  I have just one sibling, an older brother who is 5 ½ year older than I am.  He is on the autism spectrum and also suffers from Duchenne's Muscular Dystrophy.  Growing up, I have watched my brother struggle to achieve things that most would find easy.  When he was younger, I watch firsthand as he tried to communicate and engage others.  I also watched him loose his ability to walk during his teenage years.  Witnessing my brother's tenacity inspired me to ensure that I shared his story and those of so many others who don't have a voice. For me, becoming a journalist will give me the opportunity to share stories that will impact others and make a difference in my community.  I especially want to be a voice of the less fortunate and citizens with disabilities.  Whether I end up one day becoming a reporter, an on-air personality or work behind the scenes, I plan to use my gift to impact the world to make it a better place."
Daniela Bravo Berumen, a senior at Cristo Rey San Jose (California) Jesuit High School, attended the Mosaic Journalism Workshop in San Jose. Inspired by Michelle Alexander's book The New Jim Crow, Daniela wrote about her passion for journalism. "It's the perfect tool to shine light on the stories of marginalized groups. I could tell the stories of survivors and document brutal injustices that had remained hidden."
"From childhood I've found it difficult to express my opinions out loud, because of extreme social anxiety, so I would always turn to writing. I hope through journalism I can express my passions, find my voice and enable others to do the same."
Ritika Khanal, a senior at Mountlake Terrace (Washington) High School, attended the Washington Journalism Education Association's Journalism Camp. As someone visually impaired, Ritika is keenly aware how some are excluded in coverage and accessibility of media. She asks in her essay, "If the production of journalism isn't entirely inclusive, how inclusive is the consumption of it?"
Ritika's answer: "In order to truly be inclusive of our diverse audience, we must think about everything from demographics to disabilities. Nevertheless, I am optimistic that, as long as we intentionally diversify our newsrooms to reflect all sorts of experiences, we can effectively tell the stories that are most important, and thus we can make a difference in this changing world."
Kelly Sanchez, a senior at the Miami Lakes Educational Center in Miami, attended Journalism Jumpstart at Florida International University. Kelly has a deep sense of civic duty and appreciation for her First Amendment rights. She wrote, "The fact that in some cultures or some places around the world people are persecuted for wanting to inform others, while I have the opportunity to freely do so, makes me push myself every day to become a better journalist."
Birdie Stark, a senior at University High School in Tucson, Arizona, attended the Donald W. Carson Journalism Diversity Workshop at the University of Arizona. Reflecting on her own experiences advocating for legislation to address climate change, Birdie is mindful of the impact journalism can have in shaping public opinion, "I strive to contribute to the creation of a well-informed public."
She wrote, "…change can be ignited by only two people: someone to tell an unbiased story and someone to listen with a relatively open mind. I've learned that what I see at the forefront of Instagram feeds and newspapers translates to changes ranging from legislation to simple acts of kindness and everything in between."
The essays and nominations were reviewed by a panel of News Fund alumni: Yelena Dzhanova, news reporter at Business Insider; Gail Griffin, head of digital platforms, U.S. intermediaries, T. Rowe Price; Charmaine Harper, editor at The Wall Street Journal; DJ Shaw, reporter at PlanAdviser.com; and Mollie Simon, research reporter at ProPublica.