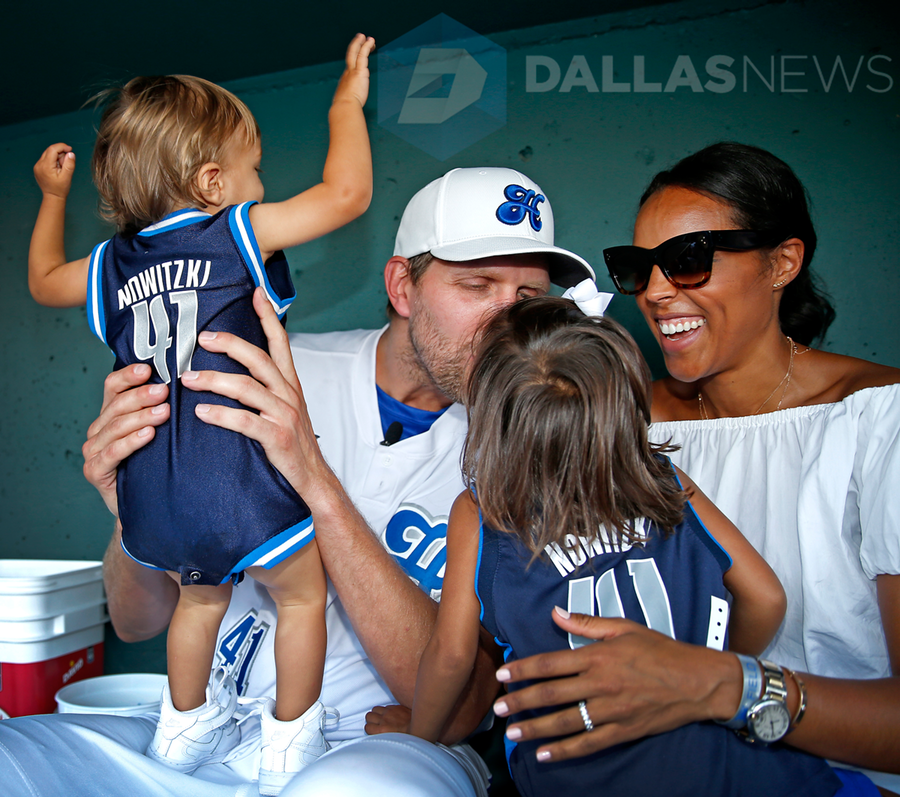 Dirk Nowitzki and then-girlfriend Jessica Olsson turned heads at the 2011 ESPYs with their on-stage kiss at their first big public appearance together.
Fellow NBA players were quick to notice — and tweet about — how they contrasted. Olsson was plenty shorter than the pasty 7-foot Mavericks forward from Germany. And she was black.
In an interview with Marc J. Spears of The Undefeated, the couple opened up for the first time about the racial dynamics of their relationship and raising biracial children.
One of the article's most striking scenes comes as Dirk took part in a traditional Kenyan wedding ceremony (his wife's mother is Kenyan, her father is Swedish). He had to find Jessica among five women all veiled the same way. Dirk picked right by paying attention to Jessica's height and scent.
"I guess it's one of the traditions," Dirk told The Undefeated. "If you get it wrong, you got to pay the parents a goat or something. So I was lucky. I smelled her to find the right one. So, I got lucky there. But that was just an experience that I'll never forget."
The tradition was also a new experience for Jessica, as she was raised in Sweden.
The pair met during NBA All-Star weekend 2010 in Dallas during a charity event. Dirk was smitten with Jessica, who was working at a Dallas art gallery.
Dirk said that their shared love of tennis and travel helped them hit it off. And her attractiveness didn't hurt, he admits.
He said he's never heard any racial comments directed their way.
"Nobody actually approached me with it," Nowitzki told The Undefeated. "Everybody that's met my wife has said she's great with me. So I haven't heard any of that to my face. I'm sure there's some people that think of it to themselves. But, I've never heard it to my face."
Nowitzki said that growing up, playing with the German national team introduced him to people of various races, making it less of a concern for him.
"You're a team. Same with marriage. You're a team, and pulling on the same string," Nowitzki said. "You try to make it work and chemistry has got to be there. That is just the way I was raised."
But he admitted that he saw some "not pretty" things last year that reminded him that he'll face new challenges raising black children in the U.S.
"You always worry for your kids," Nowitzki told The Undefeated. "Are they going to fall out the crib? Are they going to make the right decision later? Who they're dating? Are they going to run into a cop one of these days? You always worry as a parent. That's something for sure that's in the back of your mind, but eventually educate them the right way and keep teaching them how to respond.
"You react to authority when somebody speaks to you, like teachers, parents or whoever. You have to educate them early enough so they know, this is a person, the higher authority, you need to show them some respect."
The plan is for the couple's three children to learn their heritage with annual trips to Germany and Kenya, Dirk said. They are even considering buying a house in Kenya for when they visit.
"We don't want them to just grow up [in Dallas]," Nowitzki told The Undefeated. "We were gone for three months this past summer. We want to show them different cultures, different languages so they can grow up, become educated and make educated decisions when they're older on where they want to live, what they want to do."
Read the full article — and see Dirk wearing traditional Kenyan wedding garb — here