Kimberly love Marsh
The Oklahoma Eagle
---
ILLUSTRATION
The Oklahoma Eagle
While the coronavirus pandemic brought gloom and hardship to many of Tulsa's Black businesses, the catering industry is one segment that flourished. Caterers were in a more agile position to pivot to new ways of operation. People always need food, and caterers adapted, just as restaurants did, as weeks and months in lockdown passed.
The Oklahoma Eagle is profiling three of Tulsa's best known "Black Caterers" in a three-part series. Our first take is on Taylor LaTouche, one of the chefs who endured the pandemic's dark days. 
LaTouche, the founder of Chef's Touch Catering, is best summed up by two words: unyielding and adaptive. She has bounced back so many times that she has proven one of the best-known personalities in Tulsa's catering scene. Her stick-to-itiveness" has been established in business, her personal life, and health. 
LaTouche opened her first and only restaurant, Brookside's Jamaican-fusion Hibiscus, in 2008. She came from a Jamaican/Black background, with a passion for the Caribbean atmosphere.  Then she was diagnosed with kidney failure in 2014, went on dialysis while waiting for a transplant, split from her restaurateur husband and partner Vincent, and closed the restaurant. 
But she faced adversity, eventually opening her catering company. In an interview with the Eagle, some of the highlights of her approach to food service.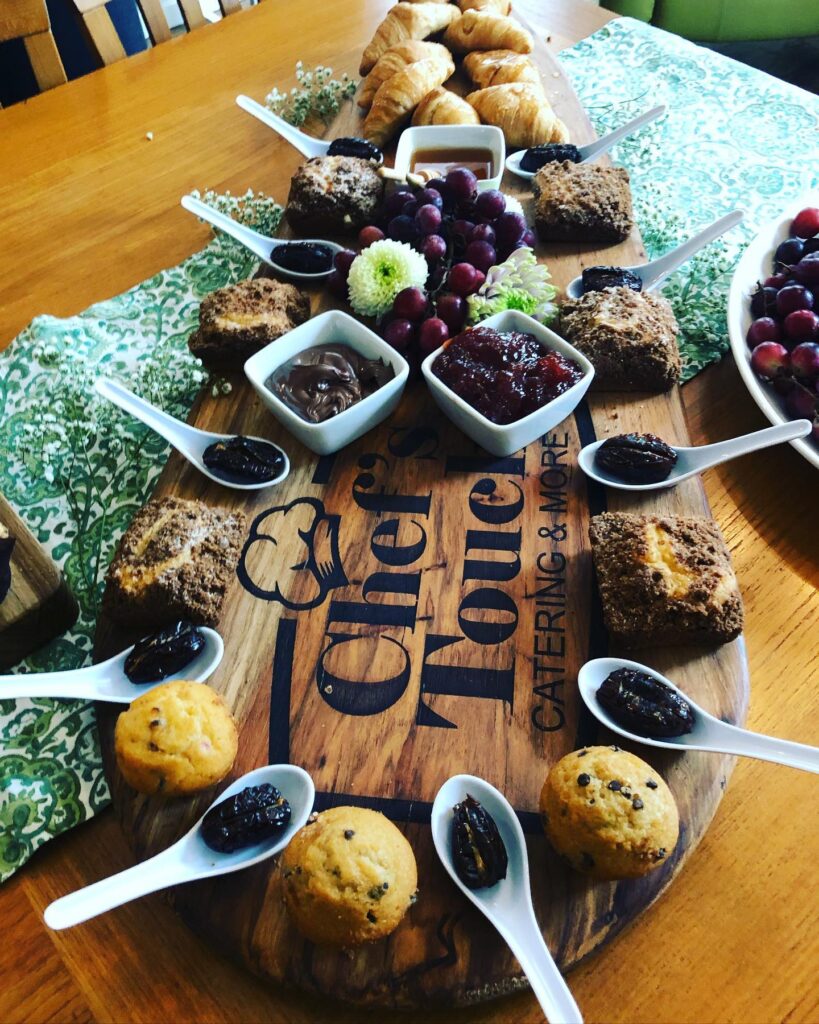 One-stop shop for parties
"Creating experiences in our specialty," LaTouche said. "Plating and decorating for optimal presentation for the eyes is my signature. We eat with our eyes. First, garnishments. And beautiful food."
The Chef's Touch team is a one-stop shop for all party needs – from rentals to flowers, food and service. 
LaTouche most enjoys cooking for private parties that give her the creative freedom to use fresh, organic ingredients sourced from local farms with some of her favorite spices for robust flavors. Since her Creole culture background, LaTouche loves fresh herbs like thyme, herbs de Provence, smoked paprika, and tropical flavors, including coconut and fresh fruits. She also favors "anything that swims," which in Tulsa usually includes the freshest cuts from local markets, White River, Bodean Restaurant & Market, or pulls straight from the fishermen.
"Shellfish is my jam," she said, "because you get good flash frozen products from Texas."
LaTouche was one of the first to enroll in the initial iteration of Kitchen 66, now at Mother Road Market, Oklahoma's first food hall. It's an incubator founded by the Lobeck Taylor Family Foundation (LTFF), which has "graduated" dozens of Black caterers from the program.
The catering incubators operated there worked to support food entrepreneurs and their employees by helping them find new revenue streams that could sustain their business through the pandemic. Several graduates of the program are Black-owned, while others have benefited from programs and kitchens available to them at LTFF supported kitchens at East 11th Street and South Lewis Avenue.
Kitchen 66, at 1124 S Lewis Ave., is a space for food entrepreneurs to go from idea to market in a way that allows the businesses to learn startup methodology heavily used in tech startups to "fail fast" and pivot to a model that will increase success. 
Elizabeth Frame Ellison, who most recently became LTFF's board chair after serving as its president and CEO, founded Mother Road Market in 2018 and Kitchen 66 in 2016. She said the incubator had been actively recruiting Black, Indigenous, and other people of color (BIPOC) entrepreneurs to the food industry. 
"For far too long, we have tacitly consented to the stereotype that entrepreneurs should be old, male, white, and wearing a suit," Ellison said.  "I'm so thrilled to see the entrepreneurs at Mother Road Market and Kitchen 66 more closely represent the community in which we live. Food is a great way to represent culture and heritage in a very tangible and tactile way."
Graduates of the program are encouraged to open their storefronts or catering kitchens. 
A recent Kitchen 66 graduate from the Class of 21, NATV, just opened their brick-and-mortar location in Broken Arrow, serving indigenous cuisines in a modern setting. Similarly, Doctor Kustom at Mother Road Market showcases the owner Alex Figueira and his family's traditional Brazilian cuisine.
 Although LaTouche had a kidney transplant in 2017, rest was not an option. Through her connections at 66 Kitchen and Lobeck Taylor, she made connections with affluent customers who sustained her business in private catering during that time as well. The business was booming.
Then came the COVID-19 shutdown in 2020. As restaurants began to seek solutions, LaTouche was already meeting the new demand for fresh, local, healthy and mobile meals. While restaurants struggled with the unique challenges of being closed to the public, LaTouche already had all the experience and supplies needed to increase the meal prep side of her catering business to meet the increased demand. 
"I was already set up to do well," she said. "We had already been using containers, so we didn't have to scramble. We experienced a huge increase in business. At first, I didn't experience such a huge loss, but everyone started doing it. It was all that was available, so we weren't special anymore. Our sales dwindled until eventually, everything dwindled."
LaTouche was relieved when the federal loans and grants were offered so she could keep her staff employed. 
"We qualified for the PPP (Paycheck Protection Program), and I was able to keep my people on staff part-time," she said. "We were serving many volunteers, giving away food, helping at food pantries, and doing anything we could to be in operation.
"That went on for some time, and then Thanksgiving of 2021 happened, and I was overwhelmed with phone calls. Everyone was sick of wearing masks and being isolated and ready to start partying again."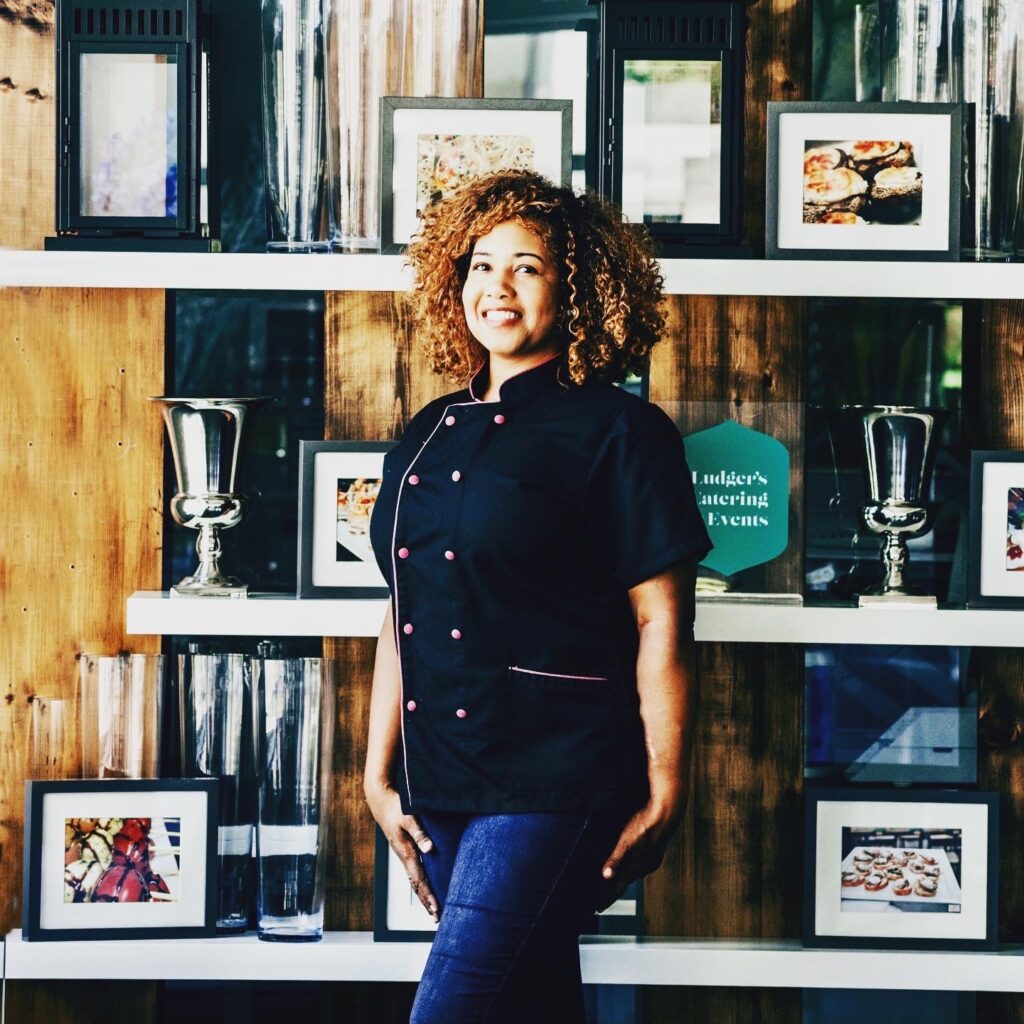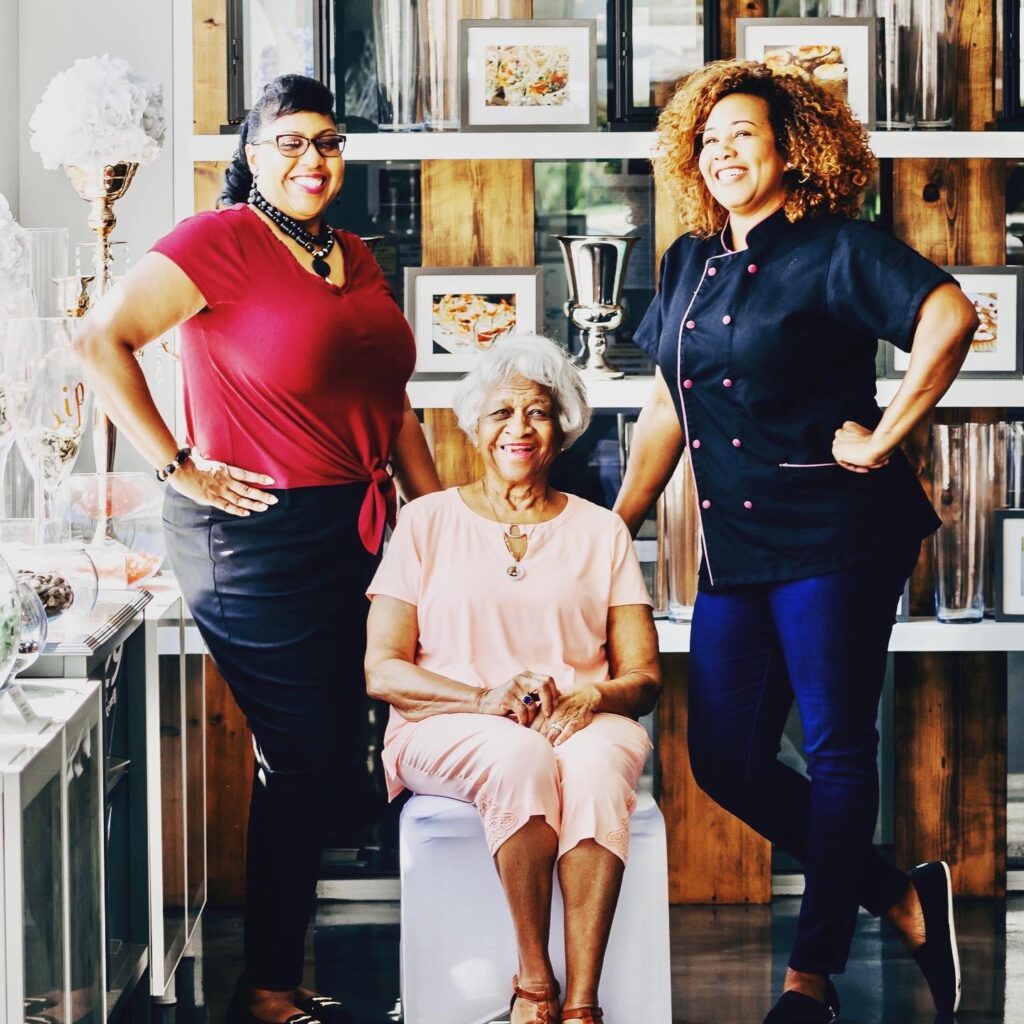 Living on Tulsa Time
LaTouche was happy to share her backstory with the Eagle.
"I moved here with my Jamaican ex-husband, and (Barack) Obama was elected that year. It was such a difficult time," she said. "We dealt with so much overt racism that I hadn't expected.
"I grew up in more metropolitan areas. I had come from places like New York, Florida, D.C., and Chicago, where it's common to go out. Being not from here and not a graduate of Booker T. (Washington High), it was more challenging to find anything fun to do as a young enterprising Black woman. 
"I wanted to bring that to Tulsa. I wanted to have a place that wasn't all Black or all white, where to have a good drink, you had to go here or to hear hip hop you had to go there," she said. "So that's what we created with our Jamaican-American-Oklahoma cuisine. 
"We didn't know what we were doing," she laughed, "But we knew we wanted to serve and have a place that felt like us."
Her food passion was born from entrepreneurship. She started at the front of the house and managed the bar and staff while her then-husband "was having a blast out in the back cooking the food. I knew that is where I wanted to be too," she said.
After the divorce, LaTouche attended Platt College, working with some great chefs. It opened her palette, eyes, and presentation from a Jamaican homestyle mom-and-pop food shop to a more presentable cuisine.
Today, at 42 years old, food has sustained LaTouche for almost 20 years, despite this "weird" economic downturn.
 "People still want to entertain themselves," she said. "I want to work until I die. Work is life, and travel is everything. My only real grace is that I don't have any baggage but my suitcase. Travel makes these long hours OK. I work hard, and I play hard."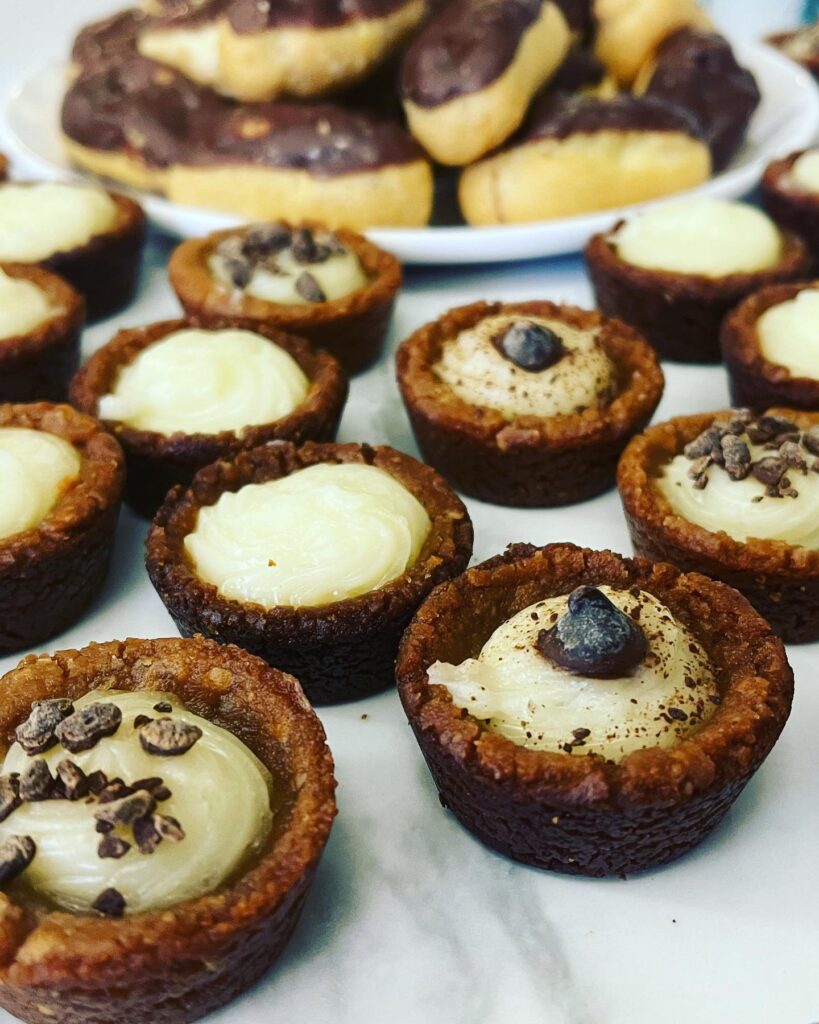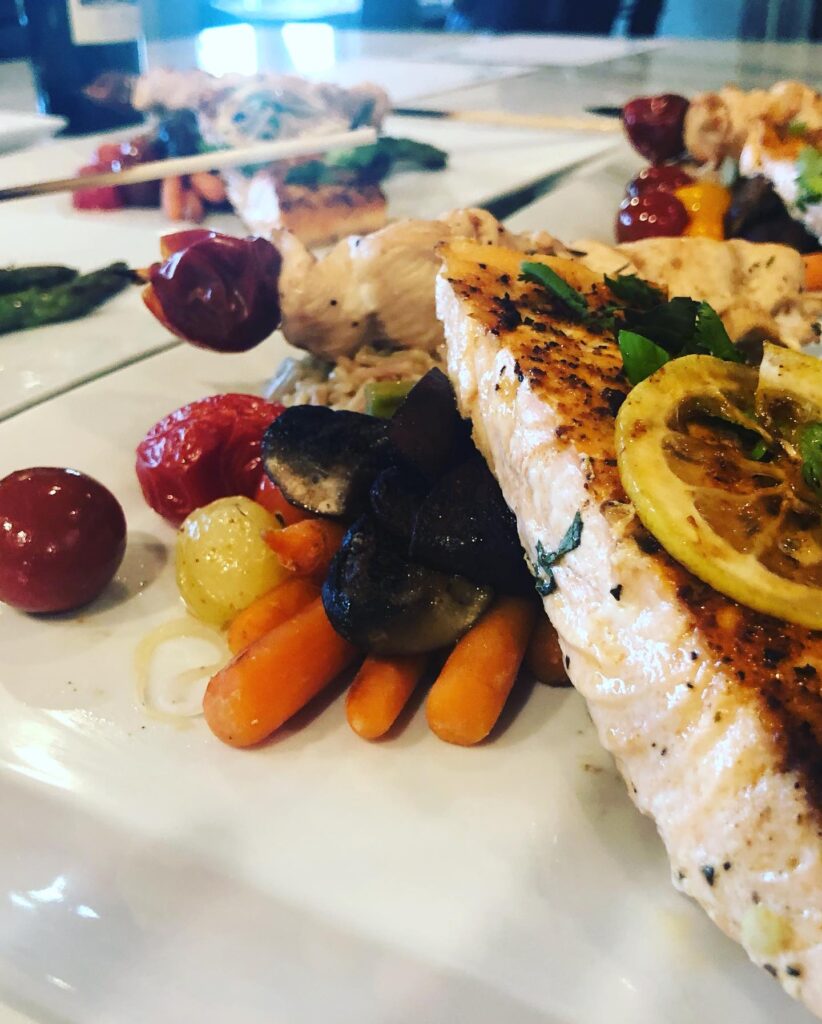 All about instant gratification
LaTouche grew up with a family of women who baked and cooked, and while she enjoyed the food, her diet leaned more toward fast food, so what she loves about cooking is instant gratification. 
"That's what I love about everything," she said. "I am more of an artist than anything. I have chosen professions where I use my hands. I had a jewelry store. I was a metalsmith, so I was creating something and being able to see it right away from start to completion. Then you can watch your client enjoy it, and they give you praise. It is like borderline narcissism.
"And that instant gratification applies to the catering business as well. There is no professional licensing or storefront location to attract people and pay overhead. All that is needed to start cooking is a licensed commercial kitchen space approved by the state health department and a sales tax permit to make the business viable.
"From that point, it's just your food and your clients. That is why I feel like catering is easiest to get into and the quickest to fail," LaTouche said. "Because catering depends on how popular you are just to get the connections. Otherwise, you will always be pedaling or hustling your business card or food for people even to give you a chance because catering is a far more intimate situation, especially at weddings. You come into their homes. You do their baby showers. If you were born here in Tulsa, you have a unique opportunity, because everyone already knows each other; that was my biggest challenge. I had to go find my customers.
"And I've grown a lot since I started. I moved here in 2004, and at that point, I felt it was the peak of inclusive social boundaries. People were still very close-knit. Now in 2022, so much has come to light here. 
"Tulsa had its awakening, to know its history, identity, and who we are as Tulsans and what that means. There are Black people here. There is Black culture here, and it's ready for a rebirth. 
"Before that, it was hard to find. Juneteenth was hard to find. Different events were hard to find. If there were events, they were whispered around. Now they are shouting them by megaphone!"
LaTouche is already thinking about the future of food in her life, from ending meal prep to the full fledge, full-scale, posh catering where she enjoys going into homes and making it "fancy." 
"Even when I was suffering, I could make someone else happy and smile and feel good about myself even though I was in the worst place in my life at that time," she said.
As far as advice for the younger adults looking for a place in entrepreneurship, LaTouche is encouraging. Catering offers the chance to be artistic and experience freedom.