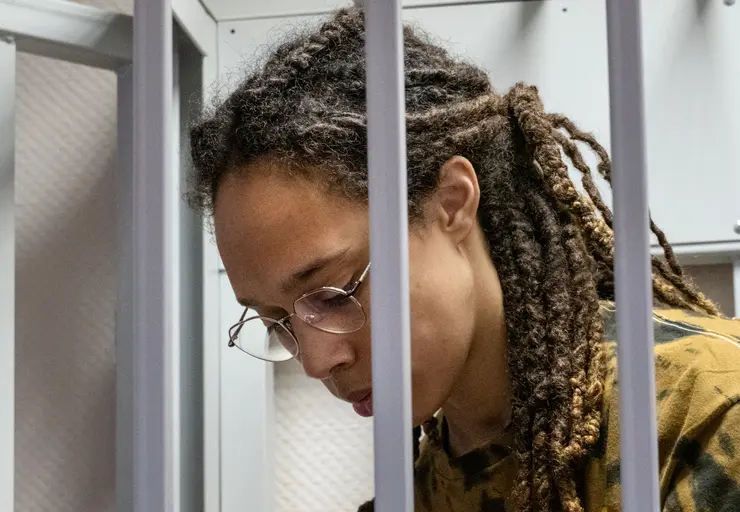 By Stephen A. Crockett Jr. Opinion Editor
It doesn't just ignore them; it disrespects the sports they play and claims they aren't as skilled as their male counterparts.
I've been grappling with WNBA star Brittney Griner's arrest in Russia since it happened in February. Not because I'm conflicted about her arrest (I'm not), but people were initially urged not to make public calls for her release, since it might ruin a possible back-channel negotiation.
What I've been grappling with is exactly what I feared would happen ― the Phoenix Mercury star would become a political pawn in a game she can't win. She's in this position for a number of reasons: She's a Black woman and a lesbian, thus occupying two of the lowest rungs on America's social ladder. I know, I said the quiet part out loud. We can try and act like that's a harsh criticism of America's social ecosystem, but to do so would be prevaricating. It's probably best in this discussion that we call things what they are.
The thing is, Griner has been in a Russian prison since Feb. 17, after Russian authorities found two hash oil vape cartridges in her luggage. Griner's lawyer noted that she had a prescription for the hash, which is illegal in Russia. Russia claimed Griner was a drug smuggler, a serious offense that could carry some 10 years in prison.
Russian Deputy Foreign Minister Sergei Ryabkov warned America that "attempts by the American side to make noise in public … don't help the practical settlement of issues."
Two vape cartridges. That's the issue. But we are calling things what they are, yes?
So then let's talk about what this really is: Russia needed leverage. This is the kind of game Russia plays. A week after Griner was arrested, Russia went to war with Ukraine ― and by "war," I mean that Russia bombed the shit out of Ukraine because it wanted that land.
Having Griner in a Russian jail served a purpose: It took a two-time Olympian and made her into a possible bargaining chip. Per The Associated Press: "Russian news media have repeatedly speculated that Griner could be swapped for Russian arms trader Viktor Bout, nicknamed 'the Merchant of Death,' who is serving a 25-year sentence in the U.S. on conviction of conspiracy to kill U.S. citizens and providing aid to a terrorist organization."
But there were a couple of things Russia didn't account for: America hates Black people, and America hates female athletes. Put them together and you have Black women who excel in sports, a community that America finds it very easy to hate.
America doesn't just ignore Black female athletes; it actively despises them. It disrespects the sports they play; it claims they aren't as skilled as their male counterparts; it places invisible asterisks next to their accomplishments. Meanwhile, the women are working as hard as their male counterparts, or even harder, for less pay.
Serena Williams and Simone Biles haven't just been the most dominant women in their respective sports for years. They've been the most dominant athletes in sports, full stop. Yet when the conversation comes up about whether they are among the greatest athletes of all time, their accolades are put up against those of the men, followed by tons of pushback.
And we won't even talk about the money. Fine, let's talk about the money.
Serena Williams is the highest paid female athlete with a net worth of $260 million, according to Forbes. This includes advertisements and endorsements as well as winnings. Yet when you look at Roger Federer, who played most of his career around the same time as Williams, his net worth is some $550 million. Why?
Then there's Simone Biles: a transcendent talent, the most decorated gymnast of all time. Surely her net worth is comparable to that of LeBron James or Kevin Durant? Not because gymnastics is as big as basketball, mind you, but because the advertising opportunities for the most dominant gymnast in the history of the sport are enormous. Biles could do for gymnastics what Tiger Woods did for golf. She's the Black woman who was out here crushing the competition so easily that she once wore a goat on her leotard because she is the G.O.A.T.; she's the Black female gymnast who was so dominant, judges had to downgrade her scores because she was pulling moves no one had ever seen. Let me make sure I have enough space for all the zeros I know I'll need when I write out her salary. She has to have made a killing off her success.
I'll just type out all the numbers and make sure I carry the one, and… wait, what? This can't be right.
Simone Biles' net worth is $16 million.
You know what other sports figure has a net worth of $16 million? TNT Sports announcer Ernie Johnson.
For this entire opinion article got to: www.huffpost.com