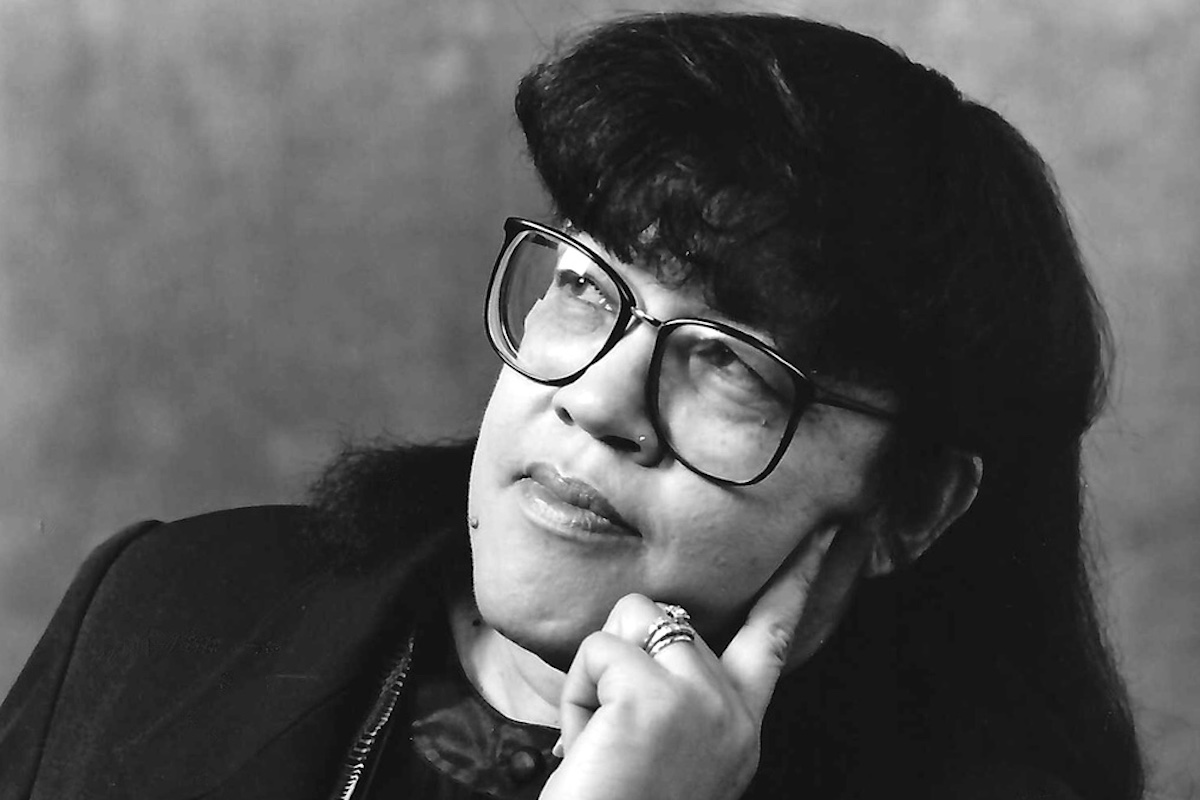 REMEMBERING EDDIE FAYE GATES: 1934 – 2021
---
By Gary Lee, The Oklahoma Eagle
Eddie Faye Gates, the trailblazing educator and oral historian whose decades-worth of research included documenting the eyewitness accounts of the last survivors of the 1921 Tulsa Race Massacre that became pivoted in keeping the reparations efforts active, died Thursday in Tulsa.  
She was 87.  
At the time of publication, the cause of Gates' death had not been made public. Her family said she had suffered ill health for several years after being diagnosed with Alzheimer's. 
Gates rose from chopping cotton for $3 a day as an adolescent to twin careers as a Tulsa educator and a documenter of the history of Black Tulsa and Oklahoma. As a writer and researcher, including a longtime contributor to The Oklahoma Eagle, Gates played a crucial role in bringing the stories of the survivors of the 1921 Tulsa Race Massacre to national and international attention.  
Her 2003 book, "Riot on Greenwood: The Total Destruction of Black Wall Street," and her research with the Tulsa Race Riot Commission report in 2001 would become critical references for the Massacre.  
Eddie Faye Petit was born the second of eight children on February 5, 1934, in Preston. Her parents, Ferman and Vivian Petit were sharecroppers. Her maternal grandparents were descended from enslaved people and worked picking cotton at Como, near Sulphur Springs, Texas.  
In 1918, her maternal grandfather witnessed the hanging of his best friend, lynched by the Ku Klux Klan. The next day, the family packed their belongings and traveled by wagon to Oklahoma. 
Always a learner
From early childhood, Gates showed a penchant for education. She learned to read and write at the age of five from her Sunday school classes at Little Jerusalem Baptist Church. In 1946 she graduated from Douglas Elementary School in Preston. She attended Grayson High School in Pumpkin Center and graduated from Dunbar High School in Okmulgee.  
Encouraged by a recruiter from Tuskegee Institute in Alabama, she attended the prestigious historical Black college. During her college years, Gates met and married Norman Gates, an ROTC student, and fellow Oklahoman. After her husband graduated, she left with him without completing her degree. 
In 1968, Gates graduated magna cum laude from the University of North Dakota, where she received her undergraduate degree in composite social science. She later received a master's degree in history from the University of Tulsa. As a military family, the Gates' traveled widely, including deployments in England and different parts of the U.S.  
That same year, Gates pivoted from her own education to teaching others. She was hired to teach U.S. and World history at Edison High School. Only the second Black hired to teach there, she stayed on the Edison faculty for 22 years. She later became a Social Studies Curriculum Coordinator for Tulsa Public Schools. 
A new calling
After retiring from Tulsa Public Schools, Gates answered her calling to become a writer, oral historian and storyteller.  
In 1997 she published, "They Came Searching: How Blacks Sought the Promised Land in Tulsa;" two years later, she wrote her autobiography, "Miz Lucy's Cookies;" and in 2003, she wrote and "Riot on Greenwood: The Total Destruction of Black Wall Street." 
In 1998, Gates became chair of the Survivors Committee of the 1921 Tulsa Race Riot Commission. The commission had several critical missions: getting a more accurate death count, locating all Black living survivors, establishing a more precise estimate of Greenwood's property loss, finding more primary sources, and making recommendations regarding reparations.  
Gates set about to collect narratives of the survivors of the Massacre and information from more than 300 of their descendants. She helped identify and interview 136 of the 200 survivors. Many of the interviews that she was able to capture were stories that the interviewees had never told anyone, in some cases, not even their own families. 
Gates's documentation of the survivor's sagas was critical in the commission's goal of identifying Massacre survivors. Many families who had been through the Massacre did not want to talk about it, so Gates had to gain the community's trust.  
Her research is on nation display
Gates's work gave gravitas and substance to the Race Riot Commission's final report, released in 2001. Her work was critical in telling the story of the Massacre to a city and state that had only just begun to learn about the events and has eventually led to the State of Oklahoma's decision in 2021 to make the teaching of the Massacre a part of the state's education curriculum.  
Gates was one of the strongest proponents of reparations for survivors and descendants of the riot and served as a liaison to the legal team that fought for reparations. The Smithsonian Museum of African American History and Culture has an exhibit dedicated to the Tulsa Race Riot of 1921, that includes several photographs and other riot related artifacts collected from Gates. 
Last year, Gates's family partnered with the Gilcrease Museum to preserve her work. It stipulated the museum as the steward of her collected audio and video interviews, writing, scholarly work, and lectures.  
Gilcrease received a grant from the Institute of Museum and Library Services to help digitize Gates' collection that will ultimately be accessible to the public. It was also important that the collection remains in North Tulsa. 
"It became her mission to ensure the atrocities that occurred during the 1921 Race Massacre are not forgotten and that the survivors' stories serve to make needed change," her daughter, Dianne Gates-Anderson, told the Tulsa World in 2020. 
Her family noted that "while many knew of Eddie Faye because of her teaching, writing and activism, others knew her simply as mother, sister, grandmother or loyal friend.  To us she was chatty, quirky and generous to a fault. Eddie Faye was a life-long avid world traveler and relished the opportunity to interact with and learn from locals wherever she found herself."   
Gates was preceded in death by her husband, who died in 2004. Her survivors include her five children: sons, Norman Jr. (Stephanie) of Garland, Texas; Kevin and Derek (Scharyl, deceased) of Tulsa; and daughters, Dr Dianne Gates-Anderson (Tikisa) of Union City, California, and Donna Gates-Kelley (Harry) of Valley View, Texas; eight grandchildren, Adrian, Justin, Ashley, Allison, Nashanna, Chutney, Kendrik and Santina; and four great-grandchildren, Adrian Jr., Isley, Felix and Ada Faye.   
Butler-Stumpff & Dyer Funeral Home is handling funeral arrangements.