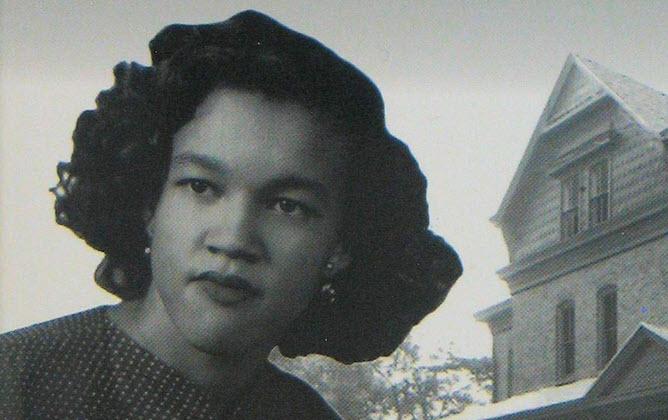 By Fred Jones
fjones@theoklahomaeagle.net
Ms. Eddie Faye Gates was an oral historian and author. She was born and raised in Oklahoma and moved throughout the United States and Europe with her family. She attended Tuskegee Institute for three years and is a Magna Cum Laude graduate from the University of North Dakota, at Grand Forks where she received a B.S. in Composite Social Science. She later graduated with honors from the University of Tulsa, with a M.A. in History. Ms. Gates moved back to Tulsa in 1968 where she taught high school for twenty-two years before becoming the Social Studies Curriculum Coordinator for the district. She was instrumental in implementing a much-needed multicultural curriculum.
After retiring from teaching, she authored two books: Miz Lucy's Cookies: And Other Links in My Black Family Support System, an autobiography, and They Came Searching: How Blacks Sought the Promised Land in Tulsa. She was also an education consultant, a Holocaust education consultant, and an activist working at local, state, national, and international levels to make the world a better place for all mankind.
Her most recent work is centered on the Tulsa Race Riots of 1921. In 1998 she, along with ten other members from diverse backgrounds, was named to the Oklahoma Commission to Study the Tulsa Race Riot of 1921. The riot commission was originally called for by Oklahoma State Representative Don Ross, an African American and former publisher, who became interested in documenting the riot as a young man. Ms. Gates became Chair of the Survivors Committee of the 1921 Tulsa Race Riot Commission. The Commission had five major goals: obtain a more accurate death count, locate all living black survivors, establish a more accurate property loss, locate more primary sources, and make recommendations regarding reparations. Gates said. "Our task was made harder because [the riots] had been covered up and forgotten for 75 years and many pertinent primary documents and resources had been deliberately destroyed."
Eddie Faye Gates left a lasing impression on so many of today's civil rights activist, community servants and social media influencers. Including myself. I asked some of Black Wall Streets leaders to express there love and adoration for Ms. Gates.
Dr. Tiffany Crutcher Executive Director Terence Crutcher Foundation: "For decades, Eddie Faye Gates was Tulsa's primary knowledge bearer honoring the history of the 1921 Tulsa Massacre. Eddie Faye single-handedly maintained the stories of each person who survived the horrors of the massacre, ensuring their legacies and information were preserved. When we seek justice for the survivors and their kin, we are building on her archival work. I and other Tulsa advocates owe her an enormous debt of gratitude."
Phil Armstrong CEO Greenwood Rising: "One of the greatest privileges that we have at Greenwood rising is to tell the story of the massacre and the events of May 31, 1921, through the voices of those who lived through that horrific day. Due to the foresight of black educator Eddie Faye Gates, people can hear their voices. If it wasn't for the recordings of the Eddie Faye Gates collection from 1997 and the Oklahoma State Commission to study the race massacre of 1921, we would not have this treasure. Our prayers go out to the Gates family, and we will continue to feature this history and her work & legacy in the exhibit spaces at Greenwood Rising"
Senator Kevin Matthews: "Ms. Gates was a great historian educator and a pioneer ahead of her time. She was wise enough to put some of her teachings in books that will last forever. She was Black Excellence in every aspect of her being. You felt honored to be within the sound of her voice. She will be missed but never forgotten."
Coach Frank Haith Tulsa University Men's Basketball Coach: "We salute and honor Eddie Faye Gates.  She was indeed a trailblazer for this community, our state and this country!  She educated, empowered, and continues to educate, empower and motivate many."
Freeman Culver Executive Director Greenwood Chamber of Commerce: "Eddie Faye Gates was a jewel. She preserved the true history of Greenwood in her talks and books like no other person.  On Saturday, the Greenwood Chamber of Commerce honored world-class women like her who have had an impact in the community. She will be missed."
Joe Deere Cherokee Nation Tribal Councilor: "Ms. Eddie Faye Gates was a teacher and activist. Her memory will live long as she covered the Tulsa Race Massacre and was a great educator changing many kids lives."
The legacy of Eddie Faye Gates will live on forever in the hearts and minds of those who want to see a better Greenwood, a better Black Wall Street and a better America. Ms. Gates encouragement, influence and stance she took on the issues of racism, equality and inclusion will forever encourage the leaders of today and tomorrow.
We will keep you up to date with homegoing services as soon as they are released.