ARTS & CULTURE
Kimberly Marsh
Contributor, The Oklahoma Eagle
---
Photo
Provided
Editor's Note: This is a sponsored story affiliated with advertising for "Aladdin."  
Celebrity Attractions is bringing Disney's "Aladdin" to Tulsa, Sept. 26 – Oct. 1, at the Tulsa Performing Arts Center, 110 E. 2nd St. The play is Celebrity Attractions' opening show for its season. The major Broadway and theatrical organization is celebrating its 40th anniversary with "Aladdin."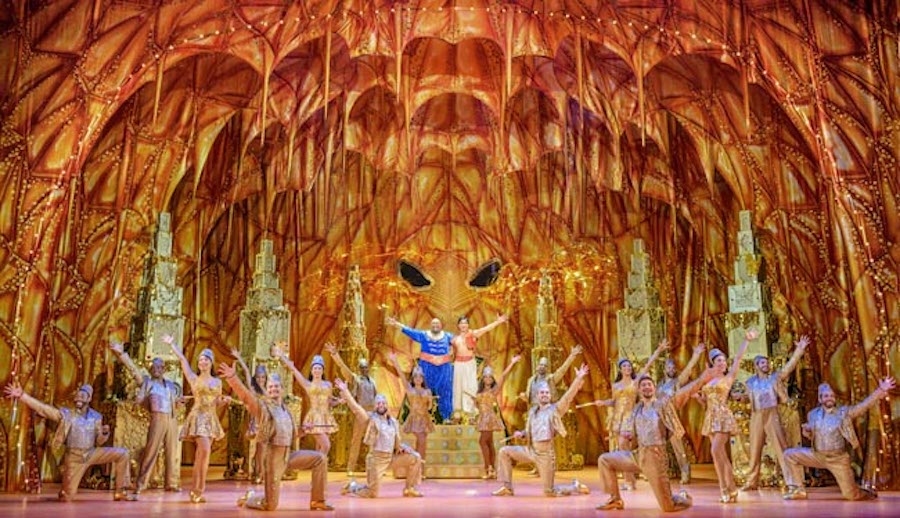 The central character of "Aladdin" is the Genie, who historically has appeared in animation with blue skin, and is a culturally problematic figure. This 2023 Disney production features a new twist with Black actor Marcus M. Martin playing the lead. Martin was wrapping up another tour and moving to the next location when The Oklahoma Eagle was able to interview him and ask a few questions. The questions ranged from his thoughts about the role, to his experiences and advice for aspiring Black musical and theater actors. An Akron, Ohio native, Martin is on his first national tour debut. He got his start in musicals with the Regional Theatre: "Little Shop of Horrors" (Audrey II), "The Wiz" (The Lion), "Carousel" (Enoch Snow), "The Music Man" (Marcellus Washburn), and "A Christmas Carol" (Ghost of Christmas Present). He is a 2020 graduate of the Baldwin Wallace Music Theatre program. 
Question and answer with Marcus M. Martin, who plays Genie in Disney's "Aladdin" Broadway Musical show, appearing in Tulsa, Sept. 26 – Oct.1.
THE OKLAHOMA EAGLE: How did you get involved in musical theatre? Where are your roots and what was your ultimate path to performance, and then to Disney? Was singing/acting something you always knew you wanted to do? Did you have family influences?
MARTIN: I'm an only child, so my parents were always encouraging me to pursue extra-curricular activities that would help me develop relationships with other kids. I was awful at every sport I tried. But I've always been an energetic kid that loved entertaining people through song and one-man skits. My mom recommended that I switch it up and try theater camp instead. The rest is history. I watched the original Broadway cast of "Aladdin" perform "Friend Like Me" on the Tony Awards as a teenager and knew I could play this role. I just needed to put in the work to make it happen. 
THE OKLAHOMA EAGLE: Genie is such an iconic Disney character. How did you go about making the role your own? What did you want to bring to the character?
 MARTIN: I'm very fortunate that our team really trusted me enough to allow me to add my own personal flavor to this role. I'm not arrogant enough to think I could ever recreate the magic that has been made by the Genies that have come before me, so I just made it my Genie; lots of pop culture references, some church culture references, and a whole lot of joy! I really wanted my genie to be layered. You see the glitz and glamour (and) all of the jokes. But that's surface level. The fun part as an actor is adding the nuance, the vulnerability, the real emotion. I wanted audiences to see a humanized genie.
THE OKLAHOMA EAGLE: What do you do to prepare and how much time does it take to get into costume/makeup/character? 
MARTIN: I just stretch, get my voice warmed up, and check in with my cast! I'm a pretty happy guy so getting into the mood to play the genie isn't too hard. It takes our makeup supervisor about 10 minutes to get my Genie face on.
THE OKLAHOMA EAGLE: How does it feel to be portraying this magical character on stage? 
MARTIN: It's truly an honor! This role means so much to so many people around the world. The fact that I'm the one who gets to make people relive their childhood is something I'll never take lightly!
THE OKLAHOMA EAGLE: As a Black actor, how does it feel to be playing a character that has traditionally been depicted in a more caricatured, problematic way? How do you think this production handles the character? 
MARTIN: I love that our show doesn't shy away from the problematicness (Yes, I know that's a made-up word. Just rock with it) of a character like the genie. It really deals with the history of what a "genie" includes, and challenges Aladdin to change that.
THE OKLAHOMA EAGLE: What do you see happening on the musical circuits with diversity? Do you see more roles and more respect for Black performers than in the past? What does the future hold in your opinion? 
MARTIN: We have a LOOONG way to go. But we've also come a LOOONG way from where we were! I think the next step is continuing to fight for true equity and inclusion. Not just diversity! That is where the change is going to happen and is currently happening. I'm seeing more Black casting directors, agents, producers, stage managers. The revolution is happening.
THE OKLAHOMA EAGLE: The story of Aladdin deals with themes of identity, wishing to be someone else, finding yourself, etc. What themes in the story resonate with you as an actor? 
MARTIN: Who you are is enough and the gifts that God has given you are enough. Period.
THE OKLAHOMA EAGLE: How much fun is it to perform the big energetic musical numbers like "Friend Like Me"? 
MARTIN: It's a 12-minute roller coaster ride, Zumba class, karaoke night all in one!
See Also

THE OKLAHOMA EAGLE: What are some of the challenges you face in a role like this with so much singing, dancing, and costume/makeup work? How do you keep your energy up? 
MARTIN: Eight shows a week is no joke! In order to build my stamina, I sang "Friend Like Me" while running on the treadmill every day for months before we started rehearsal! A proper warm up is important, getting 8-10 hours of sleep is a requirement, drinking water and electrolytes is a requirement. Pacing yourself is so important.
THE OKLAHOMA EAGLE: For young aspiring (specifically) Black actors/performers, what advice would you give about pursuing musical theater and iconic roles like this? 
MARTIN: 1. Study the craft. Read every play you can, watch every play you can, ask questions of actors, watch your favorite actors' interviews. 2. Be willing to sacrifice! Greatness comes at a cost! If you want to achieve greatness, being disciplined is so important. And to be disciplined you're going to have to sacrifice! Going to the party, hanging out with that friend group, staying up late. Be willing to sacrifice all of that to make your dreams come true.
THE OKLAHOMA EAGLE: What's next for you? 
MARTIN: I'm getting married three months after my time on tour is up! I'm excited to build a life with my forever person! Love you, Lydia!  
"Aladdin," the hit musical based on the Academy Award-winning animated film, opened on Broadway at the New Amsterdam Theatre to critical acclaim on March 20, 2014, and quickly established itself as one of the biggest new blockbusters in recent years. Having played over 3,000 performances, the New York production is among the top 20 longest runs in Broadway history.   
Hailed by "The New York Times" as "fabulous and extravagant," the Broadway production has broken 16 New Amsterdam Theatre house records and spawned nine additional productions on four continents. Worldwide it has welcomed more than 16 million people and can be seen currently on Broadway and on tour across North America, as well as in Japan and Spain, with a United Kingdom tour opening shortly.
Tickets may be purchased online at CelebrityAttractions.com, on site at the PAC box office from 10:30 a.m. to 5:30 p.m. Monday through Friday or by phone at 918-596-7111. Matinee and evening shows are available.