The Oklahoma Eagle Newswire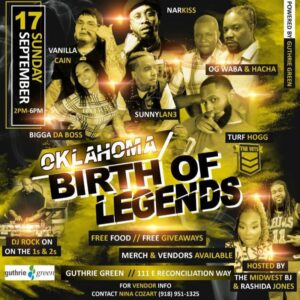 The Oklahoma Birth of Legends is Sunday September 17th from 2 p.m. to 6 p.m.  The event is bringing together Tulsa Hip Hop Pioneers along with other artists that has been birthed or influenced by some of the influencers of the Tulsa Hip Hop scene.
This year marks the 50th year of Hip Hop, which is a milestone when many didnt think that it was going to last past 5 years. Oklahoma Birth of Legends is also paying homage to the Bronk section of New York City where Hip started in 1973. It would be years later for Tulsa to start producing young artists, those young artists that was produced are who we consider the first Pioneers of Tulsa and Oklahoma Hip Hop. There will be a few gracing the Guthrie Green stage on Sept.17th from 2 to 6. There will be non stop performances with a quick break for free giveaways.
The event is free to the public and there will be a limited supply of free food, but you can purchase food from food truck vendors if desired. This is a community production by Mareo Johnson and community partners and, sponsored by Guthrie Green and the Lowdown showing love to the city. Johnson who also is one of the pioneers of Tulsa Hip Hop spent most of the time on the underground scene in Tulsa, while there were a few others that were more present at the time.
One of the goals of this event is to do a documentary on the history of the Tulsa Hip Hop sound from Greenwood to now. The music that influenced Tulsa Hip Hop and, to showcase the Tulsa music scene which is continually growing consisting of different sounds. As Tulsa is becoming more of a world class city all of the things that are within has to reflect that, including the arts. Come out and join the fun as we celebrate Tulsa's Hip Hip, and New Yorks City's 50th year anniversary of Hip Hop.