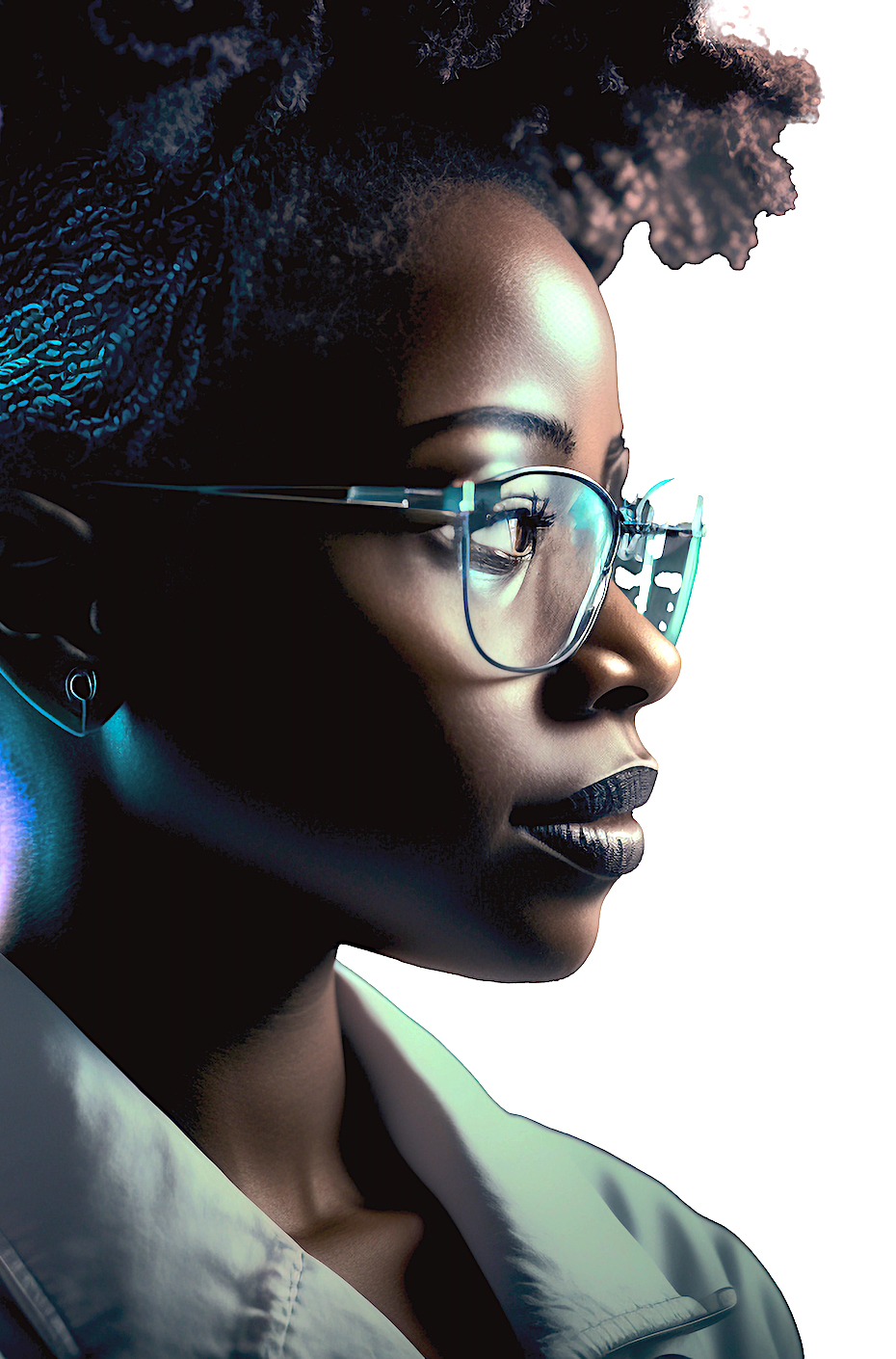 Gary Lee
The Oklahoma Eagle
---
Photo
Adobe Stock
For Jasilyn Spivey, a freshman from Lawton, the COVID-19 pandemic's long shadow has put a damper on her energy for engaging in academics. "It really affected my motivation to do schoolwork," the 19-year-old student told the Eagle. When the pandemic hit in 2020, her school, MacArthur High School in Lawton, Oklahoma, switched to remote classes and eventually to hybrid learning. Due to pandemic-related issues, by Spivey's account, she lost a step or two in her academic regime. 
"Now I have to sit here, look through a book and try to get back into the swing of things – of how school is actually supposed to be," she explained. "And I really struggled my first semester with the schoolwork and everything. It wasn't necessarily that it was hard. It was just that it was not always easy to get into it."
For Aniyah Robinson, a sophomore from Wichita, Kansas, the most significant effect of the pandemic has been the challenges it has created for her to engage in campus activities.
"I find it hard to socialize with people now," Robinson told the Eagle. "COVID was a year and a half or more of not having to socialize with people in person. So, I really struggle with that. And that's something that I've been trying to work on."
For Joseph Dickson, the influence of the struggles with the COVID-19 era have been different. When he was attending Plano West High School in Plano, Texas, near Dallas, the virus hit his family with such a devastating force, that his grandfather was unable to survive it and ultimately died. That tragedy, in turn, has given the 19-year-old Langston freshman a stronger drive to achieve as much as he can as a college student.
Krystal Butler, a sophomore from Victorville, California, said she also has tried to take away positive lessons from the pandemic. It has made her put spirituality at the center of her campus life. "It taught me the importance of self-care," she told the Eagle.
Students of the Pandemic
These Langston underclassmen are part of the America's lost generation of COVID-19-era students. While many social sectors of populations worldwide have been negatively affected by the pandemic, school children and students are among those who are suffering the most detrimental long-term effects
The pandemic threw an unexpected obstruction into the homes and school lives of many students who are currently in their first and second years of attending college physically in-person.
Many students were forced to stay in their homes, stuck in front of their computers to participate in crowded online classes, texting their classmates and scanning social media apps – like Instagram, Twitter, Snapchat and Facebook – into the wee hours of the night. When the pandemic hit in March 2020, they were just teenagers trying to finish high school.
According to BestColleges, an online resource for information about colleges, and other educational watch groups, the pandemic brought about a range of negative consequences for students at institutions of higher learning nationwide. Many colleges have reported decreased enrollment and retention of students and declining test scores due to the pandemic. The studies show that Black and Brown students have taken an especially brutal hit.
The pandemic has also taken a toll on student performance. According to a 2021 BestColleges survey, more than 90 percent of U.S. college students reported experiencing negative mental health consequences due to COVID-19 related circumstances. Among the factors cited were struggles with isolation, anxiety and lack of focus. Three years into the pandemic, these trends seem to be carrying forward.
To probe the extent to which the trends affect Oklahoma students, The Eagle interviewed a half dozen Langston students. We focused on questions about how COVID-19 came to play in their high school years, and how those experiences have affected their lives at Langston. The students we profile are all African Americans. They come from different backgrounds, from as near as Lawton, Oklahoma, and as far off as Southern California.
This article is part of an ongoing series the Eagle is publishing about the impact of COVID-19 on K-12 education, partially on Black, Indigenous and people of color communities in Oklahoma. In our last segment, published in December 2022, we detailed the learning and social gaps that COVID-19 created for Black and Brown students in Tulsa Public Schools.
This article explores how those gaps affect students' ability to show up, perform and engage in their first college years. As Oklahoma's only HBCU, Langston seemed to be a logical focal part for our reporting.
COVID-19 impacted students differently during their high school years. All went to high schools that were racially mixed. In all cases, either the students or some members of their close families were infected with the COVID-19 virus at some point during the past three years.
Their COVID-19 era school experiences reflected a mix of remote and in class learning. Several of them took on jobs to help the families make ends meet. Most favored the COVID-19 vaccines. One who described her family as "more Republican" and critics of the vaccine.
Whatever the students' high school experiences were, they clearly had a ripple effect in their college years.
Struggles With Virtual Learning
For almost all her last two years of high school, Aniyah Robinson was in a virtual learning mode. Soon after the pandemic hit in March 2020, her school, Wichita East High School, pivoted to remote classes. Toward the end of her senior year, the school offered some in-person classes. But Robinson opted to stick with virtual courses. Her mother and grandmother had fragile health concerns, and she did not want to risk bringing the virus home. Robinson also held down two jobs for most of the pandemic to help make ends meet at home. Juggling the work with in-person classes would have been tough.
Computer-based learning posed obstacles for Robinson.
"Going from pulling yourself out to school every day to just having to roll over and turn on the computer was definitely a culture shock," she said in an interview. "Switching over to Zoom wasn't easy. I felt like I couldn't get in as in-depth as my learning as I wanted to."
She noted that dealing with technical difficulties – such as either slow or no Wi-Fi, confusing passwords, etc. – added to the stress.
But the biggest issue, Robinson feels, is that the classes or teachers – or both — were ill-suited for remote learning. Her anatomy class proved to be the most formidable challenge.
"In the first place, I'm already not really good at science," she said. "And then, to be online, and not really be able to see the bone structures in person or learn about it in person made it all that much harder."
But there were also some issues with the approach the teacher took, Robinson said.
"He presented lectures," she said. "There was no time for us to ask questions or talk about what he was presenting. It was just him copying and pasting stuff he found online and then having us try and understand it.
"I'm a visual learner and a lit-up audio learner. So, to not be able to have that visual side and just be in his face on the camera, I felt like I wasn't learning enough. And I completely failed that class."
Calculus was another challenging class to engage in remotely. "For one, the teacher was soft-spoken," Robinson recalled. "And the class was in the early morning. So, I tried to listen, but I fell asleep a lot. I would wake up, and the Zoom would have just ended. So then, once it came time for tests or different homework assignments, I was stuck trying to figure out what was going on."
Robinson confessed to bowing out of the remote classes some days.
"I was like, 'Do I need to go to class?' Some days I pushed myself to go. On other days, I just said 'No, I'm not going. I'm asleep.' In the end, it was all about holding myself accountable. I didn't want this to draw my GPA down to where I couldn't get into the colleges. I just needed the motivation to push through."
Robinson feels that the challenges of high school years have hampered her ability to show up as well as she should have in classrooms at Langston.
The isolation from being at home most days with her mother and sister also had a lingering impact.
"After a year and a half of not being with anybody, I can see the toil on my communication and socialization skills. Because even nowadays, I struggle with trying to talk to people, or I'll avoid conversation any chance I get.
"My public speaking has also been impacted," she said. "Before all this happened, my ability to speak in public was good. And I got good at talking over Zoom in front of a camera. But if you put me in front of a roomful of people, I tend to freeze up a lot. So that's something I've seen happen as an effect of COVID. I just got unused to appearing before groups. It's not easy to relearn that."
The Biggest Challenge: Making Lasting Friendships
At Jasilyn Spivey's alma mater, MacArthur High School in Lawton, just as in most schools, the pandemic hit with a jolt. The school district made all classes remote during the spring of 2020, Robinson's sophomore year. She opted for in-person courses at the school for her junior and senior years.
By Spivey's account, classes during those years were for the most part easy. But there were a few issues.
"There was a lot of rules," she said. "We had to wear masks and try to stay apart. Our lunch was kind of like blocked off like everyone was everywhere. Classes all ended up being online a lot. We were in person and not in person. It was easy work but still it was kind of a struggle for me."
Her math classes were the toughest. Algebra was a particular challenge. "I was already struggling in that class as it was," she said. "So, the pressures of the pandemic kind of just added more to that difficulty."
Even though she did not hit many bumps at MacArthur, Spivey feels that the pandemic created definite challenges to her classroom experience at Langston.
"My motivation to do schoolwork is sometimes not there," she said. "Maybe because I am coming from high school that was easy. So here, I ask myself, can I knock it out all the way? Now I have to sit here, look through a book and try, you know, get back into the, like, swing of things of how schools actually supposed to be here. And so, it's affected my motivation. And I struggled my first semester with the schoolwork and everything. It wasn't necessarily that it was hard. It was just that motivation is not always there. Maybe it's because high school was so easy."
Spivey's challenges with math in high school have carried over to Langston. She took a math class in her first semester. "Maybe because it was more of stuff we learned before COVID, it was not that bad," she said. "But it wasn't the easiest either."
For Spivey, more taxing than the academics at Langston is forming close ties with her classmates. While in high school, she worked at Tropical Smoothie and a few other places. Most of the time, she was among an older generation of co-workers.
Against that background, being among her peers at Langston is tough.
"I live in the freshman village," Spivey said. "We're all 18 to 19 years old, maybe 20. It is different. And not everyone has been through the same thing. And we're all from other places. So, adjusting to that has been a shock."
"It's not so much the social part of it that's hard," she explained. "I'm very outgoing. The problem is trying to form friendships. That's the hard part. Everyone has been inside. So, they haven't had that social contact or anything of that stuff that long-lasting friendships are made of."
MOTIVATED BY A COVID-19 TRAGEDY
In Joseph Dickson's case, the challenges of the pandemic were dire. The first-year student had two relatives who got the COVID-19 virus. His grandmother was infected at least three times and suffered severe symptoms but survived. For his grandfather, Joseph Dickson Sr., the outcome was tragic. After a brutal COVID-19 infection, he died in 2021.
The loss hit Joseph hard. As a result, his academics faltered at Plano West Senior High School.
"Seeing him in the casket hit me for a little while," Dickson recalled. "I was slacking in school, especially junior year. Having to deal with his death definitely impacted my school life. It affected my grades. It was definitely a struggle in the classroom."
Dickson pinpointed English as one class in which he hit the highest hurdles. "The grammar kept messing me up," he said. "So, the teachers didn't give me the best grades."
"But I got through it," he added. "And my senior year was in-person, and I definitely got a lot happier. I connected with my teachers a lot more and built relationships with them. And I saw my friends again. And all of that helped improve my drive and determination to want to finish with a high GPA and finish high school the way it should be finished."
Now as a second semester college freshman, the challenges the COVID-19 era posed have given him a renewed drive to succeed at Langston.
"I would say after my grandpa's death, my college journey became easier because I knew I was doing it for him," Dickson said. "And I'm still doing it for him to this day. I kept a picture of him on display. It shows me that he's here with me, seeing me through this."
HIGHLIGHTING SELF-CARE
In contrast to her Langston schoolmates, Krystal Butler maneuvered the COVID-19 era with minimal stress. Butler was in high school at the Cobalt Institute of Math and Science during the peak of the pandemic. The small public school in her hometown of Victorville, California, shifted to remote learning when the pandemic started. All of Butler's classes were online for the rest of her time there through her junior and senior years.
In many ways, Butler found learning from home more of a synch than in person. "I'm a homebody. I'm pretty introverted," she told the Eagle. "It wasn't a bad transition" to pivot from going to school every day to learning from home.
"It was pretty easy. The only difficulty I would say was getting up in the morning and trying to stay awake during classes. I had five classes, all on Zoom. I really didn't mind. In fact, it was kind of good, staying to myself in my own space."
As someone skilled with computers, the Zoom classes did not pose the issues for her that they did for other students.
Math, a subject that has vexed Butler, was somehow more straightforward online. "Doing it remotely, I will say it was a lot easier because it was strictly on the computer," she said. "So, it was way faster for me to look up videos or tutorials on how to do it in case my teacher didn't get back to me fast enough or it wasn't clear."
Butler said she, her mother and her sister were all infected with COVID-19 at different times. But they managed to maneuver through the virus with minimal health setbacks, by her account.
Butler said her relatively stress-free high school experiences have carried on to her first two years at Langston.
For her, the positive benefit of COVID-19 was to be appreciative of prioritizing her mental and physical well-being. "COVID taught me how to care for myself, mentally and physically," she said. "I have learned how to ground myself and keep myself focused on school and my priorities."
She has developed various techniques to keep her directed amid classes and all the other obligations of Langston campus life. One of her techniques is keeping up her relationship with God through prayer. She also practices yoga and receives regular manicures and pedicures.
NEXT STEPS
Charged with the formidable task of ushering students out of the COVID-19 pandemic and into a stable college environment, the administrators at Langston are doing well, most of the students we interviewed reported. They continue to maintain COVID-19 protocols. Students who are infected are quarantined until they are able to re-enter campus life.
Perhaps more important is the nurturing pro-Black environment that the faculty and staff work hard to maintain on campus.
Aniyah Robinson summed it up best. "What makes getting through all of this easier is the culture of Langston," she said. "As a small college, everybody kind of knows everybody else, and we all help one another deal with the ups and downs of the pandemic and everything else.
"We're really one big family here. The staff, the teachers and professors really care about you. And that makes a big difference."
ABOUT THIS SERIES
This article is part of an ongoing series the Oklahoma Eagle is publishing about the impact of COVID-19 pandemic on education, partially on Black, Indigenous and people of color communities in Oklahoma. The series, reported and written by Eagle Managing Editor Gary Lee, was funded by a grant from the National Association of Black Journalists.
---
Lend us a hand in 2023
I hope you appreciated this article. Before you move on, I was hoping you would consider taking the step of supporting The Oklahoma Eagle's journalism.
From the various media outlets in our market, to a small number of billionaire owners and private equity firms have a powerful hold on so much of the information that reaches the public about what's happening in the world. The Eagle stives to be different. We have no billionaire owner or shareholders to consider. Our journalism is produced to serve the public interest – not profit motives.
And we avoid the trap that befalls much U.S. media – the tendency, born of a desire to please all sides, to engage in false equivalence in the name of neutrality. While fairness guides everything we do, we know there is a right and a wrong position in the fight against racism and injustices. When we report on issues like the mental health crisis in the Black community, the ongoing issues with public education and the political discord and troubling legislation being enacted at the Oklahoma statehouse, we're not afraid either to name or hold those individuals responsible for problems that work against improving the lives of Black people.
Around this nation, our readers can access the Eagle's paywall-free journalism. Our readers keep us independent, beholden to no outside influence and accessible to everyone – whether they can afford to pay for news, or not.
If you can, please consider supporting the Eagle today. Thank you.
James O. Goodwin, publisher