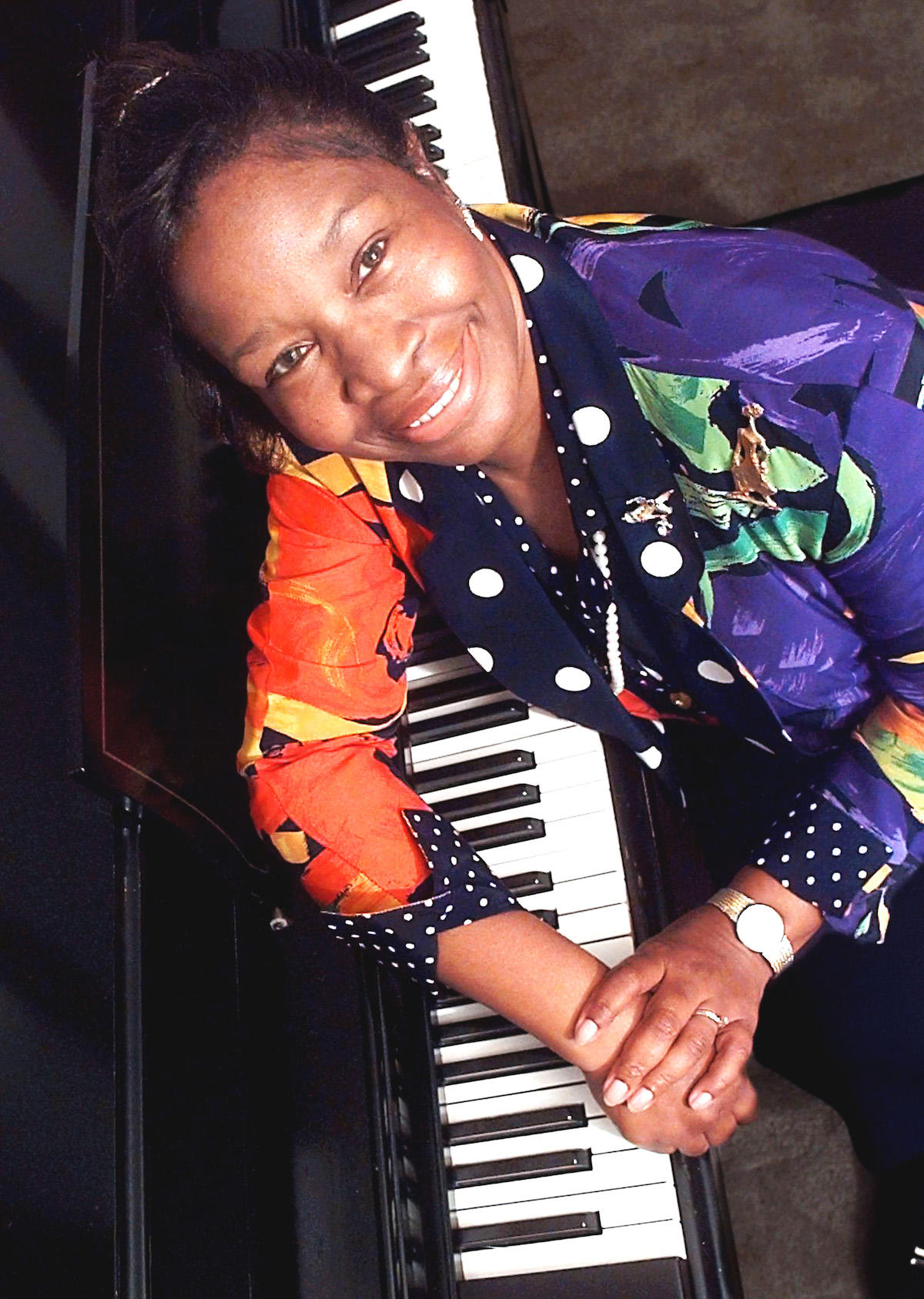 Ernestine Dillard: August 25, 1941-February 16, 2023
OBITUARY
---
Photo
Courtesy of Ernestine Dillard's Family
TULSA – Ernestine Marcus Buntyn Dillard, who spent three decades as a registered nurse but whose gift as a self-trained singer led her to perform first in church choirs and later at some of the most treasured venues in the United States and Europe, and before three U.S. presidents, died Thursday, Feb. 16, at Hillcrest Medical Center in Tulsa, following a lengthy illness. She was 81. 
Mrs. Dillard was affectionately remembered as "voice who helped healed the nation," for her April 23, 1995, performance when she electrified 11,000 mourners and a national television audience with her "God Bless America" medley that closed the Oklahoma City Memorial Service for the victims of the Alfred P. Murrah Federal Building bombing. As The Oklahoma Eagle reported, "her 'God Bless America' medley left many in tears." 
Mrs. Dillard was recognized as one of America's most iconic and "talented gospel singers of our time." The Eagle once noted she had the "voice of an angel" and her range and clarity was comparable to "the operatic luminaries Marian Anderson, Gladys Limehouse, Leontyne Price and Beverly Sills." 
She was beloved both in the U.S. and internationally with the Eagle once referring to her as "the Lady with the Golden Voice," in July 1992.  
The late-CNN anchor Bernard Shaw praised her 1995 performance saying on-air, "Here in the indoor arena on the Oklahoma State Fairgrounds the feeling is electric in the aisles, in the rows of seats, the President of United States, tears welling in his eyes as Ernestine Dillard went to the mountain symbolically with her voice singing God Bless America," the Eagle noted in a 1998 article. 
In a 1996 interview, Mrs. Dillard told Eagle correspondent Maria St. Luke that she was inspired by her mother, Christine Yarbrough Harris Towns, to sing starting at age 5. She learned to sing her mother's favorite song, "I'll Tell It Everywhere I go." 
 "My mother taught me all the things that I needed to hear," Mrs. Dillard said. "She said I was a 'good child,' and saying those things blessed and encouraged me. 
"I know that I am responsible for what comes out and I was given this gift, but it belongs to God." 
Her family knows Mrs. Dillard's many gifts – as a mother, a grandmother, a renowned singer, a minister's wife, a nurse and a lover of God – touched not just her community but the soul of a nation. 
"We are all proud of the legacy she has left, the work she has done and the many lives she has impacted," said Charity Marcus, Mrs. Dillard's granddaughter. "Whether people heard her sing once or a million times, she had an incredible impact on them." 
Mississippi roots
Mrs. Dillard's musical roots began in Nesbit, Mississippi, where she was the fifth of 17 children born to Ernest and Christine's blended family. Her name combines her parents' first names.  
Her family eventually moved to 20 miles north to Memphis, Tennessee, where they became members of Riverside Missionary Baptist Church. 
"There was a young woman that came to our church," Mrs. Dillard told John Erling in a 2014 interview for Voices of Oklahoma. "She sang and really touched my heart. It really made me want to sing forever. And I remember telling God, 'I want to sing like that when I get to be grown.' That's how I put it." 
Mrs. Dillard recalled that while she was shy growing up, it didn't stop her from performing in church and in school. 
"I loved to sing," she told Erling. "I was petrified if you asked me to speak and was until I was way into adulthood. I mean, absolutely petrified. But I loved to sing, and I would sing at the drop of a hat."
'I think I'll be a nurse.'
As a teenager, Mrs. Dillard said she dreamed of becoming a doctor and married with six children. But a friend warned that she would not have time to do both. 
"… I'm looking at this reasoning from an almost teenage girl saying, 'I can't be a doctor because that's going to take a lot of my time from my family. And if I'm going to have six children I'm going to need to be around,'" she told Erling. "So, I think I'll be a nurse." 
Mrs. Dillard excelled academically and musically by the time she graduated from Manassas High School in 1960. Even though she earned three scholarships – one for academics and two for music – Mrs. Dillard decided to skip college and marry her boyfriend, Charles J. Marcus Sr., shortly after graduation.  
But the young couple agreed they would find a way for her to attend nursing school.  
Mrs. Dillard continued singing at churches, weddings, funerals and participating in music competitions around Memphis, including WDIA, the first U.S. radio station programmed entirely for Blacks and where legendary musician B.B. King had his radio show.  
She also briefly worked a job that many other Black women did for white families. 
"He kept his word," Mrs. Dillard recalled of her husband's pledge. "He helped me to go (to college) … So, I worked for several months as a maid, a domestic housekeeper in keeping children. Paid the big sum of twenty dollars a week. We saved the money, and I went to nursing school for the first time." 
Mrs. Dillard graduated with a bachelor's degree in nursing from Memphis State University. She worked first at the famous St. Jude Hospital for children and later at Saint Joseph Hospital, where she was one of only two Black nurses working there. All the while, she raised her three children as a single mother after divorcing her husband. 
Dr. Martin Luther King Jr. killed.
At 26, she said she had a "life-changing" moment when she "saw the face of hate" in one of Memphis' most respected white surgeons. She said the surgeon earned a reputation of treating all of his patients – Black and white – with the same quality of care. 
"His patients always did well," she recalled in 2014, "and he had no respect to race or color when he was taking care of patients because he expected us as nurses to do the best no matter who it was. He would take us to task." 
But on April 4, 1968, when Dr. Martin Luther King Jr. – who had been shot by a sniper outside the Lorraine Motel – was brought to Saint Joseph's emergency room, she said a different man emerged. 
"…(T)he doctor was on the second floor standing by the window," she recalled. "He looked out the window and I would think, in my ideas of things, that he would have gone down to share his gift, you know, to see if maybe as a surgeon he could do something to help save this life. 
"What he did instead though, he said, 'Well,' and I quote, 'they have made a blankety-blank martyr of him. I suppose they are happy now.' And he just sat down and started doing his charts. 
"…I'm thinking, 'This man (the doctor) has given his life to saving life and wanting to do good with people. And now he lets hate show its face like this.' And I thought about that and I'm going, 'I can't believe this.'… But I made up mind that I had that much Christianity that hate would not rule my life." 
A musical couple
Mrs. Dillard found love for a second time with widower John Ray Buntyn, who was 22 years her senior with five children. The couple had a son together, and their blended family now had 10 children. 
It was their love of church and music that brought them together. They became members of Greater White Stone Baptist Church, where he was choir director. The couple would form a community choir, the Divine Messenger Chorale, which "was [the] catalyst of her great musical legacy," her obituary notes. 
"Although there were other singers (in the chorale), Dillard stood out," the 1996 Eagle story said. 
Mrs. Dillard said while her second husband was "a wonderful father," she said she decided to end their marriage in 1976 and moved her family to Indianapolis, Indiana, to put "my past behind and just starting fresh." 
She worked part-time managing a facility for geriatrics and singing "in as many places as I could" in Indiana.
'You're my wife.'
She was invited to perform at the Christian Methodist Episcopal convention in Birmingham, Alabama, when she met the Rev. Loomus Dillard, a towering 6-foot-5-inch South Carolina native who was a pastor in Virginia at the time. During the convention, they went on two dates. On their second date he boldly declared, "God says you're my wife."  
She dismissed his overture as both crazy and off-putting, but he stayed in contact with her by phone and letters. She answered his calls but never replied to his letters. 
"He was constantly saying the same thing," she recalled. "I think persistence pays off. Finally, I decided to ask God for sure… I did like Gideon. I said, 'If he's going to be mine and you want me to be his he'll have to come here, because I'm not going there. I'm not going to live in Virginia.' And sure enough, the Bishop sent him to Indiana." 
In 1978, Mrs. Dillard married the minister, whom her family would later say, "she was blessed to meet the man that God specifically designed for her." Their marriage lasted 41 years until his death in 2019.   
His ministerial assignments took their blended family of seven children to Phoenix, Arizona; Berkeley, California; and Seattle, Washington. She continued to work as a nurse and perform, including as the lead soloist with the "African American Woman 1500 to Present" group on their national tour. 
During one of the performances at the U.S. Military Academy in West Point, New York, then-Brigadier General David Bramlett dubbed Mrs. Dillard as a singer "with the surpassing voice," according to an Eagle story in 1992. 
Moving to Oklahoma
Mrs. Dillard was not keen relocating her family to Okmulgee, Oklahoma, especially since they had just adopted two children from Washington state. "But coming to Oklahoma is probably the best thing that God could have done for us," she would tell Erling. 
Rev. Dillard worked on his Ph.D. at Oral Roberts University and also led churches in Coweta, McAlester and Coffeyville, Kansas. Mrs. Dillard continued to sing in the church and throughout the community. She also worked first at Brookhaven Hospital before spending 30 years as a nurse clinician for the Tulsa Health Department. 
The Gold Medal
At 52, her life changed when a friend encouraged her to mail an application and a cassette recording of her singing to a new musical contest, the American Traditions Competition in Savannah, Georgia, in 1994. She recorded her song at the Greenwood Digital Studios with owner Lonnie Liggitt, an accomplished composer, pianist, organist and conductor, who would later tour the world performing with Mrs. Dillard and produce three albums with her. 
Performing as one of the oldest contestants, Mrs. Dillard made the cut of 145 singers invited to compete at the First African Baptist Church in Georgia. While the majority of singers wore tight-fitting gowns and high-heeled shoes and performed show tunes, Mrs. Dillard – wearing a white loose-fitting choir robe that dragged the floor – stayed true to her genre. 
"Ernestine is a religious person, not a professional singer," wrote columnist Jane Fishman in the Savannah Morning News. "She's a minister's wife who has never had voice lessons and who wouldn't feel comfortable singing jazz or blues in a church. So she sang church songs." 
Her performance – which ended with "God Bless America" – was so moving, that when the judges selected Mrs. Dillard to receive the competition's top award, the Gold Medal, one judge – singer and actor Della Reese – wiped away her tears as she presented the medal. 
"Della Reese came up and she said, 'Didn't God tell you that he would never leave you nor forsake you?'" Mrs. Dillard recalled. 
The contest jumpstarted a new career that for the next three decades would allow Mrs. Dillard to perform in some of the world's most historic concert halls and venues and national landmarks in the U.S. and in Africa, the Bahamas, France, Switzerland, Turkey and U.S. military bases. 
She has performed with orchestras and symphonies, recorded five albums, received honorary degrees and awards, was inducted into the Oklahoma Jazz Hall of Fame, performed before then-presidential candidate Ronald Reagan and Presidents Bill Clinton and Barack Obama and General Colin Powell, and at the CNN Trumpet Awards created by Muskogee native and CNN executive Xernona Clayton. 
In a lifetime of accomplishments as a mother, wife, nurse and singer, Mrs. Dillard told the Eagle in 1998 that she credited her success to: "God. He has given me this gift and I use it for Him. People pay a great deal amount of money to have what He has freely given to me. I did nothing for this. This is for a purpose. Plus, I love Him! 
"Thirty years ago, because of racism and rejection, I could not have had this. God gave it to me when He knew I could handle it. Before, I was radical. Now I believe in walking in love and serving others." 
Marcus, Dillard's granddaughter, recalled that years ago Dillard was approached by a man who said he was afflicted with cancer and requested that she sing at his funeral. Instead, Dillard prayed for him. The man, fashion designer Charles Faudree went on to live for at least two decades. He and Dillard became close friends.  
"The story says a lot about the impact of prayer and a lot about the kind of woman she was," Marcus recalled in an interview with the Oklahoma Eagle.  
Mrs. Dillard was preceded in death by her parents; her husband; a son, Bishop John R. Buntyn Jr.; three brothers, James Harris, O.D. Harris and Jerry Towns; three sisters: Cherry Hardaway, Erma Harris and Clara Towns. She is survived by 10 daughters: Tonnie (Boris) Nichols, Dr. Lawana Marcus, Loretta Buntyn, Patricia (Ronald) Cobbs, Beverly (Cleo) Thomas, Sylvia (Benjamin) Poindexter, Yolanda Walton, Camilla Dillard, Patricia Dillard and Atisha Dillard; five sons: Charles (Sandra) Marcus, Timothy (Rachel) Buntyn, Rudy Buntyn, Bishop Kenneth (Ann) Buntyn and Silvio Dillard; her grandchildren: Brandy Smith, Kesha Smith, Brian Smith Jr., Candace Smith, Charles Marcus III, April Marcus, Charity Marcus; fourteen great-grandchildren; four sisters: Bonnie Grayson, Joyce Rayner, Carolyn Kendrick and Angela Smith; two brothers: Ernest L Harris and Jimmy (Darlene) Towns and a host of other relatives, nieces, nephews and friends. 
Mrs. Dillard's "Home Going Celebration" will be at noon, Saturday, Feb. 25, at Boston Avenue United Methodist Church, 1301 S. Boston Ave., Tulsa, with the Rev. Dr. Stacey Cole eulogizing. Public visitation is from 10 to 11:30 a.m. There will be no viewing after the service.  
Interment will be at 1:30 p.m., Monday, Feb. 27, in the Fort Gibson National Cemetery in Fort Gibson. 
House of Winn Funeral Home-Muskogee is handling Mrs. Dillard's services.