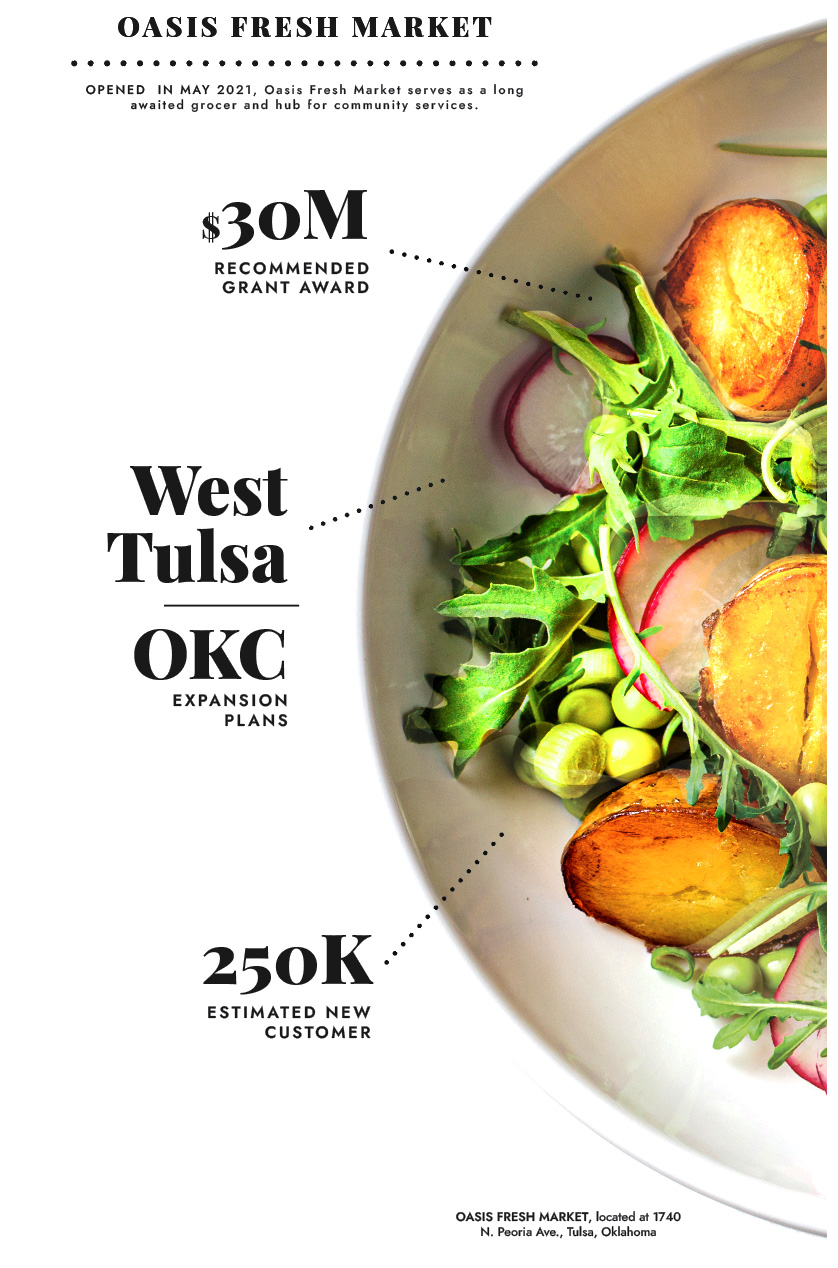 GARY LEE
THE OKLAHOMA EAGLE
---
PHOTO
THE OKLAHOMA EAGLE
Since opening on North Peoria Avenue in May 2021, Oasis has become the answer to many of the basic needs of North Tulsans. It's a central food shopping place, a gathering spot, and a self-styled 411 center for information on jobs, health care, and just about everything else. Under the leadership of Andrew "A.J." Johnson, the CEO, charismatic manager, and one of the principal owners, the store is also doing its part to edge North Tulsa out of its longtime status as a food desert. It has lived up to the Oasis name as the only place in the vast stretch of North Tulsa where residents can find fresh produce, fruit, and vegetables on a consistent basis without driving for a half hour.
In an interview with the Oklahoma Eagle, Johnson outlined the business's ambitious plan to open new stores in West Tulsa, Oklahoma City, and two locales in rural Oklahoma which have not yet been designated.
"Our focus in the new locations is the same that it has been in North Tulsa: to eradicate food deserts," Johnson said in an interview. "We're taking what we have been doing in North Tulsa and growing it in new areas."
The expansion, which has been discussed for at least a year, will be made possible by a $30 million grant from the state's American Rescue Plan Act allocation. The grant was approved last month by the Oklahoma legislature's Joint Committee on Pandemic Relief's working group on government transformation and collaboration. The Legislature met last week in a special session to vote on other grants. They tabled final approval on Oasis and several other projects to a later date.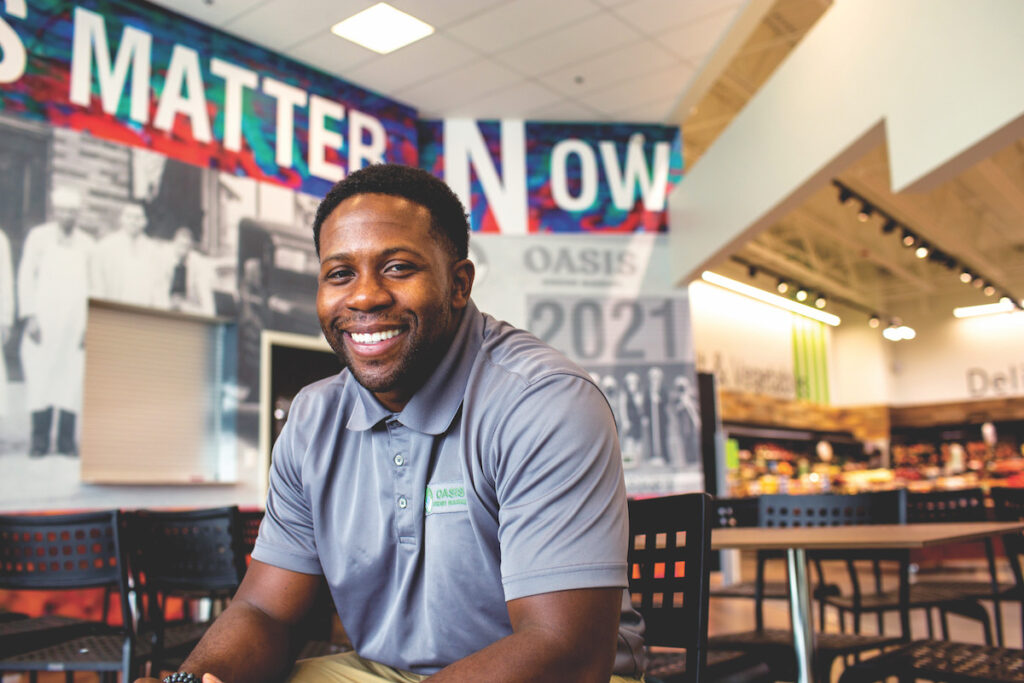 Waiting For Funding
"We're just waiting for the final green light on funding," Johnson told the Eagle.
Oasis Fresh Market is owned by a group of investors led by Johnson and Marc Jones, president and CEO of Homeland. The new stores will be under a similar management structure with Johnson and Jones as principal owners.
Oasis was built with investments totaling $3.9 million. The funds came from the Tulsa Development Authority, the city of Tulsa through U.S. Housing and Urban Development's Community Development Block Grant program; the George Kaiser Family Foundation; the Charles and Lynn Schusterman Family Foundation; and the Zarrow Family Foundation.
Before Oasis's arrival, North Tulsa had been designated a food desert for a decade and a half. The U.S. Department of Agriculture defines food deserts as low-income tracts in which a substantial proportion of the population has low access to supermarkets or large groceries. For years, political and civic leaders from the North Tulsa community lobbied Reasor's and other retail grocery stores companies to open branches in North Tulsa. The companies all declined. They often said that product losses for such a store in North Tulsa would be so rampant they would diminish profitability.
Oasis, perched near the popular intersection of North Peoria Avenue and East Pine Street, is in easy driving distance of the heaviest population concentration in North Tulsa.
Residents in the outer northern edges of the city, including 46th Street North and Mohawk Boulevard, are still in what is deemed as food desert areas.
Food deserts across Oklahoma
Tulsa is by no means the only part of Oklahoma plagued by food insecurity. It has been a major issue in the mostly Black northeast sector of Oklahoma City as well. Some efforts are underway to combat Oklahoma City's food challenges.
Last year, a coalition of community organizations opened the Market at Eastpoint at 1708 NE 23rd St., in Oklahoma City. The Homeland grocery chain is scheduled to bring a new store to NE 36th and North Lincoln Boulevard.
And yet, access to regular supplies of fresh produce is still not easy for many residents of the area. Although the plan for a new Oasis Fresh Market in Oklahoma City has not been finalized, it is likely to be located in this part of the city.
Many rural regions of Oklahoma also have longstanding food insecurity woes. By the account of the nonprofit Hunger Free Oklahoma, 32 of Oklahoma's 77 counties are also classified as food deserts. Nine of those counties are "severe food deserts," meaning that the entire population has limited access to fresh food.
Poor availability of transportation for many low-income Oklahoma residents – in Tulsa, Oklahoma City, and the rural areas – further dramatize the food insecurity dilemma.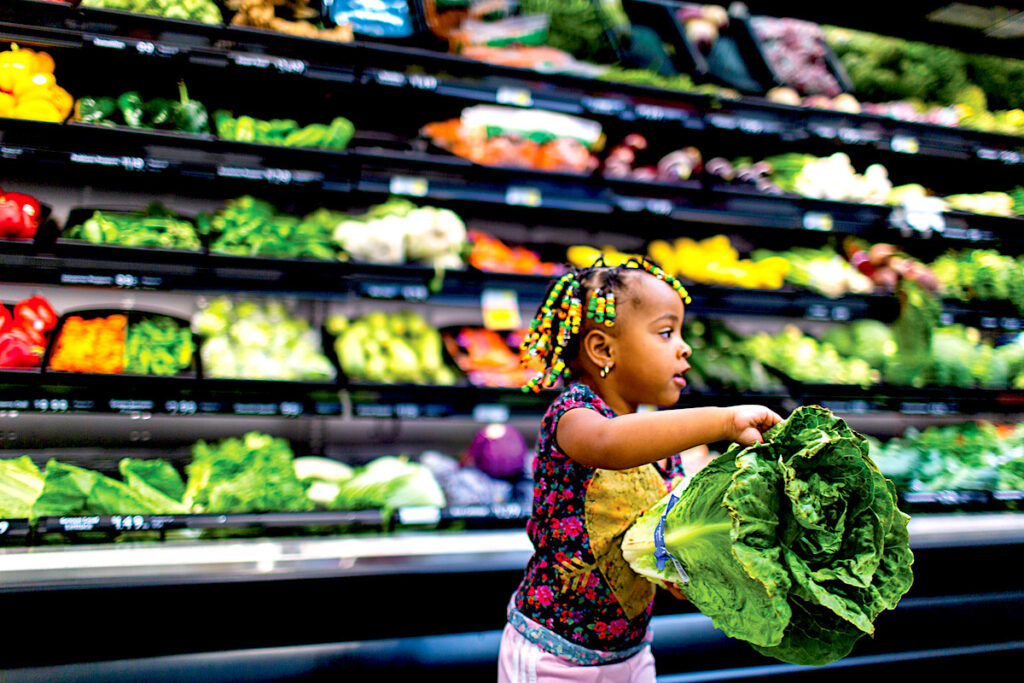 More than a food store
Although selling food is its main business, in a year and a half, Oasis Fresh Market has established itself as far more than a food store.
During First Saturdays, one of the regular programs the store features, vendors offer everything from employment assistance to medical advice set up stalls at the store on the first Saturday of every month. Under Double Up, another program Oasis features, customers on Supplemental Nutrition Assistance Program (SNAP), can get twice their money in fresh produce. The store also makes specialists in housing available to help locals find apartments through Housing Assistance Program.
Beyond these programs, Oasis has become a center for food giveaways and shopping sprees, particularly around holiday times. The store offers free food, gift certificates, and other prizes, often worth thousands of dollars. The high-profile giveaway events draw crowds of hundreds that frequently form lines out the store's front doors.
The Spot, a hangout area in the front of the store, offers a respite for anyone who needs one. Sometimes locals in need show up to see whether Oasis can help. Not long ago, a North Tulsa woman showed up asking if the store could give her money for gas to get to Okmulgee, where her daughter had been in a car accident. The store gladly obliged.
With its upbeat vibe and stature, Oasis has amassed a strong following among North Tulsans.
"It has helped take care of much of the community's food desert problem," said Charles LaMont, executive director at World Won Development and co-host of the weekly radio show News You Can Use. "And with that, it seems to be making a dent in improving life expectancy in North Tulsa."
"But it's way more than a food store," LaMont added. "It's a safe place, a shelter, and a refuge—something North Tulsa needs."
"I like that Oasis has become a symbol of Black Excellence in our community," said Damali Wilson, a North Tulsa community advocate, executive director of operations at World Won Development and co-host with Lamont of the News You Can Use program. "It's a place the community can go to and be proud of."
The store has faced some criticism from North Tulsans. Some customers lament that the prices are higher than at Walmart or other alternative food stores in Tulsa.
"People don't understand that the prices often result from supply issues," Wilson said. "One hope is that the expansion will also allow them to bring the prices down."
Wilson, LaMont and other Oasis fans attribute a large part of Oasis's success to Johnson's drive, commitment and leadership. That raises the question of whether the kind of vibe that Johnson has created can be transferred to new locales without his constant presence.
Johnson said he is already working on that. "We're looking to find and build leadership teams in the communities where we hope to expand," he told the Eagle. "Of course, we're going to need the engagement and support from members of those communities to succeed. We firmly believe that our model, including all our services, is scalable and repeatable in other parts of the state."