THE OKLAHOMA EAGLE
---
PHOTO
Basil Childers
The record $190 million investment to redevelop Comanche Park apartments – into 545 new mixed-income housing community by 2025 – is all at once generating new excitement and renewed nostalgia for what the area of the North Peoria Avenue and East 36th Street North corridor once was. 
While most of the public officials and the local foundation officials at the Envision Comanche news conference on Sept. 22, repeatedly labeled this redevelopment "transformational," many community leaders – who grew up in the area and have waited decades for redevelopment to expand to this portion of Tulsa – expressed a mixture of enthusiasm, optimism and with a "we'll see" outlook. 
In her remarks, Tulsa Councilor Vanessa Hall-Harper stopped short of using the word "transformational" in reference to plans for the new complex. The impact of this new dynamic of the mixed-use, mixed income residential space that combines market-rate units with voucher-supported units is still too early to see. The first model completed in Tulsa, the $170 million River West, just opened for residents to move back in this summer.
Hall-Harper said overall she is positive about Envision Comanche, calls it is a step in the right direction, and dramatic departure from the previous model of building public housing units, especially for this public housing complex that became Tulsa's largest when it opened in 1970.
"When you put a group of people in the same financial, socio-economic state in one space, experience has shown us you create ghettos," she said.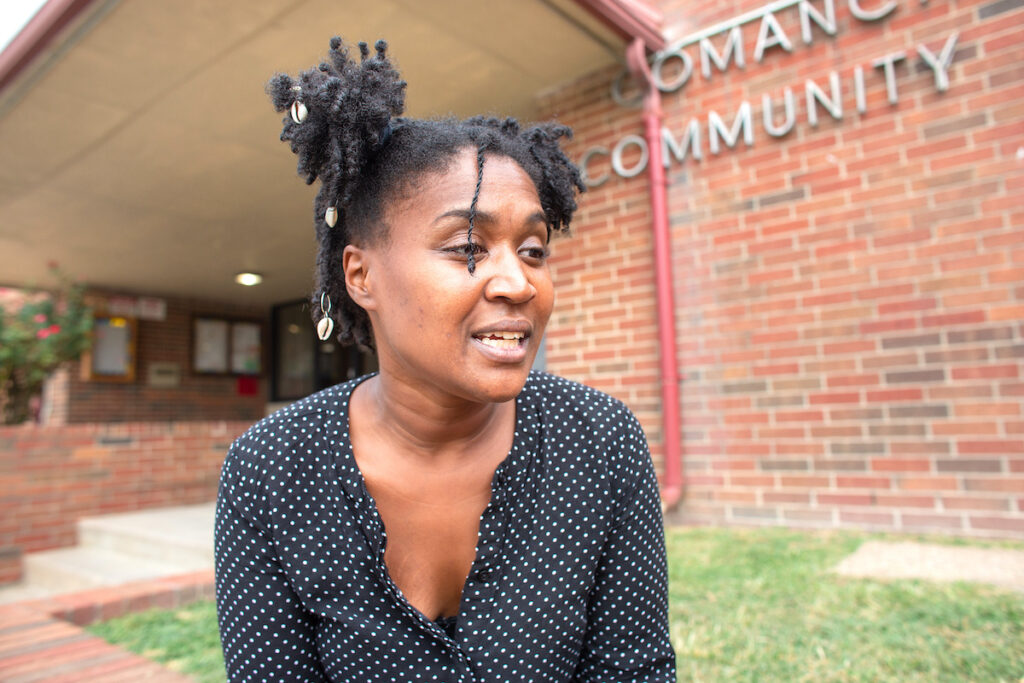 Rebuilding Comanche community
Officials said the public-private investment in Envision Comanche will transform a portion of the 36th Street North corridor, including the Tulsa Housing Authority's (THA) Comanche Park Apartments, into a mixed-use, mixed-income community. The redevelopment of Comanche Park includes 545 new apartment units with 271 replacement units, offering existing residents the first right to return, and 274 units that are a combination of affordable and market rate.
Philanthropic partners of the project include the Anne and Henry Zarrow Foundation, the Ascension St. John Foundation, the Charles and Lynn Schusterman Foundation and the George Kaiser Family Foundation. The Oklahoma Housing Finance Agency is also providing funding for the project.
In addition to the redevelopment of Comanche Park Apartments, Envision Comanche calls for the addition of a neighborhood-scale grocery store, an urban farm, the creation of the Flat Rock Creek Urban Wilderness Area and the leveraging of more than $162 million in planned in private development in the area over the next several years.
It's the largest investment in a mixed-use, mixed-income Tulsa housing complex to date. The dilapidated buildings will be demolished, to be replaced with towers and townhouses.
U.S. Housing and Urban Development Secretary Marcia Fudge made a personal visit to Tulsa on behalf of President Joe Biden's administration to announce the $50 million Choice Neighborhoods Initiative (CNI) grant they awarded to the Tulsa Housing Authority (THA) for Comanche Park redevelopment. 
In September, Tulsa was one of four U.S. cities – Durham, North Carolina ($40 million), Knoxville, Tennessee ($40 million) and Omaha, Nebraska ($50 million) – to receive a total of $180 million in federal grants that will overhaul outdated and distressed public housing complexes and jumpstart a coordinated effort "to improve income, health, and educational outcomes for those in the target area(s)."
"This is the biggest grant given this year," said Fudge of the federal government's new investment at Comanche Park. "HUD is here because HUD is needed. When you pull together people who care, when it is intentional, strategic, all encompassing, you get out of it what you put in it. If you work hard, God will bless you. If you work hard, you will succeed. This is a work-hard project."
The new Choice Neighborhood model of public/private housing promises a step in the direction to more diverse, equitable communities supported by additional public infrastructure improvements and economic development. To make this project a reality in Tulsa, the process involved more than 30 community meetings with public and private inclusion and with participation with over 100 residents and current Comanche tenants.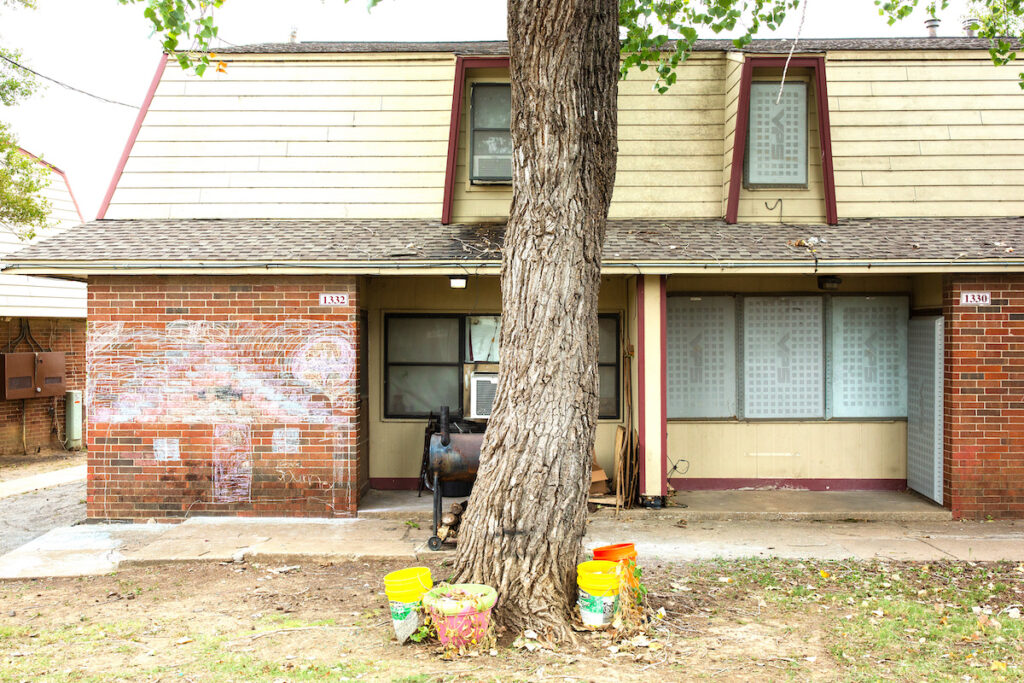 ---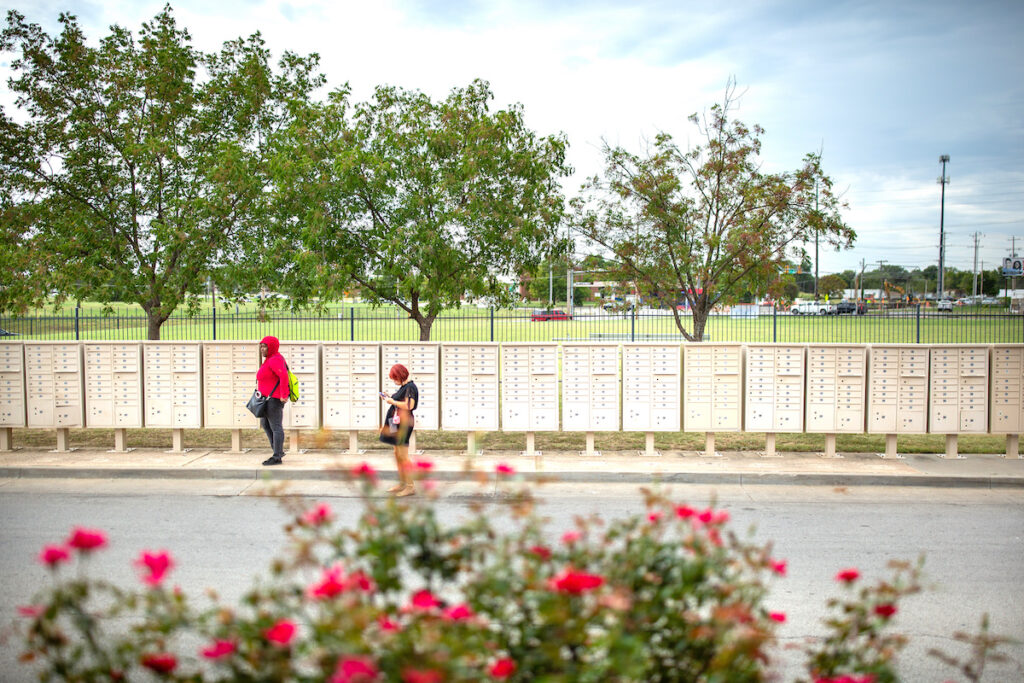 Longtime coming for Phoenix District residents
In the 1960s, the residents in the area had access to groceries and department stores at Northland Shopping Center, at one time the city's largest shopping center.
As Hall-Harper reminisced about the previous merchants that anchored the district, the stark contrasts between North and South Tulsa were evident. The Northland Shopping Center was built in 1954 and proved to be so successful that Southland Shopping Center was modeled after Northland when it opened in 1965 at East 41st Street and South Yale Avenue.
At that time, the East 36th Street North-North Peoria Avenue area was predominantly white. But as the Tulsa began to integrate and many Black families began to relocate from the Historic Greenwood District to more communities north. The Black migration prompted the majority White residents to moved south. The population shift and the density was not there to support the big retailers such as OTASCO, Froug's and Dillard's (initially known as Brown-Dunkin).
Today, this corridor may be at the beginning of a renaissance with the support from private, nonprofit, foundational and government support.  
"I am so excited! It warms the cockles of my heart," Tracie Chandler, president of the Phoenix Development Council proclaimed in an interview after the Envision Comanche news conference. The council is a neighborhood association that has worked tirelessly to bring economic developments to East 36th Street North area. 
Chandler, or "Ms. Chandler" as everyone calls her showing the respect she has earned, is a longtime advocate for the district, and like many residents at Comanche Park, envisions a thriving future for the area with all the amenities that make up a community where residents can shop, dine, buy groceries and receive healthcare services, without having to travel either to Midtown or South Tulsa. 
"Where things are right now, we have schools and a fire department (Engine #24). We can get ya some liquor, get ya some marijuana, bury you and save your soul. We can get you a telephone. and you have a place to pay your bills," Chandler mused with a hint of irony and disappointment in the lack of resources.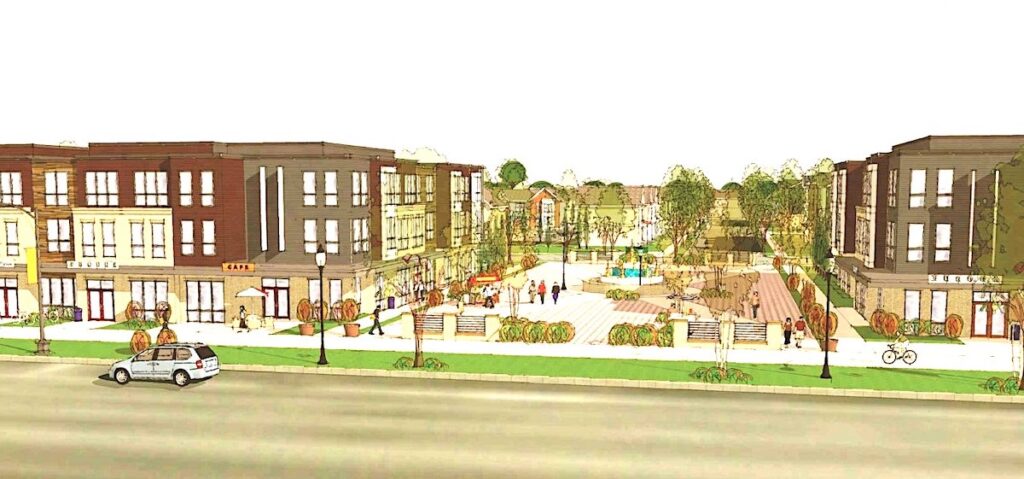 ---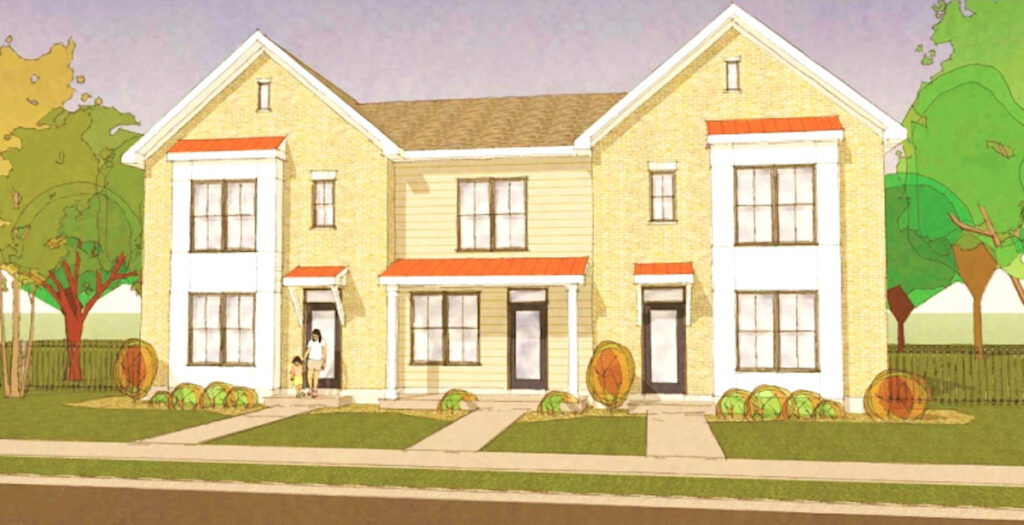 New infrastructure planned
The city of Tulsa is improving underground and street infrastructure in the area. The 36th Street North Events Center is attracting organizations. Health disparities are being addressed through localized services – offered by the OU Health Physicians Wayman Tisdale Clinic, Westview Medical Center on the west end of East 36th Street North, and Crossover Health Services, near the corner of 36th Street North and North Peoria Avenue – all in the heart of the Phoenix District.
Chandler praised Crossover Community Impact's capital program, which she has supported through activism and personal finances, to restore community through the eradication of health disparities and build a community center/school and complex to support area residents.
In her remarks, Hall-Harper noted how the project signals an opportunity for North Tulsa residents.
"It is so important that we as elected officials stay involved and engaged, but also that the community has been a part of this process," she said. "That involvement is more unique to this project than what has happened in the past. It's not people sitting in powerful seats making decisions for the people, but rather the people being involved in that process who can then hold us, at all levels of government, accountable."
Noting that the 36th Street Small Area Plan, adopted as part of 2010 planitulsa, is being implemented, Hall-Harper said when all resources are focused on the community, "we will get where we want to be."
 "This new type of investment is certainly a kickstart. New development can take place with this (Envision Comanche) being the catalyst," she said. "As my mama would say, 'we'll see.'"
Hall-Harper said she and her family lived in the area when she was young and reflected on the days when her mother didn't have to go far to buy emergency supplies.
"I remember when my mom would take me and my sister to buy pantyhose for church the next morning," Hall-Harper said, drawing laughter from those in attendance at the 36th Street North Events Center.
"Northland was still a vibrant shopping center," she said. "It was the same thing as Southland. We had Dillard's and Froug's and access to what they provided at Southland. We had all of the things that we have to go outside of our community currently to obtain."
The very site of the news conference for the Envision Comanche announcement was a Warehouse Market grocery store a half-century ago.
"Slowly and surely, all of that went away, and the neighborhood deteriorated. White flight was a big part," Hall-Harper said, noting that the decline of North Tulsa continued as South Tulsa prospered. "You can clearly see where the investment and divestment was taking place. We still experience those ramifications today."
A commercial/residential realtor who moved to Tulsa from Los Angeles more than 20 years ago, Burlinda Radney said she became a supporter of the 36th Street Small Area Plan when she met Chandler, while debating a CVS at the corner of East 15th Street and South Utica Avenue.
"The CVS was out of step with what the community had planned in our small area plan, and Ms. Chandler came out to support us," Radney said. "That's how I met her and became an advocate for the 36th Street Small Area Plan. Ms. Chandler is deeply involved in neighborhood dynamics."
Radney said she understands "a wait-and-see approach" before claiming victory on transformational change, but said federal grant has the opportunity to truly shift the context around subsidized housing in the North Tulsa area, especially the inclusion of more mixed income neighborhoods and bringing with it amenities and services that people need.
"That could be a game changer," Radney said. "As Secretary Fudge said, we are creating this healthy, happy community environment. I look forward to seeing that investment in the Tulsa Housing Authority complemented by more private sector and middle-income development to support an entire robust community."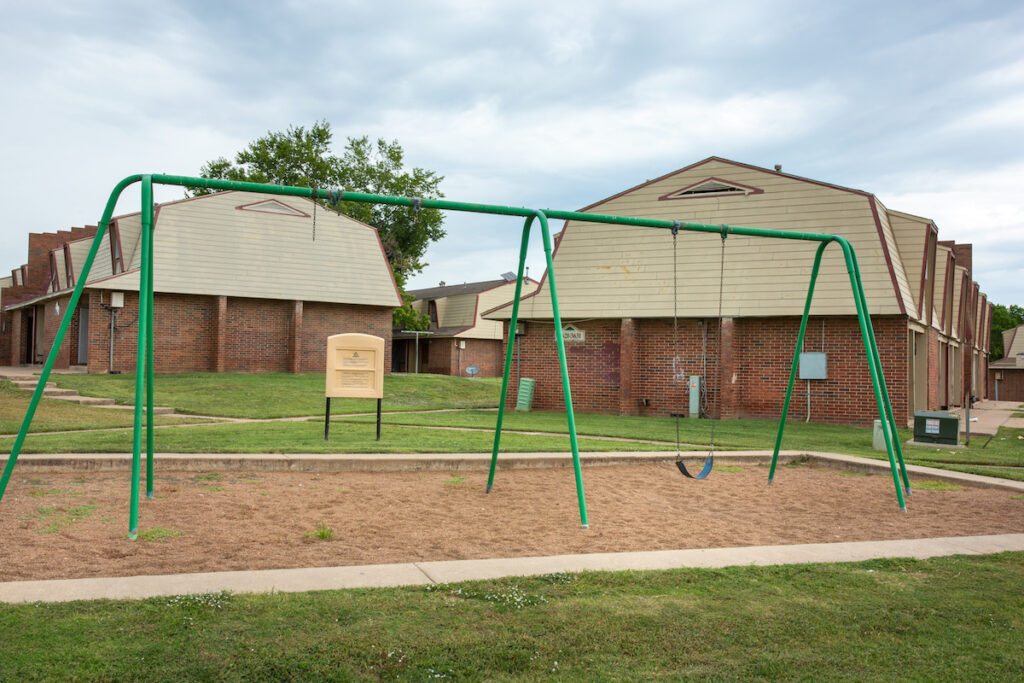 Comanche residents: The good and the bad
As Fudge said in her remarks, everyone deserves to have a safe place to live. The Tulsa Housing Authority's efforts have not escaped the notice of Comanche residents.
"I have to give a shout out to Jeff Hall, (the THA's vice president of development services, because we've been working with them since 2018," said "Coach" Sidney McCalib, a Comanche Park resident. "I was skeptical, but they kept us in the loop with flyers, meetings and step-by-step explanations, and they've done an excellent job to get us where we are."
Cecilia Montgomery, who moved into Comanche Park when she was 18, also praised Comanche Park's recreation center director for going above and beyond, even offering personal assistance to residents. 
"I have lived in four different apartments here, some were in shambles and others were really nice apartments," said Montgomery, who credited recreation director Tereka Washington with improving Comanche through her efforts and keeping things going as it goes into its metamorphosis.
Now, 15 years later, Montgomery reflects on her time there and the coming changes with a smile and a positivity that is infectious. 
"I am so excited! I've seen it at its worst," Montgomery said. "There has been joy here and a lot of sadness. A lot of people are glad to see the old Comanche go and excited to see the new one rise. Because there has been so much pain here."
When she learned of the new development Tulsa Housing Authority officials were planning, it struck a chord of fear initially.
"At first it was scary hearing about the changes," she said. "We didn't know if we were being shoved to the side, and do we matter? But we see they really do want to involve us in it, all the way from planning to demolition to reconstruction."
The numbers of residents at Comanche are dwindling, with many vacant apartments closed and secured while awaiting the demolition launch. But all residents will be given vouchers to find new apartments. THA has planned for the influx into other existing, eligible  units, Ginny Hensley, the agency's communications director told The Eagle.
Montgomery said she is happy to relocate, using a voucher for rent and a moving company. She said she intends to move back into Comanche when it is ready.
Montgomery and McCalib keep the community going with a small garden and caring for the Comanche Park kids, teaching them how to make a garden grow and encouraging them to eat healthy, organic vegetables and fruits. McCalib is looking forward to a bigger space for an abundant garden when he moves back after the project is completed in three years. 
"Change is good for the whole North side," he said. "It's long overdue. I'd like to see more restaurants, businesses, a better gas station here and more lighting."
Currently, McCalib and Montgomery watch out for all residents and police their own area with some welcomed assistance from Tulsa County Sheriff patrols. Lower crime and enhanced security are two things that they will be grateful to have in the new complex.
Hall-Harper said government projects implemented in the past could have been transformational. She said the most important measure of success for new initiatives is based on who they serve.
"It can be transformational if it is for the benefit of those who need it the most," she said.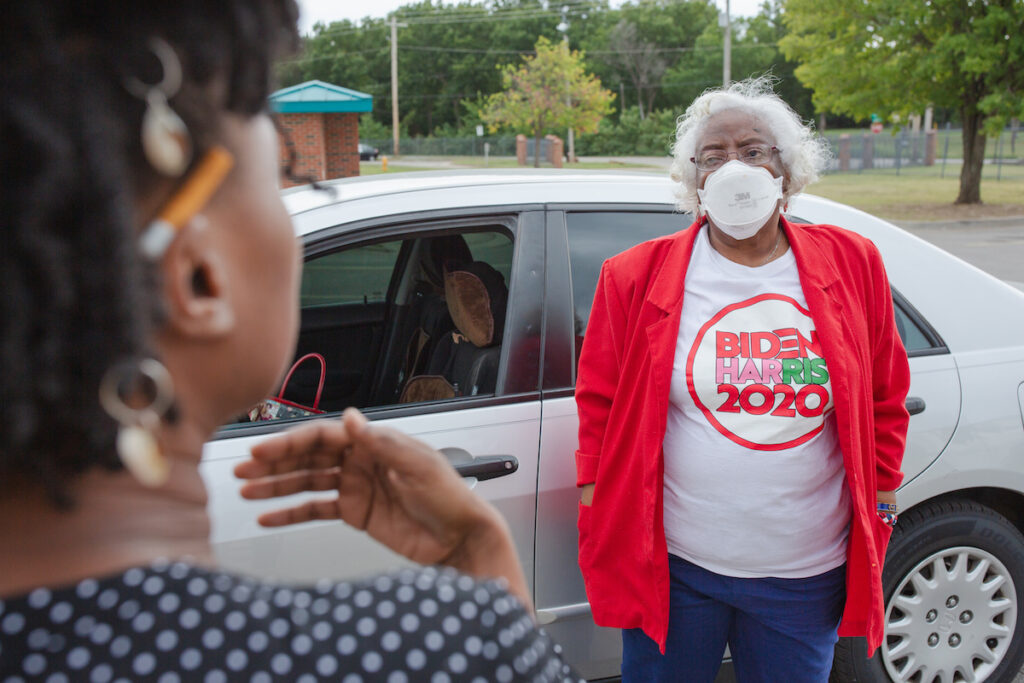 A Dream in the Remaking of the Phoenix District
I like to close my eyes and dream of what East 36th Street North, the heart of the Phoenix District, would look like with me just focusing on the new renovations. This is what I see. A street lined with beautiful, colorful trees and vegetation. The sidewalk will be stamped with the Phoenix District logo that was chosen by approximately 1,000 people.
I see benches and tables with the logo emblazoned on them. The street has mixed use buildings with all kinds of retail shops and variety stores. There are restaurants, coffee shops, and there is a bakery. There is a food truck park containing picnic tables with chess and checker boards painted on them.
The park would have accommodations for pop up business. This encourages the residents to come out and get to know each other.
There are places of entertainment that meet the needs of the young as well as seasoned residents and everyone in between.
There is a grocery store that has a restaurant that uses the vegetables grown in the community gardens.
There would be statues of famous individuals. Children would be able to learn their numbers, geometric shapes, and the alphabets from concrete blocks along the street.
There would be an all-purpose building that would serve as a community center, a school and a church. There would be a fantastic hotel that would draw people from near and far.
You would be able to see awesome art work as well.
–Tracie Chandler's vision for the East 36th Street North corridor in the heart of the Phoenix District.
---

Timeline For Envision Comanche
2019
18 month resident and community-led planning process concludes with Tulsa Housing Authority Board approval of master plan. Early action highlight with implementation of new bus route from Comanche Park to Walt Whitman Elementary School.
2020
Predevelopment and due diligence work initiated with zoning, preliminary platting, surveying and environmental studies completed. Initial designs for Phase I initiated. Early Action Highlight with delivery of Wi-Fi hotspots to Comanche Park families in partnership with the "Birth Through Eight Strategy for Tulsa (BEST).
2021
Procurement of Urban Strategies, Inc, and supportive services partner, and Pennrose, LLC, as co-developer, in preparation for a fiscal year 2021 HUD Choice Neighborhoods Initiative Implementation Grant application. Early Action Highlight with reopening of Comanche Resource Center (COVID-19) to host a 30-agency partner/resource fair and the completion of the refreshed resident needs assessment.
2022
Submission of the CNI Implementation Grant Application in February 2022. Projected award timeframe of July 2022. Submission of HUD Demolition application, with projected approval date of May 2022. Continued resident and partner engagement. Upon award, initiation of predevelopment for Phase I housing. Upon approval, phase 1 demolition to start in October 2022.
2023
January 2023 is financing application submission for Phase I with target construction start of August 2023. Initial tenant relocation efforts initiated. Phase II financing application submitted in June with target construction in May 2024. Phase II demolition projected to start in October 2023.
2024
Initiate phase II of tenant relocation and phase III of demolition. Submit Phases III and IV financing applications with target to initiate construction for phase III in October.
2025
Initiate phase III of tenant relocation, and initiate lease-up of Phase I new construction. Submit phases V and CI financing applications with construction for phase V in October.