Executive Director, Greenwood Film Festival
---
The Oklahoma Eagle is excited to publish a new edition of its 918 Series, a brief Q&A with Tulsans who share their passions and invest in our shared communities. As the title suggests, the series will feature the responses to a mix of nine entertaining and thoughtful questions and one highly personal/serious question, all within eight minutes. This week we feature a conversation between University of Maryland student journalist Dorvall Bedford and the Greenwood Film Festival's Dennis Delemar. As an executive director of the festival, Delemar is in charge of organizing an event promoting Black filmmakers. At 37, he hosted Tulsa's second film festival ever from June 8 to 12. A native of New Bern, North Carolina, Delemar played college football at Charleston Southern University before finding love in filmmaking. He lived in Tulsa from 2014 to 2017 and now lives in California. He has made a total of nine films so far and describes himself as both a writer and director. 
1. What first brought you to Tulsa?
What first brought you there was finding out about Black Wall Street. This was maybe early 2014. I found out by talking to my friend, he would always talk about Black Wall Street. I thought it was a concept of Black people working together, but I didn't know it was a real thing. And so, I ended up researching it and I was like, "This is fascinating."
But I think some of the questions I had concerning Black Wall Street weren't on the internet. Everybody talks about how it got built and the end result of it. My fascination with it was how a generation went from being slaves to being millionaires. That story really wasn't out there so I began to write a story about that. I had some money saved and moved to Tulsa. I didn't really know anybody, but I was drawn to Tulsa. Last year, I actually found out that my great grandfather lived during the time of Black Wall Street in Tulsa. So, it was kind of in my roots. 
2. What kind of films do you direct?
A lot of the films I like to tackle deal with the voiceless. I love to tell stories concerning the Black experience in America, religious deception and stories of abuse. Pretty much all the stories I like to tell are like events and chapters in my life. As far as genres, I've been in mostly drama but I'm getting into thriller, sci-fi and comedy. I love everything. I don't stick to one thing.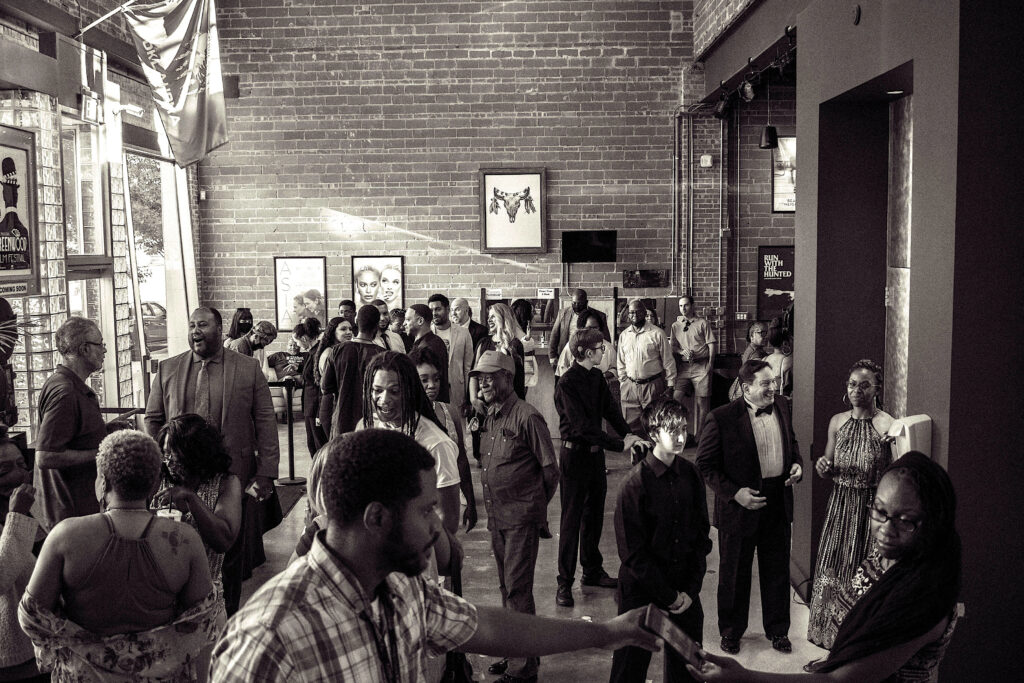 3. How did you get into film?
I got into film because after I walked away from football in college, I didn't really know what I wanted to do. And I went to a play called "The Diary of Anne Frank." It was kind of my first experience going to a theater play and I was just amazed by the expression of the actors and everything. So I applied to take a summer course in acting and directing, and it was just natural.
My professor said I should do something with my talent and pursue something. I got into theater after I took that course and that's kind of how I got into film.
4. What film would you say you are most proud of making?
I would say pretty much my latest project that's been out, "Black Wall Street: American Nightmare." It follows O. W. Gurley as he is taken to the future where he sees what Black America would become. It was a turning point in my career. It was the longest shoot that I've done, the most expensive and had a lot of moving parts to it. So to be able to endure to the end and make it was pretty exciting. Then also the response of just touring it in three cities and selling out was just amazing. 
5. What was it like to organize the very first film festival in Tulsa?
Man, it was intense. It was tough because, I had never organized a festival. So, we really didn't know what the template was to do it and how to do it right. And, of course, for the first year people were skeptical, especially since it was the centennial and Tulsa was in the news. My whole objective was to launch in during the centennial but to not be just a thing that came and went.
Hopefully we can get bigger and bigger because I want GFF to be a place where you have first-time filmmakers launch their careers.
6. Do you think that the first film festival made an impact in the Tulsa community?
I think it did. I think it really did because there's nothing like it. There will be nothing like it, and the reason why is because we're changing the narrative. I think it's going to be a flagship festival in Oklahoma for people who want to be inspired and challenged and want to see a fresh look at Black cinema. Not just any cinema and not just great films, but a fresh look on the future of our youth and culture. I think it made an impact to start that off. 
7. How would you compare organizing a film festival to making a movie?
I would say it's similar but different. It's similar in the fact that it's just organization, like calling people, producing and getting things in order. The difference is that you have to convince people to get excited for other people's films. Sometimes that takes a lot of studying and reading and really getting to know what your messaging is. I love the films, but I don't really know the intricate parts of them other than what I can see. It takes a little more effort in getting the messaging across to people about why they should go see these films.
8. Are you looking forward to the next film festival happening this summer?
Most certainly! We have more films than we had last year, and we just tapped into the international market, which has broadened our reach. I think the festival really speaks to our theme this year which is telling stories of truth and stories of freedom, because a lot of the products that we got are touching where Tulsa is and where Tulsa is going. 
9. Are there any specific films or filmmakers people should look out for at the film festival?
One of our opening films (was) "Red Horizon." It's a documentary about the next generation of pilots following in the footsteps of the Tuskegee Airmen. These pilots are young people, and when I say young, I mean they're in their twenties. It's inspiring to see and it's going to be a great film. Our international film (was) "The Road Less Cycled," and it's from South Africa. It's an excellent film to be inspired by and to see how the struggles that we go through in here America are not exclusive.   
10. What are your hopes for the film festival going forward?
My desire for the festival is that the youth and the community will not just support. Beyond support, I want people to be inspired. And not only be inspired, but to take that inspiration and begin to create. GFF is a seed for filmmakers to be inspired to make a change and search for the truth.
About This Project
The Oklahoma Eagle, in partnership with the University of Maryland Philip Merrill College of Journalism and the School of Journalism & Mass Communication University of Wisconsin-Madison, and the "On the Ground Reporting" project, collaboratively instructed participating journalism students through the process of publishing stories that focus on community groups and issues in Tulsa and Oklahoma. The class was led by Maryland associate professor and Washington Post staff writer DeNeen Brown, an Oklahoma native, who teamed with Eagle editors M. David Goodwin and Gary Lee.
To read other stories in the student project, visit https://theokeagle.com/on-the-ground-reporting/