By GARY LEE AND SAM LEVRAULT
---
Renowned historian, author, and genealogist Henry Louis Gates Jr. met with the three survivors of the 1921 Tulsa Race Massacre last week and pledged to trace their family trees and feature them on his popular PBS show on ancestry.
Gates' meeting with the survivors – Viola Ford Fletcher, 107, Hughes Van Ellis. 101, and Lessie Benningfield Randle, 107 – came during a whirlwind visit in Tulsa on April 8.
Gates concluded the 85th season of the Tulsa Town Hall's 2021-22 season at the Tulsa Performing Arts Center, held a question-and-answer session with students from Tulsa Community College and attended a luncheon. He used his Tulsa appearances to offer insights into his impactful work in genealogy and to stress the importance for everyone to trace their roots.
Gates, a top American intellectual, is a professor of African American Studies and director of the Hutchins Center for African & African American Research at Harvard University, author of 21 books, recipient of 50 honorary degrees, and creator of over 15 documentary films. He is best known nationally as the creator and host of the popular PBS show, "Finding Your Roots." It has featured celebrities, athletes and notable professionals ranging from actress and director Regina King to rapper and actor LL Cool J and Oklahoma native and law professor Anita Hill. It just ended its eighth season.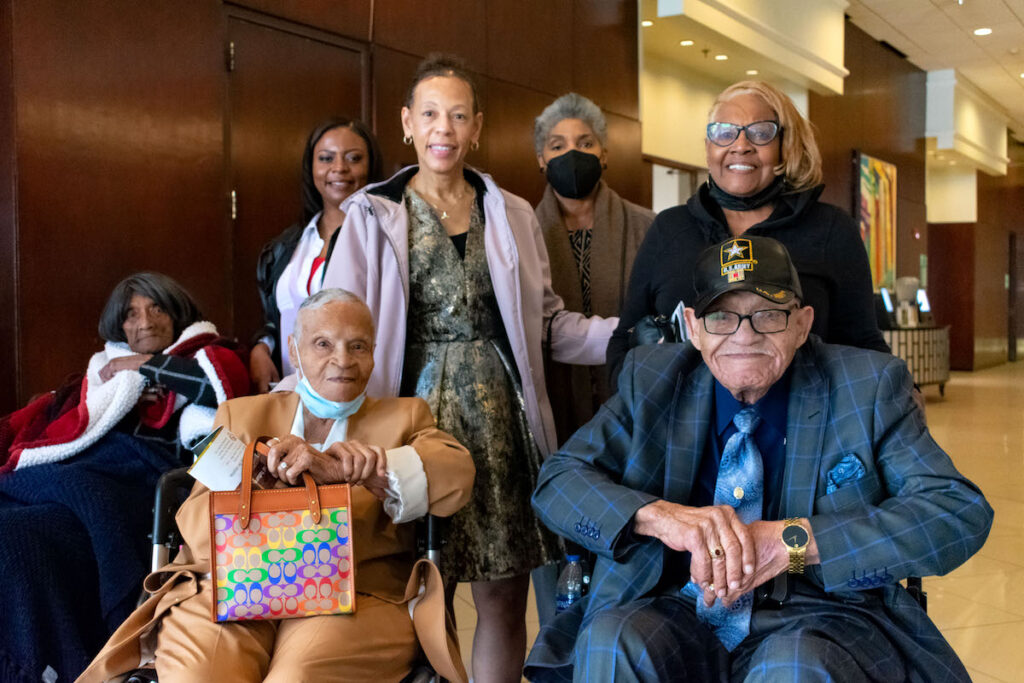 'This is history' 
When State Rep. Regina Goodwin received an invitation to Gates' lecture from Kathy Collins, the Tulsa Town Hall's executive director, Goodwin thought it would be good if the survivors could attend the lecture, potentially meet Gates and have their genealogy researched.
About two weeks before his visit, Collins told Goodwin that Gates agreed to meet with them privately.
"I just knew that it would be historic if they could meet and arrange to have their ancestry traced," Goodwin said.
During his private visit with the survivors and their relatives, they shared personal stories and took pictures.
Gates asked the families what they wanted to discuss. Fletcher's grandson, Ike Howard, asked if he would trace the family trees of the three survivors, to which Gates replied, "yes."
Gates also told them he recognized the importance of this visit. "This is history," he said.
At his luncheon at Hyatt Regency Tulsa, Gates told the audience that meeting the survivors, "has been one of the best days of my life."
He then acknowledged he reconnected with a former Yale University classmate, Tulsa businessman and philanthropist Reed Oppenhemier, whom he has not seen since the 1970s on campus and was in attendance.
Gates said Oppenhemier asked him if he needed any support with any project. "As a matter of fact, I do," he said as the audience laughed. "I just told the survivors I was going to help trace their ancestry. See how it all worked out." 
The survivors are 'lucid'
Gates later took the airwaves and social media to confirm his plans to explore the histories of the survivors. In an April 12 appearance on Joe Madison's SiriusXM show, "The Black Eagle," Gates detailed his Tulsa trip and meeting the three survivors.
"They are very, very lucid," he told Madison. "They're as lucid as you and me."
He told Madison he had a "major announcement" that season nine of "Finding Your Roots" "will include a segment tracing the ancestry of the three survivors of the Tulsa Race Massacre."
Gates explained that his method exploring the survivors' roots would be the same as others whose genealogy he has traced. He will first collect DNA samples from the survivors and then research their family histories. "We've never traced sectarians before," he said. "At their age, the survivors are close to Reconstruction and even our collective slave experience."
In a follow-up tweet, Gates reflected further on his visit to Tulsa with the survivors. "The past is never dead. It's not even past," he tweeted. "And the three living survivors of the Tulsa Massacre are living proof of this claim."
The family said they appreciate the opportunity for Gates to help them learn more about their families' legacies.
"We look forward to communication. The possibilities are exciting," said Howard, Fletcher's grandson, told The Oklahoma Eagle.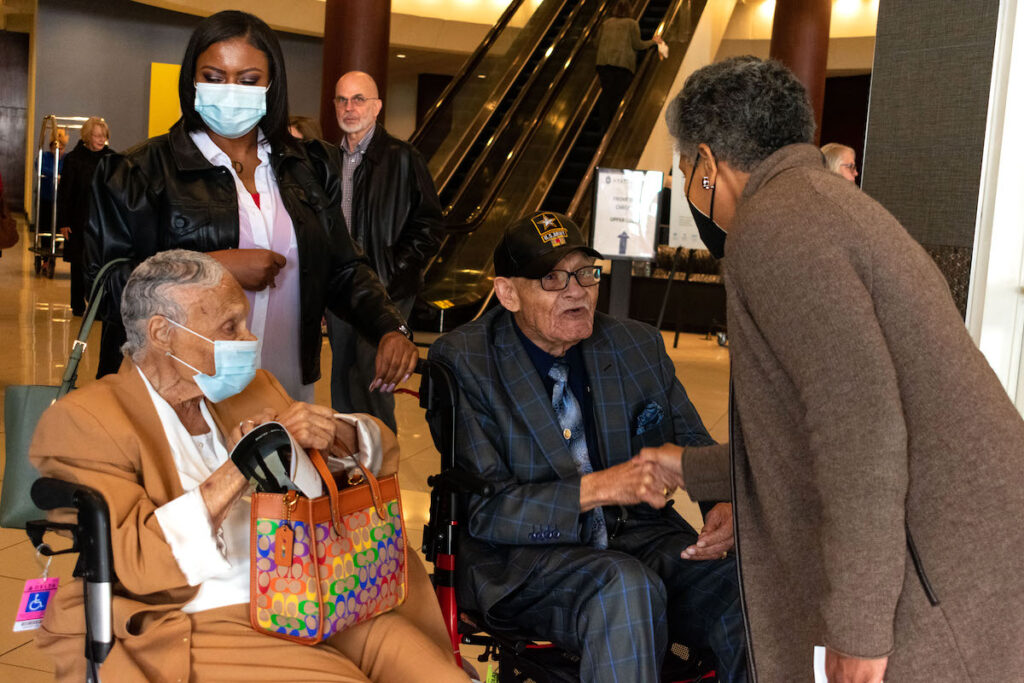 Gates supports reparations  
Gates opened his Tulsa Town Hall address with a recap of past research he had done on the 1921 Race Massacre. He first learned about Tulsa in an Afro-American history course he took as a student at Yale. A decade ago, he produced a documentary series, and 1921 was a key chapter.
He gave a brief history lesson on some of the events prior to 1921, including the Red Summer of 1919, in which whites led violent racial attacks in a number of American cities. What happened in the Historic Greenwood District was an extension of those events, he said.
"[I am] glad that Tulsa has begun, finally, to deal with this to raise the facts to the level of curriculum that the events can be taught in schools," Gates said. "And I hope that this leads inevitably to reparations."
Gates said he advocates using a course of study for the teaching of Black history. "We need a new curriculum. We can't just relegate the teaching of the experiences and feelings and beliefs of people of black descent to February," he said, referring to Black History Month. "It's the shortest, coldest, darkest month… the month that was leftover," he said.
"The school curriculum – that is the only way we will fight antiblack racism. It's going to take a long, long time."
Inspired by "Roots"
Gates also offered details of how he got started doing genealogical research. Like many African Americans, he was initially inspired by the story told in Alex Haley's book "Roots" and the landmark TV mini-series adapted from it.
He explained that said own his interest in his family history began in 1960 at the funeral of his grandfather, a man so light-skinned that the children in the family secretly referred to him as "Casper."
After the funeral, Gates' father took him and his brother to the top floor of their grandfather's house to show them a collection of old ledger books that Gates' grandfather had used as scrapbooks.
"He started turning through the pages until he found what he was looking for," Gates said. "He pointed to a clipping, then showed us a woman's photograph. He said he wanted us to remember this person."
She was Jane Gates, Gates' great-grandmother and a midwife. The headline for her obituary described her as an "estimable colored woman."
"The last thing I did before I went to bed that night," Gates recalled, "was to get out the big red dictionary on my desk and look up the word 'estimable.' When I saw what it meant (worthy of great respect), I thought maybe someday I could be estimable, too.
Gates offered words of inspiration to members of the audience who are weighing building their own family trees.
"Your favorite subject is yourself. Genealogies in genetics are all about finding different aspects of yourself," he said. "I believe that our ancestors are in a genealogical purgatory, ancestral suspended animation. When we find them, we open the vault where they have been suspended, and they tell us their stories. And it turns out mastery that these stories inform who you are, who your mother was, or your father was in ways that you can never ascertain the source of before that in the Ashley unit in your DNA from each of your ancestors across generations for 180 years.
"So, your genome is a walking family tree, and the least that we can do is let the stories of the long departed live. That is why I'm honored to be the host of 'Finding Your Roots.'"
---
FEATURED IMAGE: PHOTO CREDIT: BOTTOM: Henry Louis Gates, Jr. (second from left) announced at the Tulsa Town Hall Speaker Series on April 8, that he will trace the family trees of the three 1921 Tulsa Race Massacre survivors – Viola Ford Fletcher (bottom left); her brother Hughes Van Ellis; and Lessie Benningfield Randle. TOP: (left to right) Malee Craft, Ellis' daughter; Donna R. Laviolet family friend; Muriel Watson, Ellis' daughter; Ike Howard, Fletcher's grandson; Dee Dee Ishem, Fletcher's great-grand niece; LaDonna Penny, Randle's granddaughter; and State Rep. Regina Goodwin.