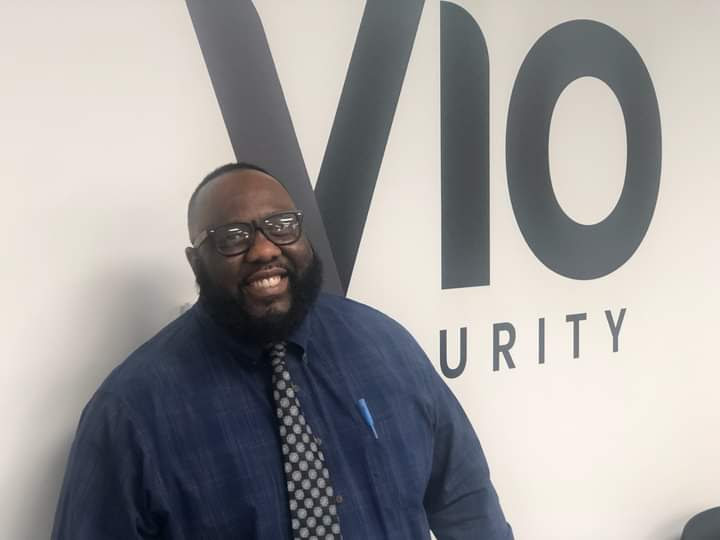 The Oklahoma Eagle Newswire
The most exciting and scary times in a career are when leadership gives you the keys to the castle. That chance to build out your team from the ground up your way. Hire your team—install your processes—deploy your preferred technologies. This is the situation that Robert Daniels finds himself in at Vio Security as the Contact Center Support Services Director. Vio is a growing security alarm business focused on bringing the latest smart security and automation innovations to families and businesses.
Following a 20+ year career as a Hip-Hop artist .Mr. Daniels jumped into something he related with, customer experience. He worked his way from the entry-level to become an award-winning leader in companies such as ADT. That's where he honed his customer service skills and leadership philosophy. Believe it or not, a career as a musician is not all that much different than providing optimal customer service.
"We are a product of our own experiences. As an artist, you spend your life trying to impress people. Sell them on why they should follow and like you." Robert said, "I take that concept from the music industry and channel it with my agents and customers. Treat your team well and make sure they're happy because happy employee's equal happy customers."
Customer Obsession has become a big trend and strong competitive advantage for many businesses. The lack of focus in this area could be fatal for many companies. Where practically all leaders agree that customer experience positively impacts their company, not everyone has adopted this new mindset. Customer obsession is why Robert was recruited to Vio.
Vio has a relatively small call center (<20 agents) with representation across various ethnicities.
Efficiently managing a call center requires a technology platform and ancillary tools that help drive a solid net promoter score (NPS). They need to be proactive and get beyond what a human can do. Getting into things like customer sentiment and analyzing words and tone combined with operational analytics is the only way to drive to your organization's root cause of issues. These types of tools are commonly known for:
Segmenting Your Customers Based on Opinions
2. Identifying Product/Service Improvements
3. Planning Operational Process Issues and Improvements 4. Documenting Historical Trends Over Time
Forrester reports that companies with superior customer experience grow revenues five times faster on average than their competitors. Leveraging analytics like sentiment is not a silver bullet, but improving your customer experience will follow if used appropriately. Your team will be more successful, customers happier, and a strong ROI will follow.
One solution that Vio is currently using to drive optimal customer experience is Podium. Podium provides a platform that assists businesses in optimizing user-generated content such as online reviews, messaging, and communication. Vio is using Podium for direct messaging and online customer feedback. High customer reviews are essential for Vio to drive a strong NPS because half of the adults under 50 check online reviews before purchasing products.
The first few months are the most important in a leader's journey. Upon hire, Robert needed to fix what was left behind by his predecessor. His first challenge, improve service levels from their current state of 20%. Most call centers aim to answer 80% of calls within 20 seconds, so this number was eye-opening. As Robert looked at the data, he identified his issue to be with virtual agent accountability.
"I had to start with the basics. We are a security company, so our job is to answer the phone and protect people and their property." Said, Robert. "We needed to hold each other accountable for doing our primary job."
Managing a remote workforce can be challenging. Constant communication and a solution to track activity are imperative. Robert noticed that he had too many auxiliary states and status codes. Overusing auxiliary states and status codes allows agents to hide and not receive calls. Robert's first step was to minimize these states and implement what he calls "behavioral coaching."
"Behavioral coaching is not coaching to an actual metric but the behavior causing the metric." Robert said, "if you solve the root cause, the improved statistics follow."
Within the first month of making these changes, he took service levels to over 98% with no abandoned calls.
The next step in Robert's evolutionary journey is to create a "universal agent." 56% of customers state that the key to good customer service is getting their issue resolved in one conversation. Universal agents can minimize call transfers making it possible to resolve all level one and two issues across billing, service, and technology. Only when there is a complex issue should a customer need to speak with someone different. The primary benefits of universal agents are:
Increased efficiency/cost savings 2. Improved First Contact Resolution 3. Better customer experience
"I created universal agents at ADT. My team could handle customer service, tech support, billing, and pretty much any function under a customer care background. This improved first call resolution and customer satisfaction."
This strategy requires recruiting agents with more technical skills. Technical skills are more difficult to teach, so the rest will fall into place if they come ready with a strong tech background. Some challenges with universal agents include:
Difficult to recruit and retain
Tend to cost more due to increased skillset
Scalability
Building up a skilled team with a dynamic culture can be your biggest asset. If you build trust and personal connections, your team will run through a wall for you. Accountability becomes natural. You don't have to be that leader that disciplines for minor mistakes. Your team works hard for you because they feel that trust and care. When they know that someone will hold them accountable, that's when you get the true essence of a person.
This behavioral coaching concept measures what's going on in a call center and leverages those statistics to coach the team—showing your agents the root cause so they can succeed. They make the right decision for the family/team, not themselves.
One way to make this work is by setting targets tied to team averages over time vs. short-term individual goals. This data gives you a complete story vs. a moment in time. Those who dip below those averages provide additional coaching based on their data. You sit down with love at that point, showing what the data says and what behavior may have caused the slip. This strategy points to the "why" and eliminates any argument, breaking barriers and allowing a leader to coach immediately. "Data and facts make it easy to coach."
I used to do something similar when my son was learning how to drive. I purchased a product called MOTO safety, a GPS monitor for teens that tracked location, rapid acceleration, and harsh braking. At the end of each day, it would give the driver a grade and point out where any incident may have occurred. My son may have felt that "Big Brother" was watching, it made it possible for him to see where he made mistakes and become a better, safer driver. That is behavioral coaching.
Robert must be doing something right because his employees follow him. That has made it easy for him to build teams wherever he goes. He brings people who understand his style, and the rest is infectious. "I've come a long way. I mean, you don't get the nickname Dangerous Rob by flying kites".
Robert was born to be in the spotlight, whether on stage or leading a team. Vio Security is in good hands.
Best Practices:
Leverage Behavioral Coaching – Leverage the data to coach best practices and behaviors.
Build Employee Trust – Build a dynamic culture filled with trust, and your people will follow.
Foster a Family Environment – Lead with love, and your people will do the right thing for the team.
Evaluate Technology – Be open to trying new technologies.
Cross Train Agents – Create agents that can cover multiple skills and if possible, train "universal agents" who can do everything. Opportunities for Improvement:
Next-Gen Analytics – evaluate and deploy a next-gen analytics solution that includes behavioral and sentiment analysis.
Contact Center Platform – Evaluate and deploy a contact center solution that you can grow into that includes omnichannel.
Self-service/Bots/AI – In many cases, leveraging AI and other Self-service solutions can eliminate more than 50% of a customer service team's inbound calls. Adding AI into the IVR and chat/chatbots or building out an FAQ page/knowledge base could be an excellent first step. Once Vio has eliminated those simple questions, your agents can focus on complex problem-solving.
Remote Agent Monitoring – Since so many of Vio Security's agents are remote, investing in a remote monitoring solution may be time. Using video, managers can detect and identify issues and respond to them immediately. These solutions give you a 360-degree view of the employee's desktop, screen, and the employee so they have the appearance of their manager being there 24/7. If they break protocol, the monitoring solution can alert that there is an issue to be resolved.