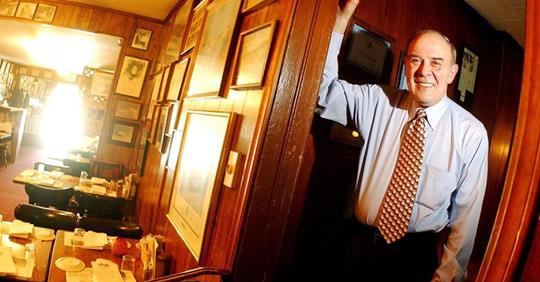 By Scott Cherry
Tyrone Elias was an avid pilot, once owning three airplanes — a four-seater and a couple of two-seaters.
"One day we were taking my sister Dana to summer camp in the airplane, and he landed the plane in this field," said daughter Jennifer Alcott. "We told him it didn't look like where we were supposed to be, but he said he landed because he had to go behind the barn to use the bathroom.
"About that time, the owner comes along. We were so embarrassed. I don't think Dad ever took Dana to camp after that."
That wasn't the only time Elias embarrassed his children. After his father, Jamil "Jim" Elias, died in 1977, Tyrone returned to Tulsa to operate Jamil's restaurant.
"Jiddo (Jamil Elias) bought a new car every year, and the year he died he left Dad a brand-new orange Cadillac," Alcott said. "He offered to take us kids to school in it, and we said, 'No, no, not in the orange pumpkin.'"
Tyrone James Elias, who operated Jamil's restaurant in Tulsa for some 40 years, died Friday, June 8, after a short illness. He was 80.
Elias was born Oct. 12, 1938, in Bristow and grew up with two brothers and a sister. The children who were old enough worked in their father's restaurant in Bristow.
"It was called Jim's or Jimmy's and was right on Route 66," said a brother, Bernard Elias. "We washed dishes mostly. Then Tyrone went off to Oklahoma State and got his aviator license. A friend, George Mace, got him interested in being a pilot. He had kind of a second job as a private pilot, flying people around. He flew into his 60s."
Meantime, Jamil Elias moved to Tulsa in 1944 to open the Hollywood Club on 11th Street. Two years later, he established Jamil's at 2705 S. Harvard Ave., before moving to 2833 E. 51st St. in 1957. Expansion of I-44 forced the restaurant to move a mile east to its current location, 3823 E. 51st St., in 2008.
"He wasn't happy about having to move at all," Alcott said. "But he had no choice."
The thousands of customers who have dined at Jamil's in Tulsa during the decades Tyrone ran the restaurant likely don't know this wasn't his first go-round owning a Jamil's restaurant.
Bernard Elias said Tyrone opened the Oklahoma City Jamil's in 1966 and operated it until 1972, when he sold it to a cousin and moved to Texas to open another Jamil's in Houston, near the Astrodome. He sold that restaurant and returned to Tulsa when his father died in 1977. During that time his brother Michael had a Jamil's in Dallas, as well.
Photos of family, celebrities and airplanes on the walls of Jamil's reflect Tyrone's interests.
"He really had fun when someone like Sam Kinison visited the restaurant," Alcott said. "And he enjoyed it when Sam Jones did his TV show from here after 10:30 p.m. That was always fun, too."
For the entire article logon to www.tulsaworld.com