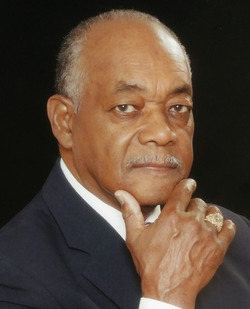 The Oklahoma Eagle Newswire
Ralph Knight, Jr. was the first child born to 1921 Black Wall Street race riots survivors Ralph Knight, Sr. and Thelma J. Thurman-Knight on November 25, 1932 in Tulsa, Okla.  Ralph gained his eternal rest in heaven on Sunday, May 6, 2018.
Ralph was born into First Baptist Church of North Tulsa and served faithfully for 85 years.  Ralph accepted Christ as his Lord and Savior at an early age.  He was a member of the Jordanaires Men's Choir and volunteered for any area of need, especially Vacation Bible School.
Ralph attended primary school in Saginaw Michigan, Paul Lawrence Dunbar ES, George Washington Carver Jr. High School and Booker T Washington Sr. High School in Tulsa, Okla., where he graduated in the prestigious class of 1951.  He later attended Kent State University, studying Business.
After college, Ralph returned to Tulsa and worked for Coca-Cola and American Airlines, where he worked faithfully as a Journeyman Aircraft Mechanic until his retirement after 42 dedicated years of service.  Ralph was an extremely warm and friendly person, who never met a stranger.  Ralph could always be found volunteering at his church or sitting at a domino table in his spare time.
Ralph married Burlean Barron Napier and to this beautiful union, one son was born.   Ralph and Burlean had a strong Christian life together, anchored in the Lord. Burlean departed her earthly life on May 5, 2014. Ralph missed Burlean so much, but never complained. Ralph stay steadfast and close to the Lord.
Ralph was preceded in death by his parents, Ralph, Sr. and Thelma Knight, sister Aleta Knight-Burks and sons, Clarence Douglas and Ralph Leonard.
He leaves to cherish his memory: sisters, Orvalette Knight-Rentie (Morris) and Lenda Knight Eubanks (Nathaniel); sons, Clarence J. Knight, Anthony Napier, Jr.; daughters, Angela Napier and Audrey Napier, grandchildren Tracy Knight, Endia Knight, DeAngelo Guyton, Kendale Knight, Laureal Whitney, Ralph Stokes, Whitney Knight and Clarissa Knight, Stephanie Atwine, Jerome Napier, Anthony Napier, II, Dezharae Napier and Clarissa Napier; 17 great-grandchildren, and a host of relatives and friends.