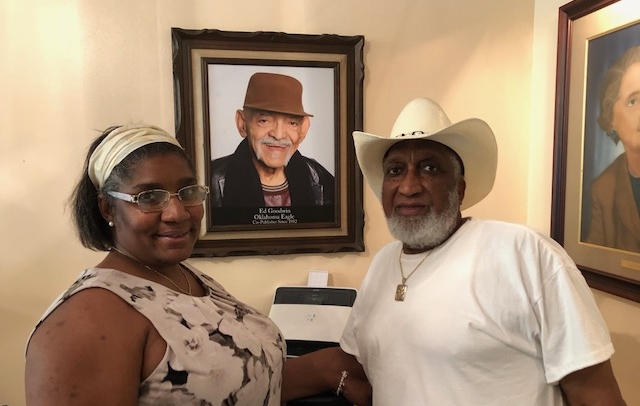 By Liz Cagle Lover
Eagle Guest Writer
Our first words daughter is that you, yes Dad it's me.
Last time I saw my Dad since I was nine years old. I'm not sure how we lost contact but it's okay we found each other now.  After years passing I never thought about it looking anymore but as I got into middle school I tried one more time and no luck, so I keep moving forward. I always knew I had older siblings. I have three brothers and one sister Lee Jr, Dennis, Stevie and my sister Darlene.
My dad always tried to keep us girls close together. I'm not sure exactly how I had gotten separate from my siblings and Dad. I'm a forgiving person and I don't judge. All I know is we are together again.
The search started with our oldest daughter Ashley she asked for a picture of an old friend, so I opened up the photo album and there was Mr. Lover my dad. I look and turned the page and then I went back and said one more try. My husband Kevin has always pushed me to look for my dad but I was at a point, in my life I had my family and I needed to focus on them.
Well around 11:47 p.m. I made about seven phone calls with no answer. The next morning, I said I try again, so I kept looking at the time trying not to call to early. It was 8:45 a.m. I couldn't wait anymore.
Two calls down no luck, in my third call I talked to man name James. Who like my dad was a beekeeper.
We talked and laughed then he told me he would make a phone call. Mr. James was going to a concert that evening so I told him my name and not that I was Lee Lover's daughter only because I didn't want him to think I was looking for anything, I just told him good friends had mentioned my mother's name, and we were from Redlands, Cali.
Thank you, Mr. James, you made me the happiest little girl ever. My husband Kevin said I slept like a baby later that night I felt like I found the last piece of puzzle I was missing. Thank you God.
From Friday May 4 until Monday May 7, 2018, we have not put down the phone. Next thing you know I was on a plane Monday hugging my daddy. God is Good. That picture was the only thing I had of my dad.
I thank my husband for being so supportive and our five children Ashley, Michael, Elizabeth, Aaron and Anthony what a beautiful support group I have.
Long time overdue, I can finally be at peace.