LOCAL & STATE
Jeremy Kuzmarov
Contributor, The Oklahoma Eagle
---
Illustration
The Oklahoma Eagle
In January 2022, Rosario Chico, a television producer and chair of the criminal justice committee for the Tulsa branch of the National Association for the Advancement of Colored People (NAACP) took her three children, 12, 7, and 6, to a battered woman's shelter in Arkansas to escape her husband, Christian Vietti, a nurse whom she said physically and sexually abused her and her children and issued threats against her.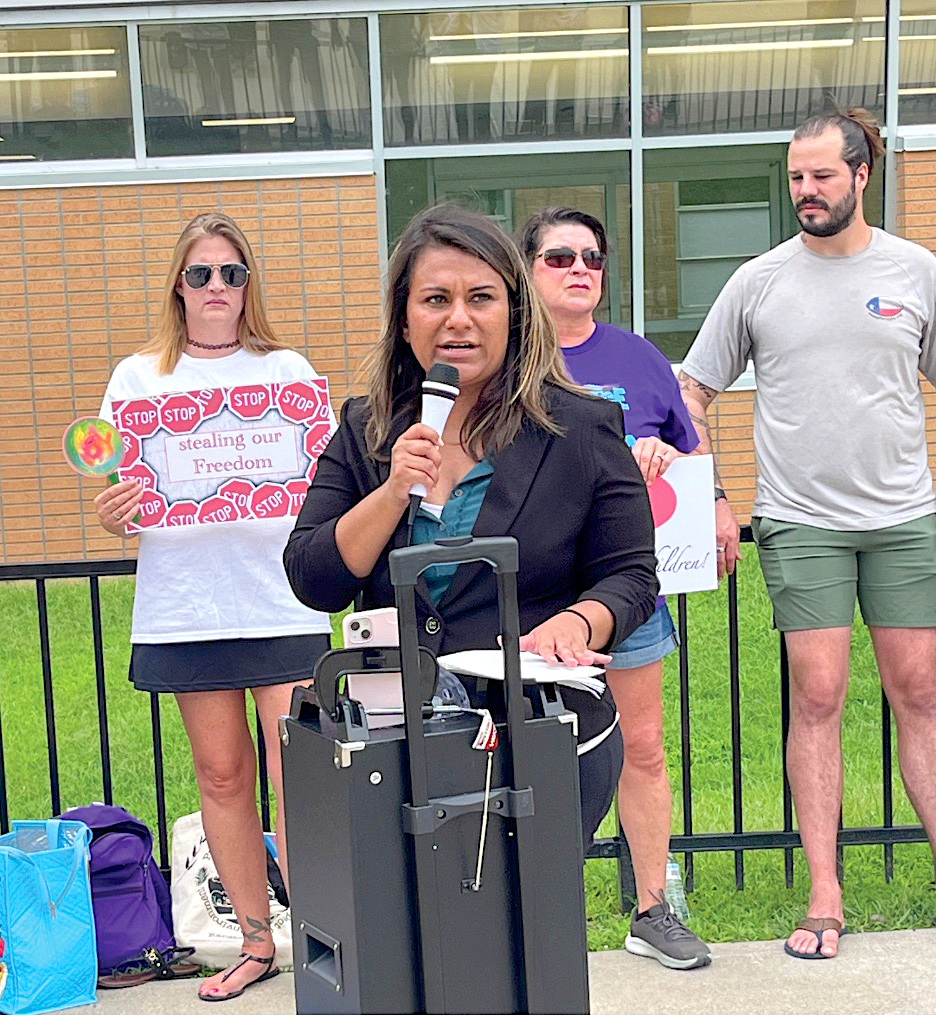 But in a bizarre twist of circumstance, Chico has been arrested on felony child-stealing charges by Arkansas police and will be the defendant in a jury trial that begins on Sept. 18 in Tulsa. Vietti tipped off the police, Chico alleges. Tulsa County District Attorney Steven Kunzweiler is prosecuting the case against her. Tulsa officials dropped domestic assault and battery charges without Chico having the opportunity to testify or her being informed, Chico has told The Oklahoma Eagle. If accurate, the circumstances would be a violation of Marsy's Law. Marsy's Law is a legal statute resulting from a national movement that seeks to ensure that victims of crime have meaningful and enforceable constitutional rights in the criminal justice system. Oklahoma voters passed Marsey's Law in November 2018 as a ballot initiative. Many other states have also passed the statute.
Chico told her perspective on the case in detailed interviews with The Oklahoma Eagle. She feels she is a victim of corruption in the Tulsa legal system. Several other cases underscore her allegations that her case is not isolated but part of a pattern of corruption in the Tulsa judicial system.
On July 17, Chico and 20 other protesters rallied and spoke at a rally for criminal justice reform in front of the Tulsa County Courthouse against corruption in the Tulsa judicial system and for reforms in the system.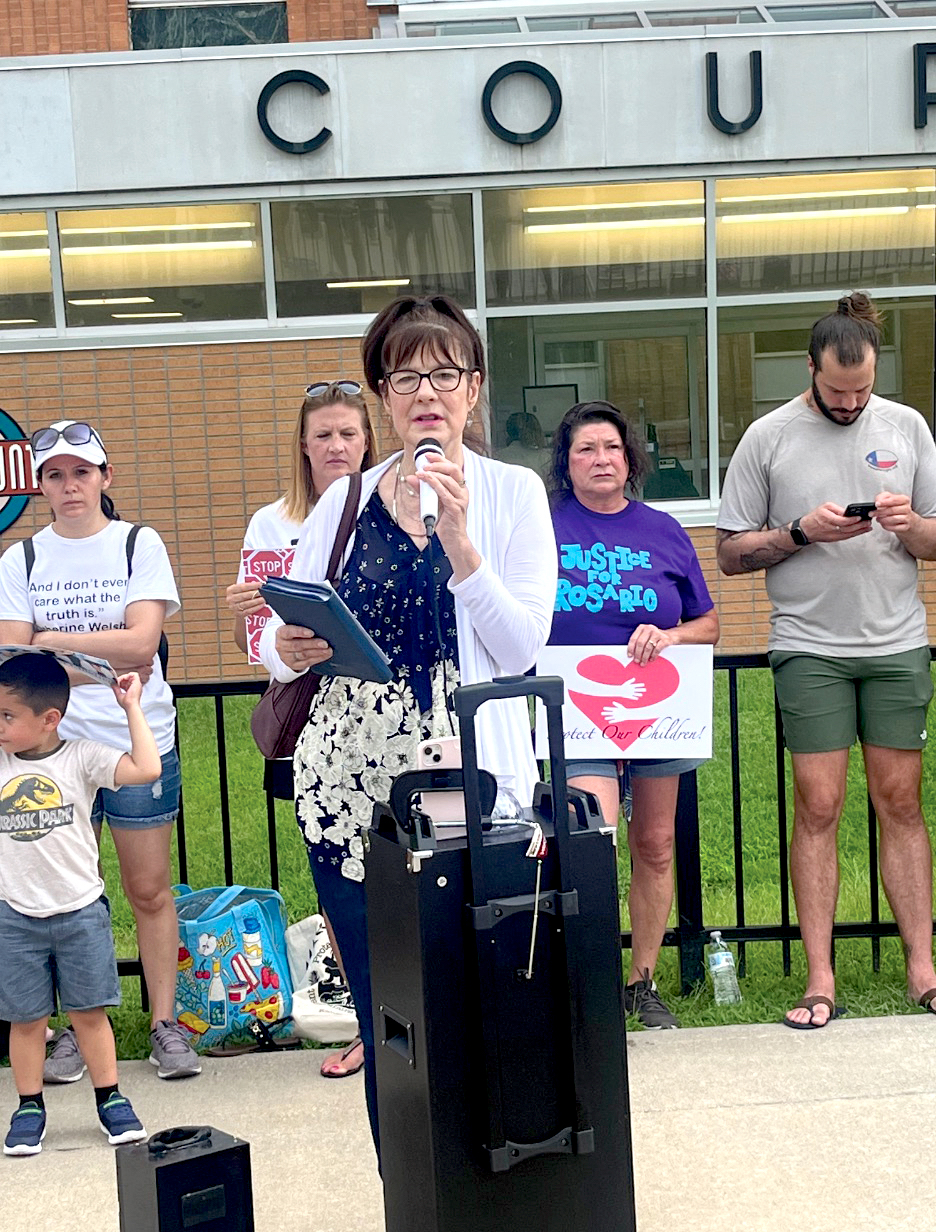 During the rally, Chico said that there were "too many cases at the Tulsa Court where there was a lack of due process; defendants in some cases were denied court reporters; evidence in many cases was not being properly reviewed; attorneys, judges and Guardian ad Litem (GALs) sometimes colluded together and did not act in the interests of justice, and some prosecutions appeared to be malicious."
Chico also said that "victims of domestic violence and their kids were not being protected, and the D.A.'s office was turning those victims into defendants."
Chico says that she had filed for a protective order against her husband, and her legal team contacted local law enforcement and the U.S. Attorney's office, which advised her to go to the Mexican Consulate in Little Rock, Ark., near the shelter where local police apprehended and arrested her. Chico has said that forensic evidence confirms that Vietti sexually assaulted her children.
Since her arrest, Chico has lost custody of her children, whom she can only see under supervised visitation for four hours per week. The children live with their paternal grandmother, Jackie Vietti, a former education professor and president of Butler Community College whose attorney, Jordan Dalgleish, according to Chico, worked for the campaign that got Kunzweiler elected.
Vietti's attorney, N. Scott Johnson, represents the wife of Judge David Guten, who initially recused himself from the case but then reinserted himself. Kunzweiler contributed to Judge Guten's election campaign, Chico alleges. The Guardian ad Litem (GAL) in the custody case, Catherine Welsh, gave money to Kunzweiler's election campaign, and Becki Murphy, the GAL's attorney, worked for the DA's office.
Because of this unsettling web of personal connections, Chico is concerned that she won't get a fair trial and believes she is being unfairly prosecuted. She says that Kunzweiler has ignored exculpatory evidence in her case. She is worried that she could go to jail and be deported and never see her children again because she is not a U.S. citizen (and is a green card holder).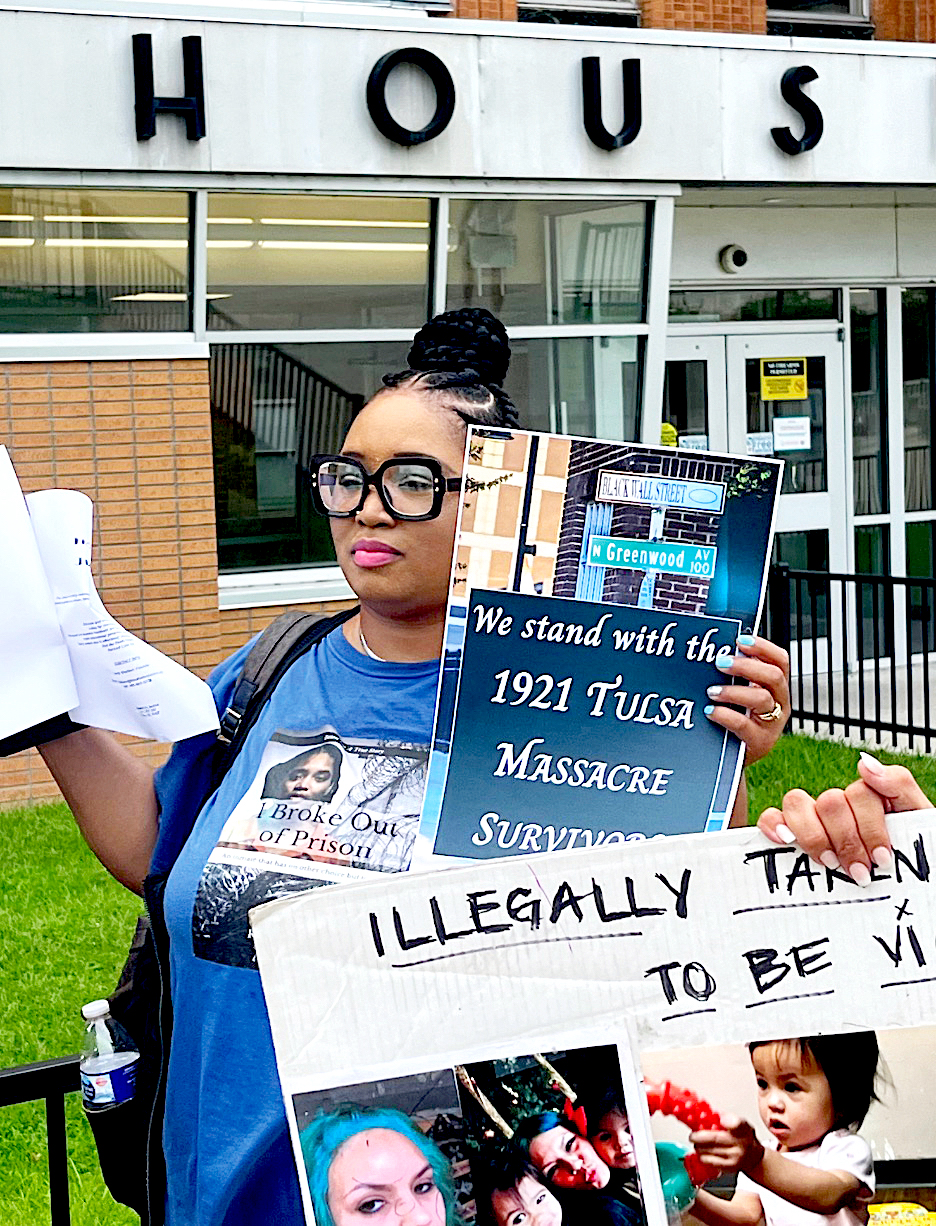 Chico and Others Speak Out
During the July 17 rally in downtown Tulsa, Chico said that hope lies in a growing movement, cutting across Democratic and Republican Party divides, which is demanding change. "This is our courthouse, funded by taxpayers, and it is supposed to work for us. Many people know about the problem and are intimidated from speaking out, but more and more people are beginning to do so."
After the rally, Steve Kunzweiler's office issued a statement saying that they were "proceeding forward with [Chico's case] and that it was "improper for any party to try a case in front of the camera. That is what judges and courtrooms are for."
Some protesters at the rally held signs demanding Kunzweiler's resignation and that of Assistant Prosecuting Attorney Ashley Nix.
Francetta Mays, president of the NAACP's Oklahoma Branch, referred to the current criminal justice system in Tulsa County as being broken. However, she said she was encouraged that "more and more people are speaking out against an old problem."
Lisa Woolley, another speaker at the rally, shared that she went through personal hell after she and her husband, Bill, were falsely accused of killing their grandson in 2018, who died of sudden infant death syndrome (SIDS). After being acquitted of murder charges in 2021, the Woolley's are trying to regain custody of their only living grandson, who is stuck in the foster care system, where he has been subject to abuse.
Woolley said that her experiences have caused her to see how judges don't actually review the evidence in cases they preside over but make predetermined decisions based on the judgments of Department of Human Services (DHS) experts, even when they prove to be false, and that the best interest of kids is not often considered.
Horror Stories of Rally Goers
Other participants in the rally told of their personal experiences that correlated with what Woolley and the others were saying.
Amber Goldschmidt, a Tulsa real estate agent, said that she was threatened with a protective order by Assistant District Attorney Ashley Nix after she began posting on social media about how Nix had ensured that her ex-husband got a suspended sentence after he had repeatedly assaulted her; Goldschmidt said she believes that the light sentence stems from the fact that Nix's best friend is the niece of her ex-husband's attorney.
Nix is the target of a federal lawsuit by Attorney Dan Smolen, who represents Timothy Hankins, a computer specialist who was falsely accused of rape by Nix and acquitted in court. Nix is responsible for rape prosecutions and was amazingly promoted and received an award despite having falsely accused Hankins as part of a scheme to cover up her sexual indiscretions.
Acquanita Martin, a substitute teacher and health care technician, held a photo at the rally of her son, Myron Martin, who died at the age of 40 while in solitary confinement at the Mac Allen Center in Atoka County in Springtown, Okla., on Nov. 21, 2022.
Martin was a former University of Tulsa basketball player who his mother said fell in with the wrong crowd and got a 12-year prison sentence on robbery charges. It is unknown to her why he was sent to solitary confinement. His mother said that her son "wasn't a violent person. He was always smiling. Even in his booking photo."
Prison authorities claim that Martin died of a methamphetamine overdose. Yet it is unclear how somebody in solitary confinement could get methamphetamines. The warden told her that the drugs had come into the jail from drones.
Martin was found brutally beaten and had been pepper sprayed. Ms. Martin sent photos of her son to Fox 23 News, showing him bruises all over his body and head. She believes it is possible that prison authorities planted drugs on him to cover up for his murder.
However, the Oklahoma Department of Corrections has said that "foul play" was not suspected in Martin's death and that they were "waiting for a cause of death determination from the medical examiner."
Shelly Ware runs a prison ministry in Broken Arrow. She wore a t-shirt at the rally spotlighting the case of Channen Ray Ozell Smith, who is serving a life sentence at Dick Conner Correctional facility in Hominy, Okla., even though another man, Arlen Young, confessed to the crime on his deathbed in January 2017 and said that Smith was wrongfully convicted.
Since Young's confession, four men have come forward to corroborate it. Smith's then-girlfriend also confirmed that Smith was 30 miles away from where the shooting that resulted in his conviction had taken place.
Another alleged miscarriage of justice occurred in the case of Angelo Vallejo, a 36-year-old Tulsan woman whose twin daughters were put in the care of her ex-husband, who physically attacked her and caused her to have a miscarriage. Vallejo fears that her kids are being continuously abused.
The same is true of another woman who attended the rally, Tara Barton, a 32-year-old Door Dash employee whose eight-year-old daughter was placed in the custody of her father, Steven Christian, who Barton says sexually molested the child.
Barton says that a doctor testified about this abuse. However, the judge in the case in Okmulgee did not acknowledge that her grandson was good friends with Christian, which may have led her to side with him.
Barton says that her daughter's father and stepmom continuously abuse the child, and she fears for her child's safety.
Barton's case provides another excellent example of a criminal justice system that punishes victims and children too often. People need to become aware of abuses of power taking place and should join forces with others to institute needed reforms.
---
Editor's Note: Jeremy Kuzmarov is a Tulsa-based writer and editor. This article is the part of an occasional series Kuzmarov is reporting and writing for the Oklahoma Eagle.