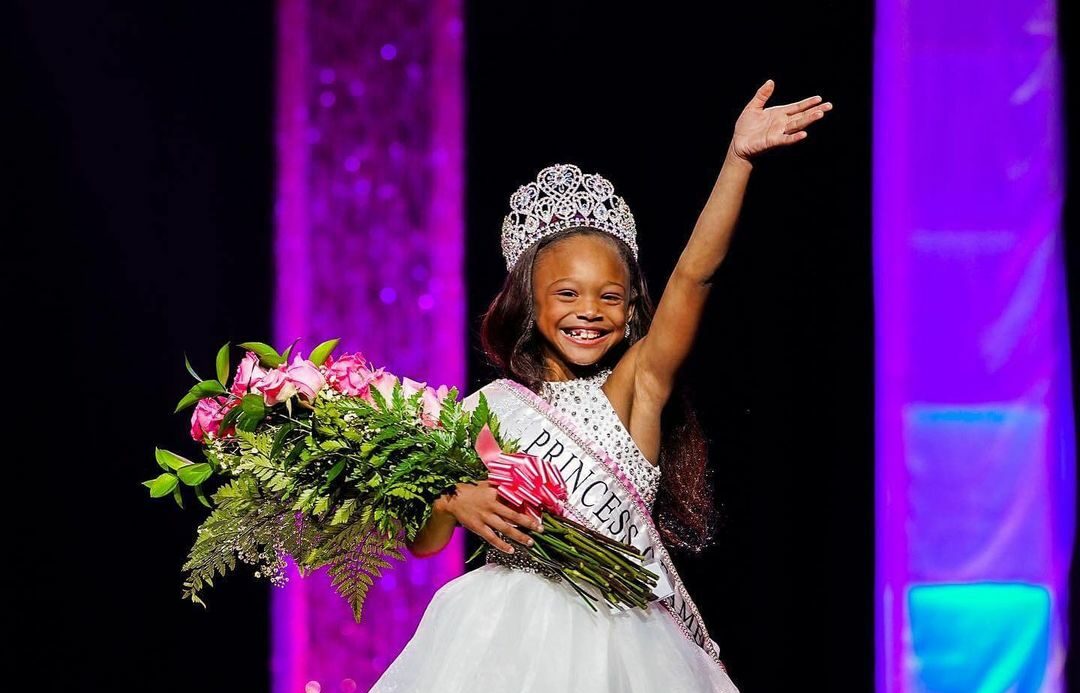 Photo Credit Eva Flis Photography.
Paris Epps, a seven-year-old student from Tulsa, received the national title of Tiny Miss Princess of America. She is the first African American to receive the title. She is the daughter of Dr. Shavonda Pannell and Willis Epps and the granddaughter of Anthony and Valonda Pannell and grandaughter of Pamela Sweet.. Paris is also the great granddaughter of "King Arthur" Pannell, a pioneering businessman, restauranteur, and beloved mentor. The National Princess of America Pageant was held in Branson, Mo., July 23-29.
Paris also won divisional titles for Casual Wear and Active Wear, and second runner-up for Photogenic. Additionally, the judges awarded her as a Top 10 Superstar finalist, and winner in the following categories: Best Interview, Best Smile, and Miss Personality.
Girls from all over the country competed for the national crown. Required categories of competition included Interview, Personal On-Stage Introduction, Formal Wear, and On-Stage Question for ages seven and older. Participants also had the opportunity to enter optional categories of Talent, Spokesmodel, State Costume, Casual Wear, Photogenic, Crown Cover Model, Top Model, Triple Threat, Active Wear, and "Pink Carpet Couture."
As a national titleholder, Paris will receive the official custom crown, banner, flowers, crystal award, cash scholarship, travel opportunities, including a Caribbean cruise, as well as many other gifts and prizes during her reign. Winners were treated to a professional photo shoot and gift reception where they received many sponsored gifts from supporters of the Princess of America Pageant. She will spend an exciting year traveling to other states, making appearances to represent the Princess of America organization, and promoting her platform, "Paris to the Rescue," where she helps to increase awareness and adoption for rescue animals.
The Princess of America Organization is a national pageant system based on the development of confidence and leadership skills for girls, ages 4-24. The growth of each participant is enhanced by friendships fostered across the United States. The pageant places an emphasis on its contestants participating in community service and giving back to their communities to make a positive difference.
Communication skills are furthered through the interview process and on-stage speaking opportunities. Delegates learn how to articulate their thoughts, which helps prepare them to succeed in future endeavors.
Princess of America presents 10 national titles. In addition to one title being awarded in each of the six age divisions, four other national titles are presented. The two "Superstar" titles are awarded to the overall talent winners. The two "Ambassador" titles, one for the junior divisions and one for the senior divisions, are awarded based on appearances, community service work, and volunteerism during their reign as a state/regional titleholder.
The crown represents far more than winning a pageant. It is a symbol of the dedication it takes to accomplish a goal, and most importantly, it represents the opportunities the title provides to be of service to other people. Each national titleholder selects a platform during their reign for which they will raise funds, awareness, and serve as an advocate.
The contestants gain confidence during their journey to the crown. The self-confidence enables the participants to be an effective representative for the national organization as well as their chosen cause. During the pageant, each participant joined in the national service project, which involved collecting non-perishable food items for Christian Action Ministries, a local food pantry serving the Branson area. Over 2,000 non-perishable food items were donated by all the national delegates.
You can follow Paris' journey this year on social media at @poa_tinymiss and @parissimoneofficial on Instagram and "Tiny Miss Princess of America" on Facebook. Learn more about the Princess of America organization by visiting www.princessofamerica.com