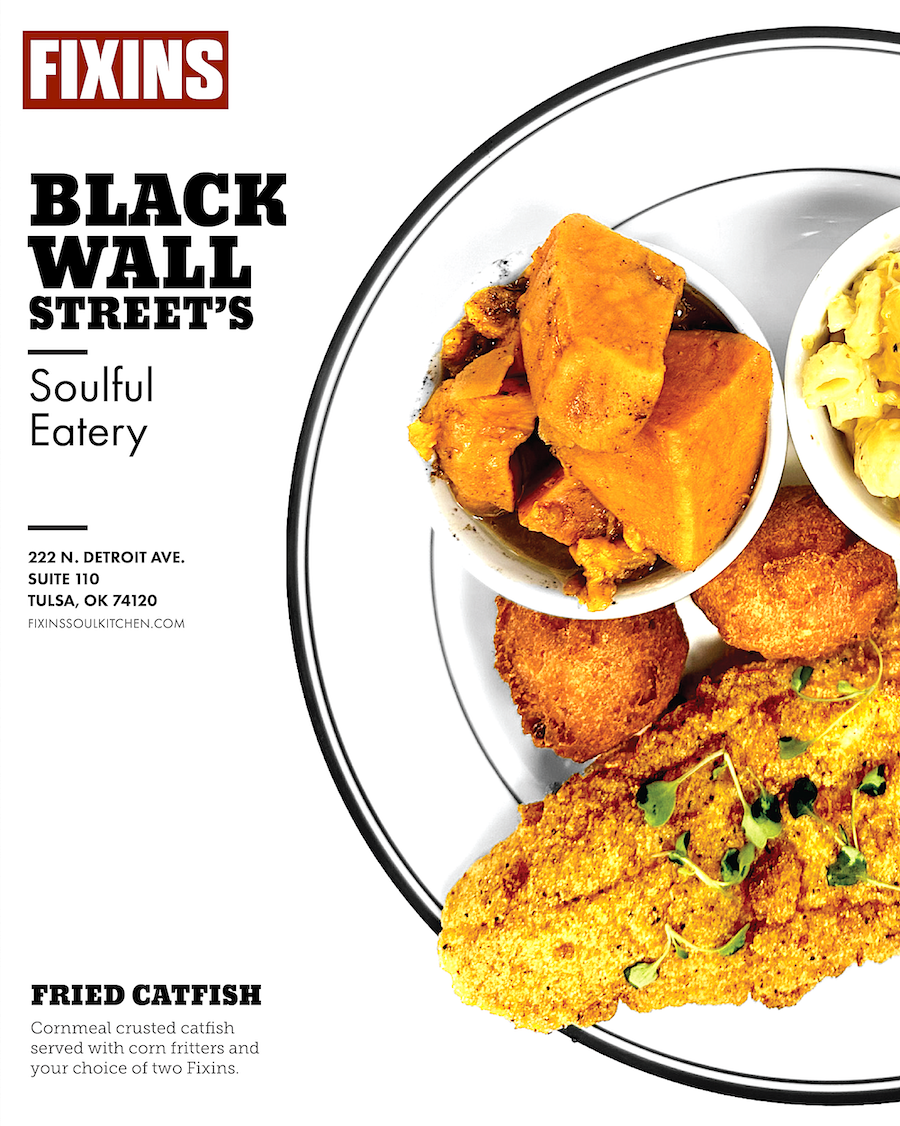 Gary Lee
The Oklahoma Eagle
---
Photo
Ross Johnson, The Oklahoma Eagle
It's only Tuesday night, and every seat at Fixins Soul Kitchen, 222 N. Detroit Ave., is taken. Across the spacious dining room of the new Black Wall Street eatery, everybody seems to be in celebration mode: a Black family of two adults and four kids making quick work of a bucket of fried chicken and big glasses of blue Kool-Aid; a couple on a first date downing margaritas like they're ice water in August; a quartet of folks dressed in business attire leaning into shrimp and grits, collard greens and serious conversation. The bar is packed, too, with folks sharing a plate of catfish and whiskey cocktails, ladies almost as decked out as Rihanna on Grammy night, and solo diners eating with one hand and snapping selfies with the other.
Fixins is the scene that Black Tulsans have been waiting for.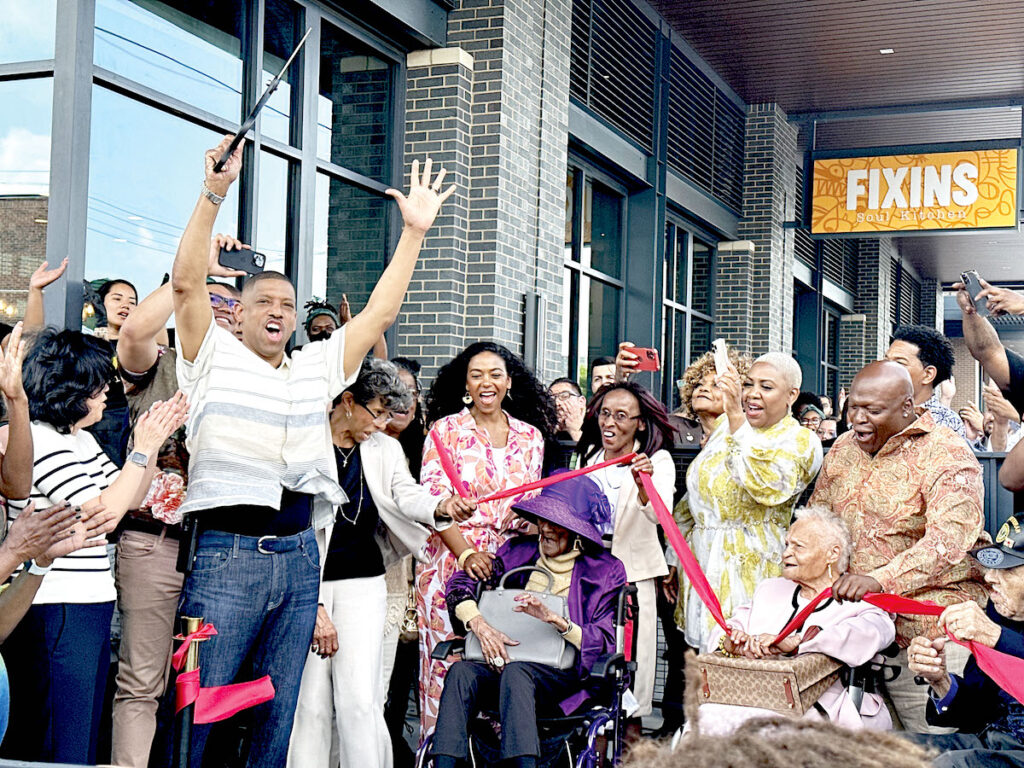 Even weeks after basketball great Kevin Johnson mastered over the restaurant's spectacular grand opening, the place has been packed with diners from opening until lights out. The clientele is mixed in every way- age, race, gender. The restaurant's welcoming style and location – smack between Greenwood and downtown – gives it crossover appeal. But more than half of the crowd, on any given night, is Black. Not since the heyday of Greenwood faded decades ago has one place in Tulsa become such a see and be seen locale for Black locals and visitors.
The cuisine, billed as contemporary soul food, is a major draw. It's not precisely the dishes your grandmas served on Sundays – fried chicken and pies that left you licking every plate all across north Tulsa. No restaurant could replace the serious home cooking that north Tulsans have done in their kitchens. But after sampling nearly every dish on the menu, from the oxtails to wings and waffles, we can attest that there is something that will satisfy every palate.
The classic dishes are done well. The fried chicken comes with a perfectly crispy and tender crust. The chef says the birds are brined for 24 hours, and the extra touch shows. The smothered pork chops were flavorful, tender, and covered in just the right amount of gravy. The fried catfish was just right, too – tender and tasty.
Some critics say that the test of a restaurant is in the appetizers and side dishes. And with its impressive array of the usual southern food accompanying plates – mac and cheese, grits, collard greens – Fixins does not disappoint. The chargrilled okra, the fried green tomatoes, the candied yams, and the artichoke dip particularly wowed us.
Fixins' portions are pretty copious, too. Most times we have dined there, we have taken enough leftovers home for a great next-day lunch.
Some dishes gave us pause. The deep-fried deviled eggs, a Fixins' specialty, are crunchy and spicy. But fans of the traditional version of this take on it will have to make a palate adjustment. The shrimp and grits were tasty enough but deluged in way too much gravy. Fixins' house-made hot sauce is not quite fiery sufficient to doctor a dish up to the level that most fans of spicy food want. The pimento cheese dip could probably use a bit of tweaking.
Desserts could be helped along with a bit more zip as well. Banana pudding is an extreme indulgence that it doesn't seem quite right to dig into Fixins' version and find too few real bananas and wafers don't seem quite right. Likewise, the peach cobbler could be improved with more peaches and a touch more cinnamon.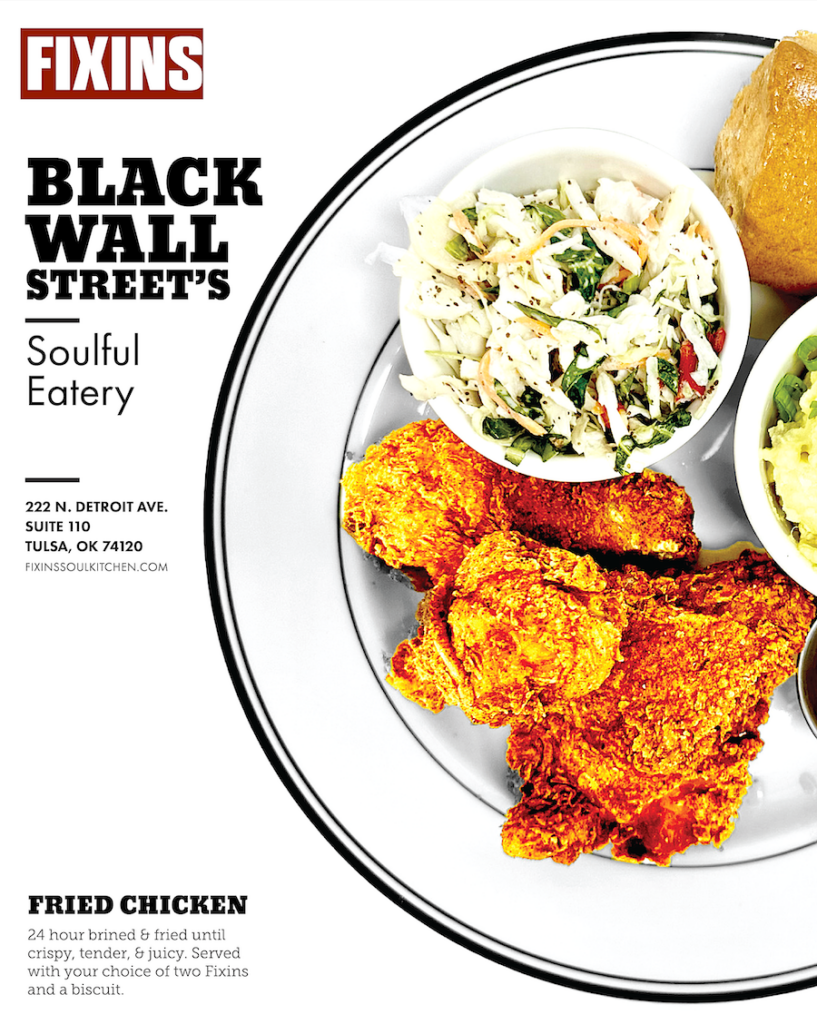 The Kevin Johnson touch
A big part of Fixins' appeal is the star power it represents.
Johnson, the former NBA player and previous mayor of Sacramento, Calif., is the owner and operator. He earned his sports fame as a point guard for the Cleveland Cavaliers and Phoenix Suns. From 2008 to 2016, he served as mayor of Sacramento. The Tulsa restaurant is Johnson's third Fixins' locale following Los Angeles and Sacramento.
On May 31, the charismatic Johnson staged about the grandest imaginable grand opening. Flanked by his A-team, Johnson explained that he chose Tulsa as the place for his third restaurant in part to honor his Tulsa roots. His grandmother and grandfather are from T-Town.
But Johnson also views Fixins as a way to revive and build on the tradition of Black Wall Street. He opened the new place on the 102nd anniversary of the 1921 Tulsa Race Massacre, in a location just blocks from where the main destruction of the events of 1921 occurred.
During the opening ceremony, Johnson praised the resilience of Black Tulsans. "You people have been fighting for this community for a long, long time," he said. "And I think it's time we shine a light on Tulsa."
In paying homage to Black Tulsa history, Johnson gave a place of honor among those gathered for the opening ceremony to the three remaining survivors of the Tulsa Race Massacre — Hughes "Uncle Red" Van Ellis, 102; Viola Fletcher, 109; and Lessie Benningfield Randle, 108.
Johnson also gave a nod to members of Tulsa's power elite and Black culture scene in the opening ceremony.
Johnson also used the opening event to pay tribute to the stalwart restauranters of north Tulsa. Before opening the doors, he called the owners of Wanda J's and Sweet Lisa's, north Tulsa' best known Tulsa soul food restaurants, to join him on the stage. Fixins' is built of the legacy of great soul food that they have established over years, he said.
Johnson says his plan is to eventually own 50 Fixins restaurants across the U.S. The fourth Fixins is scheduled to open in Denver this summer.
A blend of nostalgic and contemporary vibes
The ambiance at Fixins captures the brightest aspects of a bygone era in African American culture. Oversized posters on one wall recall three brand names that have been staples in the Black homes for decades: Crisco, Wonder, and Nilla and Kool-Aid. The sound track regularly features classic old school R&B and gospel songs. The service provided by servers, bartenders and other staff, always good natured, evokes an earlier tradition of hospitality.
Fixins is also intentional about sourcing many of the products they use from Black-owned companies. Several drinks feature whiskey from Uncle Nearest, an award-winning Black-owned whiskey company. The wine list boasts selections from well-known Black-owned winemakers, including The McBride Sisters, Maison Noire, and James Harden.
With its uplifting combination of old school and new wave Black culture, and by offering a long-missing community gathering space, Fixins is taking the concept of Black Wall Street into the 21st century.
The restaurant's out of the gates popularity makes getting a reservation tough.
But go when you can. It's worth the wait.
---
Lend us a hand in 2023
I hope you appreciated this article. Before you move on, I was hoping you would consider taking the step of supporting The Oklahoma Eagle's journalism.
From the various media outlets in our market, to a small number of billionaire owners and private equity firms have a powerful hold on so much of the information that reaches the public about what's happening in the world. The Eagle stives to be different. We have no billionaire owner or shareholders to consider. Our journalism is produced to serve the public interest – not profit motives.
And we avoid the trap that befalls much U.S. media – the tendency, born of a desire to please all sides, to engage in false equivalence in the name of neutrality. While fairness guides everything we do, we know there is a right and a wrong position in the fight against racism and injustices. When we report on issues like the mental health crisis in the Black community, the ongoing issues with public education and the political discord and troubling legislation being enacted at the Oklahoma statehouse, we're not afraid either to name or hold those individuals responsible for problems that work against improving the lives of Black people.
Around this nation, our readers can access the Eagle's paywall-free journalism. Our readers keep us independent, beholden to no outside influence and accessible to everyone – whether they can afford to pay for news, or not.
If you can, please consider supporting the Eagle today. Thank you.
James O. Goodwin, publisher