Gary Lee
The Oklahoma Eagle
---
Photo
Photo Sam Levrault Media
TULSA – Just over a year ago, City of Tulsa officials approved of the bold plan to bring a sprawling center of retail stores, offices, residences, and a hotel to the heart of the Greenwood District. PartnerTulsa, the city's organization charged with helping bring development projects to fruition, chose Team Alchemy, a Black-led group of developers, to fulfill its blueprint for bringing new life to the dilapidated Evans-Fintube building west of the intersection of Archer Street and
Greenwood Avenue. At the time, Mayor G.T. Bynum praised the project as "a new norm for developments all across our city."
But last week, PartnerTulsa informed Team Alchemy that they would no longer be working together. Essentially, Alchemy's $68 million development plan had been canceled.
What happened? How was the most significant, Black-run development project in Tulsa in memory suddenly dropped? In this article, The Oklahoma Eagle addresses this question. It's a topic that touches not just developers but all North Tulsans interested in the vitality and legacy of the community. In future coverage, we will seek to explore whether a grand plan for Evans- Fintube development can be revived and how the community can push to make that happen.
Kian Kamas, Executive Director of PartnerTulsa, and other officials used a meeting at the Greenwood Cultural Center on June 14 to explain why they cut negotiations with Team Alchemy. They said the development team had not adequately shown that they had the experience or the finances to execute a project of this scale.
"This kind of project is hard and complex," Kamas told the crowd of mostly Black North Tulsans. We did not have evidence that the Team could meet the minimum requirements."
During the question-and-answer period, Charles Lamont, CEO of North Tulsa-based World Won development, asked Kamas if the door was open to reconsidering a plan put forward by BeGood Development, the main force behind Team Alchemy, to develop the Evans Fintube project.
"As we move forward," Kamas replied, "we anticipate that there will be an opportunity for BeGood Development to re-enter the process."
The 90-minute meeting nonetheless grew contentious. Many members of the North Tulsa community voiced objections to the process, saying that PartnerTulsa had not given Team Alchemy a fair chance.
Vanessa Hall Harper, City Councilor for District 1, echoing the sentiment among many audience members, said that the community would not accept the rejection of BeGood Development's engagement with the Evans Fintube process. "This is far from over," she said. "We will be holding our own meeting. Stay tuned."
Team Alchemy's vision
Team Alchemy's project centered around bringing grand new buildings to Greenwood. Their vision was designed to create a mixed-use mini-community sprawling over twenty-two acres. When completed, the new complex would dramatically enhance the look and appeal of the Historic Greenwood District.
But Team Alchemy's vision was about far more than new construction. The plan was conceived to give new long, needed incentives to Tulsa's Black residents and entrepreneurs. It was a way to engage Black developers front and center and create a path for Blacks to have ownership in a vital part of the history of Black Wall Street.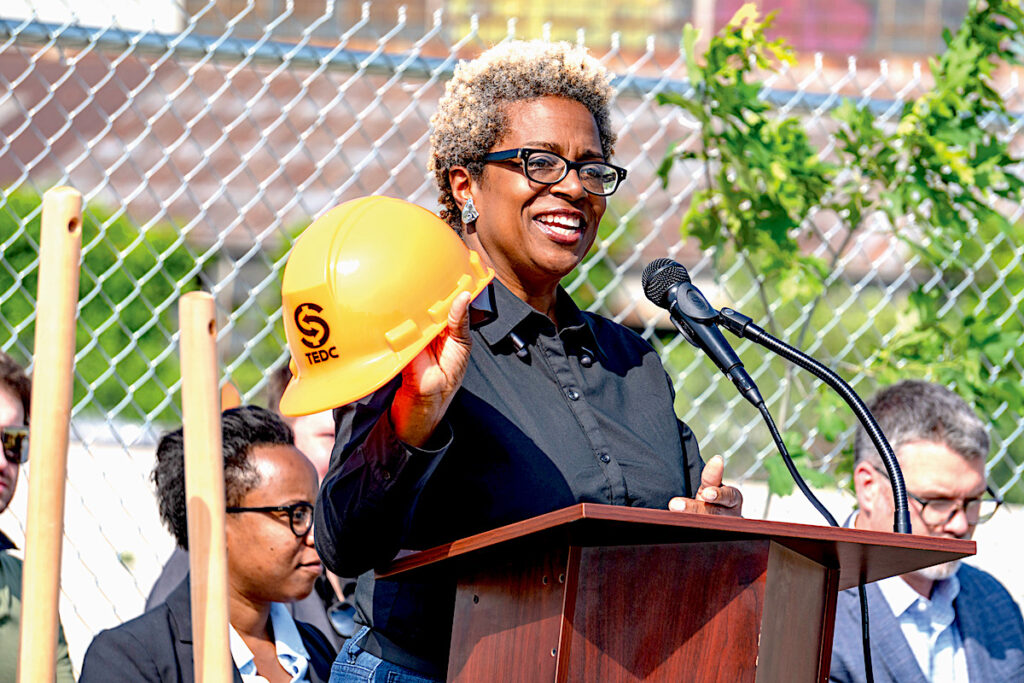 For more than a year, North Tulsa stalwart organizers Greg Robinson, CEO of Standpipe Strategies and Charles Lamont and Damali Wilson, senior officials at World Won Development, organized more than a half dozen public hearings, which engaged hundreds of North Tulsans, all focused on allowing North Tulsans to voice their wishes for what should be done with Evans-Fintube. The community's overwhelming sentiment was that the plan should prioritize engaging Black construction firms. Beyond that, the project should allow Blacks to own a part of the new space.
In May 2022, Kamas announced that Team Alchemy had been selected as the team to redevelop Evans-Fintube winning out over a half dozen others. Kamas cited the group's commitment to fulfilling the North Tulsa community's wishes to have ownership in the building and eventually in the dream itself as a key reason they were selected. 
Now that dream for a new Greenwood and promising cooperation between Black Tulsans and the city appears dead in the water.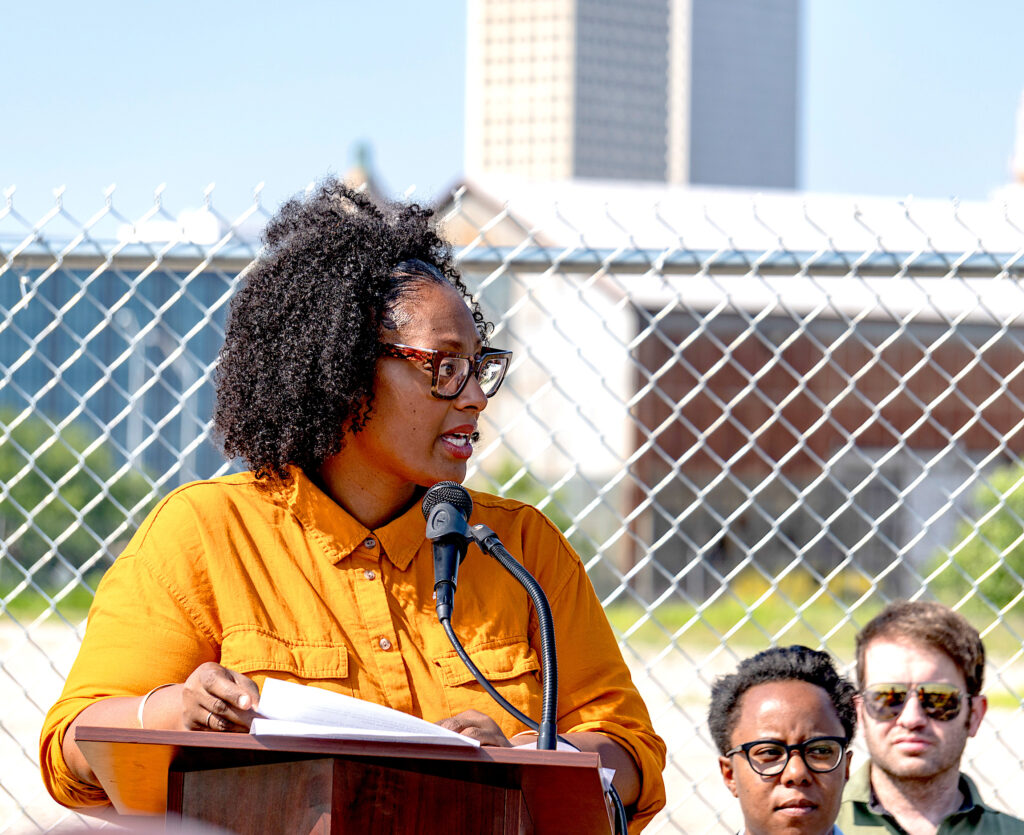 Differing views on what happened
How did such a dream concept unravel?
Franchell Abdallah, head of BeGood Development and a North Tulsa community advocate who brought Team Alchemy together behind the project, said she is miffed at how it collapsed. "I'm not sure why the city took the action it did," she said in an interview with The Oklahoma Eagle. "Only the city can explain that."
Abdallah acknowledges that she has been devastated since the city announced that it no longer works with Team Alchemy. She told the Eagle she was unsure of the next steps.
Abdallah presented an adapted plan for city approval in a meeting with city officials in late May, 2023. She followed up with a formal request to the city to finally approve a contract for the plan.
On June 2, in a bid to jumpstart the project, Abdallah assembled a group of community activists near the Evans- Fintube site and staged a symbolic groundbreaking.
At the gathering, Abdallah emphasized that the project to create a new enterprise in Greenwood was inspired by the ancestors who created Black Wall Street in the early 1900s. "People came to practice their businesses," she said. "And so, we want to make sure that we also begin to rebuild today and forever honor them for their courage." She then called on those gathered to grab shovels and plant a tree to start the redevelopment project.
Meanwhile, around the same time, a few blocks away, PartnerTulsa's Kamas and other city officials were preparing to end the project.
From Kamas's perspective, the unraveling of the agreement should be no mystery to any of the parties involved. In an interview with the Eagle, Kamas said that in March of 2023, PartnerTulsa requested that Team Alchemy submit documents showing that it had partners who had experience bringing large-scale projects to fruition and had the financial resources to help make the project happen. Kamas explained that the RFP (request for proposal) of any significant project must have those elements. (An RFP is a document that announces a project, describes it, and solicits bids from qualified contractors to complete it.)
Team Alchemy asked for an extension from 30 to 120 days to answer the request. "But by May, the team had not reacted to provide us details on how they would fulfill the basic terms of the RFP," Kamas said in an interview with The Eagle. "Neither we, nor any other partner can work with developers who can't guarantee that they can meet those requirements," she added. "That's why we had to take the action we did."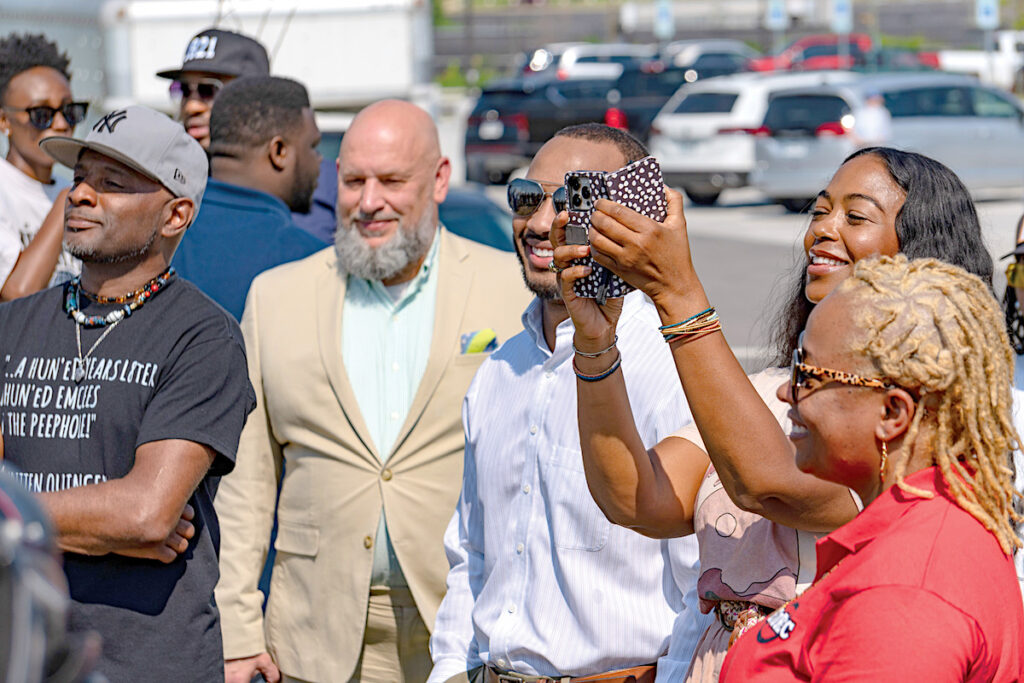 Timeline of negotiations
In the interview with the Eagle, Kamas reviewed the timeline of PartnerTulsa's negotiations with Team Alchemy from May 2022 to June 2023. In Kama's account, a pivotal moment in PartnerTulsa's working arrangement with Team Alchemy came in February 2023 when two significant members of Team Alchemy – Grayson Capital's Michael Collins and J.E. Dunn Capital – both announced that they were leaving the project.
"The award of the RFP to Team Alchemy was based on the presence of a qualified team with robust experience and capital resources," Kamas said. "We are evaluating the impact of the loss."
"These two partners had brought both the experience of working with major projects and the financial resources," she said. "We were very sorry to see them go."
Until those departures, Kamas said that talks with Team Alchemy had been going well and on schedule until those departures. The project was ahead of the time frame most large-scale projects take to get underway.
But Abdallah feels that from the beginning, Tulsa officials always held Team Alchemy to a higher, more stringent standard than they would other any other partner.
"The goalposts always move when it comes to the city dealing with people of color," Abdallah said in an interview. "We're always asked to jump higher and run faster." She added that from the beginning, the city put constraints on the project's scope, limiting Team Alchemy's vision. Initially, team Alchemy had submitted a plan for a redevelopment of Evans-Fintube that would include an expansive complex, including a 42-story building, developed over three phases. But the city called on Team Alchemy to focus on just the first phase, the redevelopment of the Evans-Fintube Ironworks building.
With the news of the project's cancellation, many prominent North Tulsans have questioned whether the city of Tulsa was ever committed to it.
"So far, it's pretty clear that the city of Tulsa is not doing all it can to make this important project in Greenwood happen."
"I hope this is not another example of the city pretending to work with a community-led group in a process only to turn its back on that process and go its way," said Greg Robinson in an interview with the Eagle. Robinson has played a crucial role in garnering community engagement in the project.
"I also hope it's not another case of what has happened in every stage of the development of Greenwood – that the city ignores the community."
Charles Lamont recalled that during public discussions, North Tulsans expressed doubts that the city would be an honest broker in the process. "Eighty-five percent of North Tulsans said they did not think the city would hold up its end of the deal," Lamont said. "It looks like they may have been right."
---
Lend us a hand in 2023
I hope you appreciated this article. Before you move on, I was hoping you would consider taking the step of supporting The Oklahoma Eagle's journalism.
From the various media outlets in our market, to a small number of billionaire owners and private equity firms have a powerful hold on so much of the information that reaches the public about what's happening in the world. The Eagle stives to be different. We have no billionaire owner or shareholders to consider. Our journalism is produced to serve the public interest – not profit motives.
And we avoid the trap that befalls much U.S. media – the tendency, born of a desire to please all sides, to engage in false equivalence in the name of neutrality. While fairness guides everything we do, we know there is a right and a wrong position in the fight against racism and injustices. When we report on issues like the mental health crisis in the Black community, the ongoing issues with public education and the political discord and troubling legislation being enacted at the Oklahoma statehouse, we're not afraid either to name or hold those individuals responsible for problems that work against improving the lives of Black people.
Around this nation, our readers can access the Eagle's paywall-free journalism. Our readers keep us independent, beholden to no outside influence and accessible to everyone – whether they can afford to pay for news, or not.
If you can, please consider supporting the Eagle today. Thank you.
James O. Goodwin, publisher