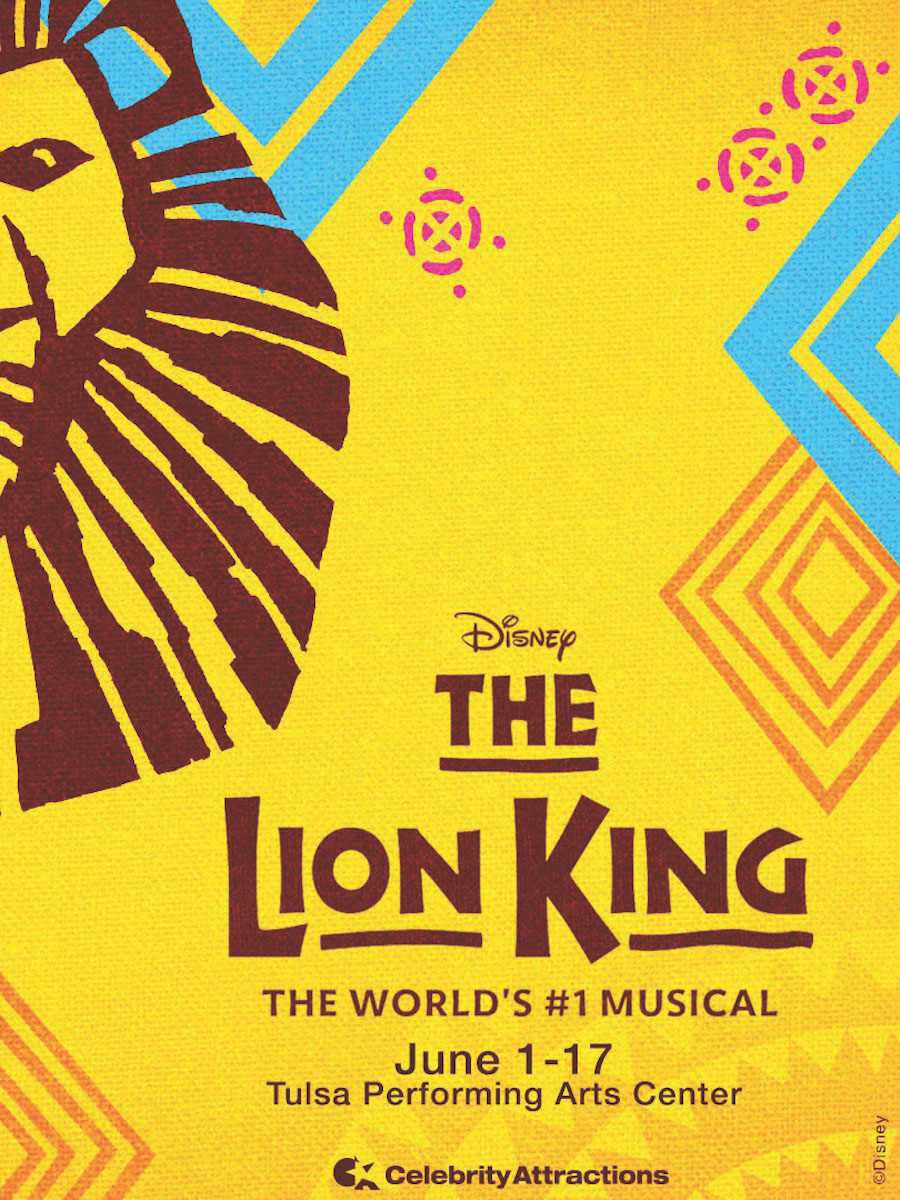 The enduring power of the circle of life
KIMBERLY MARSH
The Oklahoma Eagle
---
Photo
Courtesy of Tulsa Performing Arts Center
The Lion King tells a powerful, timeless story from the lions' perspective about the balance of nature and the interconnectedness of all living beings within a community – the circle of life. The award-winning musical score by songwriter Elton John is combined with strong vocals, masterful puppetry, elaborate costumes, and mesmerizing dance and acrobatic movements as the cast fully embraces the meaning the circle of life has for all of nature. 
At its heart is the Lioness Nala, who is a fierce protector and provider and a potential mate for the future king, Simba. She symbolizes the continuation of the pride's lineage and the importance of maintaining a strong and healthy pride for future generations. The community is torn apart by power and greed in a mutiny that leads to a warring brotherhood, the death of their leader King Mufasa and Nala's ultimate exile and division of the pride. 
The upcoming stage production of Disney's Lion King will be staged in Tulsa June 1-17 at the downtown Performing Arts Center, sponsored by Celebrity Attractions. Actor Khalifa White takes center stage in the show her dream role, playing Nala as one who feels a sense of duty and responsibility for the well-being of her pride and the future of Pride Rock.
White, who spoke to The Oklahoma Eagle from a tour stop in Madison, Wisconsin, said she connects with Nala's sense of duty and can draw on her experience of leaving her community. Nala is a leader of a close-knit community where each member has a role and contributes to the well-being and balance of the ecosystem.
White said she is grateful for the opportunity to be part of a professional community for the last ten years and for having a positive impact on inspiring others to pursue their dreams,
"Since I knew the role existed, I wanted to be Nala," White said, following in the footsteps of her role model, Heather Headley, who played the part on Broadway. Headley's drive to originate new roles has inspired White as well.
White began her role as Nala performing at Disney's Hong Kong Park, where she started understanding how to tap into her full potential. White aspires to originate roles.
"I would love to be on a Broadway cast album. It's like a checklist of mine. And, more specifically, I would like to originate roles or a role that's a developed character with a story I connect to."
Ultimately, The Lion King underscores the idea that a strong community is built on trust, respect, and shared values. It encourages viewers to recognize their communities' values and roles in nurturing and preserving them. By portraying the lion pride as a symbol of unity and interdependence, the story reminds us of the profound connections we share with others and our responsibility to support and uplift one another.
White said she was particularly moved by the show's first five minutes. She said the so-called "Circle of Life" scene never ceases to amaze her.
"I love to watch it whenever possible," she said, adding that the show itself is magical and incomparable in its setting and atmosphere and a beautiful way to introduce the audience to the diverse array of animals.
"It's unlike anything I've ever seen in musical form," she said. "You're going to feel different coming out than when you come in."
For more on Khalifa White, see her official website at khalifawhite.com
The Lion King will play at the downtown Performing Arts Center at 102 E. 2nd Street in Tulsa Tuesdays through Thursdays at 7:30 pm, Fridays at 8 pm, Saturdays at 2 p.m. and 8 p.m. and Sundays at 1 p.m. and 6:30 p.m. from June 1 to June 17. There will be 1 p.m. matinees on Thursday, June 1, and Thursday, June 15. Tickets may be purchased at the Tulsa PAC Box Office and online at CelebrityAttractions.com. Call the Tulsa PAC Box Office at 918-596-7111 for more information.
Over 100 million people worldwide have experienced the awe-inspiring visual artistry, awarding-winning music, and uniquely theatrical storytelling of one of Broadway's most breathtaking and beloved productions. The Lion King is a show for all ages, filled with giraffes strutting across the birds swooping over the cast and gazelles leaping through the air. The entire Serengeti comes to life as Pride Rock slowly emerges from the mist.
Winner of six Tony Awards®, including Best Musical, The Lion King brings together one of the most innovative creative teams on Broadway. Tony Award®-winning director Julie Taymor brings to life a story of hope and adventure set against a fantastic backdrop of stunning visuals. The Lion King also features the work of Tony Award®-winning choreographer Garth Fagan and some of Broadway's most recognizable music, crafted by Tony Award®-winning artists Elton John and Tim Rice.
Performed over its lifetime in nine different languages (English, Japanese, German, Korean, French, Dutch, Spanish, Mandarin, and Portuguese), productions of THE LION KING can currently be seen on Broadway; London's West End; Paris; Hamburg; Tokyo; Madrid; on tour across North America and the U.K. & Ireland, with a separate production touring internationally, for a total of nine shows running concurrently across the globe. Having played over 100 cities in 24 countries on every continent except Antarctica, THE LION KING's worldwide gross exceeds that of any film, Broadway show, or other entertainment title in box office history.