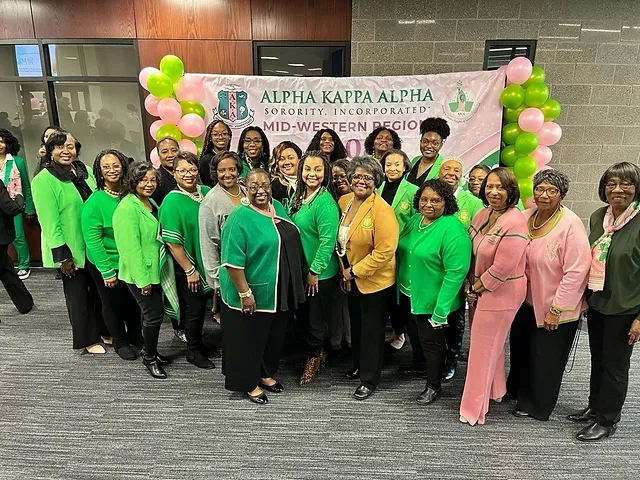 The Oklahoma Eagle Newswire
The city of Tulsa saw an influx of pink and green as the nation's oldest African American Greek-letter organization, Alpha Kappa Alpha Sorority, Incorporated® convened for its 93rd Mid-Western Regional Conference. Our Magnificent Mid-Western Regional Director, Mrs. Anika Wilson Starling laid the first and last Pink Print of our conference with three appointed chairs, Lai Andrea Granger, Katherine Nikki Cooper, and Rhea Vaughn Dobbins that helped guide numerous committees while breaking records that will propel our region to reach greater heights of sisterhood and service.
The conference was held at the Renaissance Tulsa Hotel and Convention Center, March 29th – April 2nd, 2023, with 1,030 vibrant, college educated women of the illustrious sisterhood in attendance. Undergraduate and graduate members of the region broke attendance records. In its history, the region had never registered let alone had in attendance over 1,000 members at a regional conference.
We were proud to host our regional conference in Tulsa while highlighting Black Wall Street to further cultivate the rich history of Alpha Kappa Alpha Sorority, Incorporated®. Our conference theme "Black Wall Street: Remembering the Past as a Pink Print for Our Future", laid even more Pink Prints on the community as we were educated, spent our Black dollars, and walked the historic Black Wall Street. We left our Pink Print and a substantial financial impact all over the city of Tulsa," says Mid-Western Regional Director, Anika Wilson Starling.
The conference kicked off on Thursday, March 30th with a day party hosted by the Regional Director welcoming sorority members from Colorado, Iowa, Kansas, Missouri, Montana, Nebraska, Oklahoma, and Wyoming. The Sorority traveled to the University of Tulsa for a tree dedication, and we also hosted and participated in a community service toiletry drive for young women housed at Flourish Homes, a 501(c)(3) organization that provides young women (ages 18-25) who have aged out of foster care, with guidance to lead a flourishing life. 115 years later, we are still providing service to all mankind.
A public program and reception were hosted on the evening of Thursday, March 30th at 7:30 p.m. where awards were presented to local leaders and organizations that had significantly impacted their communities. There was a sea of pink and green, representation from members of the Divine Nine, the Tulsa community, and city officials. Guest speaker, Dr. Tiffany Crutcher, Executive Director of the Terence Crutcher Foundation gave a resounding speech that left everyone in the room with a charge to advocate for social justice. "Fighting for justice is hard but the consequence of justice is even harder", said Dr. Crutcher.
The next day, energy, passion, and momentum filled the room as sorority and fraternity step teams took center stage for the annual step show competition hosted on Friday, March 31st at 8:30 p.m. Sororities, fraternities, guests, and music filled the room with a special guest appearance from legendary DJ Spinderella. I guess you could say, we left Pink Prints to the left and to the right as we stepped.
We hosted our "Sequins and Sneakers" Ball on Saturday, April 1st where the attire matched the theme. We had a grand time in relaxed attire while enjoying comedic relief from Rickey Smiley. The sorority ended the conference with an HBCU Gospel Breakfast and Ecumenical Service. Former 29th Mid-Western Regional Director, Ms. Jan M. Carpenter-Baker took us to church and blessed us with a message that chilled the room.
A Pink Print of Success was surely left on the city of Tulsa, Home of Black Wall Street. Until next time, follow the Pink Print as it will lead you on a journey to understand what sisterhood and service truly means. Follow us as we travel to Overland Park, KS in 2024 for our next regional conference.
For more information on Alpha Kappa Alpha Sorority, Incorporated®, visit www.aka1908.com.