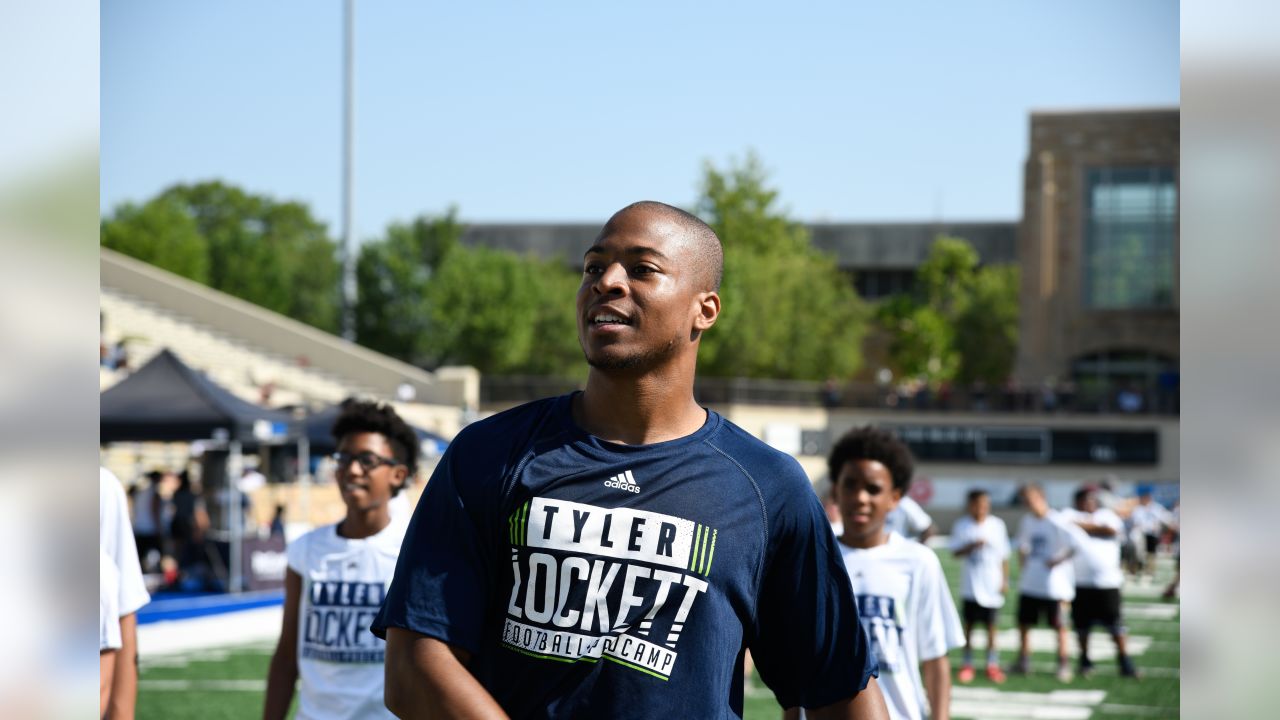 The Oklahoma Eagle Newswire
Tyler Lockett's big ambition in life was to go to college, get an education, play football, and someday help make a difference in his community. He always gives all the credit to God.
Today, Tyler is accomplishing both in a big way. Just recently, his Real Estate Company "LIV N SERVE" (UNDER KELLER WILLIAMS), just became the official sponsor of the Seattle Seahawks. It is speculation that he may be the only player in the NFL today whose company is an official sponsor of the team for which he plays. In addition, he just opened for business his first luxurious Airbnb. The spacious home is located near downtown Dallas.
In Tulsa, Tyler's "Light It Up Foundation" is in the process of implementing his 2023 Job Shadowing and Scholarship Program. A total of twelve (12) students were selected from Will Rogers, Memorial, McLain, Central, Booker T. Washington, and Crossover Prep Academy to travel to Seattle, Washington to job shadow mostly minorities in administrative positions in the areas of finance, business, IT, computer science, medicine, kinesiology, and other professions. The students will have the opportunity to visit the Seattle Seahawks Organization, Microsoft, and Virginia Mason Medical Center/Kraken Community Iceplex. Parents will be able to accompany the students on trips to Microsoft and Virginia Mason Medical Center. The group will depart Tulsa on June 4th and return on June 7th. There will be free time to shop and take in the beautiful sights.
Tyler's free football camp was held on April 29 at The University of Tulsa. The University has worked with Tyler and his organization in using the facility to run the camp. The camp was highly organized and over two hundred kids (8-14) from Tulsa and surrounding areas attended.
While in town, Tyler toured the Tulsa Day Center for the homeless, the Reed Community Foundation ( It provides an environment in which children and youth develop life skills, a strong work ethic, self-discipline, an enlarged spiritual life, and respect for others), and participated in a fundraiser at The Center for Individuals with Physical Challenges in a basketball "HORSE" contest with former Seahawk Hall of Famer Steve Largent.
The Lockett Family agreed to conduct clothes drive for the Tulsa Day Center, and Tyler donated over two thousand ($2,000) dollars in clothes to the organization. Tyler donated an autographed Seahawk jersey for the Reed Community Foundation Center and had a meaningful discussion with Mr. Reed about things that could help the Foundation.
Tyler reports to Seattle in May to start Spring practice for the 2023/2024 football season.