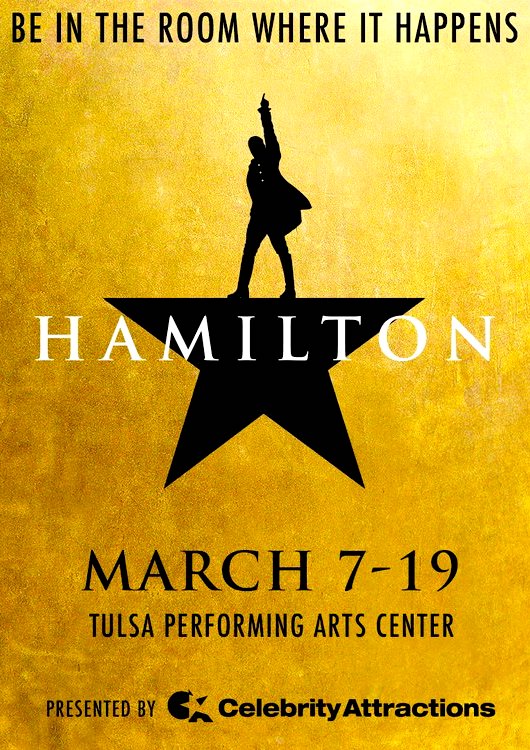 Breakthrough Musical's Diverse Cast Retells U.S. History
KIMBERLY MARSH
The Oklahoma Eagle
---
Photo
Courtesy of Tulsa Performing Arts Center
Edred Utomi, who plays the lead role of U.S. Treasury Secretary Alexander Hamilton, talked to The Oklahoma Eagle about the musical.
Utomi first noted the tagline for Hamilton. "It's the story of American then, told by the faces of America now. He said it is important to reframe what history would have been and see us in narratives where people of color have not customarily been a part.
"We all live in this country founded by immigrants, founded by people who may look like us or didn't look like us, but either way, this is our country," Utomi said. "It's an important piece of theater, and I'm truly honored to be in it, to be playing the title character."
A Modern View of History 
In historical retelling, the past and formation of the country is told from a white perspective. By considering and telling a story through people of all different ethnicities, it breaks down barriers and walls between different ethnicities and different types of people, Utomi said. While Hamilton is applauded for its multi-cultural casting and contemporary dialogue it has prompted much discussion on its real impact as a change agent for racial disparities.
In the Feb. 21, 2023, issue of Playbill, legendary composer Jonathan Larson, who inspired and mentored Miranda, acknowledged that Hamilton is a breakthrough, but it doesn't exactly introduce a new era. "Nothing introduces an era. What it does is empower people to think differently. There's always got to be an innovator, somebody who experiments first with new forms." Scholars and authors have analyzed and debated whether Hamilton signifies a post-racial society.
Utomi, joined Hamilton in 2017 and sought the lead role for two years. He learned all the lines and songs as an understudy and was finally rewarded with the "incredible opportunity to be in this show" as Hamilton. An actor who has been basically living in Hamilton for several years as a cast member, Utomi believes it has redefined musical theater as well as theater's relationship to the general public. At the very least, reframing history gives the audience something to think about, he said.
"As a person of color, it is never good to learn about history. There are not always a lot of good things that happened, but we've come a long way. Many times, when you talk about our history, it is related to the trauma and pain of people of color."
Hamilton changed the look and sound of musical theater, but the biggest piece begins with casting, Utomi said.
" As far as getting people on stage to look different, casting is where we have to see a lot of changes, but it goes deeper to directing, writing, producing, where the wealth is coming from and how it is being distributed. Hamilton kicks off the notion that what we see on stage is very different than what it was supposed to be like. (In reality) Thomas Jefferson wasn't Asian and we have an Asian Jefferson, a black George Washington. I am Nigerian-American and I'm Hamilton."
Hamilton started that movement, it's not just what's in your head but a change to what you may perceive. I think going forward we've already started seeing it. The changes in diversity have to come at all levels not just on stage and I think that's happening. "
What can Tulsans expect to see and experience in this musical? Utomi said the story told through the medium of hip hop…jazz elements, musical theater elements, and ballads, is at the end of the day "about humans who were flawed but did great big things and made great big mistakes as well."
"To someone who hasn't seen it, I would say to come out and experience the story and see what you can learn from it, feel from it and I'm sure you will take something from it."
Utomi's Background 
Utomi began acting in high school and majored in theater in college in San Diego. He was selected for Hamilton in 2018 as a standby for several main characters and in January 2019 took over full time as Hamilton.
"It was an incredible blessing I couldn't have imagined," he said. "My world turned upside down – the people who have seen the show will get that reference," Utomi said, referring to one of the most popular songs, Yorktown, and the lyrics: I'm not throwing away my shot til the world turns upside down."
Utomi began in theater in Riverside, CA, playing Jim in Big River, adapted from The Adventures of Huckleberry Finn. His shows include How The Grinch Stole Christmas! Once On This Island, Big River, and Sister Act The Musical.
Utomi said it was important to look to others who have the career you desire, so he studied not only everything that happened on stage, but also Denzel Washington, Michael B. Jordan, Will Smiths and other actors of their caliber.
"Hamilton was my goal for a while. I obsessed over it. I did everything I could to be a part of it. I learned all the lyrics and spent all my time studying to become a better musical theater performer, instead of being backstage relaxing, I'd be in the wings watching the leads that I respected and was moved by," adding that watching included every microscopic move they made, from the way they held their tongue to the way they turned their head.
"What I said to myself growing up and trying to make it is, 'hard work beats talent and when talent doesn't, work hard," Utomi said. "It's easy to count yourself out when you feel like you've started too late. This is a marathon not a sprint, unless you know somebody, or you are the son or daughter of somebody famous. It's not something you'll get in a year, or five years. It might be 10 and it might be 20, but I'm a firm believer that if you work hard enough whatever version of success, you're looking for will come your way. You have to work harder than everyone you know, set unrealistic dreams and shoot for the moon. If you miss, you will hit the stars."
What's next for Utomi? After Tulsa the show heads to Kansas City, Minneapolis, and more cities.
"After that, I'll see what God has in store for me," he said. "I'd love to originate a role, do more TV and film. For now, I'm happy with the role I'm in and doing best to my ability."
Celebrity Attractions is bringing the Angelica Company's production of Hamilton to Tulsa March 7-19, at the Tulsa Performing Arts Center, 110 2nd Street, in the Chapman Music Hall. Tickets are on sale now online at tulapac.com or by calling 918-596-7111.