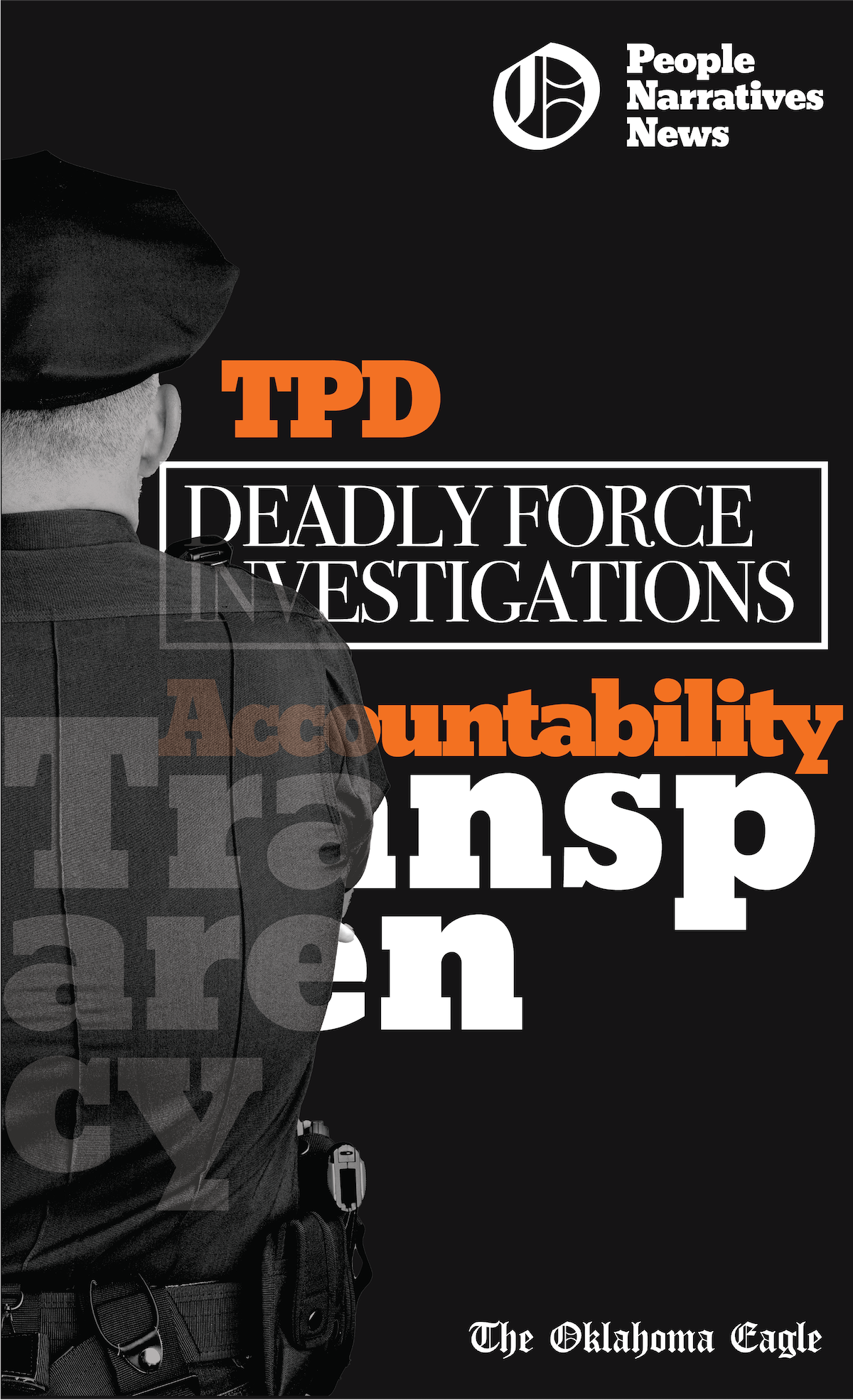 John Neal
The Oklahoma Eagle
---
Illustrations
The Oklahoma Eagle
Both the 2020 and 2021 TPD Annual Report lack information previously provided as recently as 2019 in the TPD Internal Affairs Annual Report. In an email to the Eagle, the department's Public Information Officer, Captain Richard Meulenberg, said, "We started to incorporate that data into the TPD annual report by combining the IA report with the TPD Annual Report." The "IA" or Internal Affairs report ceased publication in 2019. But a careful inspection by this Eagle reporter revealed that almost all of the data was missing when the "combining" took place.
This change comes as TCD Chief of Police Wendell Franklin and the department face mounting criticism from North Tulsans for their approach to community policing, particularly in the city's Black neighborhoods. Last month a number of North Tulsan used a public forum to critique Franklin and others in the department for failing to work to build trust with Black Tulsans. In addition to public criticisms, members of the Tulsa City Council are pushing for greater accountability and oversight of the TPD.
Comparing reports, twenty pages of important information in 2019 has been reduced to four sentences in the 2021 report. The 2019 report found here compared a wealth of data on complaints and their disposition over five-years.
Previous report topics included the following topics:
| | | |
| --- | --- | --- |
| COMPLAINTS | DEADLY FORCE INVESTIGATIONS | USE OF FORCE |
| Complaint Process | Use of Force Continuum | Weapons Discharge |
| By Calls for Service, Arrests | By Patrol Division | Force Adjudication |
| Case Dispositions | By Officer, Citizen Race | Injury Types |
| Criminal and Administrative Allegations | Types of Force Used | |
| Disciplinary Actions | By Service and Injury | |
The twenty-page report included 16 graphs or charts and a comparison of totals for categories and subcategories for the years of 2015, 2016, 2017, 2018, and 2019.
In contrast, this is the entire statement for 2021 that includes one table.
"The Internal Affairs Section conducted the following activity in 2021:
292 complaints, including 263 citizen complaints and 29 administrative complaints
25 of the complaints came from citizens involved in calls for service
Of the 292 complaints, a total of 46 disciplinary actions were taken against personnel
In 2021, there were 724 Use of Force Reports and 9 Use of Deadly Force Incidents"
Useful information lost
This summary glosses over important information. For example, here are a few sets of data or information not included in the contemporary TPD Annual Report but were included in previous reports:
What is the demographic makeup of Tulsa's police department?
Are citizen complaints increasing or decreasing?
What is injury rate from use of force incidents?
Calls for service resulting in arrests?
Rates of use of force by citizens race?
Number of disciplinary actions resulting in discharge or suspension?
District Attorney's rulings on deadly force incidents?
This lack of transparency occurs while the City of Tulsa recently confirmed it is planning a liaison office for complaint handling but would provide no further information to the Eagle. Without the release of meaningful and comprehensive information on citizen complaints, use of force incidents, and deadly force investigations establishing a liaison office is of dubious benefit.