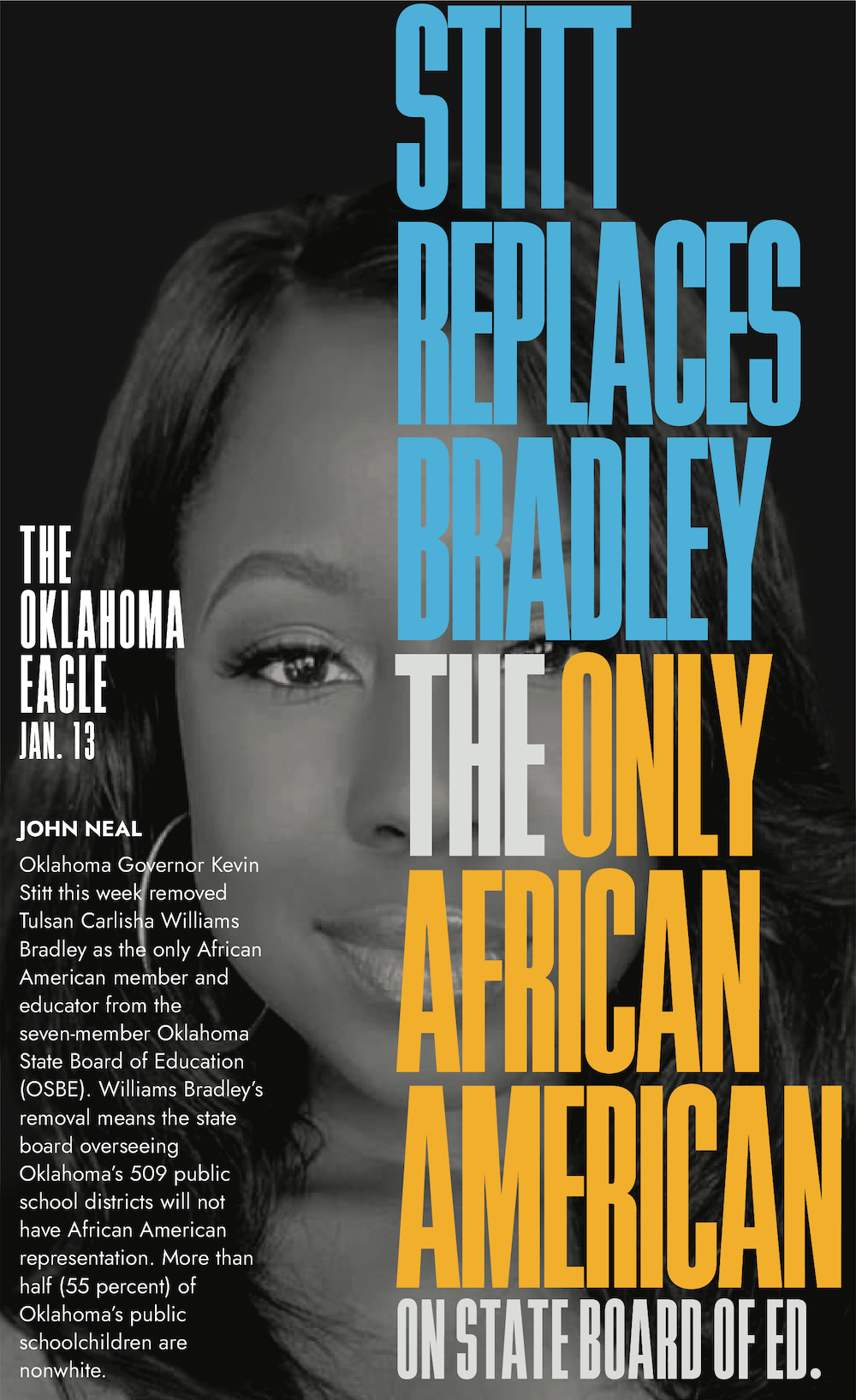 John Neal
The Oklahoma Eagle
---
Illustrations
The Oklahoma Eagle
Stitt and State Superintendent Ryan Walters Target Public Education
Williams Bradley's removal means the state board overseeing Oklahoma's 509 public school districts will not have African American representation. More than half (55 percent) of Oklahoma's public schoolchildren are nonwhite.
Williams Bradley, a Tulsa native, a longtime educator and executive director of ImpactTulsa, had openly criticized the harsh treatment of Oklahoma school districts cited for violating the highly controversial, Republican-driven House Bill 1775, legislation that restricts Oklahoma's public school educators from teaching on the topics of ethnicity and gender issues that "one race or sex is inherently superior to another race or sex."
Williams Bradley responds
After Stitt's announcement, Williams Bradley tweeted a statement on Jan. 10. She had represented Congressional District 1 since April 2019.
"It was such an honor to serve on the State Board," said Williams Bradley, whose term was to expire on April 2. "While the journey was far from easy, I am proud of charting a path that was value aligned and kept students & educators at the center of decision making. I will continue to advocate for public education in Oklahoma."
When Stitt appointed Williams Bradley in 2019, he touted her background to help the move Oklahoma as one of the country's "Top Ten in education." In November, a 2021 EdWeek report shows the state ranks 49th in education and 47th in spending per student.
Williams Bradley had previously worked as the executive director for Tulsa Legacy Charter Schools and the Schools Systems Leader Fellow and Senior Consultant at Tulsa Public Schools. She also served as the regional vice president at Lighthouse Academics and worked as an 8th grade math teacher and KIPP Through College Director at KIPP Reach College Preparatory.
"She is a driven and successful individual who has been a strong leader for education in Oklahoma and a dedicated champion for our students in the state," Stitt said at the time of Williams Bradley's appointment in 2019. "She will be a wonderful representative for all of Oklahoma while serving on the board…"
On July 28, Williams Bradley was one of two members who said there was insufficient evidence to support downgrading Tulsa Public Schools for violating H.B. 1775 and to issue it an "Accreditation with Warning." Williams Bradley was joined by Joy Hofmeister, then-Oklahoma Superintendent of Public Instruction and OSBE's president, to oppose the downgrade. The OSBE voted 4-2 to sanction TPS based solely on a single accusation by a white Memorial High School biology teacher that Oklahoma's largest school district had violated H.B. 1775.
Williams Bradley tried to get OSBE to reconsider their decision, which failed. Hofmeister launched a vigorous campaign to replace Stitt as governor in the 2022 election but lost her bid in November.
Williams Bradley replaced by climate change critic
Stitt has appointed Donald Burdick to replace Williams Bradley. Burdick is an entrepreneur, co-founder of four oil and gas companies and the CEO of the Tulsa-based Olifant Energy II. He is also president and co-founder of the Tulsa IrishFest. He received his undergraduate degree from Duke University and a master's in geology from the University of Oklahoma.
As NonDoc.com reports, Burdick's recent LinkedIn posts include comments and articles downplaying the causes and impacts of climate change.
"Wind and solar can't be turned on when you need it, and it breaks the economics of reliable power sources. Time to fight this crap at every level," Burdick wrote in one post before calling green energy "useless."
In another post, Burdick linked to an article about climate epochs throughout Earth's history.
"All societies should stop wasting money pursuing 'net-zero', reject the fear tactics of climate change propagandists and try behaving rationally in regards to energy," Burdick wrote.
Stitt appoints Tulsa Public Schools critic
Another appointee by Stitt was Suzanne Reynolds, a Nichols Hills pharmacist who replaces Estela Hernandez as the at-large member of the board.
Reynolds first surfaced statewide when she spoke at the July 28 OSBE meeting and urged sanctioning Tulsa Public Schools for violating H.B. 1775 with "the strongest possible penalty."
"I found this to be a direct assault on my civil rights, my freedom of religion, speech and thought," Reynolds said. "These so-called DEI professional instructors are used to censor those that dissent to their belief system or have perspectives that do not align with their ideology."
Stitt said Reynolds has served in higher education at different universities, including at the University of Oklahoma College of Pharmacy, where she also received her bachelor's and doctorate degrees. Her mother was a public school art teacher for Oklahoma City Public Schools, and her father served as a professor at Oklahoma Christian University.
Stitt and Ryan Walters, the new State Superintendent of Education and now OSBE's president, have publicly voiced their intentions to push through other radical reforms in public education.
Two GOP donors appointed
Stitt also replaced two other OSBE members.
Marla Hill replaces Trent Smith in Congressional District 3. Hill, who lives in Edmond, is a home education teacher of her five children at Hill Academy High. She graduated with her bachelor's degree from Oklahoma City University and her juris doctorate from the University of Oklahoma. Hill and her husband, Brian, are major GOP-donors and each donated $8,700 to Ryan Walters' 2022 State Superintendent of Education campaign, according to NonDoc.
The Hills own Works24, a digital media company for phone hold music and lobby messaging, and The Cedar Gate publishing company.
Kendra Wesson replaces Brian Bobeck in Congressional District 4. Wesson, a native of Lawton, is the current owner of Operation Accounting, Inc. in Norman. She received her bachelor's degree with a Certified Public Accountant emphasis and a minor in ethics from Mid-America Christian University. She received her associate of science in business enterprise and associate of applied science in accounting from Oklahoma State University. She is a member of the Caddo Nation and serves on the board for Le Monde International School in Norman, a French and Spanish immersion charter school. In November, Wesson lost in the general election to replace State Rep. Jacob Rosecrants, D-Norman.
Last year, the OSBE proposed $5,000 annual teacher pay increases. The raises are scheduled to be confirmed during the upcoming legislative session.
Walters, a close ally of Stitt, has been outspoken in his criticism of the OSBE, which he now leads.
At the Jan. 9 inauguration ceremony, Walters threatened the nearly 400 employees at OSBE for pushing what he called "liberal indoctrination."
"We are going to make sure we hold folks accountable that have been pushing that," Walter said.
He echoes what has been a consistent position reported in The Oklahoma Eagle, including "demanding" of the OSBE should strip teachers of their teaching certificates and that Tulsa Public Schools should have had its accreditation status downgraded to a greater extent than recommended by OSBE attorneys.
Both Stitt and Walters have advocated for school voucher programs that would reduce funding for Oklahoma's public school districts.