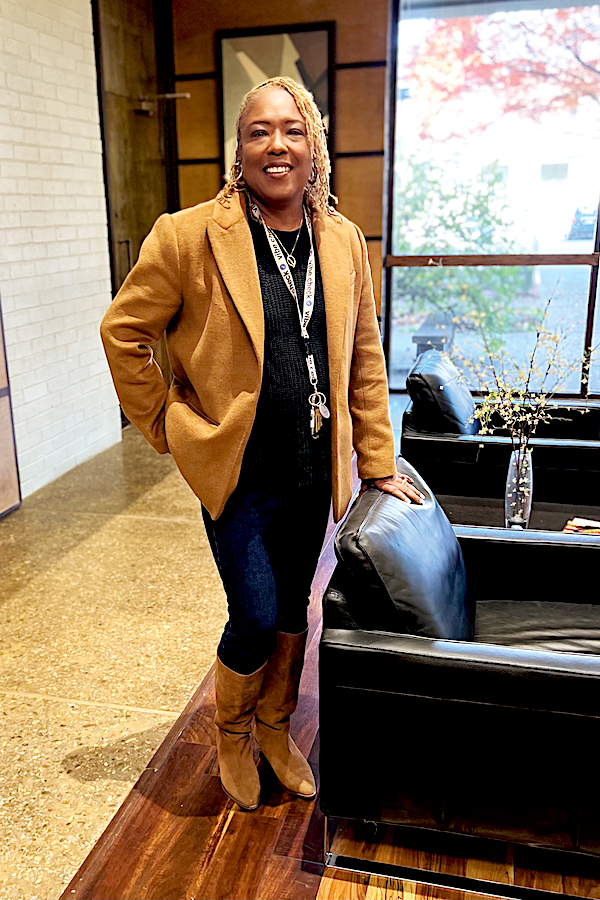 Gary Lee
The Oklahoma Eagle
---
Photos
The Oklahoma Eagle
TULSA – Leah Blevins, a student at the Margaret Hudson School in Broken Arrow, Oklahoma, was 18, pregnant and lost.
"I felt like just another teenager having a baby," she told The Oklahoma Eagle. "One more statistic whose story didn't matter to anyone."
Then came a chance recommendation to join Just About Mothers Excelling in School, Inc. (J.A.M.E.S., Inc.). The high school Blevins was attending referred her to the Tulsa-based nonprofit, which offers various programs to help adolescent mothers – and families – forge a better journey through parenthood.
"When she walked in our door, she had no self-confidence," Alisa Bell, J.A.M.E.S., Inc.'s founder and executive director, recalled in an interview with the Eagle.
Blevins shared with the folks at J.A.M.E.S., Inc. that she liked photography, so they invited her to join a photo class they offered. She also attended a workshop in writing that they organized. A bit later, Bell took Blevins and a group of other young expecting mothers on a field trip to A New Leaf, a garden center and nursery that provides training and self-sufficiency for people with developmental disabilities and autism in Broken Arrow.
"What we try to do is expose the mothers to activities that they might have been curious about but may have no chance to experience," Bell explained. "Sometimes those little exposures can become something big."
In Blevins's teenage life, those little things became huge.
The photography class eventually inspired her to start a photography business. A year later, she returned to J.A.M.E.S., Inc., this time as a photography teacher. One of her students went on to open her own photography business. The J.A.M.E.S., Inc. writing instructor encouraged her to write down her story, including her journey to motherhood. The story was published in a book of similar sagas.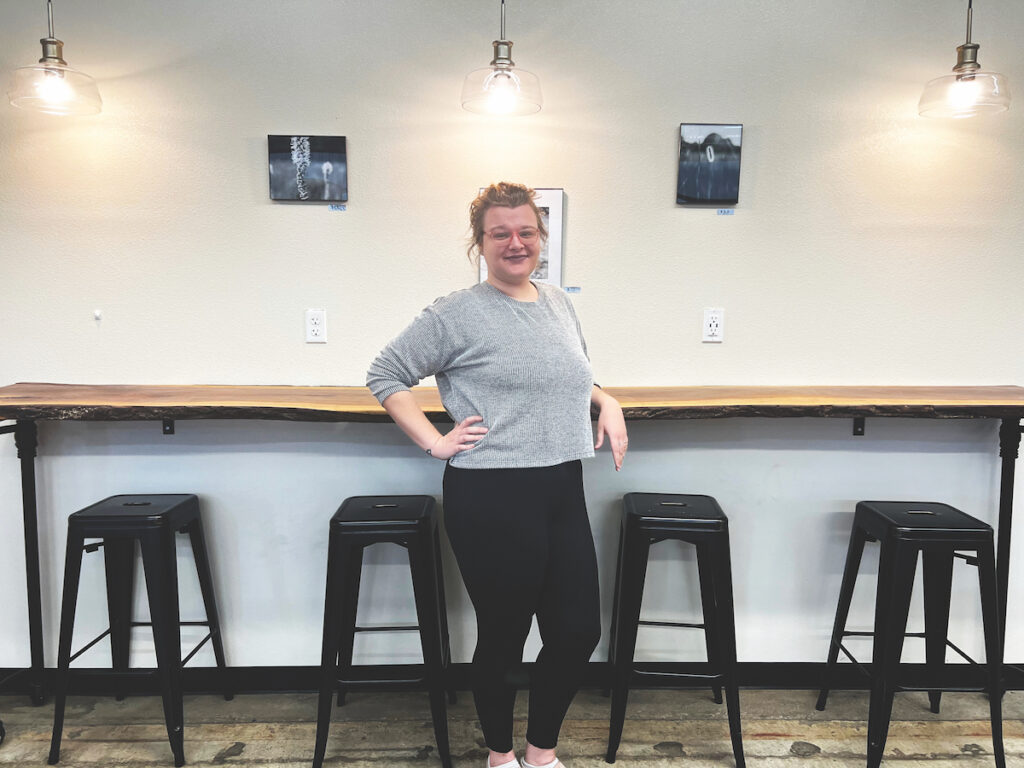 'I am somebody'
And that field trip to A New Leaf?
It inspired Blevins to start her own garden. Now she grows tomatoes, greens and other produce and sells some at Tulsa Farmers' Market and gives some to young mothers. Through those experiences, her life has been transformed.
"A light bulb went on in my head," she said. "I realized that 'I am somebody, and that people cared about my story.'"
Since it was founded in 2007, J.A.M.E.S., Inc. has helped hundreds of young Tulsa mothers, Bell estimates. Around 70 percent are young Black Tulsans, while the others are white, Native American or Latina. The assistance J.A.M.E.S., Inc has offered varies with the needs. Usually, there are between 45 and 50 young mothers actively involved in one or another of the organization's programs. It has guided some clients to finish high school or start higher education. It has helped others find jobs, childcare, jobs and start careers. While not all the young mothers have had success stories quite as dramatic as Blevins, all of them have charted a path forward in their own lives as they juggle the demands of parenting.
Started with a personal journey
As J.A.M.E.S., Inc.'s executive director, Bell leads a staff of life coaches and trainers. But managing the nonprofit is more than a job. It's her brainchild, and life's mission.
Bell and J.A.M.E.S., Inc. are synonyms of one another.
Like many mission-driven endeavors, J.A.M.E.S., Inc. was born from personal experiences. Three events in Bell's journey marked her path to starting and leading the organization. The first was a decision to embrace single motherhood. Bell welcomed her first child, daughter, Latoya, at 15 when she was a student at Tulsa's Margaret Hudson School, that provided education, counseling and healthcare of school-age mothers and child care for their infants. Her son, James Deandre King, was born four years later.
In the course of juggling baby formula, diapers and classes at school, the shortcomings of her children's father became more apparent.
"He was on drugs all the time," Bell recalls. "And the mental health challenges and dysfunction of his family stunned me."
So, she fled their household. At 19, Bell was a single mom of two.
A couple of years into motherhood of raising toddlers alone, Bell had her second transformational moment. Despite her age and the toxicity in her relationship with her baby's father, Bell was clear-headed about her goals. She was determined not to let parenthood keep her from pursuing a profession.
"Successfully navigating my life and the lives of my children was all about me," she said. "I had to find my authentic self."
She added, "when a young girl becomes pregnant, the adults in the community always say, 'It's no longer about you.' I heard this message, and countless other pregnant teens before and after me hear this message. I understand its intent, but the connotation is that 'I no longer matter. My dreams can only be about providing for my baby. My excuse for not becoming my best is often, because it's no longer about me.'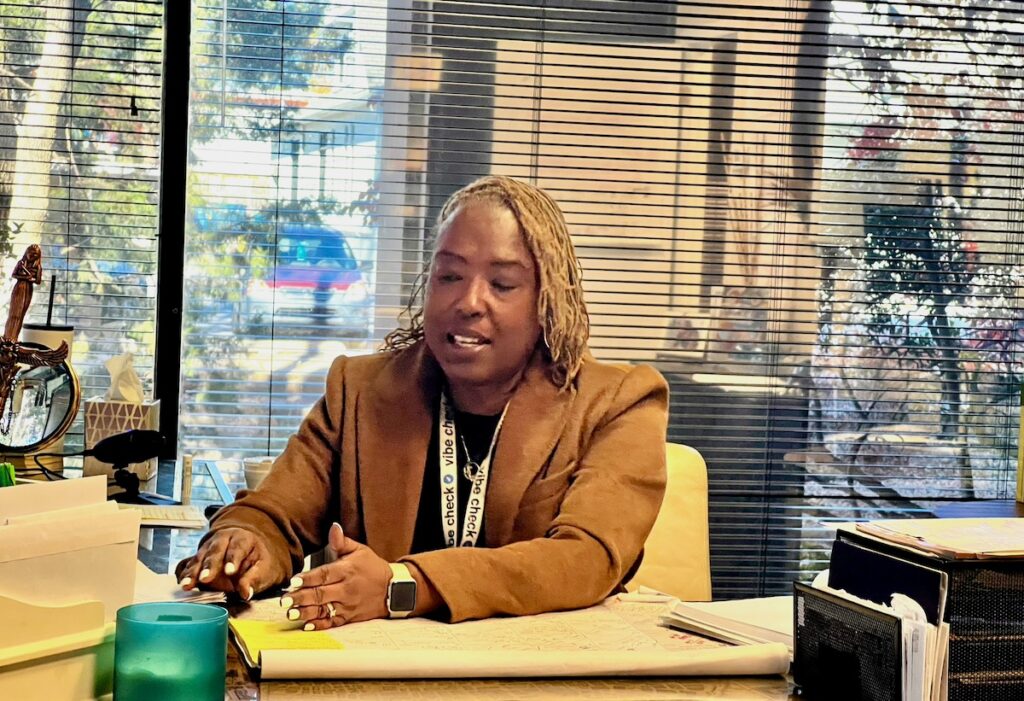 'I saw opportunities no one was sharing'
"For pregnant and parenting teens without support, this means when school isn't convenient or isn't engaging, they quit. I did not want to be that person," she said.
When she was 23 and James, 5, Bell enrolled at Northeastern State University in Tahlequah. The sentiment about young mothers was "if we can just get them through high school, that's the best we can do," she recalls.
"So, I went to college and saw opportunities on the campus that nobody was telling people about.
"My original thought was to develop a program to give scholarships to young mothers," Bell said.
In her first year of operation, she gave away one scholarship and focused on raising more money. But in the second year, there were no scholarship applicants. At that stage, she realized that giving grants was only part of the solution for young mothers. They also severely needed mentoring and education about the options available to them, and why they were worth pursuing.
A life changing tragedy
Several years later, a now married Bell was working as an associate for State Farm Insurance, when she had her third and perhaps most impactful – and devastating – life-transforming event.
By then, her son James was a teenager.
"He was the smartest kid in any room," she says. "He was that kid that everybody loved… Little kids from up and down the street would knock on the door to come to play with him."
But James often got into trouble in school. At one point, he was suspended from school for a few days.
In May 1998, to distance James from the challenges faced in high school, Bell sought the assistance of his paternal grandparents, where he lived briefly.
While there, James and his cousin, Darell Steven King, who were both 14 years old, were involved in an altercation that escalated to a handgun being used. Darell fired several shots, one of which struck James in the head, Bell said.
Bell was called and told something bad happened to James, though without providing details.
Bell and her husband, Craig, upon arriving at James' grandparents' home, were blocked by Tulsa police vehicles and officers who responded to the earlier call.
The mother, who wanted nothing more than to create a safe environment for her only son, was immediately confronted with the reality that her child now laid lifeless several feet away in the bedroom of grandparent's home.
"Without going inside, I knew what had happened," Bell recalls.
James was gone.
Unable to deal with the trauma of seeing her son's body, Bell and her husband left.
Darell pled no contest as a youthful offender and was sentenced to 10 years in prison in Aug. 20, 1999.
The following year, she entered graduate school. In a grant writing class, she had the assignment to come up with a plan for a nonprofit.
"Out of nowhere, I wrote down the name of an organization: Just About Mothers Excelling in School. (J.A.M.E.S., Inc.)," Bell recalls. "From that day to this day, I have been trying to give James' life."
At 57, Bell has been through her share of hardships. Besides the murder of her son, she lost her firstborn, Latoya Davis, to a stroke in 2014.
Through years of helping others, Bell has had a front-row seat to the tragedies of many others in the North Tulsa community, including the mental health crises, domestic abuse and gun violence.
And yet, Bell excludes a natural optimism and zeal to fulfill her destiny.
"My life's mission is to use my personal experience to help others grow in hope, truth and confidence… and the people that I serve to happen to be expecting and parenting mothers and families."
Young mothers to adulthood
In the community of groups that assist young mothers, J.A.M.E.S., Inc. is distinguished on two levels. While similar institutions focus on the child and their needs, J.A.M.E.S., Inc. is dedicated to the well-being and improvement of the mother.
"Our focus is that parenting young person," Bell explained. "Our goal is to help them figure out who and what they want to be and do when they grow up."
They have created seminars for their clients that are divided into six areas:
Self-exploration
Civic engagement
Leadership development
Skill building
Work-life balance
Career exploration
Life coaching called on us to give kids the things they needed to hear
"Everything we try to introduce the parents to has to do with one of those tenets," Bell explained.
Some workshops are offered via Zoom video conferencing, and others are in-person classes. They also do a mix of other engagements, including one-on-one mentoring sessions and field trips.
"I wanted to talk about topics, like reading the culture when you walk into a room; or about insurance benefits — those things that require a bit more mature parenting," Bell said. "What I want to discuss are the things nobody is telling you.
"Life coaching calls on us to give kids the things they need to hear."
But the more she engaged with clients, the more she was aware of how fundamental their needs were.
"I shared the basic stuff that you would have gotten from a mother, sister, or aunt in the past," Bell added. "There is nobody at home anymore to teach those things. There is no 'Big Mama' at home anymore. We have to play that role.
"We just stumbled upon the information gaps and started identifying ways to plug those holes."
And then the more she engaged with clients, the more awareness she had about the survival skills she needed to teach them.
"'Miss Bell,' one would say, 'I went to work yesterday, but I can't sign up for my 401k 'cause I can't afford to spend $20 out of my check.' And I started talking about how they can't afford not to sign up for a 401k."
When young women contact J.A.M.E.S., Inc., Bell says they tend to fall into two groups: about 40% seek immediate assistance, such as money for diapers or childcare help; the other 60% are seeking longer-term mentorship. Whatever support, the nonprofit gives it for free to all its clients.
J.A.M.E.S., Inc. is fully-funded by grants from foundations and philanthropic organizations, primarily based either in Tulsa or in Oklahoma. The main donators are the George Kaiser Family Foundation, the Sarkeys Foundation, Shusterman Family Philanthropies, and the Gelvin Foundation.
'These are my people'
There is no more remarkable testament to J.A.M.E.S., Inc.'s vital importance to the community of young Tulsa moms than the countless lives it has helped transform.
Johniesha McGee's story illustrates the organization's commitment to mentoring clients over the long term.
It was eight years ago when McGee first approached J.A.M.E.S., Inc. She had a 1-year-old daughter and was trying to juggle a job at Sears and all the responsibilities that come with motherhood. J.A.M.E.S., Inc. helped her get into a new high school and eventually graduate. After high school, McGee started at Tulsa Technology Center for accounting and at Tulsa Community College, moved from her mom's house into a new place and started a job.
"That's too much to carry," Bell told McGee.
"I got this," she told Bell.
Soon after that, she dropped out of school and lost her apartment.
Two years ago, McGee started to re-engage with J.A.M.E.S., Inc. The organization helped her achieve her goal of getting training to become a doula.
Now she is working as a hospital aide mothering her daughter and son. "I reenrolled in TCC with a nursing major, and I've been consistently on the journey of healing and improving myself physically, mentally, and spiritually," she said. "I've learned that I can still be Johniesha and a great mom."
J.A.M.E.S., Inc. has helped her with applications for school and jobs, and above all, providing answers and solutions to the roadblocks she meets regularly. "She's 100% all in with life and work," Bell reported.
Bell and her J.A.M.E.S., Inc. team also helped young mother Linda Velasquez. When the Tulsa-born Latina first reached out to the nonprofit, she was 17 years old and pregnant.
"Being a mom at that age was sometimes overwhelming," she recalled. "Alisa and the people at J.A.M.E.S. helped me understand that I did not have to surrender my life to just being a mother, that I should seek a work-life balance."
J.A.M.E.S., Inc. helped her finish high school, then set her up working as an aide in a Tulsa hospital. Now married, Velasquez is now a mother to a 7-year-old daughter and 3-year-old son.
She keeps her eyes on a big career goal: becoming a surgeon.
Blevins's shining transformation
And then there is Blevins.
Seven years after her first summer program at J.A.M.E.S., Inc., she is now 24, a devoted mom to her 7-year-old daughter Lilith, and owner of a social media business. Blevins's transformation did not happen overnight, Bell said.
"We just made clear what opportunities were there for her," Bell explained. "And she took it from there. Of course, there were setbacks. But at every step she gained confidence in herself. Now she's one of our biggest success stories."
Blevins attributes the energy and joy she brings to mothering to her ability to make achievements in her work and personal life.
"Of course, the more I feel I can accomplish my goals the better mother I am," she said.
J.A.M.E.S., Inc. has guided dozens of other mothers through a similar course of challenges and triumphs.
Bell smiles when she recounts their stories.
The recipient of her first grant back in the late 1990s, who now owns her consulting business. Another young mother recently received her degree as a licensed nurse with the nonprofit's support.
As the state of Oklahoma doubles down on its abortion ban, more young pregnant mothers will likely be pushed toward parenthood. That, in turn, will inevitably increase the numbers and the needs of J.A.M.E.S., Inc.'s clients.
"The new laws and climate will change what we do in significant ways," Bell said. "Most of all, it will require us to play a more active role in educating potential parents about their options."
New challenges
Bell and her nonprofit are all in for whatever new challenges come their way. After nearly 40 years of helping young mothers help themselves, Bell never tires of the ability to get adolescent mothers to get on a soundtrack.
Most of all, she is enthused about working with teenage girls.
"These are my people," Bell said. "This is the community that I serve. I love being able to laugh at and with them, to be their subject matter expert, counselor, mother, grandmother or whatever.
"I understand that this is my place. Most people don't like adolescents. I just happen to love them."