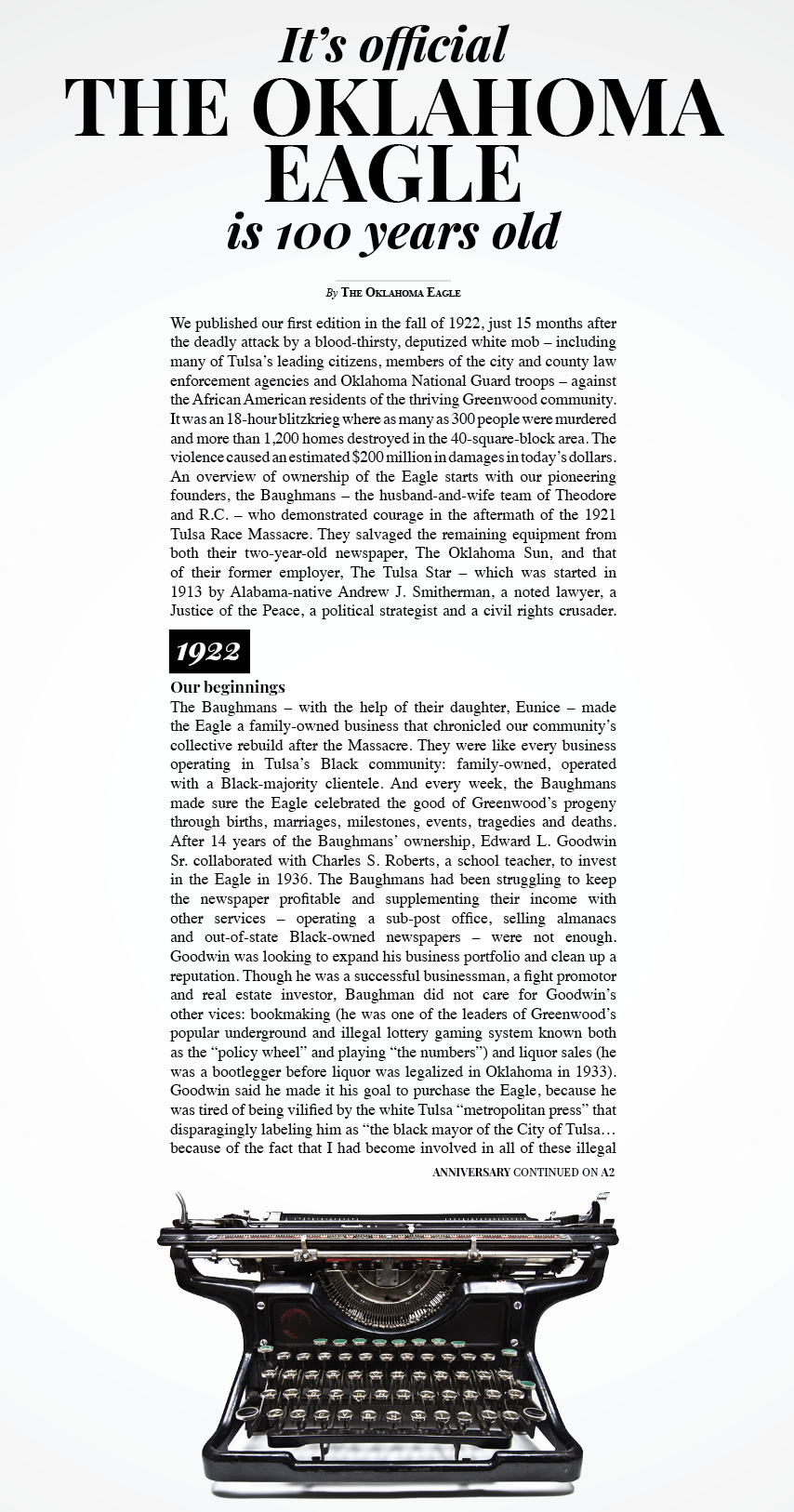 Staff, The Oklahoma Eagle
The Oklahoma Eagle
---
Illustration
The Oklahoma Eagle
We published our first edition in the fall of 1922, just 15 months after the deadly attack by a blood-thirsty, deputized white mob – including many of Tulsa's leading citizens, members of the city and county law enforcement agencies and Oklahoma National Guard troops – against the African American residents of the thriving Greenwood community. It was an 18-hour blitzkrieg where as many as 300 people were murdered and more than 1,200 homes destroyed in the 40-square-block area. The violence caused an estimated $200 million in damages in today's dollars.
An overview of ownership of the Eagle starts with our pioneering founders, the Baughmans – the husband-and-wife team of Theodore and R.C. – who demonstrated courage in the aftermath of the 1921 Tulsa Race Massacre. They salvaged the remaining equipment from both their two-year-old newspaper, The Oklahoma Sun, and that of their former employer, The Tulsa Star – which was started in 1913 by Alabama-native Andrew J. Smitherman, a noted lawyer, a Justice of the Peace, a political strategist and a civil rights crusader.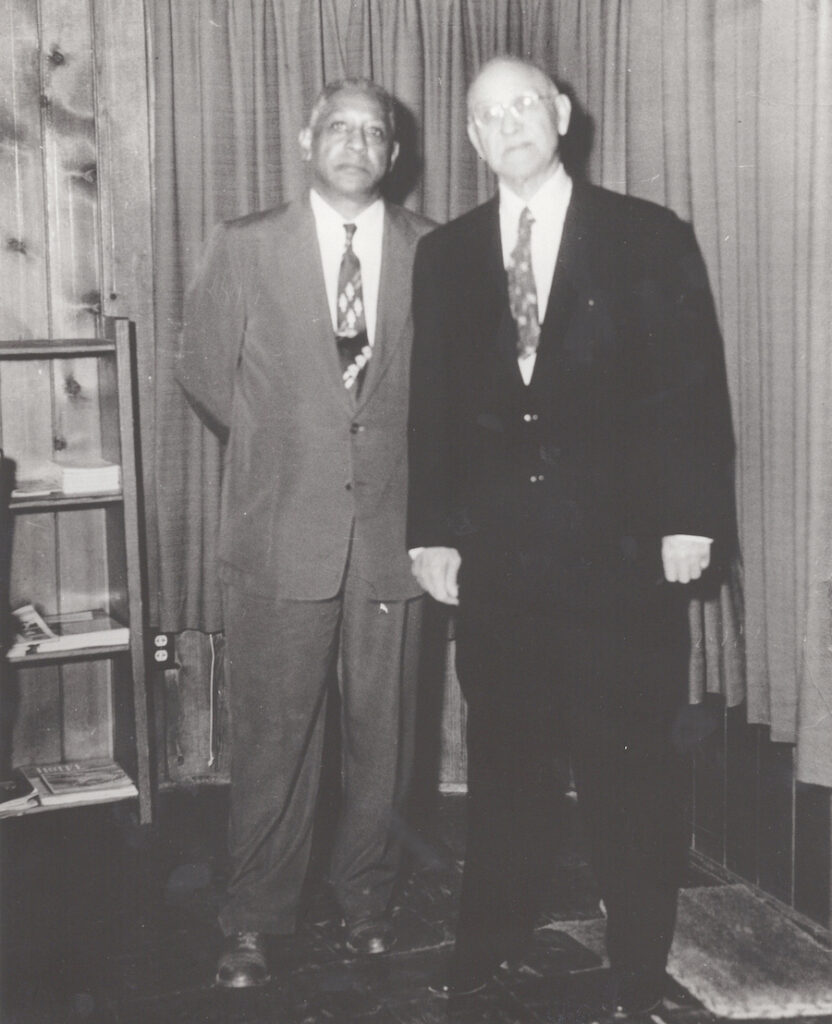 Our beginnings
The Baughmans – with the help of their daughter, Eunice – made the Eagle a family-owned business that chronicled our community's collective rebuild after the Massacre. They were like every business operating in Tulsa's Black community: family-owned, operated with a Black-majority clientele. And every week, the Baughmans made sure the Eagle celebrated the good of Greenwood's progeny through births, marriages, milestones, events, tragedies and deaths.
After 14 years of the Baughmans' ownership, Edward L. Goodwin Sr. collaborated with Charles S. Roberts, a school teacher, to invest in the Eagle in 1936. The Baughmans had been struggling to keep the newspaper profitable and supplementing their income with other services – operating a sub-post office, selling almanacs and out-of-state Black-owned newspapers – were not enough.
Goodwin was looking to expand his business portfolio and clean up a reputation. Though he was a successful businessman, a fight promotor and real estate investor, Baughman did not care for Goodwin's other vices: bookmaking (he was one of the leaders of Greenwood's popular underground and illegal lottery gaming system known both as the "policy wheel" and playing "the numbers") and liquor sales (he was a bootlegger before liquor was legalized in Oklahoma in 1933).
Goodwin said he made it his goal to purchase the Eagle, because he was tired of being vilified by the white Tulsa "metropolitan press" that disparagingly labeling him as "the black mayor of the City of Tulsa… because of the fact that I had become involved in all of these illegal operations. … So, the metropolitan press was so strong in their accusations against me, I said, 'Well, I guess this is a good thing for me to do. I'm going to buy one of these papers.'"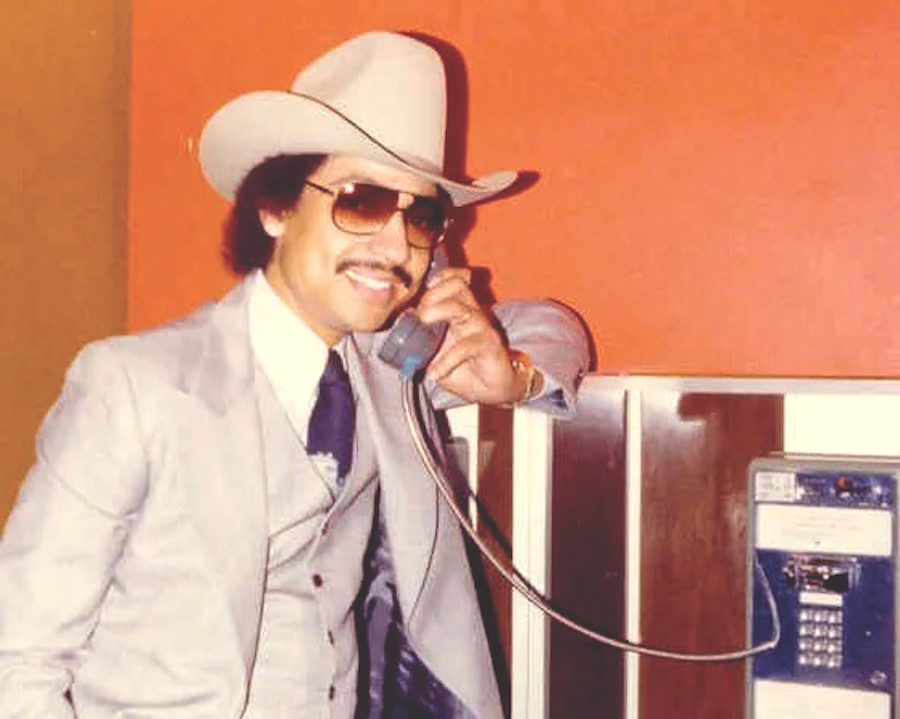 The transition
After Theodore Baughman's untimely death in 1937, Goodwin and Roberts were stalled in taking control of the Eagle, because they were sued by the newspaper's assistant manager, O.B. Graham Sr., who sought to take control and did not want to relinquish it to Goodwin.
In the end, Goodwin and Roberts persevered in court, with Goodwin taking full ownership in 1938.
Goodwin said he was initially motivated to use the Eagle to help restore and reshape his image as a successful businessman. But he changed his motive when he saw that the real value of the Eagle was larger than his ego and discovered that his mission was far more consequential as a newspaper owner.
"… I decided that I would dedicate the rest of my life fighting for the things that I knew that Black people needed and never had in order to elevate them to a higher social level, a higher economic level, then that they'd been accustomed to," he said.
He stamped the Eagle's mission below our masthead, "We Make America Better When We Aid Our People."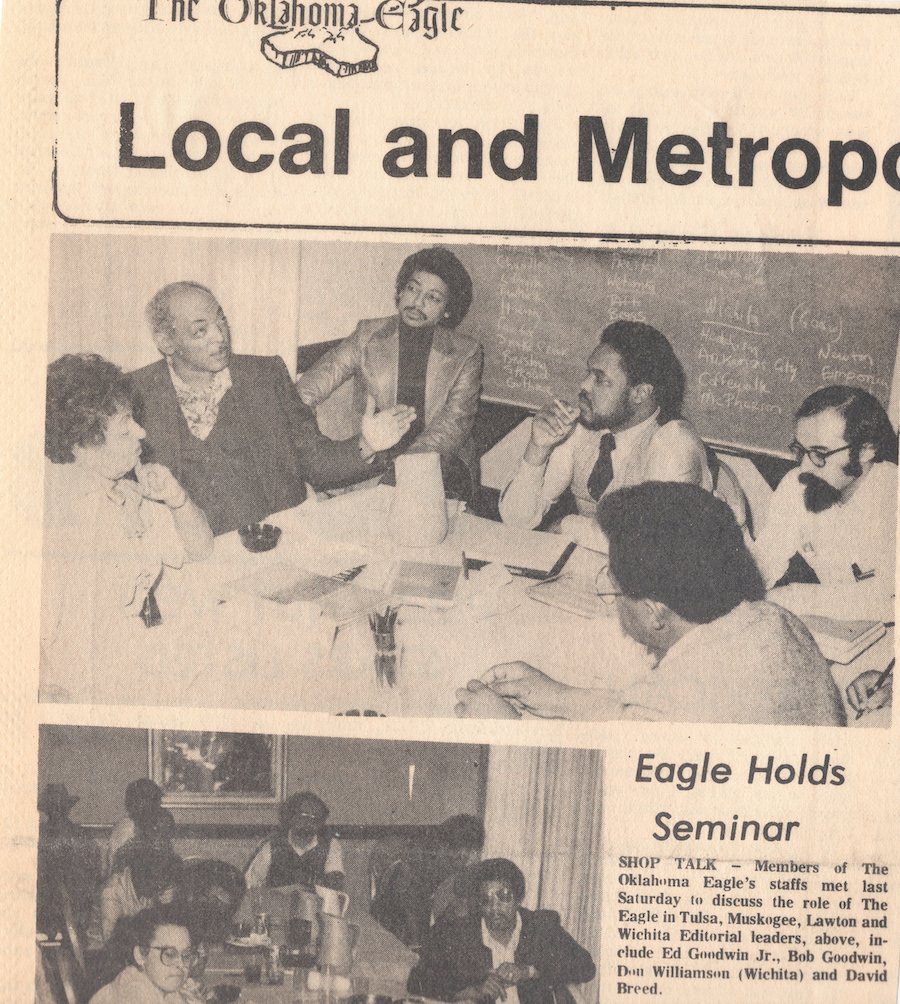 Our legacy
During his tenure, Goodwin assembled a team that included both his family members and local people, who jumpstarted their careers at the newspaper. Eagle alumni include a Pulitzer Prize winner (Carmen Fields), to university professors and administrators (Thelma Gorham, Edna Burke Jackson and Dr. Cornel West), a White House official (Robert K. Goodwin), daily newspaper editors (Eddie L. Madison Jr., Luix Virgil Overbea and Don Ross), authors (Rosalyn Story), civil rights activists, lawyers and judges (Carlos Chappelle), broadcasters and media executives (Galen Gordon), ministers (the Rev. G. Calvin McCutchen and Rev. Charles J. Jeffrey Jr.), legislators (Regina Goodwin, the Rev. Ben H. Hill and Don Ross), CEOs (Joi Gordon), entrepreneurs and many more professionals.
One of his longest tenured Eagle staffers was Goodwin's wife Jeanne, who split her time as a mother of eight, a school teacher and wearing many titles at the Eagle including managing editor, city editor, proofreader and most notably writing a popular weekly column "Scoopin' the Scoop!" under the pen name, Ann Brown, for more than four decades, making her column one of the longest running in Oklahoma history.
Three of the Goodwins sons have served as publisher – Robert Kerr Goodwin from 1973 to 1986; James Osby Goodwin from 1980 to present; and Edward L. Goodwin Jr. from 1986 to 2014.
In fact, every member of the Goodwin family – extending to five generations – has or is currently involved in producing the Eagle.
But it has taken the entire Greenwood family to help the Eagle continue. As you look in our archives, there is likely not one Black family in Tulsa who has not had a relative either work for the Eagle, read the Eagle, appeared in an Eagle story, bought and sold the Eagle, researched their family history in the Eagle or have the Eagle champion for them when they faced an injustice.
Since our founding, we have maintained our mission through journalism and advocacy, which has led us to be nationally recognized as an award-winning newspaper. Through our existence, we have also published sister editions: The Okmulgee Observer, The Muskogee Independent (in the 1940s and later renamed as Eagle newspapers), The (Lawton) New Community Guide, The Wichita (Kansas) Observer and an Oklahoma City Eagle edition.
Our mission
We continue to tell the story of Black Wall Street that originated in the Historic Greenwood District and is undergoing a revival today. We understand our mission as the last survivor of the original Black-owned businesses still operating within the historic Black Wall Street footprint.
After a century of existence, the Eagle remains the oldest, privately-held, African American family-owned business in Tulsa and one of the oldest in Oklahoma.
The Eagle is also America's 10th oldest black-owned newspaper still in operation, according to our 166-member organization, the National Newspaper Publishers Association. Collectively, as members of the Black Press, we remain dedicated to the preservation of Black stories and amplification of Black voices.
During the next year, we will mark this historic occasion with stories and events that celebrate our past, our present and our future, and how the entire community continues to play an integral role in our successes.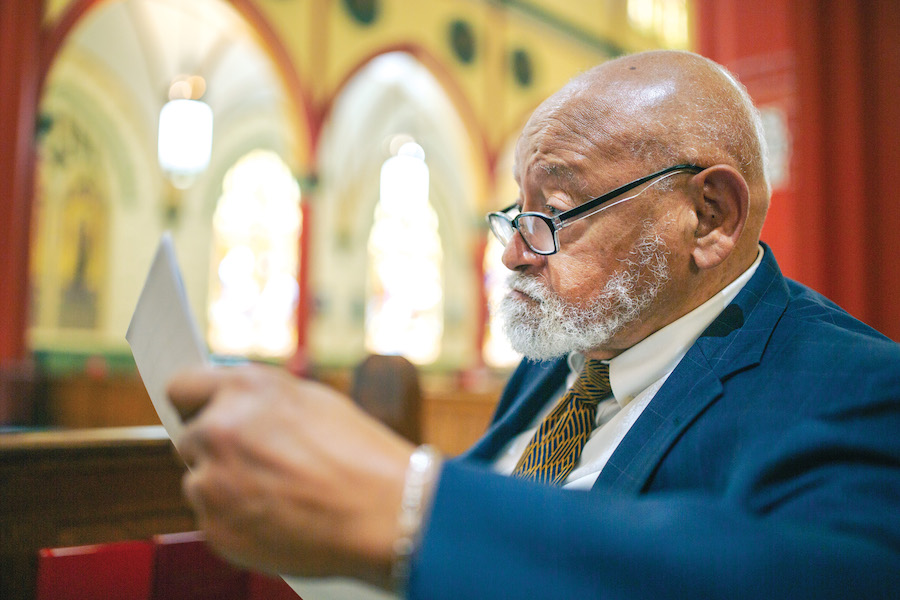 Our future
We will also introduce our new products – both in print and digital – and share how you can help us persevere and succeed in this evolving media landscape.
Some of our efforts continue to include,
Providing you with content that is people-focused, issue-oriented and everyday events that are important to you; 
Creating opportunities for you to use the Eagle as your own media outlet to showcase your talents, share your thoughts and display your creativity; 
Strengthening our print legacy with a fresher newspaper design that links to our digital strategy; 
Launching a new membership campaign to expand our traditional subscription model and give you better value; 
Increasing the number of locations where you can purchase us;  
Expanding our digital footprint that includes a new website; 
Enhancing our social media presence to connect to where you get your information. 
James O. Goodwin, 82, has been our publisher since 1980, though his career started in the early 1940s cleaning the Eagle's printing presses and as a newsboy hawking the 5-cent newspaper in the Greenwood community. He and his late brother, Edward L. Goodwin Jr., were co-publishers until his older brother's death in 2014.
"My father's advice to me was to keep this paper and you will always be a source of influence," James Goodwin said. "But as I reflect upon his instruction, it arises out of his experience as being a child of the Massacre and his witnessing not only the destruction of our community, but our rebirth. The Eagle was born out of this tragedy, and our triumph then and our survival today carries the same mission: to speak the truth and to remain a testimony through this grit to be of aid to our people."
Our managing editor is Tulsa native Gary Lee, who grew up in the Historic Greenwood District with his 10 siblings. He is a two-time Pulitzer Prize nominee with The Washington Post, where he served as its Moscow bureau chief, a travel and national news reporter on social, political and environmental issues. He also worked at Time magazine, speaks five languages and is founder and CEO of Andes International, a nonprofit which promotes the careers of professionals from underserved communities.
"Working at the Oklahoma Eagle is the most challenging, engaging and ultimately most rewarding experience in the more than four decades I have been engaged in professional journalism," Lee said. "As we strive to be great, we are driven and inspired by an incredibly resilient community."
How you can help The Oklahoma Eagle
For the next year, we will share stories of our history and the important roles our entire community has played to help us chronicle the life of our beloved Historic Greenwood District community and her people.
We need your help to celebrate our 100th anniversary.
Archives: If you have past editions of the Eagle, we would like to see them to share with our audience.
Photos: We are looking for historical photos, from family reunions, birthday parties, local events, sporting events, concerts, speeches and other activities that tell our stories. Join our "We Are Tulsa," "We Are Greenwood" and "We Are Black Tulsa" photo-sharing campaigns on Instagram and Facebook.
Submissions: Share your stories about The Oklahoma Eagle. We are looking for community contributors, local cartoonists, freelance writers, poets, artists, students and retirees to help us tell our stories.
Events: Contribute and visit our interactive digital listing for Black Tulsa events.
Broadcast content: If you have audios, videos, home movies and other similar archives, please contact us.
A Legacy of Black Men & Women Committed To The Voices Of Our Community
We have long list of journalists and photographers who have worked at the newspaper. For the next year, we will highlight some of notable alumni. If you have others to include, please email us at news@theoklahomaeagle.net.
Edgar T. Rouzeau, editor, a former writer for the New York Herald Tribune and the first African American to be accredited to cover World War II.
Thelma Thurston Gorham, editor, who wrote a series of front-page editorials on integration in 1954-55, using the theme, "Are We Ready?" It garnered the Eagle national attention winning an award from the National Council of Christians and Jews. Gorham also served as executive editor of the Oklahoma City Black Dispatch, worked as a journalism professor at the University of Minnesota (her alma mater), Langston University, Lincoln University in Jefferson City, Missouri; Florida A&M University, where she founded its journalism school; and was a reporter for Ebony and Jet magazines.
Luix Virgil Overbea, city and sports editor, who left the Eagle to become one of the first Blacks to work on a southern daily, the Winston-Salem Journal and Sentinel in North Carolina. He would later work at the St. Louis Sentinel, the St. Louis Globe-Democrat and the Christian Science Monitor.
The Rev. Ben H. Hill, editorial editor and columnist, one of Tulsa's leading religious figures, the national editor of the AME Church Review, and a state lawmaker, who served two terms in the Oklahoma House of Representatives.
Carmen Fields, staff writer, who was a part of the Boston Globe team that won a Pulitzer Prize for coverage of Boston's school desegregation. She worked as a Globe reporter, the newspaper's first African American to be named as an assistant city editor and columnist before embarking on television career as a reporting/anchor stints at WHDH-TV and WGBH-TV.
Rosalyn Story, staff writer, now a nonfiction and fiction author and violinist with the Fort Worth Symphony Orchestra. In researching an assignment for the Eagle, she discovered there wasn't much written about black opera singers and pitched a story about these performers to Essence magazine. After that was published, Story pitched a book. And So I Sing: African American Divas of Opera and Concert was published in 1990 by Warner Books and became the inspiration for the PBS documentary Aida's Brothers and Sisters: A History of Blacks in Opera.
David Breed, managing editor, columnist and reporter, who worked with us from 1973 to 1980, where his interest in history began conducting interviews, writing features and learning the history of Tulsa. For his column writings, he received first place journalism awards from the Oklahoma Press Association and the National Newspaper Publishers Association. He also received six first place journalism awards from the Tulsa National Conference of Christians and Jews.
Eddie L. Madison Jr., editor, reporter and newsboy, who chaired Lincoln University's journalism school, worked as a reporter or editor of the Chicago Defender, the Associated Negro Press, Chicago Tribune, the U.S. Department of Commerce Publications Office and the Washington Evening Star Broadcasting Co.
Don Ross, former columnist, editor, vice president and general manager, is a noted writer and columnist since he started at the Eagle in the 1960s. After the Eagle, he became the second African American in management of a daily metropolitan newspaper, the Gary Post-Tribune in Gary, Indiana. He was named in Time magazine – along with humorists Art Buchwald and Erma Bombeck – as three of the most humorous journalists of their time. He served as State Representative from 1982-2002, where he led the state's efforts to uncover the truth about the Tulsa Race Massacre, got Oklahoma to be the first in U.S. to remove the Confederate flag from state buildings; helped establish the Dr. Martin Luther King Jr. state holiday; updated Oklahoma's child labor laws. After the Air Force, he was the first Black union baker for Wonder Bread in Oklahoma in 1963. He has written two books and appeared on "60 Minutes," the "Today" show and many other talk shows.