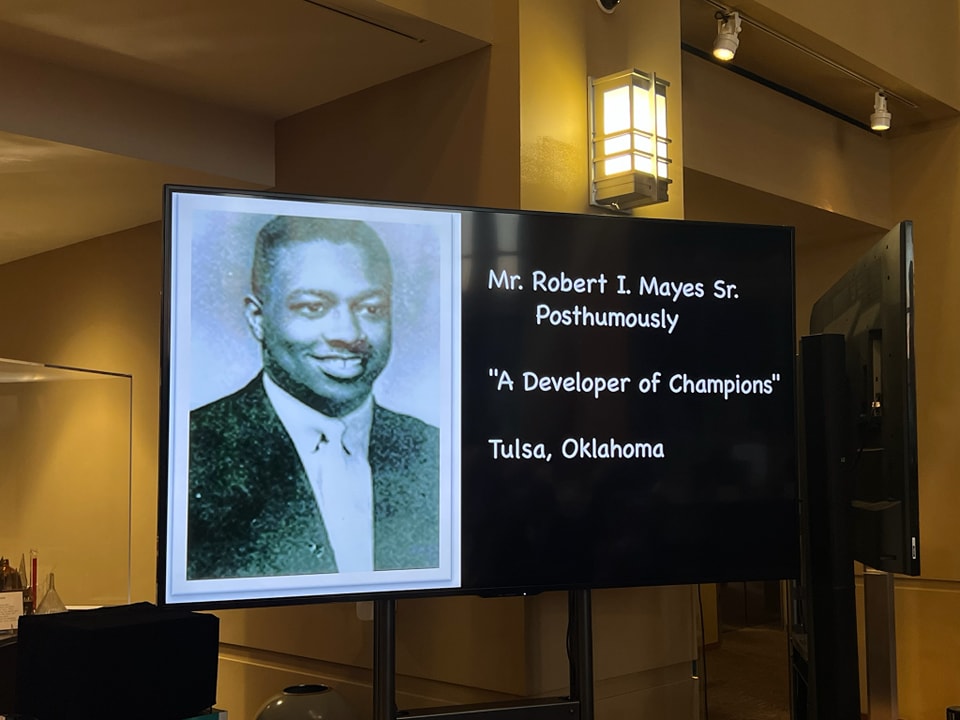 The Oklahoma Eagle Newswire
"A Developer of Character and Champions"
The Oklahoma African American Educators Hall of Fame, Inc, (OAAE) announces the posthumous induction of career Tulsa educator Mr. Robert I. Mayes, Sr. as a member of the 2022 class of OAAE Hall of Fame Inductees. The Induction ceremony was Friday, September 30th, at the Oklahoma History Center in Oklahoma City, Oklahoma.
Mr. Robert Issac Mayes, Sr. was the youngest of three children born April 16, 1934, to Hayes and Nora (Jackson) Mayes, Sr. in Tulsa, Oklahoma. His siblings were Hayes, Jr., and Hazel Jean Mayes-Owens, Joe, Elbert, and William Stargell. However, Robert was reared by Dr. Charles O. Stout and Judge Juanita Kidd Stout. He attended Booker T. Washington Elementary, Carver Jr. High, and as an outstanding student, co-football captain and senior class president, he graduated from Booker T. Washington High School's class of 1952. Bob received his Bachelor of Arts Degree in Mathematics from the University of Maryland Eastern Shore, and noted as All CIAA in football, Master of Science Degree from Oklahoma State University, Administrative Certification from the Tulsa University with additional studies at Northeastern State University and Tulsa University.
Mr. Mayes believed in education and gave his time and his energies to the people of Tulsa. He believed in giving back because his roots were there.  In 1959, he accepted his first teaching assignment as a mathematics teacher at Carver Junior High.  After that first semester, he spent the next fifteen years at Booker T. Washington High School teaching Mathematics, Business Education, and Driver Education, in addition to an assistant football coach position. Through his championship teaching and coaching tactics of the Hornets, Bob instilled in his students the will to win, despite suffering defeat, which was a part of life, to never give up, and moral concepts for becoming a success in life. As a teacher- coach, he mentored thousands of youths throughout his tenure as an educator.
Bob combined his love of education and community and started the "Ebony Awareness Bowl," through his fraternity. During Black History month, middle school students from Tulsa Public Schools would compete based on their knowledge of African American contributions. His chapter of Kappa Alpha Psi Fraternity was so grateful to him for creating the bowl, that it now bears his name, "Robert I, Mayes, Sr. Ebony Awareness Bowl. "
Coach Mayes always motivated his students on and off the field! He believed that students should be well-rounded, and they need to hewn their skills in the classroom as well as in athletic activities. He was an assistant baseball and wrestling coach.  Yet, Bob's stellar accomplishments include five state football championships with the Hornets as Head Coach and Defensive Coordinator, the first and only head coach to go undefeated his first year and have a 15th round NFL draft pick for the Baltimore Colts.
Mr. Mayes devoted more than thirty years in education to Tulsa Public Schools. In 1973, he became Assistant Principal and Head Football Coach at Booker T. Washington High School until l976. Other administrative positions included turning at-risk schools around as principal of Gilcrease Jr. High and Carver Middle School, Coordinator of Facilities Utilization, Director of Tulsa Public Schools Transportation Department, and retiring from Tulsa Public Schools in 1987 as Coordinator of Facilities Utilization.  Then, Bob became the founder of the Tulsa Urban League's Male Rap Program, a member of the Tulsa Equalization Board and Tulsa Excise Board until 2009.
Bob believed in education and devoted his time and his energies to the people of Tulsa as a leader and a giver,who lent his life and energies throughout the Tulsa Community. His countless commitments included National Middle School Association, President-Oklahoma Middle Level Education Association, North Tulsa Heritage Society, Deborah Brown Community School Board, Tulsa Urban League and Chairman of Fund-Raising Drive, State Delegate-Democratic Party, Booker T. Washington Alumni Board, Jack & Jill of America, Tulsa Park & Recreation Board Chairman, Gilcrease Museum Board, Citizens Board-National Park and Recreation Association; Life Member, and served in several Alumni and national positions in Kappa Alpha Psi Fraternity, Inc.
Robert and Blanchie (Gray)Mayes were married for 50 years. Four children were born to their union, Robert I. Jr., Roderick, Melonie Mayes-Tyler, and Reginald; Bob had two daughters, Barbara Jefferson, and Jacqueline Banks. Eight grandchildren: Adrienne Powell, Thandi Brown, Kendra Banks, Jody Jones, Desmond Taylor II, Robert I. Mayes, III, Reginald Mayes, Jr., and Dominique Mayes, and two great-grandchildren: Brandon and Christian Morris. He was a devoted member and on the Trustee Board at First Baptist Church North Tulsa and Trustee Board at Paradise Baptist Church in Tulsa. Bob Mayes' life and his life's endless work of educating and always going above and beyond to his family, friends, and others truly epitomizes a standard of which we seek.