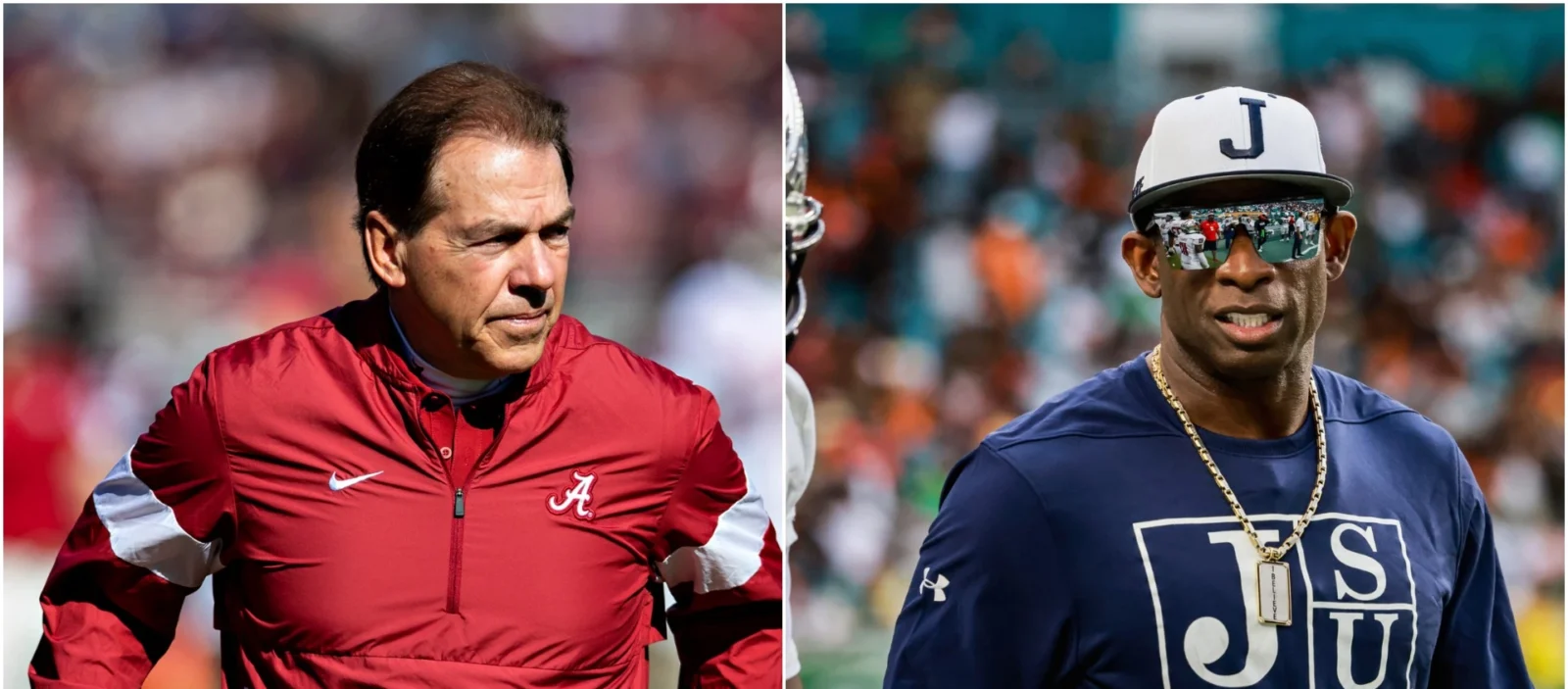 The following article is an op-ed, and the views expressed are the author's own. Read more opinions on theGrio.
Nick Saban knows the business, which explains him pulling $9.9 million in base salary as Alabama's head football coach. He knows the game, too, reaching six of the last seven title games and winning three championships.
Saban isn't with this new normal, where entities happily pay college athletes through name, image and likeness deals (NIL). Players are no longer broke, which signals a clear and present threat to the old worldview Saban represents.
During an event Wednesday night with local business leaders in Birmingham, Ala., he went all-in against "buying" incoming recruits with NIL money. "Jackson State paid a guy $1 million last year to come to their school," Saban said, rekindling refuted reports about Travis Hunter Jr., the nation's No. 1 prospect. "It was in the paper, and they bragged about it," Saban said. "No one did anything about it."
According to Saban, the vast majority of Alabama's roster didn't receive a dime from NIL. The 25 lucky players averaged $120,000, loose change in his car. Meanwhile, the school's stacks grow taller; Crimson Tide football netted $25 million in fiscal 2019.
The University of Alabama is a big dog in college football, but the state itself is a financial poodle nationally, ranking near the bottom in residents' income, state revenue, and corporate tax base. The program mints money and leans on its booster group—the Crimson Tide Foundation—for expenditures like a new $288 million performance center.
But who's gonna kick in for the field workers?
Saban is pissed that we've reached this point, but it's strategic. He was addressing business leaders while complaining that Texas A&M "bought every player on their team—made a deal for name, image, likeness." He assured the audience of Alabama's virtue before acknowledging a change had come.
"We didn't buy one player, all right?" he said. "I don't know if we're going to be able to sustain that in the future because more and more people are doing it. It's tough."
He should've handed the mic to Rakim at that point: All your money's not spent; dig deeper, and don't come up with lint.
It's a trend, with many states loosening NIL restrictions as the NCAA objects. Even if legislators are faking and aren't really down with the cause, they don't want their schools left behind. College football has been an arms race for decades, with leading forces engulfed in a spending war on salaries, facilities, stadiums, and accommodations. Everyone gets a cut except labor.
Funny how Saban swears by market prices in every area except the roster. A contract clause ties his salary to peers. He must be among the nation's five best-paid coaches or the SEC's top three, whichever is highest. His assistants get top dollar, too, including more than $1 million each for his offensive and defensive coordinators.
For the entire article go to: www.thegrio.com