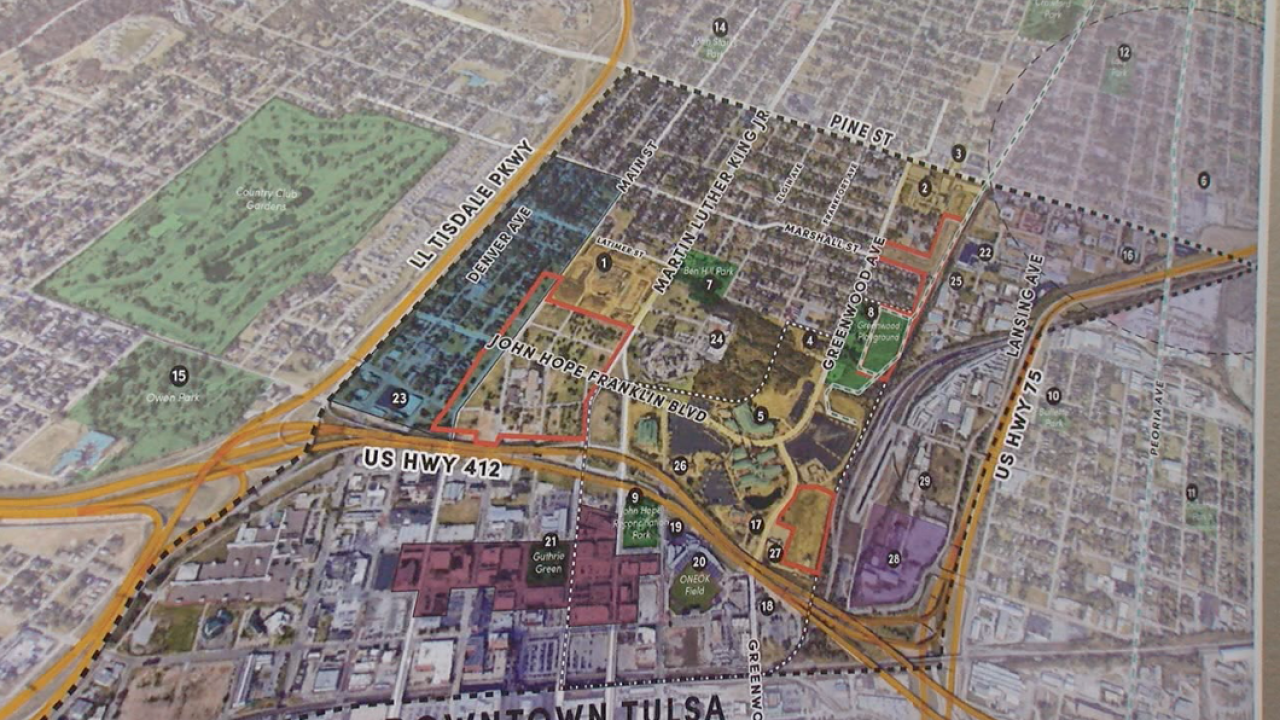 Kirkpatrick and Greenwood residents had a second chance Saturday to give the City of Tulsa input on a master plan development to redevelop three sites.
The City of Tulsa is working on a master plan to develop three different sites in the area, while keeping in mind resident's strong historical ties to the area.
Saturday community meeting was held at the 36th Street North Event Center to gather input from North Tulsa residents.
Project organizers said the goal is to come up with a community led vision to redevelop three different sites totaling 56 acres of public land to benefit North Tulsa residents who have strong historical ties to the area.
The three publicly owned sites include a 45 acre parcel directly south of Emerson Elementary School, a 6 acre parcel behind Vernon AME Church and across the street from the Greenwood Cultural Center, and an 18 acre parcel that runs between the Greenwood Playground and all the way up behind Marshall Street.Currently, those three areas are mostly vacant.Thursday's and today's meeting aimed to take gather community input that will help designers develop a framework for the land use, the amenities that should be there, and a vision of how each area can be redeveloped in the future.
However, before any buildings go up, the foundation of trust has to be built between the city and the community. Garlen Capita is an urban designers leading the master plan process tells 2 News that the residents of the areas have several reasons for their lack of trust, one being the historical ties between the city and North Tulsa Residents.
"Because of the race massacre, because of urban renewal, there's been so much erasure,
Capita said. "Also the lack of trust that city leadership and the government officials will actually follow through on any of these promises."
Daquet Wilson is a North Tulsa resident who is grateful for the outreach the city is doing but says more can be done.
"I feel like we've been left out a lot. I feel like this is great, all the talk, is great, but I feel like the community is not being engaged enough and I think they're not getting a pulse of what we really want what we really need because no one is really talking to us and it's the reason why I came to this meeting so that I could see what was going on give my input and be a part of that, but I kind of feel like the residents, the actual residents are being left out of the big plans or just not really realizing or knowing what options are out there," Daquet said.
In efforts to lay that foundation of trust, the city said it wants the vision of this project to be community led, which is why it created an 11-person committee responsible to shape the entire process from kick off to implementation.
Residents also expressed a desire for quality affordable housing, retail, and entertainment in the areas. "And in really keeping a sense of the history culture and community embedded into whatever is built there so that North Tulsan's feel that it was built for them by them and that they have a stake in it and that stake needs to in some way show up in a form of ownership," Capita said.
If you didn't have the chance to attend either of the meetings, project organizers say you can still share your input with them on their website.
For more information about the project or to share your input, click here.