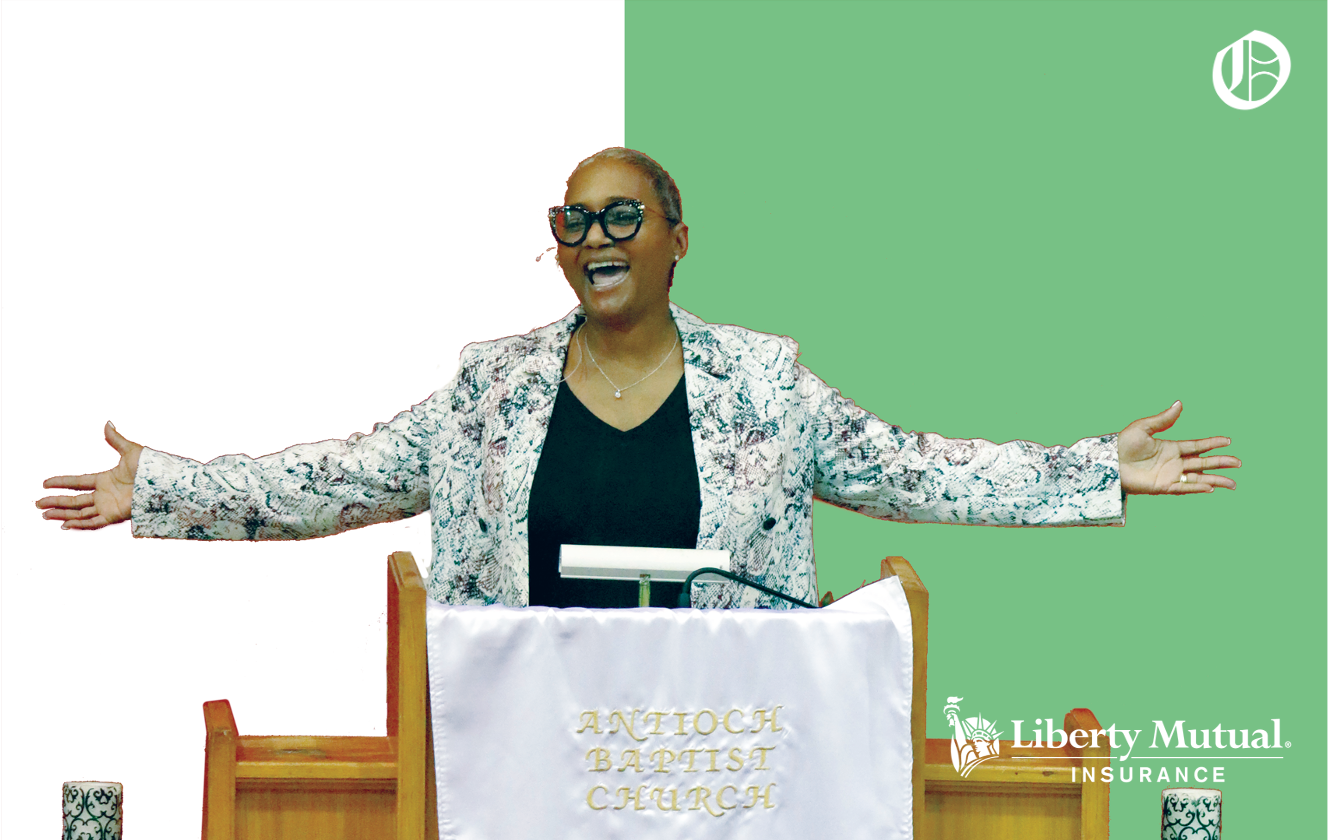 ABOUT THIS SERIES
The Oklahoma Eagle's "Of Greenwood" series is part of our 2nd Century Campaign, which commemorates the hundredth anniversary of this African American newspaper. This series is made possible through our partnership with Liberty Mutual Insurance.
---
By Gary Lee, The Oklahoma Eagle
Photography by Jezrel White & Basil Childers
When Pastor Marla Mayberry starts feeling the spirit, you know it.  
From any seat in the sanctuary at Antioch Baptist Church, where she is senior pastor, you can hear and feel it. On this Sunday, it happened around about 10 minutes into her first reading of the scripture of the day – from the book of Psalms. 
"We don't have to make an appointment with God," she said as the cadence of her voice rose. "You don't have to wait in line. God knew you who were, and what you had to do even before you were born."  
Mayberry then looked out at the congregation – her flock, mainly composed of longtime members. From across the room came one shout-out, then another. Finally, a chorus of "Amens!" rose.  
Now in her element, Antioch's lead pastor carried forth. 
At roughly the same hour, dozens of other pastors led their congregations in a similar, self-styled call and response.  
At Metropolitan Baptist Church, Pastor Ray Owens presented an emotional interpretation of verses from John: 15.  
At the Historic Vernon AME, the Rev. Dr. Robert Turner, wearing a flowing white robe with red trim, told congregants how God called on them to "walk with humility and gentleness."  
At Morning Star Baptist Church, Pastor Dr. R.A Goss rallied the house with his fiery sermon.  
The leaders of First Baptist of North Tulsa on Greenwood Avenue and other churches held forth in services online, due to concerns about the rising coronavirus delta variant, had their services online.
This is North Tulsa on a Sunday morning.  
Against big odds – including COVID-19 fears, decreased interest in organized religion among a younger generation – many residents of this primarily Black community consider church the only place to be on a Sabbath morning. While membership and attendance at many Northside houses of worship have declined, engagement in the church remains the most popular activity among Tulsa's Blacks. Attending high school football games is a distant second.   
"We as ministers and pastors stand behind the pulpit on Sunday to preach to you a message of hope," Mayberry told the Antioch faithful. "We want to give you a word that is strong enough to carry you through to next Sunday." 
In many North Tulsa homes, that word from the pulpit becomes a weeklong talking point. On Sunday afternoons, when the neighborhood leans into traditional Sunday dinners of fried chicken and mashed potatoes, the conversation inevitably turns to the pastor's message.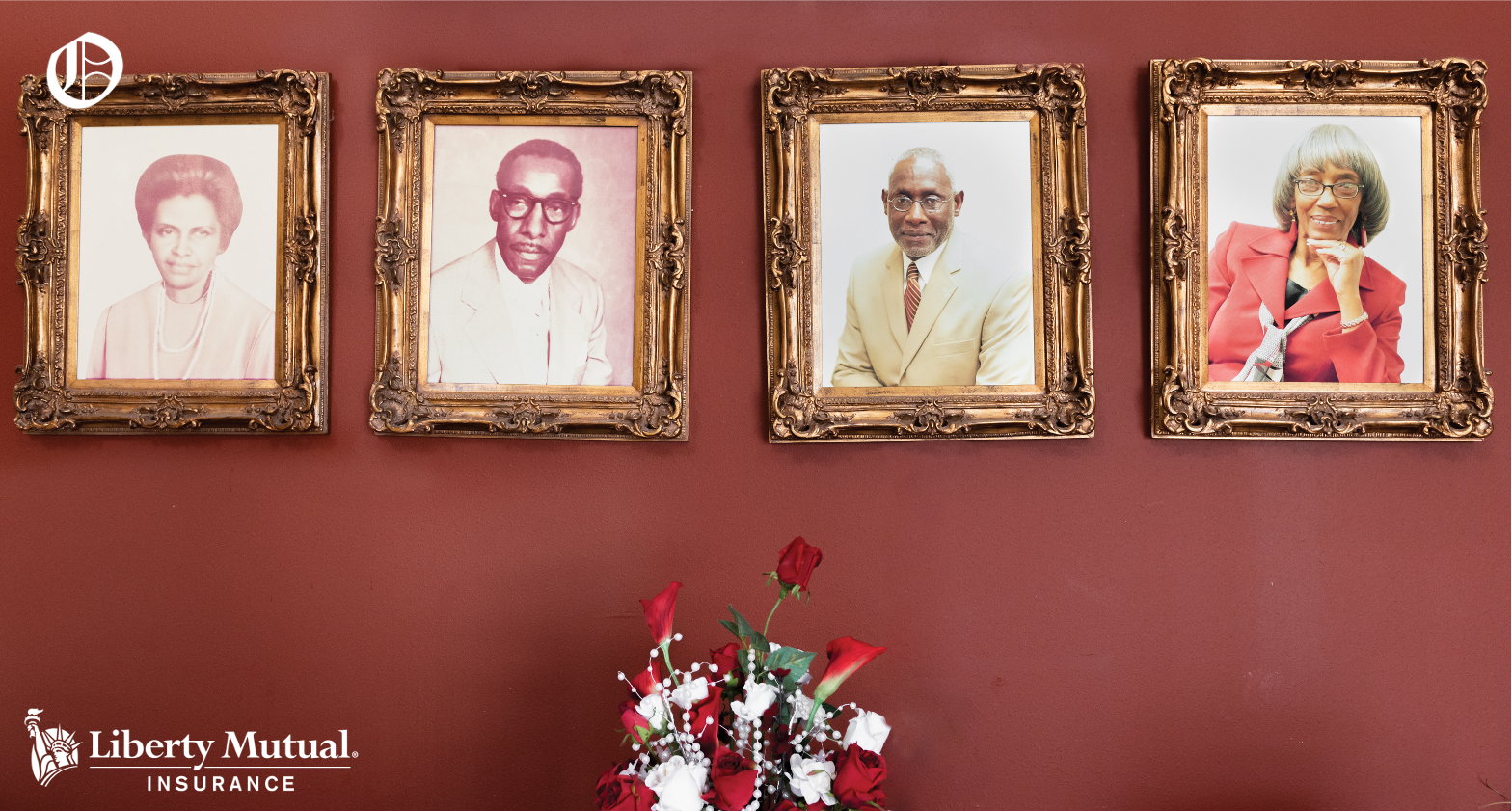 Tulsa's Guiding Spirit
In some ways, the fervent religiosity of Black Tulsa is part of a national trend. Historically, churches have been the centerpiece of nearly every Black American community.  
Until recently, the bond between the church and Black Tulsans has felt stronger than elsewhere. Dating back to the early 1900s, when Blacks first began building the Greenwood as the city's all-Black enclave, churches, and their leaders have been the community's touchstones. Through the Tulsa Race Massacre of 1921, the rebuilding of Black Wall Street, Black Tulsans turned to church leaders as their guiding spirit. 
"In the day, the Black church was the community," recalled the 76-year-old Rev. M.C. Potter, who recently stepped down after four decades as senior minister at Antioch. "It was the heart and the soul of the Northside. I don't think it holds that kind of leadership."  
Yet, for some die-hard members, Sunday service is only the beginning of their church week. Before COVID-19 forced shut-downs, many attended Wednesday prayer meetings, choir practice, deacon gatherings, ladies circle klatches, Sunday school and other services. 
Bishop Melvin Cooper, the senior pastor at North Tulsa-based World Won Christ Church Ministries, thinks that a big reason the Black church continues to play such a crucial role in Tulsa is rooted in the 1921 Race Massacre, and the long shadow of trauma that followed it. 
"North Tulsa still feels the impact" of the Massacre," Cooper said in an interview. "The racism that brought all that on is very much with us. People are trying to deal with it, each in his way. Even a hundred years later, people look to the church for solace and guidance." 
Cooper said that helping Tulsans move beyond trauma is part of every church's mission.  
"Black Tulsans need healing," he said. "We, as church leaders, must help them with that."  
Over the years, North Tulsa's churches have responded to that need for hope from the community in different ways.
First Baptist Church of North Tulsa, which towers over a block of Greenwood Avenue, has traditionally attracted many of North Tulsa's teachers and other professionals.
At St. Monica Catholic and St. Augustine Catholic churches, homes of worship for many North Tulsa's Black Catholics, the leadership has crafted a fusion of the traditional Catholic liturgy and vital Gospel elements.
Since the mid-1980s, Bishop Harold Jones has attracted a crowd at the non-denominational Full Gospel Outreach Ministries.
For several reasons, Antioch also occupies a special place among North Tulsa's places of worship.  
In a community where family legacies run deep, it is one of the last churches that the same clan has led for well over a half-century. The Rev. Cecil Potter founded the church in 1959 on North Lansing Street, part of the historic Greenwood District. When he died in 1980, he passed the leadership to M.C. Potter, his son. M.C. served as senior minister for 40 years. In 2020, he transferred the pulpit to his daughter, Mayberry. After years as a long profit and university administrator, Mayberry is warming to the new position. Her second year as senior pastor marks the 62nd year of Potter family leadership at Antioch.
Throughout its history, Antioch has also held a reputation as a place without pretensions. The doors have always been open to everyone regardless of social status or background. For the most part, it draws a mix of regulars.  
On occasion, visitors have arrived intoxicated, according to Mayberry. And sometimes nonmembers, including gang leaders, have had funeral services there.  
"We're a hospital," the Rev. Cecil Potter often said. "People came to us because they need something. We should always be there for them."
Mayberry is continuing the open-door tradition. 
"It doesn't matter who you are or where you've been," she said. "Antioch welcomes you."
With her ascension to the leadership at Antioch, Mayberry, became the first woman leader of a Baptist church and perhaps one of only a handful in the country.  
The move caused some disquiet.  
A handful of members, unused to a woman at the helm, left for other churches. Pastors at some other Northside churches have quietly dissented by declining to include Mayberry in their ministerial meetings.  
"There have been some challenges," Mayberry said. "For so long, Black Baptist churches have taught that women should be workers in the quieter roles. But times are changing. I am going to do what God tells me to do for Antioch." 
"It was the right decision to make," the Rev. M.C. Potter said. "When the Holy Spirit gives its approval on something, this church agrees.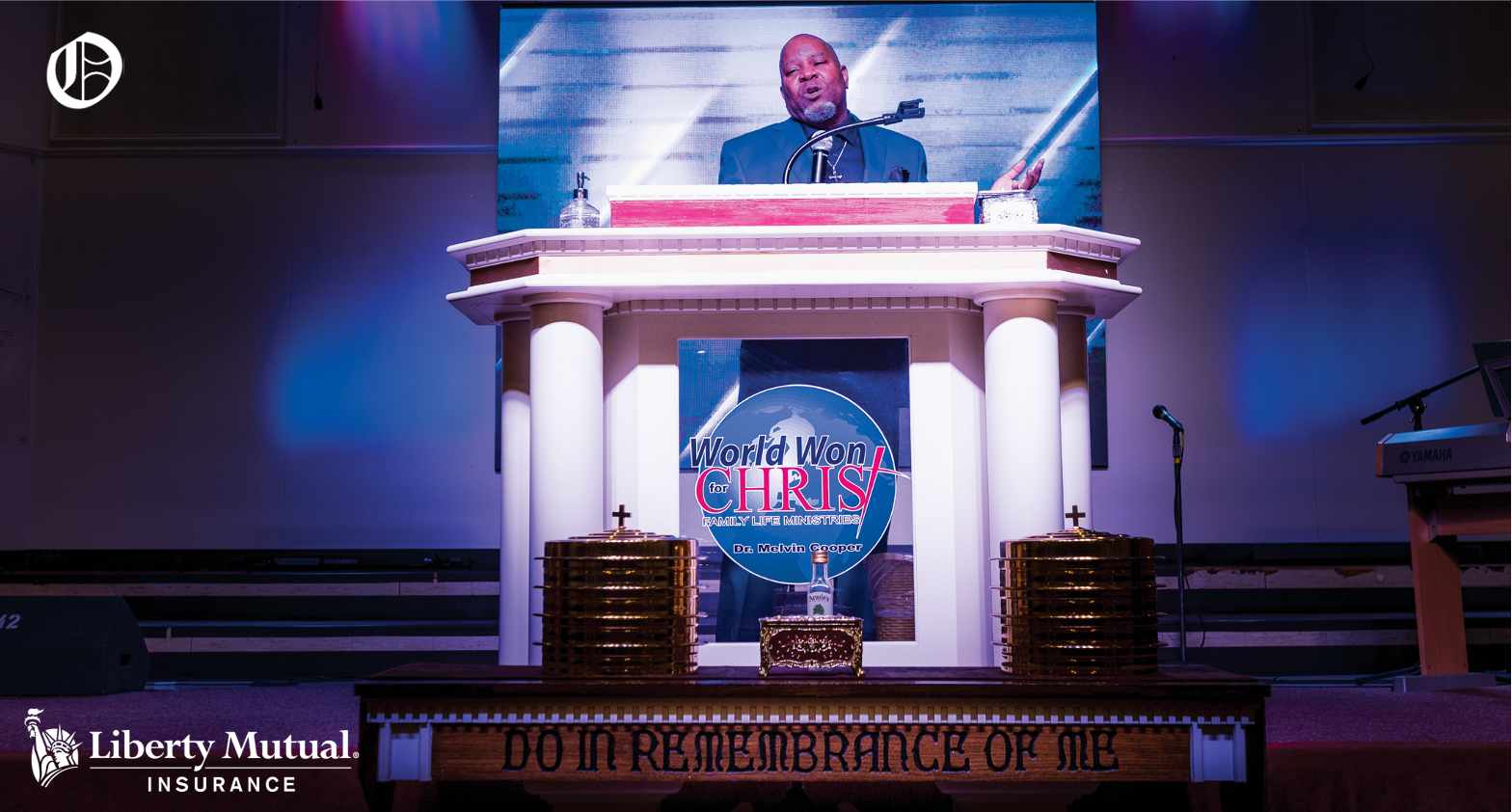 Eras of the Tulsa Black Church 
The roots of the church in Tulsa's Black community stem back to the end of the 1800s. When Blacks started settling in the Greenwood area, spiritual leaders arrived and put down stakes, too.  
In 1899, ten churchgoers met in a private Northside home and established the First Baptist Church of North Tulsa. They would later build a commanding brick building on Greenwood Avenue. It is the oldest surviving church structure in North Tulsa.
In 1905, African Methodists Episcopal members came to Oklahoma and began what would become Vernon AME church. Others followed. In many cases, pastors started holding service in their living rooms and later rented buildings or built their own churches.  
In the 1921 Massacre, a white mob killed more than 300 people, destroyed almost 40 blocks of Tulsa's Black community and wreaked havoc on at least a half dozen churches.  
The basement of Vernon AME was burned to the ground.  
Mount Baptist Zion, which had only completed building a new church on North Elgin Avenue just weeks before the massacre, was also entirely decimated.
Undeterred, the church leaders held services in the massacre's ruins. The leaders of Mount Vernon raised funds and quickly rebuilt. One by one, other Black churches followed suit.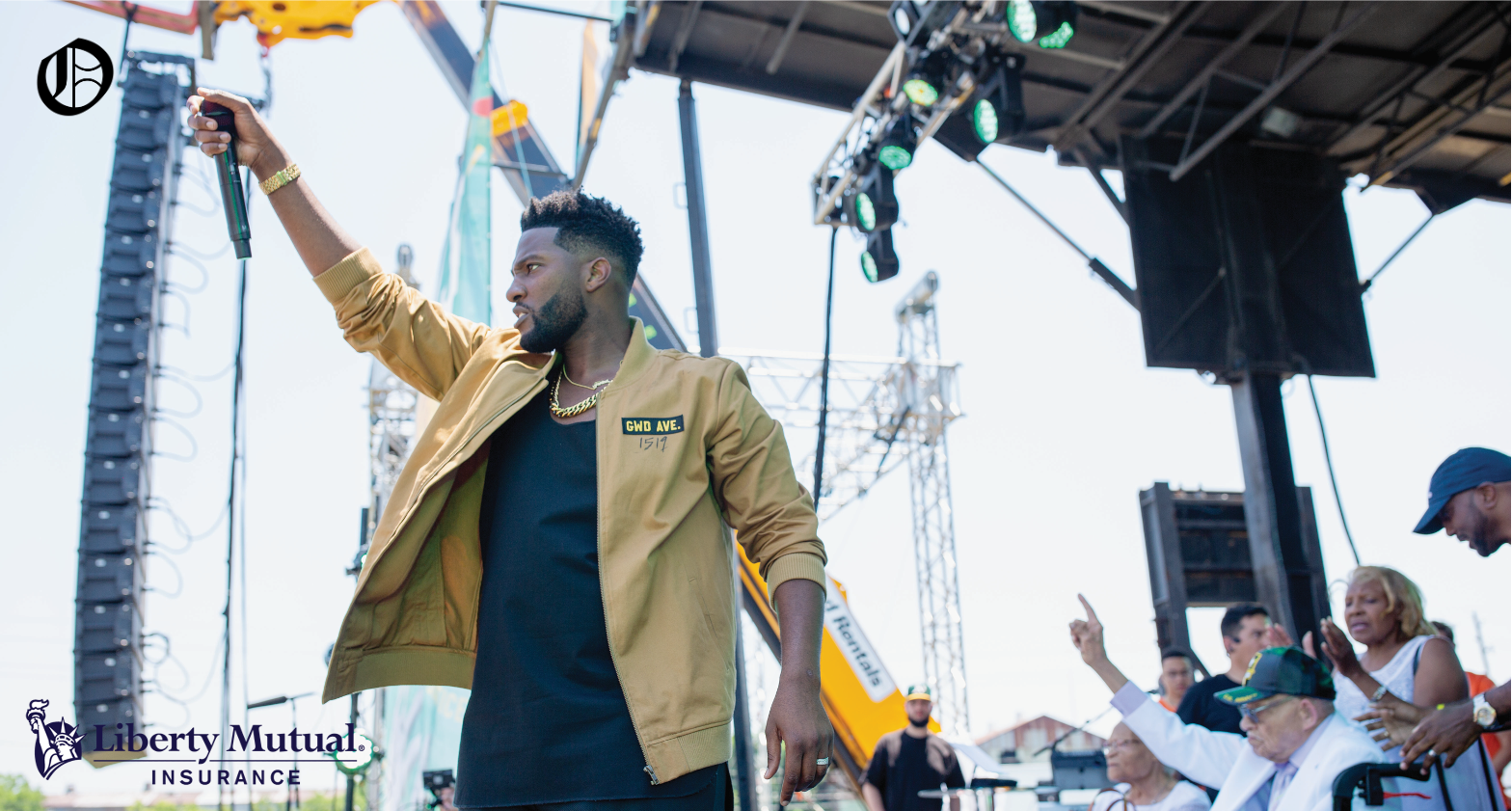 A Boom Period for the Church 
The 1940s through the 1960s was an era of heavy growth for the Greenwood community and the church. The post-massacre rebuilding of Greenwood had been swift.
By the midpoint of the 20th century, commercial activity in Greenwood – and elsewhere in North Tulsa – was booming. The Black population was also on a quick rise.
A generation of charismatic church leaders rose to the occasion. At Morning Star, the Rev. Dr. T. Oscar Chappelle Sr. was named minister in 1952 and held sway at the pulpit for almost five decades. Chappelle was renowned for his booming voice and untiring devotion to serving the community.
At Paradise Baptist Church, located just off Greenwood, the Rev. J. Castina Jackson was another key leader. A nationally recognized theologian, he quietly grew the congregation for over two decades after he arrived in 1956. Jackson also inspired a younger generation to enter church service.
The Rev. J.T. Dotson oversaw the rebuilding of Mount Zion, which had been destroyed in the 1921 Massacre. Dotson — and later the Rev. G. Calvin McCutchen transformed Mount Zion into one of the highest profiles in North Tulsa.  
While the Baptists held their own, other denominations also thrived.
"This was the era of the giants of the Black church in Tulsa," explained the Rev. Scott Gordon, a writer and longtime advocate for Tulsa's Black churches. "There had been a void in leadership, and they filled it. They were the spiritual voices of the community."
Gordon is a minister at Calvary Baptist Church in Sapulpa and author of "Walking in the Overflow." The forward was written by McCutchen.
Several church leaders also jumped into leadership political and civic roles in North Tulsa.
The Rev. Ben Hill was one of the towering figures of North Tulsa in this era. Hill epitomized the blending of spiritual, civic, and political engagement.
Hill became head of Vernon AME in the late 1940s. For three decades, he was editorial page editor and a columnist for the Oklahoma Eagle and edited the prestigious A.M.E. Church Review, one of the earliest African American religious journals. Hill also served as president of both the Tulsa Ministerial Alliance and the Tulsa Chapter of the NAACP.
Hill deftly used all of his positions to crusade for expanded Civil Rights for Black Tulsans. He and McCutchen, the pastor at Mt. Zion, helped push for integration across Oklahoma by organizing sit-ins. The first was in Oklahoma City in 1958 at Katz Drugstore. In Tulsa, they were staged at Borden's and Piccadilly Cafeterias, among other places. 
Hill entered politics and was elected to the House of Representatives in 1968 with a sharp aim to draft legislation to help improve the lives of Black Oklahomans.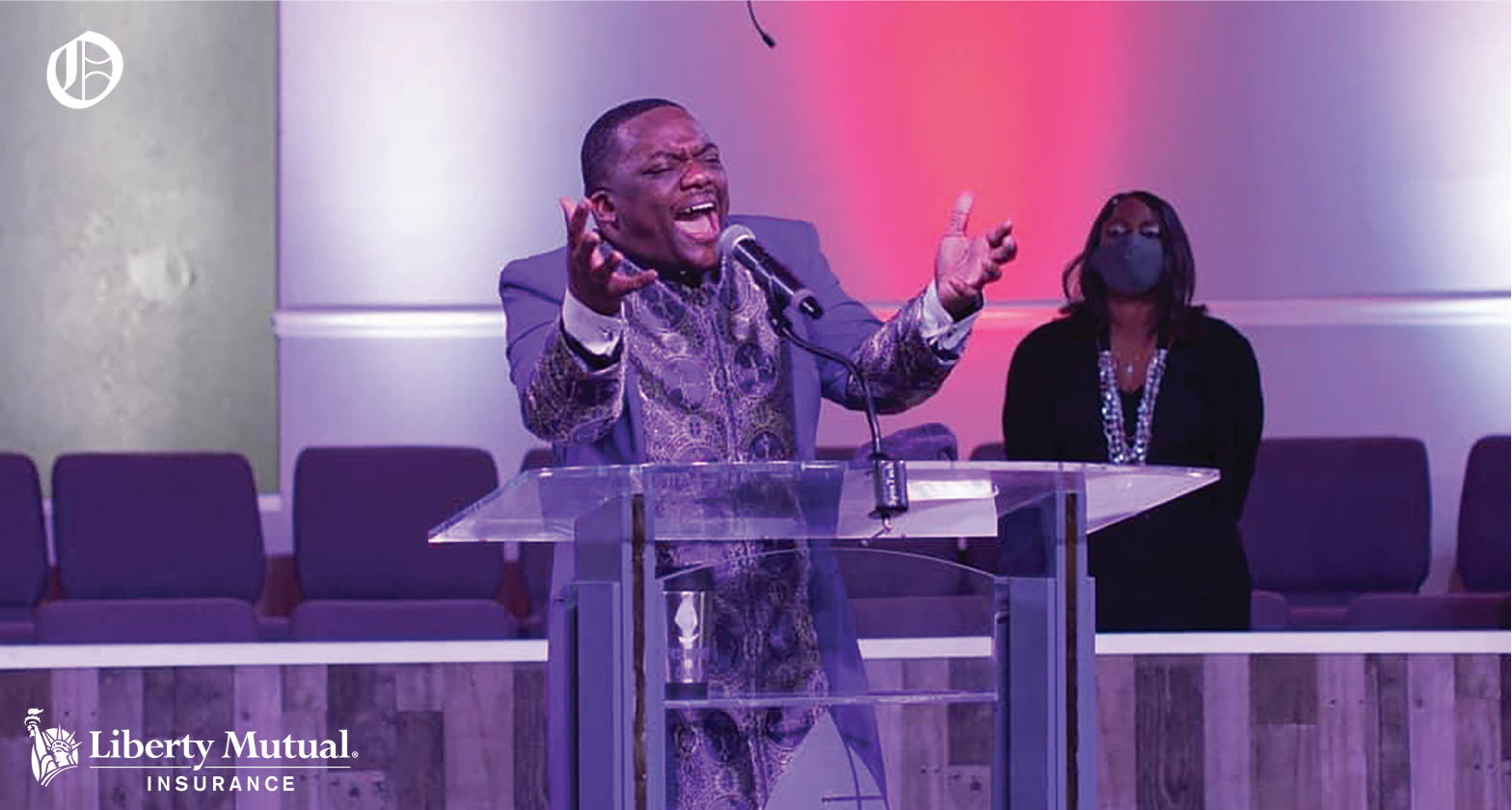 Meeting New Challenges
Since the 1970s, new challenges have arisen for Northside churches.
The Greenwood neighborhood, where many of the churches were based, declined. After the so-called Urban Renewal of the community, which destroyed most homes, Blacks spread out to other parts of the city.  
Their traditional Sunday morning walk to church was no longer an option.
A younger generation of Black Tulsans began to question whether the church responded to their spiritual and social needs. While close engagement in the church had been a priority for their parents and grandparents, it was one of the various options. Even if they were interested, they could tune into services online or personal spiritual activities.
The coronavirus pandemic has brought a new level of challenges.
In March 2020, most churches stopped holding in-person services and began broadcasting online.
Still, the COVID-19 pandemic has brought a blow to every Northside church. 
In many cases, losing the option for members to meet regularly, to pray, sing, and fellowship together, has proved devastating. The crisis has been particularly harsh among churches with an older following, since seniors are less likely to brave the pandemic for in person services or join online.
Nearly every church has also reported COVID-19-related losses among its members. And without regular attendants, many North Tulsa churches have lost their primary source of income.
"It is not yet clear that the church will fully recover from this," M.C. Potter said.
Even before the coronavirus crisis, many churches faced declining attendance. One big reason is that after decades of being clustered in the Historic Greenwood District, many of them are now spread out across the broad swath of North Tulsa and other parts of the city.
At the same time, the number of Black churches has grown in the past decade, according to anecdotal reports and the Pew Research Center.
"We have too many churches and not enough people to fill them," observed Birdie Clifton. A devoted churchgoer, Clifton recently retired after 30 years as director of the Northside-based Carver Senior Center. 
Some churches are addressing contemporary dilemmas adeptly. Many are using social media – YouTube, Facebook, Instagram and Twitter – to establish an online presence and stay in touch with members. Others have introduced special outreach programs to attract members who may feel alienated or distant from the church. 
At World Won, Bishop Cooper has developed a dynamic, multi-pronged strategy to build and grow a following and serve the community. Born in Oklahoma City and raised in North Tulsa, Cooper began ministering in North Tulsa as an adolescent.  
"Old-timers in Tulsa would remember me as the kid who would come up to them on a street corner or their doorstep preaching the word of God," he explained.
Now 57, Cooper focuses a big part of his mission on delivering the word every Sunday from the pulpit of World Won's spacious sanctuary on North Harvard Avenue. Recognizing that many of the church's members are not comfortable with in-person services, Cooper also records a weekly online service and posts it on YouTube, Facebook, and the church's website.
During the height of the Pandemic, Cooper also drew from his early years as a street preacher and sometimes held services in parking lots. "We have to meet people on the street where they live," he explained.
Cooper's outreach to the community extends far beyond weekly church services. World Won Development, Inc. – the church's umbrella organization for community engagement – oversees many endeavors.
One part of it "Fit Back In," a national program that helps men and women who have been in prison re-integrate into post-prison life.
Another is the "EduRec Youth and Family Center." A sprawling North Tulsa-based facility, it seeks to offer alternatives to street life for Tulsa Youth. "We concentrate our efforts in areas where we see need," Cooper explained.
Tulsa-based Transformation Church has also given generous support to North Tulsa and was originally named the Greenwood Christian Center.  
During the 100th commemoration of the Race Massacre, Pastor Mike Todd gave $200,000 each to the three massacre survivors – Leslie Bennifeld Randle; Viola Fletcher; and her brother, Hughes Van Ellis. Todd presented the checks to survivors during a Juneteenth celebration. Falling to his knees, Todd expressed his appreciation for their survivors' sacrifices.   
During the presentation, Todd spoke respectfully to the beginnings of the Greenwood Christian Center and founder Pastor Gary McIntosh, a white man who originally named his church after the historic district to honor its legacy and people.  
"I am a young black man who took over a church from a white man who built it in North Tulsa," he said at the Juneteenth ceremony.  
"Today we can't restore everything that has been stolen. But today we can put a seed in the ground. The one thing we know about a seed is when you put a seed in the ground, and it looks broken and destroyed, that is the environment where growth happens …It's reparations season and change starts in the church."
In December 2020, Transformation bought the inventory of shoes at the North Tulsa store Silhouette and Sneakers and donated the shoes to a local boys' home in time for Christmas. 
Last March, Todd gave graduating seniors, teachers and staff at McLain High School or Science and Technology new Apple MacBooks.
More than any other North Tulsa church leader, the Rev. Turner at Vernon AME has engaged in political activism in Tulsa.   
Every Wednesday, he leads a demonstration in front of Tulsa's City Hall demanding reparations for survivors and other victims of the Tulsa Race Massacre. Week after week, he takes a bullhorn and decries the city leaders for dragging their feet on reparations. At first, criticized for his high-profile advocacy, Turner has slowly built a solid following.
M.C. Potter lauds the various community initiatives. As longtime head of the North Tulsa Community Education Task Force, he believes one of the church's key missions is to support the education of the community's youth.
But, in the end, Potter feels that no one program or another, nor any individual church, will resolve the dilemmas facing North Tulsa and its houses of worship.
"The various churches have to come together and unite behind solutions," he said. "Unified action is the best positive path forward for the church and the community it serves."