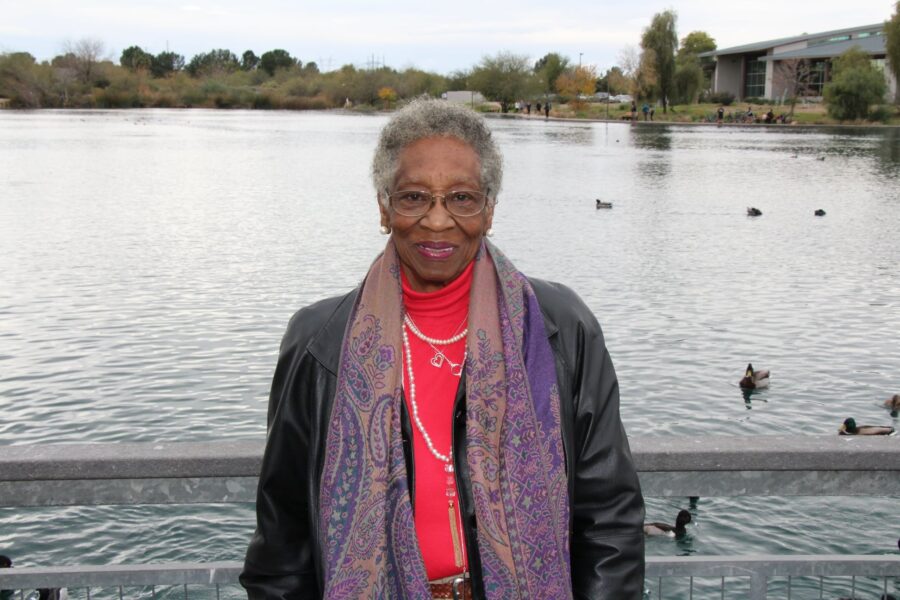 The Oklahoma Eagle Newswire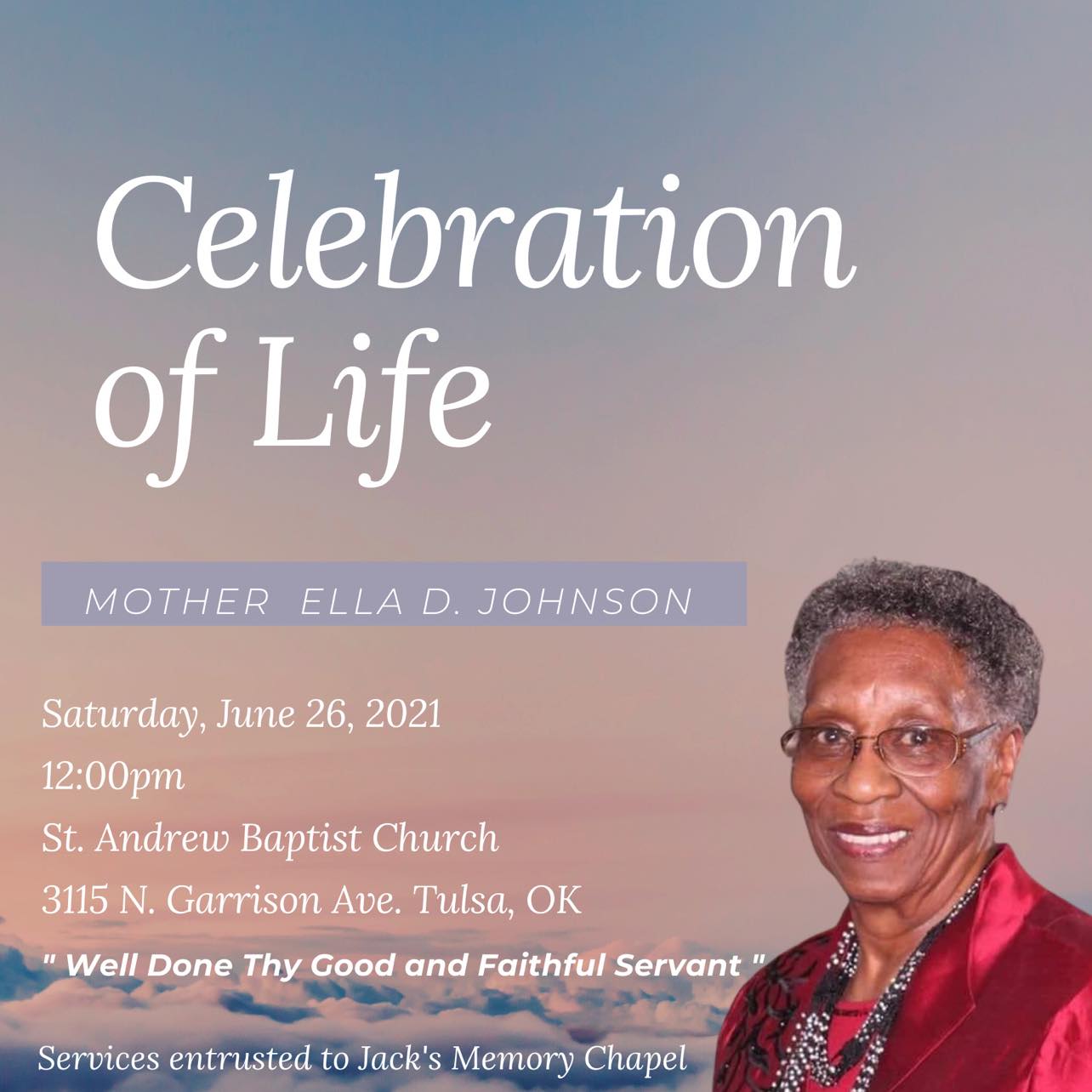 "For a day in thy courts is better than a thousand. I had rather be a doorkeeper in the house of my God, than to dwell in the tents of wickedness, For the Lord God is a sun and shield.  The Lord will give grace and glory: No good thing will he withhold from them that walk uprightly. O Lord of hosts. Blessed is the one who trusts in you"
Psalm 84:10-12
Ella's Story
" A Life Well Lived "
Ella was born August 24, 1936 in Haynes, Oklahoma to O.D and Ruby Ponds.  She was the fifth of six children.  After the untimely deaths of her parents, she and her siblings were taken in and raised by their Uncle and Aunt, Earnest "Bubba" Washington and Velma "Big Mama" Washington (Wallace) She spent her formative years attending Carter G. Woodson school until age 16.  For a better life, Bubba moved the family to Tulsa, Oklahoma in 1952 where Ella finished her high school years at Booker T. Washington High School.
The Early Years
She accepted Christ on Christmas Eve in 1953 at St. Andrew Missionary Baptist Church on Marshall Street, under the leadership of Pastor M.V. " Dad " Ferguson. There, her passion to serve was ignited. She served faithfully at St. Andrew in many capacities for close to 70 years. Her most notable areas of service were the Culinary Arts Ministry where she was known for making her famous tea and the Usher ministry, ensuring everyone entered worship respectfully.  She was adamant about keeping order in the Lord's house.  She was well respected for her firm but fair demeanor.  A few years ago, she was appointed to the Mother's Board by the late Dr. Bertrand M. Bailey Sr.
After a brief tenure at Langston University, Ella returned home and married Willie Johnson.  To this union, four sons were born: Philip, Victor, Michael and Tony.  This marriage was later dissolved, and she continued to work extremely hard to raise her sons.
Her Career
Ella was an extremely hard worker and was fully committed to everything she put her heart and hands to do.  During her early years, she worked at St. John Hospital and later began working at Bovaird Oil Supply Company cleaning offices with her best friends Leola Anderson and Margaret Robinson.  They were loyal workers and were known for working with integrity.
In 1970, Ella discovered a strong passion to serve children in her neighborhood, so she began volunteering at Walt Whitman Elementary School.   Her commitment to volunteer landed her a permanent position offered by Principal Dorothy DeWitty.  She served at Whitman in many capacities.  She worked as a Teacher's Assistant, Librarian, School Nurse and wherever else she was needed.  She was notorious for making popcorn on Fridays that students and staff enjoyed tremendously.   After 37 years of dedicated service, she retired!  However, her passion to serve wouldn't let her stay away. Thus, she returned as a volunteer at Whitman and McLain High School until her health began to fail.
Ella was a fighter! She survived several bouts with cancer and other illnesses.  She attributed her long life to Christ continuously having his hand on her life and healing her.
She enjoyed watching basketball, helping young people, traveling, and spending time with her family.
In her 84th season of life, Ella peacefully transitioned from time and entered eternity.  Awaiting her arrival were her parents; O.D and Ruby Ponds, Aunt Velma Washington, Uncle Earnest Washington, brothers; O.D "Bo" Ponds, Q.D. Ponds, one son; Michael Johnson and Ex-husband, Willie R. Johnson.
Left to cherish her memory and continue her legacy, her sons: Philip (Linda), Victor, Tony (Tracey), daughter in law; Linda (Mike)
Siblings:  Delores "Katie" Gay, Perry Ponds (Mildred), Ernestine Ford, ; sisters in law ; Frances Ponds & Cleatha Ponds.
Her grandchildren; DaWanda, Dominick, Devan, Marlon, Michael Jr., Micala, Victoria, Jamaal, Victor Jr., Jasmine, Maya, Miles, Alyssa, Zoey, Zier.
A host of great grandchildren, three great grandchildren, nieces, nephews, family, and friends.