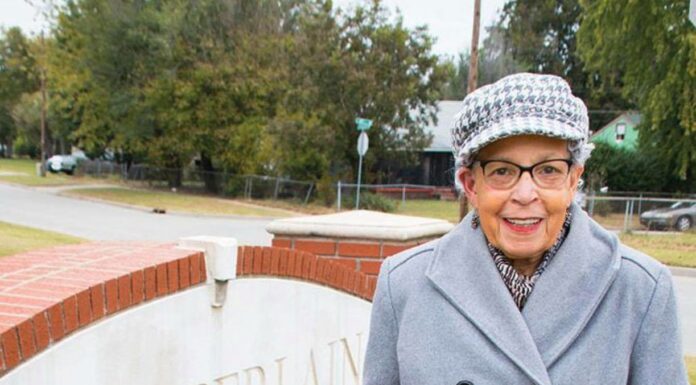 The Oklahoma Eagle Newswire
"This event was originally designed to help elevate the voice of women and the incredible contributions that women have made and continue to make that impacts lives in Tulsa and around the world," said Julie Davis, Chief Executive Officer for YWCA Tulsa. "In a year when we are looking for leaders who inspire us, motivate us, and challenge us to a better future, look no further than these incredible women. They are setting the vision for a stronger and brighter tomorrow."
"It is a privilege to honor these accomplished and influential Tulsa women," Mayor G.T. Bynum said. "These women are well-deserving of this recognition, especially Jane Malone, after whom we named the Jane A. Malone Center in Chamberlain Park. Others with City of Tulsa ties are District 1 Councilor Vanessa Hall-Harper, current chair of the City Council; Ashley Philippsen, former Mayor's Deputy Chief of Community Development and Policy and now director of engagement and advocacy at Impact Tulsa; Jerica Wortham, manager of the Greenwood Art Project funded by a Bloomberg Philanthropies grant to Tulsa; and Cheryl Cohenour, chair of the Greater Tulsa Area Indian Affairs Commission. I appreciate these women's service to our community."
The honorees were selected from nominations of women across Tulsa for their outstanding accomplishments and/or projects of distinction. Each honoree has labored tirelessly throughout her career and philanthropic endeavors to empower women and serve individuals in the Tulsa community.
Each honoree upholds the legacy of the Pinnacle Awards, which is reflected in women who are role models in their professions, take risks on behalf of others, perform community service, and advocate for women's issues.
Winners will be honored on Thursday, April 29, 2021 with a blended virtual event. The Pinnacle Awards is a great way for people to support and celebrate the investment that women are making in our community every day. It also supports the work that YWCA Tulsa does. To sponsor the Pinnacle Awards or get more information about this event, visit www.ywcatulsa.org.
The winners are:
Anna C. Roth Legacy Award: Jane A. Malone — Jane is a resilient advocate for a more inclusive and equitable Tulsa. For six decades she held prominent leadership roles with Neighborhood Housing Services, the NAACP, the Greenwood Chamber of Commerce and the Oklahoma Jazz Hall of Fame. Even through her own experiences of racial discrimination, her spirit and heart for community have remained strong.
Arts and Humanities: Jerica Wortham — Jerica works as the Project Director for the Greenwood Art Project. As a Tulsa native and poet, she has a history of advocating for all voices to be heard. In addition to starting her own magazine and publishing two poetry collections, Jerica is a business coach, humanitarian, and philanthropist.
Community Service: Vanessa Hall-Harper — Vanessa is the Tulsa City Council Chair. A shining example of public service, Hall-Harper, continues to serve Tulsa County District One, improve health outcomes for Tulsans as the Program Manager for the Tulsa Health Department's Healthy Living Program, and educate students as an Adjunct Professor at Tulsa Community College.
Corporate Business: Ashley Philippsen — Ashley serves as the Senior Director of Engagement & Advocacy at ImpactTulsa. She is a policy and non-profit leader with 14 years of experience in creating organizational infrastructures, Pre-K – 12 education, and supporting individuals and organizations to create meaningful change through engaging curriculum.  Ashley serves as the Commemoration Sub-Committee Chair for the 1921 Tulsa Race Massacre Centennial Commission.
Education: Jennettie Marshall — Jennettie has an extensive list of volunteer experiences from the Tulsa Board of Education to establishing the North Tulsa Community Education Task Force. Steeped in her resolve to serve the better angels of our community, she is also the Pastor of Cummings Cole C.M.E. Church in addition to being duly elected to the largest district school board.
Entrepreneur: Cheryl Cohenour — With more than 32 years of small business ownership in Tulsa, Cheryl has also supported Native American firms as a business consultant and community volunteer. Additional volunteer experience includes serving as President and founder of Tulsa's Family Safety Center, and Chairman of the City of Tulsa's Greater Tulsa Area Indian Affairs Commission.
Health & Wellness: Dr. Kaul Manju — Dr. Manju has been a clinical psychologist in Tulsa for more than 22 years, and served this community through a variety of different boards including Tulsa Area United Way and South Tulsa Community House. As an immigrant she believes that it is imperative to give back to the community that has allowed us to flourish and achieve success while celebrating our heritage and diversity.
Rising Star: Janel Pasley— Having served Tulsa as a community coalition builder, Janel has advocated through the North Tulsa Community Coalition since 2016. Professionally she has worked toward improving health outcomes and community engagement at the Tulsa Health Department. Janel is also a published author, passionate mentor, and social entrepreneur.
Corporate Champion: Tulsa Area United Way — Since its inception in 1924, Tulsa Area United Way has been a community champion, raising nearly $850 million to build a social safety net for the most vulnerable. TAUW strives to break barriers for women and people of color by sharing stories of need, hope, and resilience, uniting people and resources to ensure that all community members flourish and thrive.
History of the Two Awards
Two powerhouse advocates for women's rights merged forces in 2015 to bring the first ever Women of the Year – Pinnacle Awards ceremony to Tulsa. The Mayor's Commission on the Status of Women has honored more than 200 Tulsa women with the Pinnacle Award since its inception in 1987. After celebrating their 100-year anniversary in December 2014, YWCA honored their first Women of the Year at Wine, Women and Shoes in April 2015. Given the success of both awards and the shared objective, YWCA's board of directors and the Mayor's Commission on the Status of Women voted unanimously to approve the organic partnership. Over the past 5 years we've collectively honored approximately 40 women.
This women's rights celebration has taken on many names over the years (including most recently being called the Pearl Party), but in the spirit of branding solidarity YWCA Tulsa and The Mayor's Commission on the Status of Women have decided to move forward with one name. We are proud to announce this illustrious celebration will be called the Pinnacle Awards! We will be honoring the amazing women of Tulsa and the contributions they have made to our community.