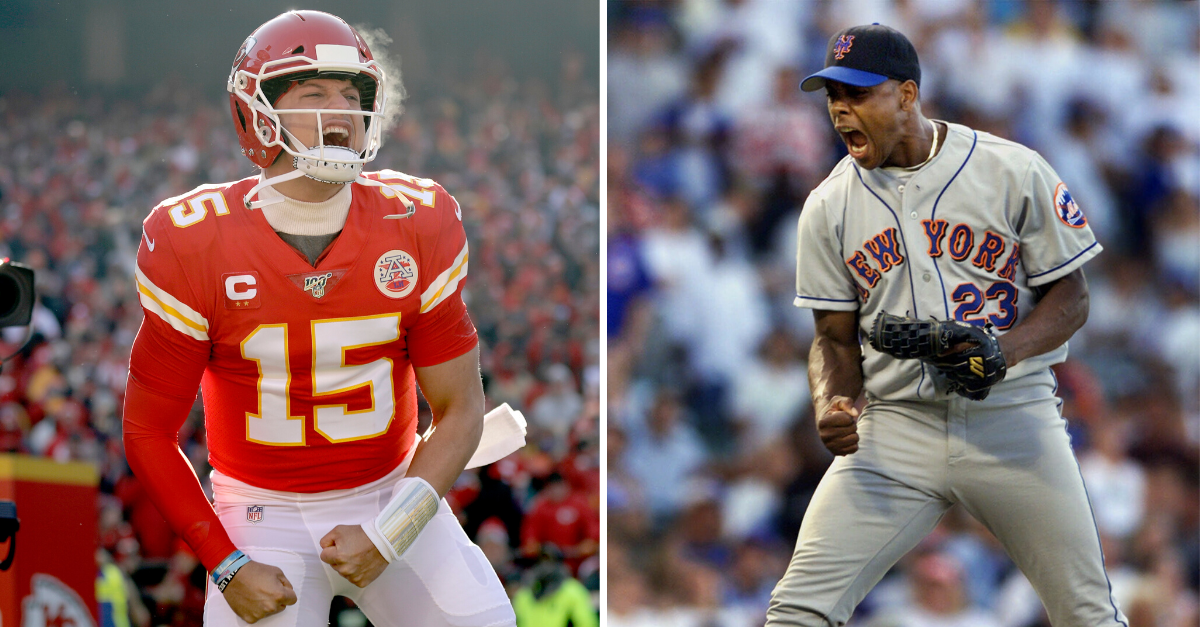 By Brett Regan
On September 17, 1995, a star was born. Nobody really knew it at the time, but the arrival of Patrick Lavon Mahomes II in Tyler, Texas would ultimately change the NFL forever. Needless to say, Pat and Randi Mahomes raised an incredible son.
The genetics were certainly there. Pat Mahomes played professional baseball for nearly a decade, primarily in Major League Baseball. So the fact Kansas City Chiefs quarterback Patrick Mahomes is successful should not be overly shocking to anyone. It was just a matter of time before the world got to see it.
Although Pat and Randi Mahomes — now Randi Martin — got a divorce before Patrick was a teenager, that hasn't stopped either parent from being influential in the NFL MVP's life.
Patrick Mahomes Parents
Pat Mahomes Sr. was never a star baseball player, but making it to The Show definitely meant he had talent. Mahomes posted a 42-39 record with a 5.47 ERA and 452 strikeouts with the Minnesota Twins, Boston Red Sox, New York Mets, Texas Rangers, Chicago Cubs and Pittsburgh Pirates, mainly as a relief pitcher.
Mahomes even played for the Yokohama BayStars in the Japan Central League in the mid 1990s and for the Grand Prairie Air Hogs in the American Association in 2009.
Naturally, Mahomes wanted his oldest son to be a baseball pitcher, but the young kid had other plans for greatness.
After being a three-sport athlete at Whitehouse High School, Patrick Mahomes II committed to play football for the Texas Tech Red Raiders. He was also selected in the 37th round by the Detroit Tigers baseball team, but chose to play college football instead.
That proved to be a smart decision. Mahomes was the backup to Davis Webb his freshman year, then tore it up for two more seasons. He even shattered NCAA records with 819 total yards of offense against Oklahoma and led the nation with 53 total touchdowns during his junior year.
Mahomes won the Sammy Baugh Trophy as the top collegiate passer, skipped his final year of college eligibility at Texas Tech University, and became a first round pick (No. 10 overall) by the Chiefs in the 2017 NFL Draft. He signed a four-year contract worth $16.42 million, including a $10 million signing bonus.
Patrick Mahomes Siblings
Although the 6-foot-3 starting quarterback was the only one to go into MLB clubhouses and meet Hall of Fame players like Derek Jeter and Alex Rodriguez, Patrick Mahomes does have two other siblings.
Jackson Mahomes, 19, is a TikTok celebrity with over 40,000 followers on his Instagram account. Mia Randall is his younger sister.
Patrick Mahomes Girlfriend
Brittany Matthews

✔@brittanylynne8

My best friend @PatrickMahomes
Patrick Mahomes and Brittany Matthews have been together since their sophomore year of high school. That's right, the couple are high school sweethearts.
Matthews was college soccer player at the University of Texas at Tyler and played professionally for one year in Iceland before moving to Kansas City. She now owns Brittany Lynne Fitness.
Mahomes and Matthews do not have a kid, but own two dogs named Steel and Silver.
Matthews is also very active on social media, especially during the NFL season.
Mahomes developed into a star football player in the National Football League. He sat behind Alex Smith his rookie season before Smith was traded to the Washington Redskins.
In his first season as a starter last year, Mahomes threw for 50 touchdowns and just 12 interceptions and was named the NFL MVP while taking the Chiefs deep into the playoffs.
He followed it up this year by guiding the Chiefs to Super Bowl LIV after taking down the Tennessee Titans in the AFC Championship Game.
With over 10 years of sports writing experience, Brett has covered some of the top local, regional, and national sporting events in the Heartland for both print and digital platforms. He is a graduate of Kansas State University and resides in Austin, Texas.