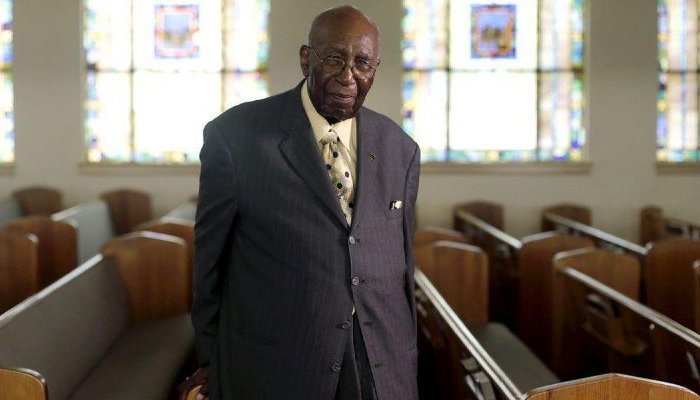 By B. L. Eikner
Eagle Guest Contributor
On Saturday, March 30, 2019, Dr. George Calvin McCutchen, Senior transitioned to the heavens.  He was 92 years of age and was preceded in death by his wife, Mrs. Adeline McCutchen and son, Rev. George C. McCutchen, Jr.
Funeral arrangements are under the direction of Jacks Memory Chapel. The viewing will be on Friday, April 12 from 5:00 p.m. – 7:00 p.m. at Mt. Zion Baptist Church, 419 N. Elgin Avenue, in Tulsa. The funeral service will be on Saturday, April 13 at 11:00 a.m. with a viewing at 10:00 a.m.
Dr. McCutchen was born in a log cabin on March 1, 1927 near Rockfield, Warren County, Ky. He was the fourth child of six children to George W. and Rosetta McCutchen.  His mother passed when he was ten years of age and his father passed when he was fifteen.  He moved to live with his oldest sister to Cincinnati, Ohio where he graduated from High School and received the Call to Ministry.  He was licensed by the Calvary Baptist Church and entered Simmons University.  Again, he had an interruption of life, with a call from the United States Military and entered the US Marine Corp.  After service he graduated from American Baptist Theological Seminary in 1950 and was given the prestigious, Individual Initiative Award. In August of 1953 he graduated from the Tennessee A & I State University and two days later received and accepted an invitation from Reverend J. H. Dotson to serve as Assistant Pastor of Mount Zion Baptist Church.
Dr. McCutchen was installed as Pastor on January 12, 1958 after a unanimous vote in the October 20, 1957 Church meeting.  He immediately became a true servant leader, preaching and teaching the unadulterated word of God, increasing church membership, making repairs on the physical building, creating and enlarging ministries and setting the path to true community involvement.  He believed in Education and Service as the path to a strong spiritual and vibrant community. The church housed Meals on Wheels, Project Help, Food Bank and many other services to the needy. His congregation which included thousands of men and women followed his lead in service, education and spiritual leadership to include Don Ross, Mabel B. Little, Wilbert Collins, Willard and Elreno O'Neal, LaVerne Davis, Willie Sells, the Jackson, Lazenby, Latimer families and many, many more.
He expanded his involvement of the Religious Community as Editor of the New Baptist Herald, Instructor at the Oklahoma School of Religion, leader of the North Tulsa Baptist Education Center and many others.  He was actively involved in many social organizations to include the Tulsa Ministerial Alliance, NAACP, Urban League, Phi Beta Sigma Fraternity, Tulsa Public School System and many others. Under his leadership he established the J. H. Dotson Scholarship Fund, which later became the Dotson -McCutchen Scholarship Fund and built the G. Calvin McCutchen Family Life Center.
Dr. McCutchen served on the District (Creek and Five Star), State (10 years as Oklahoma Baptist State Convention President) and National (Superintendent of Youth) levels. His counsel and guidance were sought by private citizens and public officials to include Mayors, State Representatives and others.
He was an author of many books on faith and wrote for over 60 years for The Oklahoma Eagle, with the last column entitled, Just Thinking. He received many awards, citations for his services to include six honorary doctorate degrees, Richard Allen Community Award AME, NAACP Freedom and Tulsa Metropolitan Ministry acknowledgement.  He was featured in the book, Journey-Tulsa's Century of Christian Faith, Leadership & Influence by Tom McCloud and Tara Lynn Thompson honoring the Centennial of Oklahoma.
Dr. McCutchen retired after 50 years of service in 2007 and was named Pastor Emeritus of the historical Mount Zion Baptist Church by Dr. Leroy M. Cole, current Pastor of Mount Zion.  Mount Zion received the state and national historic designation under the direction of Dr. McCutchen and the late Mr. Albert Edgar Dunn.
Dr. McCutchen is survived by a sister, Lucille Gaines of Cincinnati, Ohio; three grandsons, nieces, nephews, men and women of the ministry he counted as sons and daughter in Christ and a host of community friends and associates.