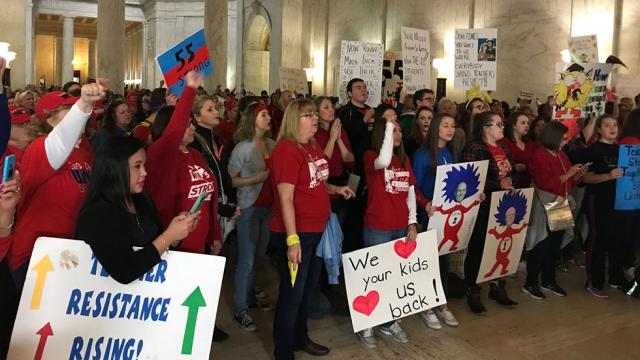 Oklahoma public school teachers are planning a statewide strike for sometime in the coming weeks.
More than 25,000 people have joined the Facebook group "Oklahoma Teacher Walkout – The Time Is Now!" and a group of educators met Friday to discuss plans for the walkout, according to Tulsa's KTUL.
© Provided by The Hill
"We are to the point where we have no other option," one teacher told KTUL.
The teachers are frustrated with lawmakers' lack of action on increasing teacher salaries. The state's teachers are reportedly some of the lowest-paid in the nation, according to KTUL.
The proposed strike would come soon after a West Virginia teachers' strike that has continued for seven days. Schools in 55 of the state's counties remained closed on Friday, even though the teachers' union had reached a deal with West Virginia Governor Jim Justice (R).
The West Virginia Senate declined to take up legislation to raise teacher pay, despite Justice's promise to raise pay by 5 percent. The bill has been sent back to a Senate committee, which has not yet scheduled a meeting on the legislation.
The Oklahoma teachers are considering striking during the first week of April, during standardized state testing.
"Frustration levels are high, so a strike is not a touchy word anymore," Molly Jaynes, an Oklahoma City teacher told KTUL. "I think we have surpassed the point of conversations, and I don't think that there's anything the legislators have provided us recently to give us any sort of hope that they're going to take actual actions this time."