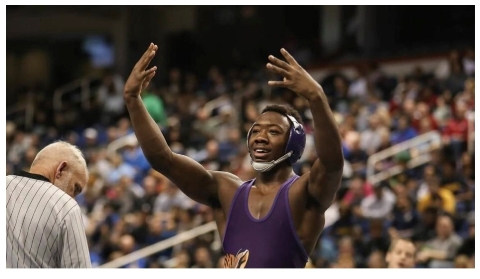 The Oklahoma Eagle Newswire
Quincy Monday, son of Tulsa's Olympic wrestling gold medalist Kenny Monday and the brother of University of North Carolina wrestler Kennedy Monday ended his incredible high school career in style. He won his fourth high school state title, and they've been spread across two states and four different weight classes.
His two in Texas were done at 106 and 113 pounds. Last year, he won his first NCHSAA title at 132. He won this year's state title with a 21-5 victory of Foard's A.J. Wingate. Monday went 38-1 this season, the only loss coming in an out-of-state tournament.
Monday said, "I've been lucky to have good workout partners and I've adjusted to the weight nicely and they give me a good feel, so I'm ready for matches at the higher weights."
Monday who has committed to Princeton, said 'I feel like four titles will get me a little respect at home. It'll be a stepping stone to an Olympic title. I'm on the way there!"