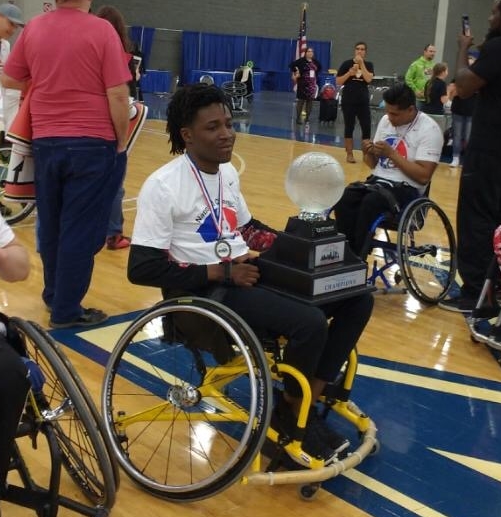 By Fred L. Jones, Jr.
fjones@theoklahomaeagle.net
Sterling Thomas' vision for The Sterling Thomas Push Push Pray Foundation is to assist those with spinal cord injuries to move forward into a new reality and a better quality of life.
Sterling Thomas is a former Union High School football player. He was a member of the Union football program during a portion of the time when Union won four consecutive State championships (2008-2011). He has been awarded three State championship rings. Sterling graduated with the Union High School Class of 2012. His academic and athletic achievement paved the way to him being recruited to be a member of the Lindenwood University Lions football team. He wore jersey #27.
On Oct 27, 2012, the 18-year-old freshman was excited to play during a televised Lindenwood University football game. During that fateful event, Sterling sustained a cataclysmic hit which knocked him to the ground and rendered him unable to move. Quickly afterwards, a neurosurgeon diagnosed Sterling with a cervical spinal cord injury with resulting quadriplegia; and surgery ensued.
When tragedy struck, Sterling received an immediate and tremendous outpouring of support from Lindenwood University, Union High School, family, friends, church, and communities throughout the United States.
Once stabilized at a St. Louis Hospital following the physical crisis of his spinal cord injury, Sterling was air-ambulanced to Shepherd Center in Atlanta, GA. At Shepherd Center, he participated in aggressive spinal cord injury rehabilitation and gained in upper body strength and endurance. He also received extensive education which helped to empower him in living with a spinal cord injury.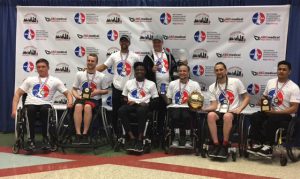 Thomas stated, "I had to pray, and I had to push not just my wheelchair, but push through struggles to reach the goals I had set for myself. Life started to be a game of focusing on things that I can do instead of what I can't. If I can't do something, I'll try to figure a way that I can. If I leave anything at 'I can't' I will lose every time".
Sterling's mother Sharon Thomas stated "Reflecting back before Sterling's injury, I remember a prayer that I requested while attending a Ladies' Bible class. Lord, please be with me 'when' trial comes.  I was thankful that God was with me (us) on October 27. 2012. I can remember feeling at peace and being extremely quiet, which was unusual for me. My mind was in overdrive, thinking where do we go from here; next steps. We searched the internet for information that would benefit Sterling.  God blessed us by having our family and community rally around us with love and support".
Sharon went on to say "While in rehabilitation at the Shepherd Center in Atlanta, GA, I met many moms from all over the United States going through what I was with their sons. We formed a bond and support network.  To this day, we stay in touch and share milestones and new information. The most beneficial part of rehabilitation for me was the education and training given to family members on the care of their loved ones going through rehabilitation.  "All of their tomorrows depend on what they do today while in rehab."  It was crucial to keep our minds focused and present during this period. As Sterling's mom, caregiver, and personal assistant, I have had the pleasure of watching him develop through a metamorphosis of his body, mind, and spirit.  He amazes me with his attitude, resilience, and desire to serve others. There were grieving stages, as with any loss, that we needed to go through to heal and move forward.  I thank God for allowing us to do so successfully".
Sterling is currently taking online classes through Lindenwood University with the goal of achieving his degree in Sports Management. He is an active member of the Oklahoma Rollin' Trojans Basketball team which has given him an outlet to physically compete again.
Thomas said: "I learned that people will only look at you differently, if you allow them to look at you differently. Physically I'm in a wheelchair, but mentally I still have that young college athlete mindset. Basketball helps me release some of my competitiveness and trash talk. It's a humbling experience to have been always one of the fastest on the field to one of the slowest on the court".
Sterling continues to pursue and participate in intense and ongoing therapeutic physical exercise and activity-based programs beyond traditional rehabilitation through the First Step Physical therapy in Roswell, Georgia.  These activity-based programs have given him the benefit of warding off secondary health conditions related to spinal cord injury.
The Sterling Thomas Push Push Pray Foundation is kicking off its First Day of Giving on November 27, 2017. The Sterling Thomas Push Push Pray is a 501(c)(3) foundation with the mission to inspire hope, empower, and enrich the quality of life of individuals living with spinal cord injury.
Sharon Thomas, stated "When a traumatic spinal cord injury strikes, we understand that it is a devastating, catastrophic, shocking and overwhelming experience.  We help survivors and their families with responding to and overcoming the many challenges of facing disability by providing the knowledge and tools needed to move forward, thrive, and adapt to a changed way of life.  Push Push Pray is glad to be among those listed as a resource at the Christopher & Dana Reeve Foundation Paralysis Resource Center.  Our focus is on promoting:  Hope, Dignity, Support, Navigation, Education, Quality of Life, Physical Activity, Mobility, Accessibility, Awareness, and Inclusion".
The Push Pray Foundation provides small item grants ($250 or less) to spinal cord injury survivors that promote self-sufficiency, quality of life, recreation, and exercise/physical activity.
For more information log on to www.pushpushpray.org