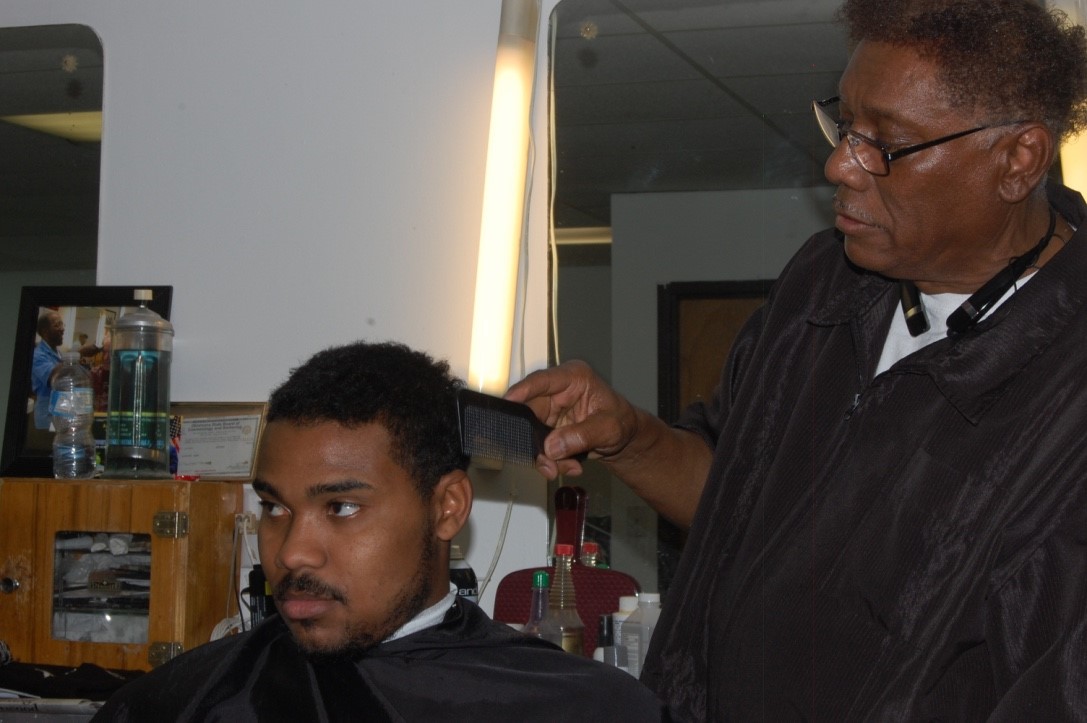 By Margaret Hicks
Staff Writer
When asked how he got into the barbering business, Willie Sells said he "…needed a profession after high school." Though Sells had done some hair cutting in high school, he believed he could "learn to do better with college professional training," so off he went to Tyler Barber College in Tyler, Tex., in November of 1962.
Sells graduated from Tyler Barber College in 1963 and a few days later began his professional career. In 1985, he arrived in the Greenwood District at Tee's Barber Shop, previously named Mim's Barbershop. After the death of the original owner Wilburt Tecumseh, his daughters took over the business. In 2015, Tecumseh's daughters agreed to sell Tee's to Sells.
Sells is a native of Tullahassee, Okla., a country town in Wagoner County that had a population of 106 in the 2010 and 2000 census. An unofficial count in 2013 shows a population of 103. Tullahassee is considered one of the oldest black towns in Oklahoma.
Historical Overview
            The need for the barbershop in the African-American community is historical and more than just a shave and a haircut. It's the place where men can go to discuss their personal, and public issues. Issues like health, family, business and other life issues.  A place where little boys can learn from men.
However, it was not always this way. In the 19th century most black barbers serviced wealthy white businessmen and politicians.  These barbers included the enslaved and the free blacks.
After emancipation, the younger generation opened barbershops to service black men.
Creators of Students and Entrepreneurs
Barbershops are great educational and business opportunities for the community. It is a trade that can be passed down from generation to generation. In Oklahoma, barbers can get their training hours and get licensed through apprenticeship instead of traditional schooling. Barbers, like cosmetologists, are two professions that will license a convicted felon in Oklahoma.
A barbershop is a place where the owner can let black men and women become entrepreneurs. Sells has three barbers working in his shop. They are not his employees. They rent their space from Sells and are their own business owners. The fourth barber recently married and went into business with his wife, a cosmetologist.
Moving On Up
Barbershops are increasingly becoming a major source of innovation in the beauty business. A lot of creative cutting, shaving, styling and even coloring is coming out of barbershops in the black communities. This is moving the industry forward as a whole.
Derrick Banks, owner of Freshly Faded Barber + Shop, in San Diego, had this to say in an internet interview: "Being an owner of a barbershop, I would like to add that the barbershop is also a place where a black person can see their dollars being recycled. It is the last stronghold in the black community. We will go to everyone else for every other product and service except a haircut. That is why it is very important for us to support black products in our shops, like hair products, skin care products, clothing etc. There is no place else to do it."
Sells stated, in the Tulsa World, he always appreciated the significance of sharing the same space as the people who first paved the way for what is now becoming a thriving area again.
"Our forefathers died trying to rebuild this area after the so-called race riot in 1921," he said. "Others died trying to keep it. We are working hard to keep things going."