---
The social messages of the Tony-Award-winning musical Hadestown, set to open at the Tulsa Performing Arts Theater on Sept. 27, will resonate with many local theater goers, the lead actor told The Oklahoma Eagle.  Kevyn Morrow, who plays Hades, discussed the show in an Eagle interview last week. The production delves into many of today's social issues, he said, including wealth versus power, women empowerment, and climate change. 
The play is based on an ancient Greek story. It centers around Hades, who is sent by his brother Zeus to oversee the realm of the Underworld. In the musical interpretation, the Underworld he rules as a God is industrial and hardened. It eerily mirrors some major recent and current events.
Morrow offered some insights into the key aspects of the character he plays. "My workers are building a wall to separate us from those who do not have what we have, from poverty, from those who are not like us or are as wealthy as us," he explained. "There are a lot of social issues thrown in. They are not in your face, but they are there."
In the end, not all is lost. Or is it? Morrow said the lesson of the story for him is that love will survive. It contrasts two love relationships, a dysfunctional, millennia-aged marriage of the God Hades and his wife Persephone and the new love of Eurydice and Orpheus. When Eurydice is taken to Hadestown, drama ensues.
"It is about hope and love, and will love win? Will love carry you through?" Morrow said. "The story shows what love can turn into if you don't mind it."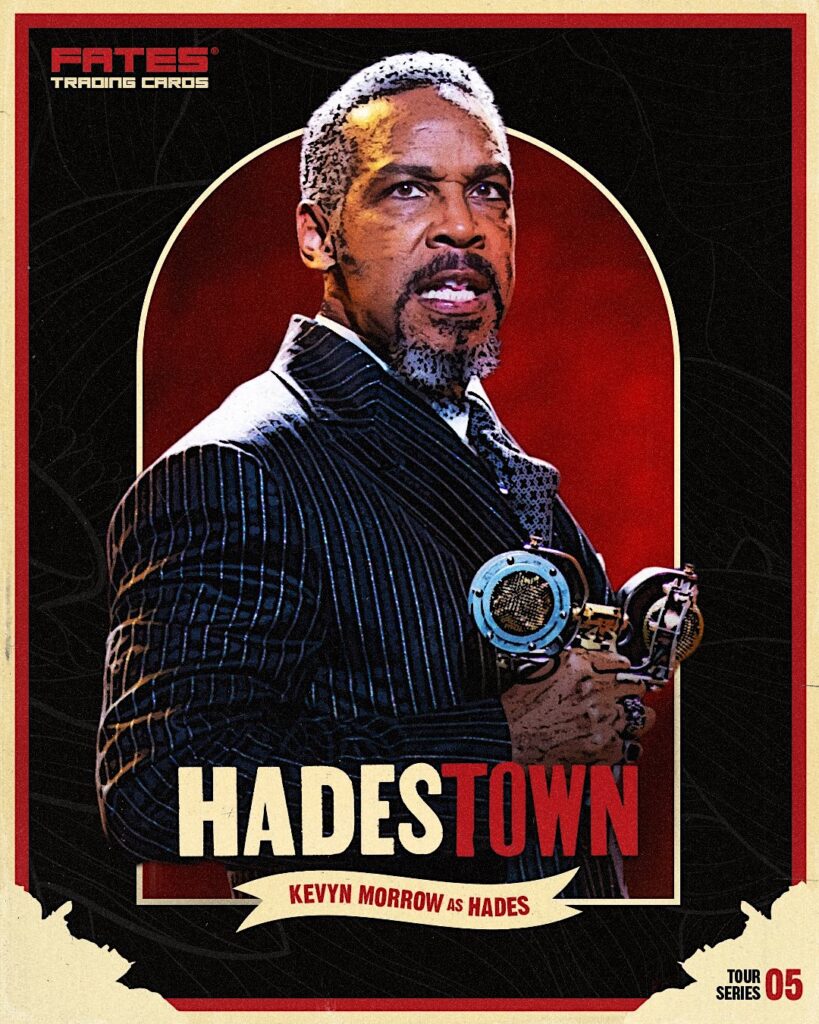 Morrow's Southern Roots 
Morrow said he relates to one of the central themes of the story: if at first you don't succeed, try, and try again.
"That's the way I was raised," he said.
The actor's roots go back to Euta, Alabama. His family migrated to the Midwest – Omaha, Nebraska – where they could get jobs that were available for Black workers. His father started in the meatpacking industry, like many who migrated to the Midwest, and he later became an auto mechanic. Morrow's mother was a schoolteacher. Her family migrated to Cleveland, Ohio, and started a trucking company. 
Morrow traces his love of the performing arts to a night out when he was a kid in Omaha. While doing her graduate work, his aunt agreed to babysit Morrow. But also had a date with her boyfriend. The two took Morrow with them to see To Sir with Love, a British film about an inner-city school, starring black actor Sidney Portier in the leading role of an innovative schoolteacher dealing with social and racial tensions.
"I saw Sydney Portier on screen and thought, 'I can do that. I want to do that,'" Morrow said.
A few years later, his older brother joined a local community theater. It inspired him once again to go into the performance arts. 
"I saw him in a play and wanted to do that. It was like wanting to be like him, but also competition, – 'if he can do it, I can do it' – and it became a driving force in me," Morrow said. "He was doing it for fun, and it turned out I had a natural interest in it and ability for it."
Since finding Portier, Morrow said there is a "whole slew" of black actors who inspire him. Among them: Don Cheadle, Denzel Washington, and Samuel Jackson. Before taking a break from traveling in 2003, Morrow was inspired by the role of Colehouse Walker Jr. in the musical version of Ragtime. He had seen the movie version of Ragtime and read the book and seized an opportunity to play Walker in a London production.
"I had never seen an articulate black man in a film since Portier and I thought I'd love to play a character like this." He received an Olivier Award nomination for his performance.
Until the Hades role, Morrow had left touring and instead stayed close to home in New York City for 27 years. He remained busy in his trade, working on nine Broadway shows, television programs, commercials, and voice overs.
His Final Performance
Besides Morrow, the North American touring production of Hadestown stars Morgan Siobhan Green as Eurydice, Chibueze Ihuoma as Orpheus, Tony Award® winner Levi Kreis as Hermes, and Kimberly Marable as Persephone. It is the winner of eight 2019 Tony Awards® including Best New Musical and the 2020 Grammy® Award for Best Musical Theater Album, 
The show was transformed from an indie theater project that toured Vermont. It was then produced as an album. Finally, it was transformed into a genre-defying new musical that blends modern American folk music with New Orleans-inspired jazz to reimagine this ancient tale.
In Tulsa, Morrow will perform as Hades for the last time and say farewell to the role. With a little extra time to spend in the area, he plans to learn more about Oklahoma's history.
"There was an all-Black production of Oklahoma recently in Seattle and Denver," he said. "It brought to mind that, of course, there would be black cowboy towns. I'd like to visit the 1921 massacre site and do some research on Black Towns (of Oklahoma)."
---
How To Go
Hadestown makes its Oklahoma premiere in Tulsa as part of the 2021-22 Broadway Season.
Where: Tulsa Performing Arts Center
When: Sep. 27 – Oct.1 for eight performances. The performance schedule includes shows Tuesday – Thursday at 7:30pm, Friday at 8pm, Saturday at 2pm and 8pm, and Sunday at 1pm and 6:30pm.
How: Tickets are available for purchase by phone at 918.596.7111 or 800.364.7111, in person at the Tulsa PAC Ticket Office, or online at CelebrityAttractions.com.