By GARY LEE
---
The spring 2022 commemoration of Black Wall Street is kicking off on May 13 with a rally featuring two days of concerts, speeches, food vendors, souvenirs and other attractions.
Besides the main stage events, The Black Wall Street Rally will feature a gathering of hundreds of motorcycle bikers from across the state and further afield. Guides will also give free tours of the Greenwood District and the Greenwood Rising Black Wall Street History Center.
"We see this as an opportunity to again share the rich history of Greenwood and Black Wall Street to a broad audience," said Marcus Bowlin, one of the event chairs.
Brandon Jackson, president of the Oklahoma Homebuilders Association, is also among the primary planners of the rally.
One of the top performers scheduled to appear in Bigg Robb, the high-spirited, self-sustaining artist who embraces Midwest funk, modern blues, contemporary gospel, and Southern soul. He will perform Saturday, May 14, on the OSU-Tulsa lawn stage located at 700 N. Greenwood Ave.
See Also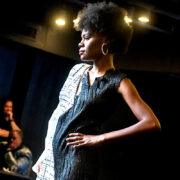 Jeter Jones, the Southern Soul Blues artist, will also perform Friday, May 13, on the OSU-Tulsa lawn. The Fred Hammond Gospel Choir is also on the program and a line-up of top local and regional bands.
For more details and tickets, see: www.Blackwallstreetrally.com 
---
FEATURED IMAGE: Buffalo Soldiers Motorcycle Club will participate in The Black Wall Street Rally. PROVIDED