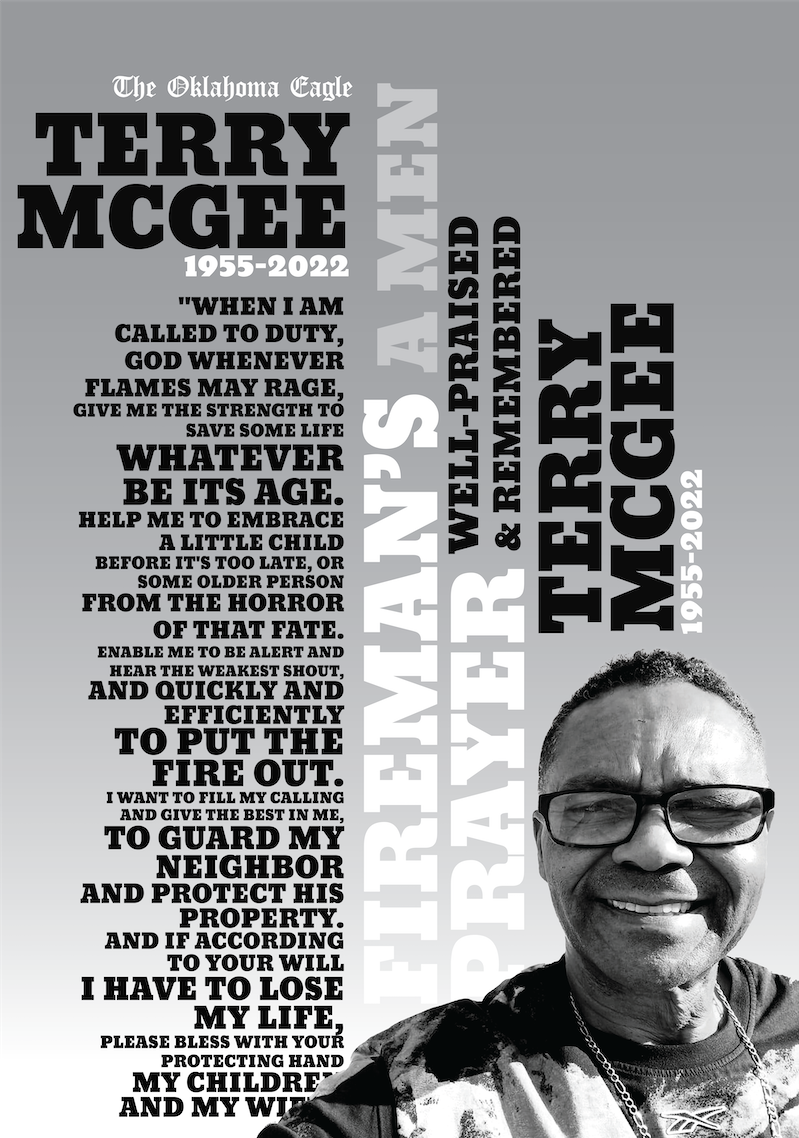 GARY LEE
THE OKLAHOMA EAGLE
---
PHOTO
THE OKLAHOMA EAGLE
Terry McGee, a North Tulsa housing developer, former fire marshal, fervent community advocate and champion for the Historic Greenwood District, died Oct. 2 in a drowning incident at Skiatook Lake. He was 66.
McGee forged a life of hard work, public service, and spiritual devotion. He had duo careers and excelled at both. Born and raised in North Tulsa, McGee became a firefighter as a young adult – one of a small group of Black Tulsans in the field– and rose to the position of Assistant Fire Marshall for the Tulsa Fire Department. He left that work in 2004 after 26 years. He then focused full-time on McGee Enterprises, Inc., a company he had founded in 1987 with a mission to build homes in North Tulsa. The company would eventually provide housing to hundreds of North Tulsans.
Over the years, The Oklahoma Eagle noted how McGee was considered one of the most prominent homebuilders in North Tulsa and a persistent advocate for economic and social development in the Black community.
Throughout his professional and personal life, McKee exuded an unbounded devotion to serving and lifting Tulsa's Black community and to making Tulsa a more inclusive city.
In a 1992 profile, McGee told The Oklahoma Eagle how important his faith was to his calling as a firefighter and following the path set by his parents, Eugene and Marion McGee.
"My base of religion inspired me to be more like Jesus and to reach out to help other people in the community," he said. "People work for God, family and country. If you don't put God first, you can't put the rest of it together."
In a 2017 interview with the Tulsa World, McGee also reflected on his faith.
"I was taught from a little boy … to seek God as my highest calling first and to love my neighbors as my second calling," McGee told the Tulsa World. "With that thought in mind, I have sought out places to learn and be of assistance to others."
Recruited Blacks to firefighting
In a career as a Tulsa firefighter that spanned more than two and a half decades, McGee worked to recruit more Blacks and improve conditions for them. He created the Firefighters Local 176 human relations committee, wrote the job description for the Tulsa Fire Department recruitment officer, and started diversity training for the Tulsa Fire Department. McGee also cofounded Tulsa's Coalition of Firefighters.
McGee had a calling as a civic leader, too, and went all in to follow his duties to public service. He joined the A. Philip Randolph Institute and was Tulsa Chapter president for seven years.
He also served as an NAACP member, North Tulsa Community Coalition member, and North Tulsa Economic Development committee and volunteered on the East Tulsa Prevention Coalition. He was elected as the HUD Community Development chair.
McGee also made a strong mark as a North Tulsa home builder. He was first exposed to the construction profession through his fellow firefighters. "You come in contact with the different firefighters you meet — many of which are plumbers, electricians, roofers, landscapers, appraisers, painters, and framers," he said in his interview with the World.
"As a result of this exposure, you realize that if these guys can plumb a house, then I felt that I could build a house, and if I could build my own home, I could build the community around me."
Sterling career in homebuilding
Just as he did in every other aspect of his life, McGee gave his all to home construction. Early on, his company purchased a small amount of acreage and built homes at the intersection of Country Club Drive and Edison just south of the Tulsa Housing Authority's Osage Apartments in North Tulsa.
McGee sold his home and constructed his home on the crest of a hill overlooking his development. Although the property is bordered to the West by Tulsa Country Club Golf Course and Owen Park to the South, many locals questioned his decision to build down the street from a low-income complex. But within eleven months, he had sold all the lots and had either completed or started construction on them—all the lots. The Osage Apartments have since been demolished and replaced with a $60 million government grant, called the Hope VI Grant.
"This is a perfect example of how a city can be transformed one block at a time if one is willing to assume the risk," said McGee's biography on his LinkedIn page. "And it is obvious that Mr. McGee is open to the challenge."

On Sunday, Oklahoma Highway Patrol said McGee boating on Skiatook Lake and was pulling two kids on an inner tube when they fell off. OHP said McGee thought they needed help, so he jumped into the water to assist his grandson, who survived.
Both children were wearing life vest and were not injured. The incident happened about 300 yards west of the east bank near Holt Road and Crystal Bay Marina on the north side of the lake in Osage County.
He never resurfaced. The child made it out of the water and is safe.
The Oklahoma Highway Patrol immediately started a search for McGee. His body was pulled from the lake Tuesday afternoon.
'A man of mission'
McGee spent his early years in North Tulsa schools. After graduating from Paseo High School in Kansas City, Mo., he returned to Tulsa to stay. He studied at the Christian Life School of Theology and Tulsa Community College.
As news spread of McGee's passing, Tulsans reacted in shock.
He "will be greatly missed," wrote Angela Chambers, executive director at TACM TV, on McGee's Facebook page. "His passion for minority businesses and this community were unwavering."
State Rep. Monroe Nichols said McGee impacted him as he was beginning to get involved in Tulsa's political scene.
"I met Terry during my time in the mayor's office in 2006 and ever since then, I saw him at every table where progress for North Tulsa was being discussed," Nicholas posted on Facebook.
"Terry was a man of mission, compassion, and purpose," wrote business consultant Russell Burkhardt. "So sad to lose him but do know he made life in Tulsa better in many ways. Terry was a fireman, public servant, member of many community boards, and north Tulsa home builder. You will be deeply missed, Terry – man of big heart."
Black Wall Street Square was his most recent. It's a 24-home development on the northeast corners of Martin Luther King Jr. Boulevard and East Reading Street. It is inspired by Tulsa's past and incorporates a Brownstone architectural style seen in the 1920's era Greenwood/Black Wall Street District.
The project was proposed by McGee and Boomtown Development Co, Green Country Habitat for Humanity's sister nonprofit.
"For several years, we've seen the need show that new construction and affordable housing units can co-exist," McGee said in February, when the project was approved. "This project is evidence of TDA, Team Boomtown Development, and the City of Tulsa working collaboratively to create a thoughtful, unique and inclusive project that honors the history and needs of the area."
Burlinda Radney, chair of the Historic Greenwood District Main Street, posted a tribute to McGee on Facebook.
"Every friendship has the potential to shape you: my gift from Terry was the understanding that a life of service is a calling to contribute with a generous spirit and to advocate with conviction – or not at all, Radney wrote.
"Terry was more than 'present' around the tables to which he was invited: he affirmatively presented himself as a champion for his beloved Greenwood – its people and economy; his commitment to family and legacy; his solidarity with his sisters and brothers in the Fire Department, and most importantly, with his inerrant faith in the grace of his Creator.
"May his example help to order our steps."
McGee is survived by sons, Dominic and Terry. Gary Kelley's Add'Vantage Funeral Service, 9761 E. 31st St., is handling his arrangement.
McGee is survived by sons, Dominic and Terry. Funeral services are pending.