---
Three leading Tulsa storytellers used a panel discussion last week to share how they are working in different ways to keep the narrative of the Historic Greenwood District and Black Wall Street in the eyes and ears of the public. 
Carlos Moreno, graphic designer and author, is developing a project to map out the Greenwood neighborhood. It will be an interactive map depicting the community building by building. He's also working on filming stories of Greenwood.  The project will help him elevate the narrative of Black Wall Street depicted in his 2021 book "Victory of Greenwood."  
 TheRese Anderson-Aduni has produced a video presentation highlighting some of the less celebrated characters of Greenwood, including maids, drivers, shoe shiners and even scoundrels. Anderson-Aduni, who has worked in collaboration with the Greenwood Arts Project, is a third-generation survivor of the Tulsa Race Massacre. Her father, the Rev. Harold Anderson, was an amateur filmmaker who chronicled Black business and community leaders on film in the 1940s through the 1960s.  She has put together presentations of her father's work in a documentary "Rebuilding Black Wall Street."  
 Hannibal Johnson is advising the Greenwood Cultural Center and the Greenwood Rising Black Wall Street History Center. The well-known attorney and author is also on the Commemoration Fund Committee. The Fund oversees the $6 million fund set aside by the Zarrow Family Foundation to address inequities related to race for people of color in Tulsa.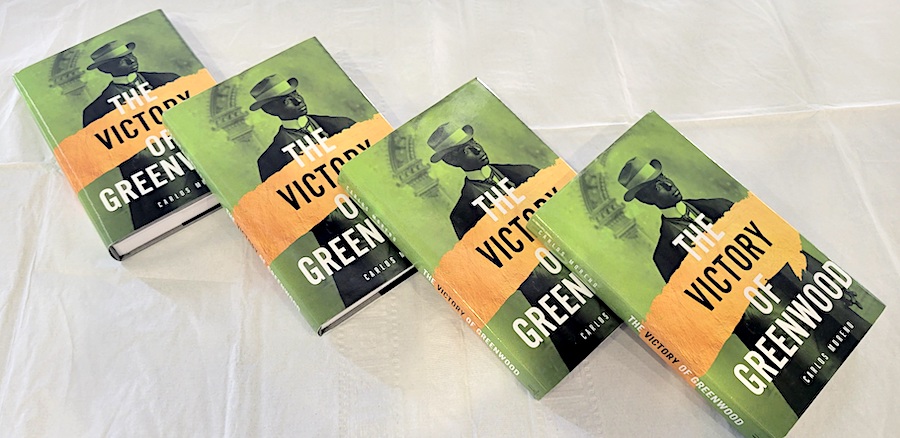 Roots in Greenwood 
The three storytellers presented their perspectives on Greenwood and Black Wall Street in a lively panel discussion on April 27 at Tulsa Community College.  Dewayne Dickens, TCC's director of Diversity, Equity, and Inclusion, served as the moderator. Dickens asked the panelists to talk about their current projects and how it connects with Black Wall Street and Greenwood. He also asked them why the history of Greenwood and Race Massacre were important to them. 
Anderson-Aduni told of her North Tulsa roots. She was born at Moton Hospital, which at one time was the only hospital in Tulsa where Blacks could go. She graduated from Booker T. Washington High School in 1971.  
When she went away to college, she was called a Black Wall Street Princess. Growing up in a rebuilt Greenwood, Anderson-Aduni didn't know about Black Wall Street. Nonetheless, she liked being a "diva" of Greenwood. She grew up in a rebuilt Greenwood. Quoting the local poet Deborah Hunter, she said. "I thought I was already living in Greenwood." 
Johnson said that his father graduated from BTW in 1942 and became a teacher. Explaining what motivated him to pursue a career in writing, he said: "Truth is important. Creating narratives that aren't in the history books is important. You can't talk about history and not include Black people. 
Moreno explained how someone who did not originate in Tulsa can still engage in the Black Wall Street story. "I'm not Black," he said. "I'm not from Tulsa. But the Greenwood community opened the door here. It didn't matter what color you were or pedigree you had." 
Moreno added that in the California culture where he grew, it was important to listen to elders and their stories. His book, "Victory of Greenwood," is simply a reflection of the conversations with elders and a lot of research. 
How to engage today 
The three speakers offered different views on how today's generation can engage. For Anderson-Aduni, one key thing is to listen to each other. Whether it's at church or one the job, lean in to understand different perspectives.  "Be the best you can be," she said. "Learn for yourself. You don't have to confront. You don't have to win every battle. That's our ego." 
Anderson-Aduni said when she teaches kids about rebuilding, she tries to relate today's world to the time of the Race Massacre. 
For Johnson, advocacy is key. "It's important to stand up and speak out. Voting is also crucial and not just for President. Voting for positions like school board members is also important, he explained, because those are the people making important decisions. 
 Moreno stressed the importance of everyone getting out of their comfort zone spaces.  
"We need to learn our history," Moreno concluded. "Whites don't know their history either." He said he would like to see more of history being taught, period., all the history, black, native, Latino, etc.