The Oklahoma Eagle 
DETROIT – Quincy Monday nearly pulled off an upset in his final match of the NCAA wrestling season on March 19 inside Detroit's Little Caesars Arena. 
It would have been fitting ending to cap his second consecutive All-American season at Princeton University – as he continues to build his own wrestling resume. 
He was seeking his first national title exactly 38 years after his father, Kenny, won at the NCAA title at 150 pounds at Oklahoma State in 1984. 
Kenny Monday's decorated wrestling career is well documented – and is now chronicled in a new documentary "Monday: The Untold Story of a Legend" – that began at the Historic Greenwood District's Tulsa Hutcherson YMCA, and lead to four state championships at Booker T. Washington High School, a three-time All-American wrestler, member of three straight Olympic teams (winning Gold and Silver medals), a world champion – and numerous halls of fame inductions. 
Quincy said his father's accomplishments were never an intimation for him. In fact, he said his father's success has helped him evolve into one of the nation's top wrestlers. 
"He introduced me to the sport," Quincy said after he won his semifinal match on March 18. "He built the foundations for me. He instilled the belief system in me: believing in yourself." 
With that insight and inspiration, Quincy said he knew his third match against second-seed and Northwestern grad student Ryan Deakin would be tough. 
Deakin was competing in his sixth-season – aided by coronavirus pandemic that gave collegiate athletes an extra year of eligibility. 
It was the third match of their careers: Deakin won the first two – 8-3 in the Cliff Keen Invitational final in December and 5-2 in the quarterfinals of the 2018 Midlands tournament. 
Saturday's bout was the biggest of their milestone contests.  
The Tulsa native took the lead with a takedown two minutes into the match before Deakin halved that with an escape coming out of that takedown and pulled even with an escape off the second-period start. 
Deakin took the lead with a takedown 39 seconds into the third period and opened up the margin with a four-point near-fall in the final minute before adding the riding-time point. 
Despite the loss, Quincy helped Princeton score 38 points – its most at the NCAA Championships in program history, surpassing the 35 Princeton had in 2019. Princeton's 16th-place finish was the sixth time in program history that the team finished in the top 20 at the NCAAs, including each of the last two times the championships were held, and Princeton competed. 
This year, Princeton was one of only three schools with multiple finalists, along with Penn State and Michigan.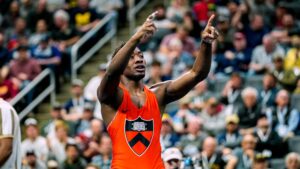 Successful season 
Quincy ended his season with a 24-4 record, finishing as an EIWA champion and the NCAA runner-up. His final appearance, which came after earning his first four wins at the NCAAs, made it Princeton's first time with two finalists in the same year. Deakin finished his season unbeaten at 18-0. 
At 125 pounds, top-seeded Michigan grad student Nick Suriano was a 5-3 winner over third-seeded Princeton junior Patrick Glory. 
Quincy reflected on his Princeton career, including waiting for two seasons for wrestling to return after the pandemic shutdown the NCAA tournaments in 2020 and 2021. 
For two years, he worked out in North Carolina with his father and brother, Kennedy, who reached the round of 12 at the 2018 NCAA Championships for the Tar Heels and returned to the NCAAs in 2021. 
"We were kind of scattered around," Quincy said of his Princeton teammates. "Everyone kind of doing their own thing. We had some guys training in Jersey. I was back training with my dad. (But) we all had that similar goal in mind (return to the NCAA tournament)." 
But this year, Quincy knew his preparation would position him to compete for a national championship. 
In Detroit, he was cheered loudly by his family – including his mother Sabrina, a National Sales Director for Mary Kay Cosmetics, who was both mentioned by name and shown on ESPN cheering in the stands whenever Quincy competed – and his sister, Sydnee, an associate editor at Penguin Random House in New York City. 
Quincy said his family's support enables him to embrace his father's career as he establishes his own style. 
Wrestling family royalty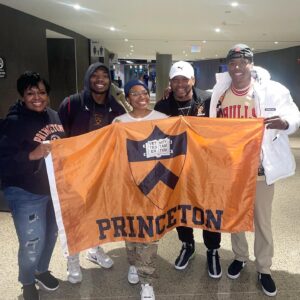 The Monday family's accomplishments on the mat are impressive – and with more to come. 
Kenny Monday had an almost unblemished record of 140-0-1 at Booker T. He won four state high school championships at four different weights, tucking in a 1977 Junior Nationals title along the way. In seven trips to the Junior Olympics, he won five times. 
At OSU, he was a two-time runner up in the NCAAs before winning the 1984. He was a three-time Olympian, a gold medalist in Seoul in 1988 (the first African American to win a wrestling medal), a silver medalist in Barcelona in 1992, and a sixth-place finisher when the Games came back stateside in 1996. 
His illustrious career includes several hall of fames, including the National Wrestling Hall of Fame and his induction as the first African American in the United World Wrestling's International Hall of Fame in Budapest, Hungary. 
In the fall, the Mondays relocated to Northeast Ohio, where Kenny has been hired as the head coach to create a new wrestling program SPIRE Institute in Geneva, Ohio. 
Quincy's brother, Kennedy, was a two-time Texas state champion at Martin High School in Arlington prior to his standout career at North Carolina. He is currently training for a career in MMA. 
Quincy also found success in high school, winning the 106-pound Texas 6A state title in 2015 and the 113-pound Texas 6A title in 2016, wrestling for Martin High. 
After their family moved to North Carolina, the wins kept on coming, with Quincy taking the 132-pound 2A state title as a junior in 2017 and the 152-pound 2A state title as a senior in 2018 at Carrboro. 
Embracing a legacy 
Quincy said he does not see himself wrestling in his father's shadow. And he acknowledges that his father has given him the tools – and space – to carve out his own path. 
"A lot of people ask me about the pressures that come with having an Olympic champion as a father and if it's a lot to handle?" he said. "But I just think it is as something to stride towards. He showed me what the highest achievement in wresting is. 
"And just being able to pursue that and trying to reach that – take what he has shown me – to be the best that I can be in my own career." 
---
MARCH 16, 2022
Quincy Monday Son Of Gold Medalist And NCAA Champion Kenny Monday, Set To Make Own Wrestling History At Princeton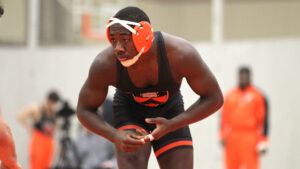 By Bill Evans | NJ Advance Media for NJ.com
---
Princeton University junior Quincy Monday is a product of wrestling royalty.
His dad, Kenny, was a three-time All-American and NCAA champion at Oklahoma State and Olympic gold medalist who is a coach in North Carolina. Quincy's brother, Kennedy, went on to wrestle at the University of North Carolina and reached the blood round of the NCAA Tournament.
At one point while he was recruiting Quincy Monday about five years ago, Princeton coach Chris Ayres questioned why the Tigers coaching staff was putting in the effort.
Full story available at NJ.com